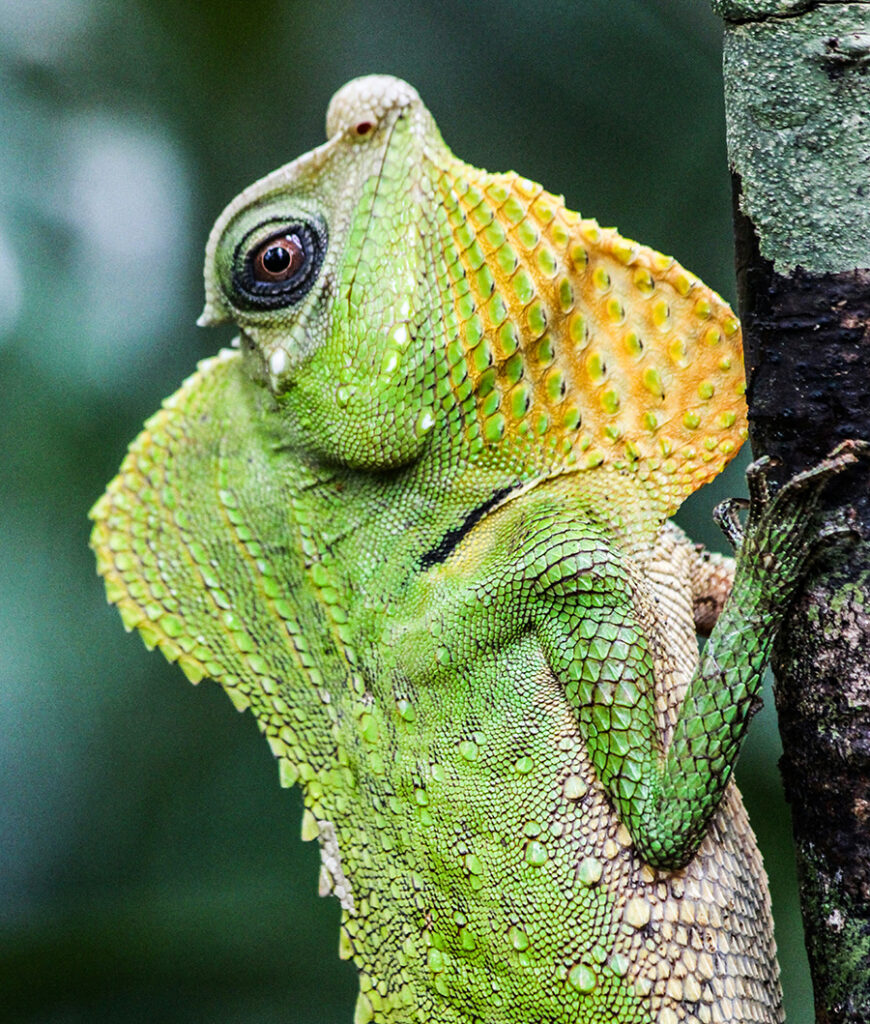 Warm sun rays from the blue sky peep through the sky-high greeny trees that stand majestically. Dry leaves that look pale orange rest among the lush green terraces. Magnificent blossoms among the greenery tend to overlook the surroundings. And why not? Even vibrant tiny birds enjoy their freedom by flattering here and there. Meanwhile, giants as well as miniatures of wild creatures keep the environment lively. And what so not? All these things together create a wonderful environment with true joys of nature. Indeed, this is just a glimpse of the amazing wildlife in Sri Lanka! So, where else is an ideal spot for nature lovers to enjoy the real values of nature, other than this island?
In brief, experiencing the beauty of untouched wildlife is not that hard in Sri Lanka. That is simply because it houses such an amazing diverse wildlife setting that one could ever imagine. Sri Lanka is rich with around 148 land animals, which also includes endemic wild creatures. Further, Sri Lanka is home to more than 500 various bird species. The mighty blue waves that surround this island, creates the perfect atmosphere for a wide range of dynamic marine life. Moreover, Sri Lanka also never lacks endemic amphibians and reptiles that take biodiversity here to another level.
Thus, isn't Sri Lanka blessed with the best that one could ask for? It is certainly, not only the beauty that matters here. But, the opportunities nature has bestowed upon Sri Lanka, to be a part of this wonderful nature, and to feel the tender love of this amazing wildlife. Surely, it is worth beyond words to visit here, and to enjoy these pure feelings of wildlife. However, ready for a journey around the wildlife in Sri lanka? Join hands with us! Let us explore it together.
The Beauty of Sri Lankan Wildlife
As you might already know, a striking variety of Wildlife can be identified across different areas in Sri Lanka. Specifically, it is the forests and national parks that have created them a safe home. So, in the journey of discovering the significance of the wildlife in Sri Lanka, it is essential to focus our attention on these wonderful forests and national parks. Why not? We are ready to take you towards each and every one of them. So shall we?
Forests in Sri Lanka
As we always say, the beautiful island of Sri Lanka is one of the finest biodiversity hotspots in the world. Moreover, the forests in Sri Lanka make a great addition to this diversification. Therefore, it is essential to have a deep look at these woodlands and plantations.
Simply, Sri Lanka houses several types of forests with a wide range of biological species, fauna, and blossomy. They are comparatively unique from the other forests in the South Asian region. Further, the weather and climate in Sri Lanka, topographical features, and the effect of the waterfalls, and other water sources seem to be impacting these notable divergences. However, the impact of weather tends to be more impactful than the other factors above, in determining the distribution and the type of the forest.
Accordingly, the forests in Sri Lanka are under seven main types as below.
Tropical wet lowland evergreen forests
Sub-montane forests and montane forests
Dry mixed evergreen forests
Riverine forests
Tropical moist evergreen forests
Arid zone forests
Mangroves
Wondering what they are? Nothing to worry! We are ready to share with you all that you need to know about these forests, along with a few examples of each type. So, here we go!
Tropical Wet Lowland Evergreen Forests
The southwest region and the central highlands of this island are mostly rich with the superabundant forests and vegetation. Typically, most of them go up to an elevation of around 900 meters, and their significant layers of greenery make up these forests' structure.
The crowns of the sky-high trees that reach a height of around 30 meters, form the uppermost part, or rather the canopy of these thick forests. This topmost layer is also called the emergent layer. Of course, they kind of rule these woodlands, and prevent any other species from growing beyond them. Still, they provide fine substructures for epiphytes and lianas to grow on their flow. Moreover, these forests consist of an understory which features small trees, and shrubs. Besides, it is these tropical wet forests that house more than 60% of the endemic tree species here in Sri Lanka . Below are some of the common tree species that contribute to the variety of these tropical wet forests, and the wildlife in Sri Lanka.
Hora (Dipterocarpus zeylanicus)
Batu Naa (Mesua nagassarium)
Beru (Agrostistachys spp)
Galkaranda (Humboldtia spp)
Goniva (Acrotrema)
Rattan palms (Entada pursaetha)
Pus wel (Entada pursaetha)
Sandaraja (Anoectochilus setaceus)
If one enters these tropical wet forests, surely you will feel that it is dark and dense. As the name suggests, of course these areas are wet with a high annual rainfall that ranges beyond 3000 mm. Moreover, they also have high temperatures and high humidity levels. In addition, below are some of the most popular tropical wet forests on this island.
Sinharaja Forest
Sinharaja Forest, is simply one of the most significant places in Sri Lanka, and is a biodiversity hotspot beyond words. Further, it houses more than 50% of the Sri Lankan endemic species of creatures and trees. Owing to this fact, it was also declared as a UNESCO World Heritage Site, years back.
Holding the features of tropical wet lowland evergreen forest, its thick canopy spread across an area of 18,900 acres. Further, adding more colour to its greenery, it is also guarded by three rivers on its borders. River Maha Dola rhythmically flows through the South of it, Gin Ganga, by its South-west, and River Kalundawa Ela, and river Kudawa Ganga by its West. While these rivers and the small streams of crystal clear water make home for several tiny fish, crabs, and toads, they also add a sense of freshness to the surroundings.
Moreover, through this narrow stripe of terrain in Sinharaja, are two enjoyable nature trails that emerge main. One of them leads to the peak of Moulawella, while the other leads to the peak of Sinhagala. Both the trails begin at Kudawa Conservation Centre (KCC), and they create you an ideal opportunity to capture the scenic beauty, along with the rare species of tall trees and creatures that you find on the way.
19 species out of the 20 endemic bird species are there in this Sinharaja Forest. Below are some of them.
Ceylon Hanging Parrot (Loriculus beryllinus)
Ceylon Grey Hornbill (Ocyceros gingalensis)
Layard's parakeet (Psittacula calthripae)
Jungle fowl (Gallus lafayetii)
Spurfowl (Galloperdix bicalcarata)
Ceylon Wood-Pigeon (Columba torringtonii)
Ceylon Blue-Magpie (Urocissa ornata)
Further, 8 out of 12 endemic mammal species of the country are there in Sinharaja, and giant squirrel, dusky-striped jungle squirrel, badger mongoose and endemic purple-faced leaf monkey are mains among them.
Kanneliya, Dediyagala, Nakiyadeniya (KDN) Forest Reserve
This KDN Forest Complex, made out of the Kanneliya, Dediyagala and Nakiyadeniya forests, is popular as a lowland rainforest complex in Southern Sri Lanka. Out of these three forests, Kanneliya happens to be the largest, and this KDN forest reserve, as a whole covers around 10,139 hectares approximately with an elevation ranging from 60 m-425 m above sea level.
There are a number of streams and waterfalls that feed this forest reserve, and keep it enlivening. Still, Anagi-mala Ella and Naran-Gas Ella tend to be the most picturesque waterfalls out there. Moreover, few popular streams out there are Kanneli Ela, Nannikita Ela, Udugama Dola, Homa Dola, and Gal Bandi Dola. Besides, it is this KDN Reserve that acts as the main catchment area for the famous Gini Ganga, and Nilwala Ganga.
When considering its biodiversity levels, of course, it is at a peak, and surely, it should only be the Sinharaja Forest, that defeats it in this regard. Further, its multicultural forest layers house a wide range of flora and fauna, and also covers a high portion of endemism within the country. Specifically, 52% of this forest happens to be rich with endemic plant species. In brief, the count of identified woody tree species here reaches an amount of 200, while the count of plant species here being nearly 300. Moreover, it also houses around 300 floral species. Furthermore, herbs and a number of rare plants tend to be highlights for whoever studies about this forest reserve.
Sub-montane forests and montane forests
Sub-montane forests spread across the areas between 1000 to 1500 m, and montane forests spread across areas that are above that range, mainly between 1500 to 2500 m. Also known as cloud forests, these sub-montane forests cover approximately 1.1% of the Sri Lankan land. Indeed, these are not that populated like tropical wet forests. Still, they have a lower canopy along with a rich undergrowth.
Further, these forests make home for a variety of unique fauna and flora. Moreover, some of the tiny trees here are full of orchids, lickens, mosses, and also ferns. Common and dominant trees here are Dun, Keena (Calophyllum spp), Syzygium spp, and Malaboda. The undergrowth consists of various vegetation. Also, they are rich with epiphytes and lichens. Furthermore, these forests are the home for more than 34% of the endemic trees, and shrubs on this land as well.
Horton Plains
Simply, Horton Plains is popular as a site with breathtaking views. Moreover, the refreshing and pleasing atmosphere it offers makes it more attractive and popular as an ideal spot to spend some time, avoiding the hustles and bustles of city life. And why not? Horton Plains is also a fine hiking spot that anyone could easily try. Furthermore, it is also an escape for a number of endemic species. So, Horton Plains is simply a wonder of nature. Isn't it? And of course, that is why, Horton Plains was declared as a UNESCO World Heritage Site years back.
Located at the southern ridge of the central highlands in between Nuwara Eliya and Haputale, it stands at an altitude of 2,100 meters above sea level. Further, it spreads over an area of 3,169 hectares approximately. And even though it is known as a Montane evergreen forest, it also has significant characteristics of an aquatic ecosystem along with grasslands, and marshy lands. And you know what? Horton Plains is an important catchment area of almost all major rivers in Sri Lanka, Mahawei, Kelani, Walawe and Kalu. However, all these together, paired with the contribution it makes to the Sri Lanakan endemism, makes it a biodiversity hotspot with rich values.
Horton Plains is a happy field of hundreds of creatures and birds, and a few of them are mentioned below.
| | |
| --- | --- |
| Animals | Birds |
| Sambar Deer | Blue flycatcher |
| Stripe-necked Mongoose | Yellow-eared bulbul |
| Long-tailed Giant Squirrel | Sri Lanka Wood Pigeon |
| Wild Boar | Sri Lanka White-eye |
| Bear | Spot-winged Thrush |
| Monkey Toque | Dull-blue Flycatcher |
| Monkey | Sri Lanka Bush Warbler |
| | Scaly Thrush |
| | Brown-capped Babbler |
After all, Horton Plains is a forest with scenic beauty, and a rich biodiversity. So, make sure to experience this ideal hotspot if you ever visit this area.
Knuckles Forest Reserve
Knuckles mountain range, also known as the Knuckles massif, is one of the most scenic, yet valuable forestry in Sri Lanka, that one could ever imagine of. It spreads across an area of around 21 ha, across the Kandy and Matale districts, in the Central province of Sri Lanka. Besides, any guesses on how it got its name? That is quite interesting. This knuckles mountain range consists of 5 peaks, namely, Knuckles, Kirigalpoththa, Gombaniya, Dotulugala, and Koboneelagala. So, at a sight, it just looks like a clenched fist. Accordingly, it has got its name as the Knuckles mountain range. And it is the forestry that covers this mountain range, is known as the Knuckles forest reserve.
When considering its significant diverse features of wildlife, this forest reserve houses around 1030 plant species, of which 15% are anemic. Further, it is home for nearly 130 bird species, of which around 17 are endemic. And why not? This reserve houses a few streams, water pathways, and cascades that keep gushing water, while enhancing the beauty of this forestry furthermore. Apart from that, while feeding the forest and refreshing its atmosphere, these waters also create home for around 15 fish species.
Below are some of the most popular and common species that can be found on Knuckles Forest Reserve.
| | | |
| --- | --- | --- |
| Bird Species | Mammal Species | Fish Species |
| Black eagle | Wild boar | Phillips |
| Barbets | Black-naped hare | Garra |
| Lorikeets | Mouse | Blotched |
| Egrets | Deer | Filamented barb |
| Herons | Sambar Deer | Martenstyn barb |
| Bulbuls | Wild buffalo | |
| | Civet cat Loris | |
| | Bandicoot | |
| | Porcupine | |
Apart from all above, Knuckles mountain range and this forest reserve offers fine trails for visitors to hike, and to explore it furthermore. Thus, let us suggest it to you as an ideal spot for enjoying nature, adventurous hikes, bird watching, waterfall hunting and also for perfect photography.
Dry mixed evergreen forests
Indeed, as the name suggests, these are types of forests that are in the dry zone of this land. Also, you can call them 'tropical dry forests', if you feel like the term 'dry mixed evergreen forests' seems to be too long! Comparatively, these forests usually spread along a larger area than the other forest types in Sri Lanka. Further, it covers an area of around 16.8% of the land, which means a considerably large area of the land itself.
Besides, tropical dry forests are significantly different from the previous two types of forests that were detailed earlier. Above all, unlike tropical rainforests, these forests do not feature canopy formations. The land almost remains flat, except for the rocky outcrops that come up here and there. Moreover, huge trees that even exceed at least 20 m are just rare in these forests. Further, Palu (Manilkara hexandra), anda Satin (Chloroxylon swietenia) are significant trees here.
Tropical dry forests receive rain mainly from the Northeast monsoons, specifically in the course between December to March. Its annual rainfall ranges at around 1500 – 2000 mm. And something interesting! Most of these trees shed their leaves during a specific time period. Owing to that fact, as well as due to its strong seasonality in rainfall, these forests are also known as 'monsoonal forests'.
Of course, there are many more forests that belong to this category specially, because of their features. Obviously, you should have heard a lot about them as well. Still, maybe you did not actually know that they belong here. Check the examples below. See whether you knew them before!
Ritigala Forest Reserve
Ritigala forest reserve spreads across the Ritigala mountain, which is located around 5 km away from the city of Habarana. Standing at a height of 766 m above the sea-level, it happens to be the highest mountain in the north-central dry plains of the land. Besides, the forestry spreads across an area of three miles, and it is approximately 2 miles wide. Further, its widest section is the most rich with wildlife, as it houses creatures like elephants, bears, and elephants. It is also well known as a sight with rich floral species, and it is also home for some very rare floral species such as wild orchids.
This forestry also features an area with ruins of a Buddhist monastery. However, Ritigala Forest Reserve is not that popular as a sight of attraction, unlike other forests that were mentioned above. Still, the contribution it makes to the biodiversity of Sri Lanka, and the addition it makes to nature as an escape for the wildlife is just undoubtedly significant. Indeed, there should be a lot more there to be explored. Excited right? So, never miss the opportunity of exploring this wonderful forest reserve of Ritigala.
Riverine Forests
In brief, riverine forests are the woodlands that are associated with rivers, and their floodplains, mainly in the dry zones. Further, they are spread across areas where their elevation is approximately below 600m. Annual average rainforest of riverine forests normally ranges between 1500 – 1800 mm. Comparatively, endemism levels are quite low in these forests. Still, these areas are rich with biodiversity. Moreover, they create a fine atmosphere for the animals like elephants, deers and buffalo to wander around, find food and make it their habitat. In addition, riverine forests are a common sight in the districts such as Ampara, Trincomalee, Polonnaruwa, Puttalam, Mannar, and Hambantota.
Waturana Protection Area
Spreading at an area of 6 ha, the Walawwatta Wathurana Environmental Protection Area, better known as the Waturana Protection Area is located in the Kalutara district of this beautiful island of Sri Lanka. As per the Central Environmental Authority of Sri Lanka, it is the only freshwater swamp forest with unique features recorded up to date in Sri Lanka. It had been previously owned by the Wijesekara family, and is now conserved and maintained by the Walauwewatte Plantation Company. It might not be highly popular and well known. Still, it is the only site in the world, where the plant species Stemnoporousmooni('Hora Wal') and Mesuastylosa(Suwanda) is in the wild habitat. Thus, Waturana Protection Area has a significant value in terms of biodiversity, and since it is less explored, it can be suggested as an ideal spot for research and scientific studies.
Tropical moist evergreen forests
In brief, tropical moist evergreen forests are in the transition zone. In other words, they are specifically, between tropical rainforests and dry mixed evergreen forests. Accordingly, their characteristics are also made out as a combination of the features of tropical lowland wet evergreen forests, and tropical dry mixed evergreen forests. Nevertheless, along with those features and some of those creatures, they house a set of unique species of their own as well. Tropical moist evergreen forests are common in districts such as Kurunagala and Monaragala.
Randenigala Forest
This forestry area that spreads across an area of 42 ha, is nestled between the Knuckles mountain range, and the central hills of the Kandy district. Further, this is the catchment area for the well known reservoirs, Randenigala, Rantambe and Victoria. The hills, verdant valleys and the vegetation in the surrounding along with the water reservoirs create an ideal environment for several species of birds. Thus, these areas are popular as bird areas, and below are some of the birds that are common here.
Thick-Billed Flowerpecker
Black-Headed Cuckoo
Shrike
Large Cuckoo Shrike
Malabar Pied Hornbill
Orange Minivet
Indian Pitta
Ceylon Swallow
House Swift
Forest Eagle Owl
Brown Fish Owl
Black Eagle
Black-Winged Kite
Crested Honey Buzzard
Ceylon Jungle Fowl
Common Iora
Changeable Hawk Eagle
Samanalawewa Nature Reserve
Even though it does not seem to be that much well known, nature has bestowed upon Samanalawewa Nature reserve the perfect natural beauty, as well as the features of a rich wilderness. Further, it houses a couple of waterfalls, as well as significant flora and fauna, that are worth to be explored.
Also, this forest reserve offers the visitors a rapid variation of its complexion, which takes its beauty into another level. As you walk along this forest, you will experience the thick forest with sky high trees at an instance, and then in the next hour you will be in an open wide area. Moreover, you will walk along footpaths and rocky terrains, and then through grass lawns that are overgrown. So, this itself proves to you the touch of the high diversity it houses.
Also, at the heart of the nature reserve is an ideal spot for camping. So, obviously, it is a grandeur of mother nature, that should be explored, yet conserved.
Arid zone forests
Mainly, these forests are common in the arid zone, which means in the northwest and the southwest quarters of Sri Lanka. Further, wide open areas with low thorny scrub, massive scale grasslands and water bodies make these forests more unique. In addition, they also feature isolated patches of trees.
The temperature is extremely high around these forests, with an average of around 32 degrees Celsius. Moreover, with an annual rainfall of around 1250 mm, these areas lack rain showers during the months of May to September. However, they create a fine habitat for large mammals such as leopards, elephants, deer and wild pigs. The endemicity is quite low here as well owing to the fact that these forests feature a considerable low number of trees. Still, we can find few common species that can be found around arid zone forests. Below are some of them.
Heen Karamba (Carissa spirarium)
Eraminiya (Zizyphus)
Maha Andara (Acacia leucophloea and Acacia planiformis)
Andara (Dichrostachys cinerea)
Maliththan (Salvador persica)
Palu (Manilkara hexandra)
Mangroves
Mangroves stand significant among all the other forests that were mentioned earlier. Simply, a mangrove is a swampy area, associated with coastal areas and river mouths. Accordingly, they are inundated by sea water at certain times. Sri Lanka being an island with a large coastal area, the areas covered by mangroves range between 6,000 to 13,000 ha.
In brief, flora and fauna around mangroves seem to be unique and significant. Thus, mangroves are really an important addition that further enhances the biodiversity of this island. As at recent stats, 14 mangroves species and 12 associated species are identified relating to this ecosystem. Besides, these surroundings are saturated with water, consisting of saline soil with very little areartion. Hence, these mangrove trees have few adaptations that they need to survive in an environment as such. Moreover, if you deeply study them a bit, you will easily find these adaptations such as roots that stick out of water. Moreover, coastal areas around Puttalam, Kalpitiya, Portugal Bay and Dutch Bay are common for rich mangrove forests.
By now, you should have a good insight into the forests in Sri Lanka, as well as about the significant contributions they make in terms of conserving the endemic species and keeping the balance of nature. Still, it is not only these forests that solely contribute to this worthwhile cause. National Parks also play a major role in this endeavor. Of course, some consider them too as forests in Sri Lanka. However, we thought that their significance should be highlighted separately. So, what are we waiting for? Shall we continue our journey through the national parks in Sri Lanka as well? Here we go!
National Parks in Sri Lanka
Birefly, there are certain areas in Sri Lanka that are blessed with an array of stupendous sceneries along with the wildlife it houses. Nevertheless, the value they add to mother nature is definitely appreciable. Thus, the Wildlife Conservation department of Sri Lanka has declared 22 such areas as protected national parks. Moreover, they are home for a number of Sri Lankan Leopards, Asian Elephants, Sri Lankan black bears, and many other endangered, as well as endemic species. Besides, Sri Lanka National Parks create the best surroundings for nature lovers to enjoy the wildlife up close and personal. So, out of the national parks in Sri Lanka we just thought of picking the most popular to explore a bit more. Accordingly, below are what we chose.
Yala National Park
Wilpattu National Park
Udawalawe National Park
Minneriya National Park
Kaudulla National Park
Yala National Park
If you are a person interested in the wildlife of Sri Lanka, surely, you should have heard about Yala National park. Yes indeed, it is one of the largest, the second largest national park in Sri Lanka to be specific. Further, Yala National Park is located in a scenic surrounding in Hambantota, having the Indian Ocean as the border from a side. Moreover, it is home for a variety of wildlife, and specially is a conservation spot of Sri Lankan Leopards, Sri Lankan elephants, and birds. All these reasons together has made it one of the most popular and the most visited national parks on this beautiful island.
Covering an area of 979 square kilometres, Yala National Park consists of five blocks, out of which Ruhuna National Park (Block 1), and Kumana National Park happens to be the most famous. However, the range of ecosystems it hosts is quite amazing. In brief, it covers moist monsoon forests, to freshwaters to marine waterlands. It is one of the places that houses the highest leopard densities in the world. Moreover, it harbours around 200 bird species including a number of endemics, while the mammal count it houses ranges at a value around 40.
A Jeep Safaris around Yala, is one of the best things for you to do in Sri Lanka. Further, it is a world popular attraction, and thus, many choose it as a place to spend a holiday and experience the real values of wildlife in Sri Lanka.
Wilpattu National Park
Being one of the oldest, and the largest, Wilpattu National Park happens to be one of the most popular national parks in Sri Lanka. Indeed, it has a series of specialities of its own. Starting with its topographic features, this land of Wilpattu has got nearly 100 natural lakes, which are also known as 'willus'. Of course, the existence of these 'willus', has made it called 'Wilpattu', the 'land of lakes'. Further, this park spreads across an area that ranges between 0 to 152 meters above sea level, and it covers approximately 1,300 square kilometers of this island.
Wilpattu National Park is a world popular sight for its leopards. Apart from that, endangered species such as elephants, sloth bears, water buffalo, sambhur, spotted deer, mongoose, mouse, and shrew are common here. Moreover, it also houses a range of other reptiles, amphibians, birds, and also 31 species of mammals, that are essential and important to this mother nature.
More than 75% of the land of this national park is covered with a thick forest. Therefore, it is only the rest of the area that the visitors can explore. There are many trails that you can choose upon your desire, and jeep safaris at Wilpattu would certainly be one of the best experiences that you can ever gain on this splendid island of Sri Lanka.
Udawalawe National Park
Simply, Udawalawe National Park ranks as the third most visited national park in Sri Lanka. Lying in the boundaries of the Sabaragamuwa and Uva provinces, it spreads across an area of nearly 31 ha. Besides, there is a significance of how this national park was established. Following the constructions of the Udawalawe reservoir, focusing the Walawe river, in the vicinity, several wild animals were displaced and threatened. As a solution to this problem, the authorities of the Sri Lankan government created this national park, as a sanctuary for this displaced wildlife.
It is located in an ideal surrounding with marshes, the Walawe river, and its tributaries, forests and grasslands. Thus, it is a fine habitat for Sri Lankan elephants and famous as a sight to spot them in herds as well. Moreover, it is also well known as a marvellous Sri Lankan bird area, where the visitors can catch the sight of endemic bird species like Sri Lanka spurfowl, and Sri Lanka grey hornbill. Further, a number of birds migrate here simply, because of the reservoir. All of them, as well as the other mammal species here, make it a perfect site to explore the wildlife at its best. Also, amazing and exciting jeep safaris are available around Udawalawe national park for anyone who wishes to explore it in depth.
Minneriya National Park
Minneriya National Park had been first declared as a wildlife sanctuary in 1930s, with the aim of conserving the ecosystem and the wildlife around the Minneriya tank, which also holds a historical value. Later, owing to its significant features, it has turned into a dry season feeding ground for a large elephant population around the areas of Matale, Polonnaruwa, and Trincomalee. Thus, it had now become one of the ideal habitats for huge herds of elephants who had been dwelling around. Moreover, elephants from Wasgamuwa National Park, also choose this as an ideal spot for them to fulfill their food and shelter necessities. Accordingly, reports reveal that even around 700 elephants depend on Minneriya National Park at certain times.
Apart from that, this park is home to two special endemic monkeys, namely, the purple-faced langur and toque macaque. Further, mammals such as Sri Lankan sambar deer and Sri Lankan axis deer are also common here. Moreover, it houses the Sri Lankan leopard and Sri Lankan sloth bear. Also, it is home to many other endemic bird species and migratory birds.
Indeed, this wildlife, along with its scenic beauty, has made Minneriya one of the most attractive sites for nature lovers to enjoy the beauty of wildlife in Sri Lanka. Besides, the elephant rides, and jeep safaris in the vicinity have made this site more special, and unique.
Kaudulla National Park
Approximately 172 km away from Colombo, located at Galoya, Kaudulla National Park spreads across an area of 62 square kilometers in the North Central province of this island. Further, it stands as one of the important sites for birdlife in Sri Lanka. A number of vibrant and playful birds, along with a group of endemic bird species in the blue skies, and the lakesides of Kaudulla are a common sight. Further, it is not only these birds that have made it an awe-inspiring national park, but also the historical Kaudulla tank that keeps attracting hundreds of elephants towards this land. And by chance, if the visitors are lucky enough, they can even spot a few sloth bears, leopards, and deer.
Indeed, a fine combination of history and nature has gifted Sri Lanka with such an amazing environment for nature lovers to explore. Indeed, it is also a tourist attraction, and a sight with jeep safaris for explorations, and enjoyments.
The beauty of the Aquatic life of Sri Lanka
As you might already know, Sri Lanka is a magical island with mighty blue waves of the Indian Ocean surrounding it. Moreover, it is not only these fine waves, and the golden shores of the coastal areas that create breathtaking views, but also the aquatic life, and the underwater ecosystems of Sri Lankan waters. Surely, the aquatic life of Sri Lanka, across the waters of sea, streams, waterfalls, and even small lakes enhances this glamour furthermore, while making a significant addition to the wonderful Sri Lankan biodiversity. Thus, when talking about the wildlife in Sri Lanka, it is a must to talk about this beautiful aquatic life of Sri Lanka as well.
In the journey of exploring aquatic life in Sri Lanka, we thought of taking you through a few noteworthy sections. Let us now have a look at what they are!
Fish in Sri Lanka
Sri Lanka being an island rich with waters, marshes, and riverine ecosystems, it has simply become a safe haven for nearly 100 fish species. This includes an endemic group of fish, crabs, mollusks, and other aquatic insects as well. Indeed, the instances where these endemic fish species and their contribution to nature being appreciated is quite rare. Still, it is important to identify these fish species and conserve them. For your information, we have listed below a few of the valuable endemic fish species on this island.
Sinhala barb
Blotched filamentous barb
Giant danio
Malabar danio
Barred danio
Flying barb
Ceylon Logsucker
Philipps' Garra
Glow-light Carplet
Green labeo
Red fin labeo
Knuckles Laubuca
Blue Laubuca
Apart from that, the blue waves of the Indian Ocean that belong to Sri Lanka is home to gigantic whales and playful dolphins. Moreover, it has also been one of the favorite activities of Sri Lankans, as well as tourists from worldwide. Areas such as Hikkaduwa, Bentota, Kirinda, Trincomalee, Weligama, and Batticaloa are popular as the ideal whale, and dolphin watching spots. However, the best times to catch the sight of these magnificent creatures vary from place to place. Below are some of the most common whale species residing amidst the Sri Lankan blue waves.
Bryde's Whales
Sperm Whales
Dwart
Melon Headed Whales
Killer Whales
Further, you can also spot some of the dolphin species in the below list amidst Sri Lankan waters.
Spotted Dolphins
Spinner Dolphins
Risso's Dolphins
Bottlenose Dolphins
Moreover, the unspoiled waters of the Indian Ocean in certain areas of Sri Lanka, are rich with deep sea fish species as follows.
Sailfish
Wahoo
Spanish Mackerel
Benito
Queen Fish Barracuda
Grouper
Tuna
So, all these species, along with the many other endemic and amazing fish species, make the aquatic life of Sri Lanka second to none.
Amphibians in Sri Lanka
Of course, a huge cluster of endemic amphibians is dwelling in Sri Lanka. Out of the 54 species of amphibians here, around 33 tend to be endemic. Among them, the Sri Lanka rock frog or the Ceylon streamlined frog holds a significant place in terms of importance and its value.
Marine National Parks in Sri Lanka
When compared to the natural wildlife sanctuaries, the number of marine national parks in Sri Lanka takes a significantly low count. However, out of them, Hikkaduwa National Park happens to be the most significant and the most attractive. If you are in love with marine life, and fond of diving into the deep blue seas, of course, it is the perfect destination for you.
Hikkaduwa National Park
Located underneath the scenic blue waves of Hikkaduwa, is the Hikkaduwa National Park with a bunch of amazing coral reefs that reside in a marvellous underwater ecosystems that lead to a high degree of biodiversity.
This park is a habitat for over 170 different species of fish, and many more marine species such as crabs, oysters, shrimps, and prawns. Besides, when it comes to coral reefs, there are more than 60 species of corals among these beauties. However, it is the Foliaceous Montipora species that dominates here.
Indeed, the fascination of the Marine life at Hikkaduwa National Park is not second to any other marine conservation centers in this whole world. Thus, the beauty of this rich biodiversity hotspot is something that should be never missed. Nothing to worry, the Hikkaduwa National Park offers you the opportunity of experiencing this wonders either by snorkeling, scuba diving, or rather, by glass-bottom boat tours. So, if you ever visit Hikkaduwa, make sure that you never miss this delight.
Conclusion
So, after all, you should now have a good idea about the wonderful wildlife in Sri Lanka. Yes, indeed, its beauty is beyond words, and the value they add to this world is priceless. It is the touch of this wildlife that makes this world safe. Still, they do not have the power to talk! Thus, it is our kindness that would help them save. Hence, it is our responsibility to preserve the world that we live in. So, let us all enjoy the beauty of wildlife in Sri Lanka, as well as in the whole world. Besides, let us make sure to do our part to preserve it for a better world.