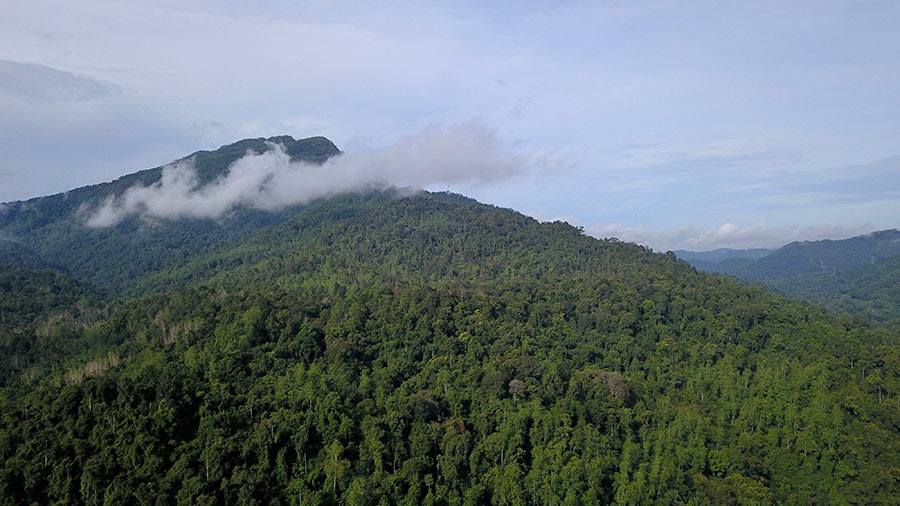 Looking for an adventurous nature escape with beauty to enjoy a day at its best? If so, it is no doubt that Sri Lanka offers plenty of amazing opportunities. Among the attractions as such, the Makandawa or better known as the Kitulgala forest reserve accompanied by a famous water sports hub is simply a complete package of delight. To be specific, this reserve is a great location for adventurists who are looking forward to hiking and camping, white water rafting, canyoning, biking, and ziplining. Further, it is home to an extensive range of flora and fauna, which includes a good number of endemic, and migratory bird species as well, and thus creating bird watching opportunities.
Owing to all these reasons, this wonderful attraction happens to be a favourite of many travellers. In fact, this place never fails to attract hundreds of locals and foreigners each day. Hence, we thought of sharing its delight with you as well. Excited, isn't it? So, here we begin our journey towards this beautiful place of delight, Kitulgala Forest Reserve!
Significance of the Kitulgala Forest Reserve
Located in an adventure-centric town that spans over an area of 1,155 hectares, Kitulgala is a forest reserve that comes under the purview of the Department of Forestry. Further, this area is a sanctuary since 1903. The forest hosts much endemic fauna and flora in which biodiversity is second only to the Sinharaja rain forest. Moreover, the presence of Beli Lena Cave adds more historic value to this amazing forest reserve. Besides, the area is often billed as a great bird watching spot for rare and endemic birds where one can spot 54 different rare bird species, which we discuss in detail, later in this read. And something interesting! The Makandawa forest, which is a part of Kitulgala Forest Reserve laid the backdrop for the academy award-winning world war film in 1957, "The Bridge on the River Kwai" by David Lean.
Where is Kitulgala Forest Reserve Located?
The scenic and serene area of Kitulgala Forest Reserve belongs to the Sabaragamuwa Province of Sri Lanka. To be specific, Makandawa is a secondary lowland rain forest in the wet zone of Sri Lanka and resembles the renowned Sinharaja rain forest. It is located in Kitulgala. However, it does not exceed 12 sq km in magnitude. Moreover, the forest reserve is located on the riverbank of the famous Kelani river protecting the catchment area of the river.
How to Reach the Kitulgala Forest Reserve?
Kitulgala is situated in the west of Sri Lanka, on the Colombo-Hatton road. Further, one can easily reach the Kitulgala forest reserve via Colombo – Avissawela – Ruwanwella route. It is nearly 95 km away from the commercial capital of Sri Lanka, Colombo, and it takes approximately a 3-hour drive to reach Kitulgala from Colombo.
However, if someone is planning to reach Kitulgala via public transportation modes, it is a must note that the train route starts from Colombo Fort and ends in Kadahakapola from where one has to take another 2-hour drive to reach Kitulgala. If you are coming from Kandy, there is a direct bus to Kitulgala which will save a valuable amount of time waiting for buses in these isolated rural areas. However, you have to travel about 3 km from the Kitulgala town, in order to reach the Kitulgala forest.
From Kitulgala to Parawalathenna, travellers need to take or hire a private vehicle. Later, the most interesting part of the whole journey begins. The river should be crossed to reach the forest reserve which is usually done by a ferry. One can wade through the water during the dry season too. There is a bridge that leads to the forest if you travel past the ferry port, but this path is not recommended unless the vehicle can take a lot of traction. As soon as you cross the river, you set foot on the rainforest. Moreover, travellers need to grant permission from the office, to enter the forest.
The Landscape of the Kitulgala Forest Reserve
Indeed, the Kitulgala forest reserve is of wide geographical diversity. River Kelani flows through the jungle giving rise and nurturing plenty of streams and cascading waters. Further, the lowland gradually changes to elevations mid-forest and rock pools with crystal clear water allure the visitors to an inevitable dip in the water. Moreover, along the river, one can experience a total of seven major rapids making Kitulgala the ideal place for water rafting in Sri Lanka. Lenthiri Ella and Makulu Ella are two among many nameless waterfalls gushing through the forest. Belilena cave, a place that inherits a history that traces back to 32,000 years ago is also available in the Kitulgala forest reserve. Besides, this archaeological site was where the evidence of well-known "Balangoda Manawaya", pre-historic inhabitants of Sri Lanka was discovered.
The Climate of the Kitulgala Forest Reserve
Having a tropical climate throughout the year, the Kitulgala forest reserve is situated 84 m above sea level. It receives an average rainfall of about 3500 mm – 5250 mm from two monsoons with precipitation even during the driest month of the year. It makes the area one of the wettest places on the island. However, the average temperature inside the forest is about 27℃. April to June and October to November are the rainy seasons. According to the Köppen-Geiger climate classification, the climate of the Kitulgala forest reserve comes under the Af range.
Recreational Activities at Kitulgala Forest Reserve
Kitulgala poses many recreational activities for the visitors to engage in out. The best out of them are as follows.
White Water Rafting
Waterfall Abseiling
Camping
Canyoning (rock sliding)
Bird Watching
Hiking
Cycling
Ziplining
Of course, all of them are fascinating experiences to witness, while some can be known as interesting, and adrenaline-kicking activities that this forest reserve offers. However, the below sections will provide you with a better overview of these activities.
1. White Water Rafting
If you want an adventurous experience to share and relive with a bunch of friends, white water rafting is one of the best ways. Indeed, a tour down the scenic Kelani river in Kitulgala is fun and a satisfying experience. However, white water rafting should be done under experienced rafters' supervision and safety guidelines. Many places in the area offer rafting gear and guidance. You can find more information about the Kitulgala white water rafting packages towards the end of this read.
2. Waterfall Abseiling
If you are eagerly waiting for an adrenaline rush like no other, abseiling in Kitulgala is the best way. Scaling down 150-meter high Sandun Ella can be both challenging and adventurous. Again, shouldn't be done unless with proper guidance and safety equipment. The section of this article that features 'tour packages' would further enlighten you with regard.
3. Camping
This wonderful forest reserve of greenery, together with its waterways, and the flora and fauna, create a safe heaven for any of the visitors to camp. Thus, many adventure enthusiasts, and campers, never miss the chance of camping in this wonderful place. And yes, you can enjoy the camping and glamping experiences available out there, at reasonable rates to suit your needs.
4. Canyoning (Rock Sliding)
You could witness an extra thrill out of this activity if you follow this after white water rafting. However, one can continue canyoning in few natural pools, waterfalls, and canyons created by river Kelani after a comprehensive safety briefing. And yes, many service providers offer you various packages that include guidance through canyoning as well. You can choose what suits you the best!
5. Bird Watching
Bird watching is a famous hobby of most nature lovers around the world. Moreover, this is another popular activity that you can indulge yourself in at Kitulgala as well. Out there, you can spot more than 50 rare species of birds. A few of the rainforest bird species that you can find at Kitulgala forest reserve are as follows.
Sri Lanka Spurfowl
Spot-winged Thrush
Green-billed Coucal
In addition, you can more often find the below listed Sri Lanka's endemic bird species at Kitulgala forest reserve.
Chestnut-backed Owlet
Sri Lanka Orange-billed Babbler
Moreover, bird lovers will definitely get amazed with the sight of Sri Lankas' most recently discovered Serendip Scops Owl at Kitulgala forest reserve. Further, bird species like the Layard's Parakeet, Mountain Hawk Eagle, and the Crested Treeswift are most commonly visible on the hill above the rubber plantations. In addition to bird species, you have the ability to spot a huge variety of butterfly species at this wonderful Kitulgala forest reserve as well. Also, a detailed overview of the birdlife at Kitulgala can be found later in this read.
6. Hiking
The Kitulgala forest reserve offers hiking enthusiasts, plenty of walks through impressive scenery. Indeed, one can enjoy the hiking trails by climbing up and being spellbound by the incredible views of the dense tea estates, lush green jungles, the rocky hills of the Hill Country, and the stunning valley of the Kelani river. Moreover, one can reach Beli Lena Caves, which holds an immense pre-historic value while a trail at Kitulgala forest reserve. In between a tiresome hiking trail, one can cool down under a refreshing stream that flows to join the Kelani river. In addition, another stunning hiking destination to fulfil one hiking desire is the Makandawa rainforest reserve at Kitulgala. One can observe several species of endemic birds and butterflies, while a trail under a thick canopy of lush forest in the Makandawa rainforest reserve.
7. Cycling
Cycling through the lush green jungles, stunning tea estates and rubber estates will definitely offer you the best of Kitulgala forest reserve. Moreover, one can continue biking through many mountain cycling tracks around Kitulgala. Indeed, this would even be the best way to go through the local village lifestyles.
8. Ziplining
Ziplining is another adrenaline-rushing outdoor activity at Kitulgala. In an inclined cable, a freely moving pulley is used to travel from one end to another. One can enjoy the lush greenery and many more spectacular views at the top of the journey. Thus, this undoubtedly happens to be a favourite of many adventure seekers who visit here.
Wildlife at Kitulgala Forest Reserve
By now, you surely know that the Kitulgala forest reserve holds fame for bird watching and butterfly watching as many rare and endemic species are available at this amazing place. Thus, when drawing your attention towards the wildlife out there, the endemic and migratory birds who reside there cannot be ignored.
Birdlife at Kitulgala
The Sri Lankan Junglefowl, which is the national bird in Sri Lanka frequent these thickets. Moreover, the following migratory predator birds reside at Kitulgala.
Crested Goshawk
Besra
Rufous-bellied Eagle
Mountain Hawk-Eagle
In addition, the following list shows the endemic species that nest in the Kitulgala forest reserve.
Sri Lankan Hanging Parrot
Layard's Parakeet
Red-faced Malkoha
Sri Lanka Green Pigeon
Yellow Fronted Barbet
Sri Lanka Swallow
Crimson-fronted Barbet
Brown-breasted Flycatcher
Legge's Flowerpecker
Sri Lanka Blue Magpie
Chestnut-backed Owlet
However, Green-billed Coucal, a vulnerable endemic species which is rapidly decreasing in population due to deforestation and fragmentation too can be spotted at Kitulgala.
Other Creatures at Kitulgala
In addition to the number of various bird species, the following mammals rule the jungle as their home.
Grizzled Indian squirrel
Layard's Striped squirrel
Purple-faced Leaf monkey
Indeed, Kitulgala is home to a number of fish species as well. These species encounter in the streams in the jungle and the Kelani river. The list is as follows.
Asoka Barb
Black Ruby Barb
Black-lined Barb
The Stone Sucker
Moreover, one can spot the following list of reptiles at Kitulgala forest reserve.
Earless lizard
Kangaroo lizard
Hum-nosed lizard
If you are a butterfly lover, Kitulgala is the best place to observe them within Sri Lanka. One can easily witness the following list of butterfly species at this forest reserve.
The Tawny Raja
Red Helen
Blue Mormon
Tree Nymph
Common Blue Bottle
Blue Oak Leaf
Likewise, the Kitulgala forest reserve makes a home to a wide range of amazing wild creatures, which further enhance the value of this place. And, why not? They are a great reason for nature lovers and wildlife enthusiasts to arrive at Kitulgala as well!
Best Time to Visit Kitulgala Forest Reserve
Kitulgala forest reserve receives a majority of its rainfall from the two main monsoon seasons of Sri Lanka, the northeast and the Southwest. Therefore, the ideal time to visit the rain forest is from December to February and August to September when the rainfall probability is low. The area abounds in leech so don't forget to bring anti-leech gear including anti-leech socks and leech repellant liquid.
The Best Adventure and Travel Packages at Kitulgala Forest Reserve
Indeed, by now it is clear to you that Kitulgala is a popular destination for several adventure activities in Sri Lanka among the locals as well as tourists. Thus, many service providers offer several travel packages covering a wide range. Of course, their prices and offerings vary depending on numerous reasons. Still, we thought of enlightening you with the general types of packages, and their offerings that are available focusing on Kitulgala. And yes, we believe that the following packages will make you realize the set of magical activities that Kitulgala offers you, to make your vacation more thrilling and exciting.
White Water Rafting Packages
Of course, Kitulgala is the best for white water rafting in Sri Lanka. Covering 4 minor rapids and 5 major rapids, one can enjoy a delightful experience in the Kelani river, that rhythmically flows through Kitulgala. However, the white water rafting packages at Kitulgala, generally are only for the ones who are above 10 years of age. Moreover, such a package would usually facilitate you with modern rafts, safety equipment, and a comprehensive safety briefing before starting the activity. Further, white water rafting at Kitulgala will cover a minimum distance of 5 kilometres. A package that features such a journey would cost within the range of USD 30 – USD 40 per person while an 8-kilometre journey would cost within the range of USD 40 – USD 50 per person. Some packages may include refreshments, accommodation as well, while some might cost extra for them.
Flat Water Rafting Packages in Kelani River
This is for the ones who are looking for an activity to engage with your small ones in Kitugala! And yes, flatwater rafting on the Kelani River would be the ideal choice for you. One can go on flat water rafting up to 40 kilometres along the Kelani river. Moreover, travellers are offered four leagues of flatwater rafting. You can choose the best that suits you.
First League
The travelling distance is nearly 1 kilometre. It will take approximately 30 – 40 minutes. The costs would range between USD 20 – USD 30 per person.
Second League
The travelling distance is nearly 2 kilometres, and it will take approximately 01 – 01 ¼ hours for the journey. The costs would range between USD 25 – USD 35 per person.
Third League
The travelling distance is nearly 5 kilometres. It will take approximately 2 hours, and the cost would usually range between USD 30 – USD 40 per person.
Fourth League
The travelling distance is nearly 20 kilometres, and it is a one-day program. The cost would range between USD 75 – USD 85 per person.
Waterfall Abseiling Packages at Kitulgala
Waterfall abseiling in Kitulgala is a far beyond adventurous activity from normal sightseeing of a waterfall. The waterfall in Kitulgala takes a height of nearly 105 ft and one can engage in this activity for nearly 3 hours. The cost will run between USD 70 – USD 80 per person. However, some service providers might charge an extra fee for refreshments, while some may include them for the package.
Rain Forest Trekking Packages at Kitulgala
This package will offer you an amazing exploration of flora and fauna, stunning sceneries of waterfalls, and other refreshing streams hidden inside the forest. It will cost between USD 45 – USD 55 per person. Moreover, a refreshment pack is included with most of the packages, while some may cost extra for them.
Bird Watching Tours Packages
This one of the best things to do in Kitulgala, where one can find a large number of the country's endemic bird species. One has the ability to birdwatch in both, the village and the forest. However, a bird-watching trail in the village will cost between USD 30 – USD 40 per person, while a bird-watching trail in the forest will cost between USD 45 – USD 55 per person. However, these prices may vary if they offer additional services, such as meals, refreshments, or any other benefits.
Mountain Biking/ Cycling Trips Packages at Kitulgala
By choosing a cycling package, one can cover a biking trip around the tea estates, rubber estates, and other stunning scenery around Kitulgala. However, there are different types of cycling packages that the service provides offer, and one will have the ability to choose one according to their interest. Their prices may vary depending on the duration of the tour, and additional features offered. However, mentioned below are the most popular types of cycling tours service providers offer.
Biking Trip to Belilena Ancient Cave
This type of tour would usually take a distance of around 6 km up and down. The cost would range between USD 35 – USD 45 per person.
Biking Trip to Suspension Bridge up to Kitulgala Site
This tour will take a distance of around 6km up and down. The cost will range between USD 35 – USD 45 per person.
Biking Trip of Off-Road Up & Down Hill
This trip will carry anyone towards the Beli Lena junction which will cover a distance of 12km up and down. The cost will range between USD 35 – USD 45 per person.
The Bottom Line
Just like everywhere else on this tropical island, Kitulgala offers unique experiences to travellers and explorers. So, if you are ever arriving at beautiful Sri Lanka, make sure you experience the delight of this wonderful Kitulgala Forest Reserve as well. However, these unspoiled, rich habitats should be preserved with care. Thus, if you are travelling to experience nature's charm, here we are making a gentle request from you to keep everything in the forest intact, leaving only footprints, and taking only your memories with you. Happy and Safe Travelling!