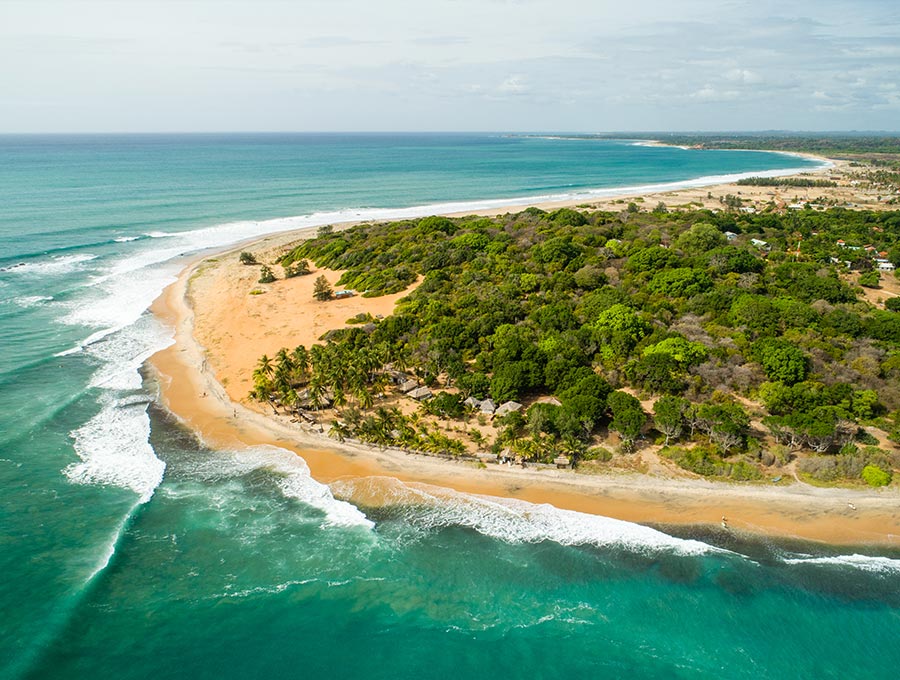 Sri Lanka, the paradise in the Indian ocean, the tiny island full of beauty and fortune has become a tourist landmark on the world map. With its mostly known natural beauty which extends up to historical values along with its man-made monuments, the island indeed is a paradise hidden in the enormous Indian ocean. Hence, Sri Lanka has been the finest place for travelers all over the world where one can get all opportunities in one place. The most important thing is that there are dozens of places to visit and some of them do not belong to the one-day trip category as well. Yet, despite the fact whether you are a foreigner or a local, having a plan for one-day trips in Sri Lanka before starting to travel around will make you travel throughout the island in a brief time.
So, we thought of helping you out with some of the best suggestions for one-day trips to Sri Lanka. Continue reading for a full overview with regard!
Best Places for One-Day Trips in Sri Lanka
Our suggestion for one-day trips in Sri Lanka covers a wide range of places starting from nature visits to mountain hiking extending up to ancient places and city tours. Here is a list of such places that you can explore within a single day!
Kandy
Yala National Park
Arugam Bay
Sigiriya Rock Fortress
Nuwara Eliya
Galle
Adam's Peak
Mirissa
Anuradhapura
Polonnaruwa
Dambulla
Colombo
Excited to know more about these places? Continue reading!
1. Kandy
Surrounded by green hills and a blue water body, Kandy remains highly significant in Central Sri Lanka. Besides, the charming scenic surroundings and the relaxing climate out there attract tourists in thousands each day. However, if you are planning a one-day trip to beautiful Kandy, there are a few places that you should certainly visit. The most important among them is the Temple of the Tooth Relic and the Royal Botanical Garden of Peradeniya.
The white building complex of the Temple of the Tooth Relic stands with majesty in the town. Further, this palace enshrines the left tooth relic of the Lord Buddha. Hence, Buddhists consider this one of their main religious attractions. Besides, its architectural features, statues, paintings, and murals, which belong to the Kandyan Era, make it more special. Owing to these reasons the Temple of the Tooth Relic gets a huge crowd daily.
However, the best time to visit this sacred place is between July and August. The reason why we say so is that there is this vibrant procession of the temple – Esala Peradera festival, during that period.
The Temple of the Tooth Relic is indeed an ideal place for a one-day trip, and a few hours would be sufficient for you to explore this place. Next, you can visit the Royal Botanical Garden, if you wish to.
The Royal Botanical Garden is situated just a few miles away from Kandy, and it is simply a land of natural beauty. The colorful blossoms, huge trees, and the beautiful landscapes out there are sure to fascinate your eyes. You can spend a few hours amidst the nature in this place, and end your one-day tour in Kandy with a city tour around this bustling, yet charming area.
2. Yala National Park
Nature is one of the most integral parts of the Sri Lankan territories. Being a justice to this statement, one can find numerous wildlife and nature-preserved areas all around the country. Among these dozens of wildlife sanctuaries and national parks in Sri Lanka, Yala is the most famous wildlife hotspot. In fact, one can find a wide array of animals, birds, and reptile species endemic to Sri Lanka along with a larger variety of migrant species within its territories.
You may wonder how this becomes the best place for one-day trips in Sri Lanka. Keep calm, we are ready to explain to you why!
Yala National Park is the best place to have a full day safari through the woods of its area in order to explore the beautiful nature in Southern Sri Lanka. Besides, this national park is well-known for Leopards, hence spotting leopards is obvious. However, the true fun is in exploring Yala three times a day. It allows you to spot every single animal in the jungle including buffalos, elephants, monkeys, crocodiles, and birds. The bottom line is it is the ideal place for nature and wildlife lovers to witness what they adore within a day.
3. Arugam Bay
Being an island surrounded by the Indian ocean indeed makes Sri Lanka special beyond a doubt. Also, without just having the sea, but with bays, lagoons, and everything related to the sea it has become more alluring.
However, one of the most significant and charming shores that Sri Lanka has is Arugam Bay. It is located towards the dry part of the island. The splendid environment, vibrant beach, and chilling vibe it provides are equally incredible. Besides, Arugam Bay is known for surfing more than anything. It has perfect surfing points for both beginners and experts.
Further, the presence of Kumana National Park within the vicinity of its location is an added advantage. So, Arugamy bay is the right place to enjoy the beach vibe to its fullest within one whole day. If you need a break from your busy day, get a day off, and visit this incredible place. Then breathe to let out all your stress while hearing the song that the ocean sings.
4. Sigiriya Rock Fortress
Have you heard about the UNESCO world heritage sites? Do you believe that Sri Lanka has its eighth heritage? Yes, it is true! Sri Lanka has its eighth heritage towards the Northern Central part of the country. This place is known as the Sigiriya Lion Fortress and it had been a castle back in the past.
The fortress is on the top of a huge rock that has the entrance of a giant lion's paw. Being a creation that combines natural and man-made amazement is the specialty of Sigiriya. Climbing the Sigiriya rock would approximately take around one and half hours, and the views it offers at the top are simply impressive. Besides, the world-famous Sigiriya frescoes, the mirror wall, ancient palace ruins on the top, and the water garden further enhance the significance of this wonderful place. Moreover, it is an incredible creation that reveals the cultural heritage, as well as the advanced architectural and drainage systems of ancient times.
Hence, this is a place where one can have a vintage vibe while exploring the beauty of ancient garden and pool structures. Most people dedicate half of their day to exploring the Sigiriya world heritage site and choose to hike Pidurangala in the evening hours, which is just a few miles away from Sigiriya. However, Sigiriya is an ideal place for a one-day trip in Sri Lanka, for anyone who loves history and hiking!
5. Nuwara Eliya
Moving a little bit from the Sri Lankans and history, now we have come to a destination where people do not believe their eyes seeing in Sri Lanka. To prove that point, locals call this area, 'Little London'.
Nuwara Eliya is the coldest part of the country. However, the beauty of the city is in its climate, surrounding, and architecture. Believe us, you will be in another world after reaching Nuwara Eliya.
This city has a strong bond with colonizers since it has ancient European building structures and city formations. Still, the natural beauty of Sri Lanka with its waterfalls, hills, and tea plantations have marked the ownership of the country. Further, the city is surrounded by many more landmarks. Therefore, it is indeed a must-visit. Read our article on 'Nuwara Eliya, the Fascinating Misty Mountain Town of Sri Lanka!', to get to know about the best places to visit in this charming town. Above all, remember to take a train ride to Nuwara Eliya since it adds up to the vibe that the city gives even before arriving.
6. Galle Fort
Every corner of Sri Lanka is filled with wonders. From North to South, from East to West, it is filled with beauty and splendor in its own way. Galle Dutch fort provides evidence to the above statement since it has its own beauty while being a part of the history of the country. It is also one of the places where you can find colonizer reminiscence but in a positive way.
The fort is very old yet stands still. The area is structured according to Dutch architecture and still gives out the feeling of Sri Lanka. The delightful sea view and the washing-out waves add more glamour to the vintage picture it gives while making visitors more than satisfied. The fascinating atmosphere impresses the visitors and makes them live a quality moment there.
Including this incredible monument, the Galle city is a place full of beauty with many more landmarks around. Also, do not forget to have a set of quality photos there since Galle Fort is a place that photographers often choose.
After all, it indeed is best for a one-day trip where you can have a variety of experiences related to the sea and nature. Read our article on 'Galle, the Most Surprising Paradise of Southern Sri Lanka' to get to know more about this wonderful city.
7. Adam's Peak
Adam's Peak or the Sri Padaya is one of the important religious places that thousands of pilgrims visit per year. To be specific, it is a mountain that goes up to a great height and preserves a huge footprint that each religion believed to be their own religious leader's. Hence, without an exception, every single individual in the country is determined to visit the place even once in their lifetime. So, it is also a place of unity and harmony, and that fact makes it more special.
Being an exceptionally significant religious place for more than a thousand years, Adam's Peak has become an important landmark in Sri Lanka. The journey up to the mountain is no less than a hike where you can find a proper path.
However, it is said that choosing nighttime to make this journey is more effective. It will take around 2-4 hours to reach the summit and then 1-2 hours for the way back. So, be ready to face any hardship during this period since it is not worth returning before reaching the summit. Therefore this is a journey that one can make within even less than a day. If you are willing to visit, remember to go during the Adam's Peak season, which is from December to April.
8. Mirissa
Now, we are ready to take you once again to the Down South area of Sri Lanka in order to show you another wonder. As you might already know, the southern sea is associated with many beauties and thus there are dozens of places to visit. And yes, one of them is Mirissa which is a place that makes you forget the rest of the world.
In fact, Mirissa is a small village with wonders and many consider it a paradise for travelers. It is a place that stops both breath and heartbeat for a few seconds due to the incredible beauty it possesses. Since this is one of the best beach areas in Sri Lanka there are many reasons why you should visit Mirissa. Here are some of them!
This beach area is very clean and geographically beautifully formed. Other than that, this area is famous for water sports and delicious seafood items as well. Besides, the most important thing that this beachside offers you is whale watching and that is simply a super amazing experience. How could someone come back from a place like that? So, remember to leave your footprints there, not your heart!
9. Anuradhapura
Anuradhapura is the capital city of the ancient Anuradhapura kingdom, and thus, a city with a bunch of historical values. Once you arrive at this ancient town, you can either use private transportation or hire a bicycle and roam around. Many of the attractions are located closer to each other. Owing to this reason exploring the city is never an issue. Besides, since the city houses several religious and cultural attractions, you can choose what to visit according to your preferences, and the time available.
You can read our article on 'The Most Significant Places to Visit in Anuradhapura' to get to know about the attractions out there. However, most of the people definitely choose to visit the Jaya Sri Maha Bodhi, Ruwanweli Seya, the Samadhi Statue, and climb the Mihintale rock or relax by a lake in the evening hours, if they go on a one-day trip to Anuradhapura.
10. Polonnaruwa
Sri Lanka is an island that shifts from beauty to history and then to nature. Among many, Polonnaruwa is a city filled with historical monuments and ruins that have been preserved thousands of years back. This is one of the best places where one can learn about the history of Sri Lanka, particularly the kingdoms, kings ruled, and their contribution to the development of certain sectors. Other than that, the Polonnaruwa city is filled with prosperous lakes, chains of paddy fields, and lush greenery. So, this city takes you to heaven of peace with its atmosphere.
One day will serve you a full tour around the city along with the knowledge and amazement. The best thing one can find among the ruins belongs to the glorious history of the island, is the archaeological system prevailed at the time. It is an unbelievable meticulous technology that no one believes to be there. You will realize it by exploring the dozens of ancient structures, tombs and temples, and stupas in Polonnaruwa. So, if you are a person who has an urge to walk through the pages of history, this is an ideal place for you to explore!
11. Dambulla
Located in Central Sri Lanka, Dambulla is a charming city with many historical values. And yes, many consider it a cultural treasure trove owing to the rich heritage it reveals to the world.
However, the most significant attraction in the city of Dambulla is its cave temple. This temple consists of five caves, and it is believed to be the best-preserved cave temple in Sri Lanka as well. The murals and paintings, statues of Lord Buddha, and the rest of the statues of the deities in these caves hold amazing artistic and historical values. Hence, many visitors spend some good hours studying these valuable artifacts in these caves.
Apart from that, the Dambulla area is very famous among travelers for village tours and hot air balloon rides. So, after exploring the cave temple, many dedicate their day to such activities. Meanwhile, some choose to head to Sigiriya to climb the rock fortress as well. All in all, Dambulla is one of the best places for a one-day trip in Sri Lanka, that would delight you with many amazing experiences!
12. Colombo
Sri Lanka is not all about culture, heritage, nature, and history. Yes, it is about modernization and development as well. It is evident through the largest city of Sri Lanka, Colombo.
As you may know, Colombo is the most developed, most crowded, and most urbanized city in the country. It is still under development, yet sophisticated. However, the city houses several important landmarks that are not second to world landmarks. Therefore, it is a great place to have a tour around and explore both new and old monuments.
Colombo has been famous as the all-to-go option for all matters of the country for so long. Besides, it is also considered the commercial capital of Sri Lanka. It is not that the city does not value nature, but it preserves the value of both the country and nature. The full city tour is worth having in order to explore the diversity and the lifestyle of the Sri Lankans. So, without a doubt, Colombo is one of the best places for one-day trips in Sri Lanka!
The Bottom Line
The world knows Sri Lanka especially due to its attraction. In fact, every inch of the country is filled with a different specialty. Thus, it as a whole is a paradise full of wonders. Owing to these reasons, Sri Lanka has now become a place that one should visit to witness its beauty and culture even once in a lifetime. Besides, even the locals have so much to explore on this island. Therefore, traveling in Sri Lanka is a favorite of many. However, when planning a trip, many prefer to go on one-day trips. Hence, we believe that this read gave you some perfect suggestions to plan your one-day trips, here in Sri Lanka. Explore this island, and delight yourself. Happy and safe traveling!