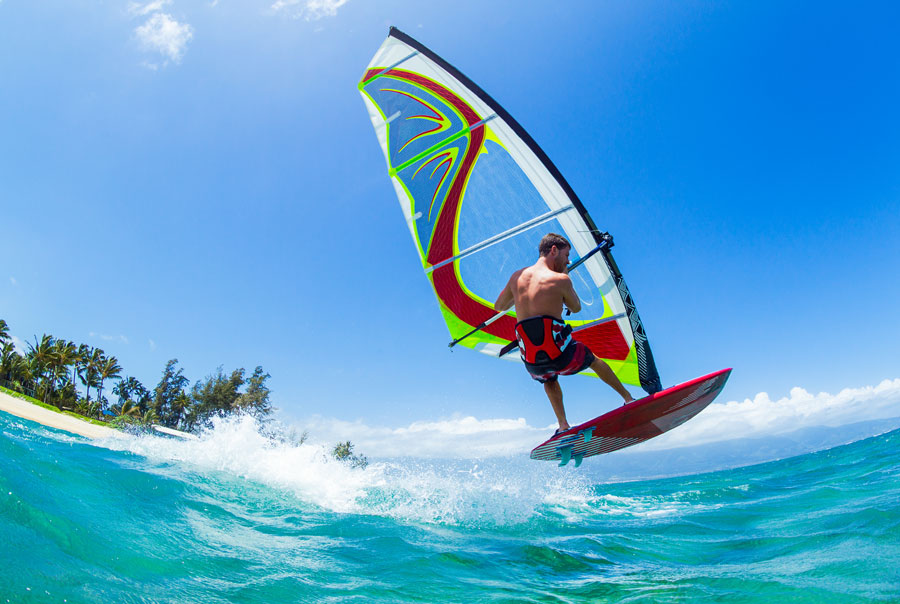 Being a beautiful island surrounded by blue water, Sri Lanka is an ideal location for a variety of water sports. If you are an expert, Sri Lanka is ideal for water sports; but, if you are a beginner with no prior experience, you can still get assistance from a trainer who will ensure that your experience is genuinely unforgettable. Thus, this island is certain to surprise anyone with some exhilarating and exciting water activities that they will remember for the rest of their lives. Hence, you can surely try out the numerous adrenaline-boosting and tranquil water sports in Sri Lanka if you love to sprint and have some fun in the water.
Thus, we thought of sharing with you the delight of water sports in Sri Lanka, through this read. Excited to know more about them, isn't it? Continue reading!
Types of Water Sports in Sri Lanka
Whatever your age or stage in life, there is something in store for you. Some of the significant water sports in Sri Lanka are mentioned below.
White Water Rafting
Surfing
Scuba Diving
Snorkeling
Deep-Sea Fishing
Jet Skiing
Catamaran Tours
Speed Boat Riding
Boat Riding
Water Skiing
Windsurfing
Kite Surfing
Duck Paddle Boating
SeaPlane Riding
Banana Tube Riding
Dolphin Watching
Whale Watching
Canoeing
Excited to know more about these water sports in Sri Lanka? We are sure you are. The below sections will provide you with a complete overview with regard!
Best Things to Know about these Water Sports in Sri Lanka!
This legendary island will leave you feeling completely energized by the water sport opportunities it offers you. The following sections will surely prove this fact to you!
1. White Water Rafting
White water rafting, also known as river rafting, is one of the most popular water sports in this country. It is a difficult recreational activity as well as a thrilling water sport. However, despite the popular assumption, White Water Rafting is not a physically demanding activity. This can be a thrilling experience for water sport enthusiasts who enjoy white waters as well as other tumultuous waters. Though swimming skills are a plus, a Personal Flotation Device is required for White Water Rafting since it will prevent you from drowning if you fall overboard. However, white Water Rafting is not recommended for anyone with cardiac conditions, epilepsy, or who are uncomfortable with rough waters.
White Water Rafting is available in some of Sri Lanka's rivers for recreational and water sports lovers. The small hill country village of Kitulgala is the most well-known location in Sri Lanka for doing so. Kitulgala is around 80 kilometers south of Colombo on the A7 main route, which connects Colombo with Nuwara Eliya via Avissawella. Kitulgala is a charming town nestled between lush tropical foliage and verdant hills. Kitulgala's hillside part of the Kelani River is perfect for Water Rafting. White Water Rafting at Kitulgala allows visitors to take in the region's breathtaking tropical surroundings. This adrenaline-fueled adventure activity is ideal for both novice and experienced rafters.
2. Surfing
How about a ride in a tuk-tuk, delicious traditional curries, and challenging waves for all levels of surfers? This is what we call surfing in Sri Lanka.
This beautiful island is world-famous for surfing. Despite not being popular among Sri Lankans, surfing is one of the most popular activities in the country among foreign tourists. Surfing has been practiced in Sri Lanka since the early 1960s. It has breaks appropriate for all levels. So you will be in 7th heaven whether you're a hardcore and dedicated surfer or you have not yet mastered or controlled standing on a surfing board.
Popular surf places in Sri Lanka among tourists include Arugam Bay, Hikkaduwa, Weligama, Mirissa, Ahangama, and Unawatuna. Besides, Sri Lanka offers two distinct surf hubs that operate on opposite surf season schedules, allowing you to catch waves at any time of year. Those two seasons are:
November to April- The southwest coast of the country is the ideal place to go surfing, with Hikkaduwa being the primary surf spot at this time of year.
May to October- The east coast is the best area of the country during this season, with Arugam Bay being the primary surf spot. While the monsoon batters the west coast, the sun shines brightly on the infinite beaches on the opposite side of the island.
Simply select your desired coast and season, and you will not be disappointed.
3. Scuba Diving
Scuba diving in Sri Lanka is a fantastic way to see the country's magnificent marine life. It is known for having some of Asia's top dive locations, with divers seeing a wide diversity of coral and fish. In Sri Lanka, there are numerous scuba diving locations located around the island's western, southern, and eastern shores. These areas are diverse and beautiful, allowing both novice and experienced scuba divers to enjoy the options available. The best and popular locations for scuba diving are Kalpitiya, Mirissa, Trincomalee, Pasikuda, Beruwala, and Kirinda. Besides, the best features of these areas are summarized below:
Kalpitiya

The Bar Reef at Kalpitiya Beach is one of Sri Lanka's finest coral reefs. It is rich in corals and fish, and one of the island's most popular scuba diving spots.
Price: For beginners, prices start at USD 55and go up to USD 65 with One Boat Dive.
Trincomalee

Due to its proximity to the Pigeon Island marine life habitat, Trincomalee provides a unique diving experience compared to other destinations. Diverse coral reefs, fish, anemones, and nudibranchs can all be found in this protected region. It also features the Irakkandy shipwreck, which adds to the excitement of your diving.
Price: Boat dives with rental equipment ranges between USD 40 – USD 50 per person.
Mirissa

Originally known for whale viewing, it is now known for being a wonderful diving destination in Sri Lanka. There are more than 5 dive places in Mirissa to add to your diving experience. If you are afraid or unsure about diving into the waters, the diving schools in this area will provide you with a guide to assist you in having an unforgettable journey beneath the sea.
Price: For certified divers, prices range between USD 35 – USD 45 per person without equipment.
4. Snorkeling
Apart from Sri Lanka's natural beauty, this island is known for its fascinating snorkeling places, which are great for discovering the world beneath the waves. Besides, snorkeling in Sri Lanka is also not too expensive. Thus, snorkeling in Sri Lanka is a must-do for any adrenaline junkie who wants to dive deep and swim alongside marine life.
These snorkeling places are not just for pro-snorkelers; there are PADI training institutes where novices may learn to snorkel. Further, scuba diving and snorkeling in the Indian Ocean's crystal-clear waters is an unforgettable experience. Between November and April is the perfect time to visit Sri Lanka's greatest snorkeling spots. On the other hand, the months of April and September are unquestionably the best for viewing the marine world on the east coast.
The greatest spots to snorkel in Sri Lanka are listed here, and you should include them in your schedule before going.
Hikkaduwa: Extraordinary Coral Reefs
Pasikudah: Perfect Blue Waters
Kirinda: Swimming Among Shipwrecks
Mirissa: Pure Waters
Pigeon Island: Beautiful Coral Reefs
Nilaveli: Various Marine Life
Koggala: Tranquil Waters
Weligama: Whales and Sharks
Trincomalee: Vibrant Marine Animals
Kalpitiya: Largest Coral Reef in Sri Lanka
Colombo: Wrecks and Fish
Galle: Diverse Flora and Fauna
So, what are you waiting for? Enjoy a thrilling and adventurous voyage of exploring the world underwater while in Sri Lanka, such as swimming with whales at these snorkeling places, and make the most of your beach holiday!
5. Deep-Sea Fishing
If you want to spend a few hours at sea, deep-sea fishing is a terrific adventure sport. Indian Ocean's deep blue waters provide ample opportunities for this amazing activity.
Big game fishing, boat fishing, and even sport fishing are all terms used to describe deep-sea fishing. This is a type of fishing that takes place in deep seas and is usually done away from the shore. The water depth should be at least 30 meters if you are going on a deep-sea fishing adventure. Deep-sea fishing is also distinct from traditional fishing trips. As you get further out from the coast, you will find yourself in deep waters teeming with large game fish like tuna, sharks, swordfish, and even marlin. Because these species feed and reproduce in deep ocean waters, they are unlikely to be found closer to the coast.
When compared to water sports such as surfing, this adventure activity is rather under-appreciated. There are, however, a lot of options for enthusiasts who want to dive into these deep seas. From August to May, when the deep oceans are calmer, is the greatest time to go spot fishing around the western and southeastern coasts.
Most deep-sea fishing tours are half-day excursions, but if you want to spend more time there, you can buy a package that includes a longer tour. The skipper will direct you to the area of the water where freshwater and saltwater merge, where there are more fish to be found. Snapper, mullet, catfish, and mangrove jacks are among the fish species found. The approximate cost for deep-sea fishing ranges between USD 50 – USD 60. The southwest coast of Sri Lanka is very famous for this activity.
6. Jet Skiing
Jet skiing is a sport that combines the excitement of speed with a fantastic workout. Thus, in Sri Lanka, jet skiing is one of the most enjoyable and exciting water sports that you can indulge yourself in. You will feel more alive than ever as you glide across the water, getting a burst of excitement. Skiing against the waves, making the waves carry you, and at times flying through the sea mist will provide an excitement unlike any other.
In Sri Lanka, Bentota is a popular jet ski destination on Sri Lanka's southwestern coast. Jet Ski Riders can enjoy extremely high-speed waves on the Bentota River. Further, the Negombo lagoon jet skis are one of the best methods to enjoy water sports. Besides, tourists go over to the Negombo Lagoon for boat tours of the lagoon, and to visit the lagoon's many small islands, which are both entertaining and adventurous. The approximate cost for Jet ski ranges between USD 15 – USD 25.
7. Catamaran Tours
Set sail from Sri Lanka's east or south coast aboard a luxury Catamaran in the style of a Greek tycoon on vacation in Savoy!
Catamarans are multicolored sailing vessels with two equal-sized parallel hulls. The craft is geometry-stabilized, meaning it does not rely on a ballasted keel for stability like a monohull sailboat.
Sri Lanka has the ideal climate for sailing all year: sunny skies, strong winds, and stunning scenery. Mirissa and Beruwela are the locations to be from October to May. From June to September, Trincomalee and Pasikudah are ideal sailing destinations. Besides, Sri Lanka's catamaran tours facilitate coastal cruises, sailing boat rental, and private sailboat charters with their prices ranging between USD 150 – USD 200 per person.
8. Speed Boat Riding
With its tropical climate and tranquil seas, it is no surprise that Sri Lanka has a variety of boating sports. Thus, you can surely take a thrilling boat ride while feeling the water and salt in the air. Again, this is a fantastic family activity that is also safe, when compared with the other water sports in Sri Lanka. So, why not? Take in the ocean's beauty as you board a speedboat filled with laughter and screaming. The speed boat is an amazing trip that you will never forget. It is ideal for a small group of people or families. Bentota, Trincomalee, and Mirissa are some of the best spots to try speed boat excursions. The approximate price for a speed boat ride ranges between USD 60 – USD 70.
9. Boat Riding
A boat safari is indeed a wonderful safari experience. On your journey, you will stop at Mangrove to see river birds, water monitors, and, if you are lucky, a rare crocodile in its natural habitat. The boat provides a tranquil and soothing experience while also allowing you to admire the mangroves' richness. You can pick between morning and evening departures for the boat safari, depending on your taste. Boat safaris are available in locations such as Hikkudawa and Balapitiya. The approximate price for a boat ride ranges between USD 55 – USD 65.
10. Water Skiing
With its stunning environment, coral reefs, and pure blue waters, Sri Lanka provides one of the best water-skiing experiences. It is comparatively a new adventure in this country but is equally thrilling and exciting just like snow skiing. Since its establishment, this water sport is becoming very popular and trendy among locals and foreigners as well. Water ski camps are also available in a variety of locations where you can learn to ski. So, when you enjoy a genuinely unforgettable water sports adventure in Sri Lanka, let the adrenaline run through your body.
The finest months for water skiing on the southwest coast are October to April, whereas the best months for water skiing on the north coast are March to November. The price for water skiing ranges between USD 5 – USD 10 for around.
11. Windsurfing
Windsurfing is a combination of surfing and sailing that takes place on the water's surface. Further, it is a recreational sport that is most popular in flat water regions across the world that are safe and accessible to beginners and intermediates. There are some training camps in Sri Lanka where you can register for a course in windsurfing if you are a beginner.
This sport is something you may attempt in Bentota and Hikkaduwa. The coastline and weather provide the ideal conditions for windsurfing. The sport necessitates a blend of strength and dexterity. The exhilarating moments of surfing over spectacular waves leave you feeling elated and with a bag full of memories to take with you. The ideal time is December to March. Other months are July, September, November, and April. The approximate price for windsurfing ranges between USD 5 – USD 10 per person.
12. Kite Surfing
With flat water, Sri Lanka is one of the world's best kitesurfing destinations. Why is Sri Lanka the best kitesurfing location in the world? Sri Lanka has ideal kitesurfing conditions: Many lagoons provide flat water, consistent wind conditions, and favorable wind for nine months of the year. There are also numerous kite spots with excellent and consistent wind, which are ideal for both beginners and advanced riders. But from all these spots Kalpitiya lagoon is the best place for this interesting sport. Other than that, you can try Vella Island, Arugam Bay, Puttalam Lagoon, Donkey point, Dog point, Mannar, Negombo, and the Navy point spots for kitesurfing as well.
Sri Lanka's main kitesurfing season runs from May to October. During the main season, we look forward to days when the wind is consistent and predictable. Due to the interactive play between you and the power of the wind, the wind climbs between 18 and 30 knots, turning each day into an exhilarating kitesurfing adventure. December to March is also a good season. The wind will not let you down during these days in Kalpitiya, thus kiters from head to toe relish these days on the lake. Even if the wind speed reduces a little, you may expect days with 14 to 20 knots of wind.
Besides, the training period is a must for everyone. It is about 15 hours, depending on your ability. Swimming ability is the major requirement. Whether you are a local or a foreigner, this is prohibitively pricey. It will cost you roughly 25-30 euros per hour, or around USD 300 – USD 350 if you complete the entire training program. You will not want to quit the water or your kitesurfing gear once you have gotten the hang of it. It is unquestionably addictive!
13. Duck Paddle Boating
When visiting Colombo, a paddleboat ride on Beira Lake is a must-do activity. On this lake, you can rent a variety of duck paddle boats to enjoy the beauty of the waterways. The sheer joy of paddling along these boats as you come face to face with genuine ducks or swans on the lake is likely to bring out the child in you. The Beira Lake is next to the well-known Gangaramaya temple, the famous religious attraction in Sri Lanka. The Simamalakha Shrine, which is situated on an island in the middle of the lake, is one of the lake's primary attractions.
Boat trips are available throughout the day, but the evenings are preferable because the illuminated Gangaramaya temple is visible in the distance. The cost of a 30-minute boat ride in a two-seater boat is roughly USD 1 – USD 2 per person.
14. SeaPlane Riding
The Sea Plane Ride is one of Sri Lanka's most remarkable water activities, and you should absolutely do it while you are there. The voyage will allow you to appreciate Sri Lanka's magnificent scenery, including its golden beaches, deep blue oceans, gorgeous flora and fauna, and vibrant culture, which you will remember for a lifetime.
Colombo, Bentota, Batticaloa, Dickwella, Kandy, Koggala, Sigiriya, Trincomalee, and a few other cities provide rides. The ride can last between 10 minutes and an hour. The ride cost is estimated to be between USD 100 – USD 200.
15. Banana Tube Riding
The banana boat tube ride is one of the most popular and safe water activities among families. This trip involves a banana boat being towed by a speed boat, giving you the ride of your life, and making it one of the best water sports leisure activities in Sri Lanka for your family. With up to 7 adventurers sitting atop the gigantic inflatable Banana, the skilled speed boat Captain will try to flip and spin the Banana Boat upside-down and dump as many riders as possible into the sea! Expect to be soaked!
As you strive to fight the captain's best efforts to get you into the Lagoon while hanging on during this white-knuckle ride, this is arguably the funniest activity! This is a thrilling and exciting activity. Negombo, Bentota, and Colombo are some of the best spots to go on a banana tube ride. The approximate cost ranges between USD 20 – USD 30 for 6 people.
16. Dolphin Watching
There are various species of dolphins that live in the Indian Ocean around Sri Lanka. It is one of the trending wildlife attractions of the country. The best locations for dolphin watching are Kalpitiya and Trincomalee. Mostly, the dolphin-watching journey starts around 7 am, as the boats must leave the shore early in the morning to catch up with the dolphins. The sea around Kalpitiya Peninsula has become popular for thousands of spinner dolphins in their natural habitats. Mid October to the end of March is the dolphin season for Kalpitiya, and during these months, large pods of spinner dolphins can be spotted dancing and playing with the waves. You will be able to see those joyful dolphins swimming alongside and under your boat, jumping, whirling, and riding waves. It will be a splendid unforgettable experience in your lifetime.
Normally, the package of a dolphin-watching journey includes a wildlife ticket, boat cost for the entire journey, and water bottles. There are both big and small boats at service, and in some packages, it includes breakfast as well. The price will be depending on the type of package you choose and the number of people.
It is a must to go dolphin watching, if you visit Sri Lanka, as it will be an unforgettable memory in your lifetime.
17. Whale Watching
Sri Lanka is very famous for whale-watching tours. On a whale watching tour, you will be able to see blue, sperm, Bryde's, and humpback whales. Sri Lanka is among the top 3 countries to see these gigantic whales. Mirissa, Kalpitiya, and Trincomalee are the best 3 locations for whale-watching.
Among them, Mirissa is a prime spot for whale watching due to its geographical location. Therefore, there are plenty of boat operators who offer whale-watching excursions. The tour will start early in the morning, around 6 am from Weligama Bay, and the whole journey will take around 4-5 hours. The most common whales you are likely to spot in Mirissa are blue whales. The best season to do whale watching in Mirissa is December to April. The rest of the year is the monsoon season. During this season the seas become too harsh for boats to navigate.
The season in Kalpitiya is from November to March/April. That is where the sea is calm. Whale sightings in Kalpitiya have increased dramatically in the last decade or so, with sperm whales plunging to try their luck at snagging a large squid.
Trincomalee may not be as developed as Mirissa and Kalpitiya, but that is part of its appeal. You will be ready for sightings of blue whales eight nautical miles east of Trincomalee (around 30 minutes by boat) — a truly unique encounter. The Best season for whale watching in Trincomalee is April to August.
18. Canoeing
Sri Lanka is a wonderful destination to visit for a canoe journey, with a tropical climate and a diverse range of water bodies. Whether you are an experienced canoeist or have never paddled before, Sri Lanka has plenty of opportunities for you to participate in this exhausting yet gratifying exercise.
Day trips in Sri Lanka provide a variety of river canoeing adventures in rivers throughout the country. Take a river canoe trip along the Mahaweli or Kalu Ganga or combine your paddling trip with other activities like trekking and riding. Sri Lanka day tours offer a variety of canoeing experiences, with new adventures and itineraries offered on a regular basis.
Once you get started on your canoe travels, you will see that keeping the canoe afloat and paddling become second nature to you, and you will notice the beauty of your surroundings unfolding right before your eyes. Birds in the trees, people going about their daily routines, paddy fields and plantations full of nature's bounty, and the breeze cooled by the water soothing you as you go on your journey all add up to a fantastic canoe trip that is both gratifying and exhausting.
Before you take out, Sri Lanka Day Tours guarantees that all operators give the greatest safety equipment for each individual, as well as safety and paddling lessons. Until you reach your goal, you will accompany the guide in small groups. Unawatuna, Mahaweli River, Kalu Ganga, Belihul Oya, and few other places provide canoe trips.
The Bottom Line
More than a thousand kilometers of palm-fringed paradise beaches with crystal clear waters stretch along Sri Lanka's boundless coastline, inviting visitors to swim, sunbathe, and participate in watersports all year. Thus, this beautiful island is certain to provide you with some exciting adventures that you will never forget. So, if you are ever planning a trip to Sri Lanka, make sure to include some of the exciting water activities in your itinerary. Enjoy some exhilarating water activities that will leave you feeling completely refreshed. However, keep in mind to compare the prices of the services you enjoy, since the Ministry of Tourism in Sri Lanka still does not have a proper mechanism to regulate the prices of water sports. Happy and Safe Travelling!