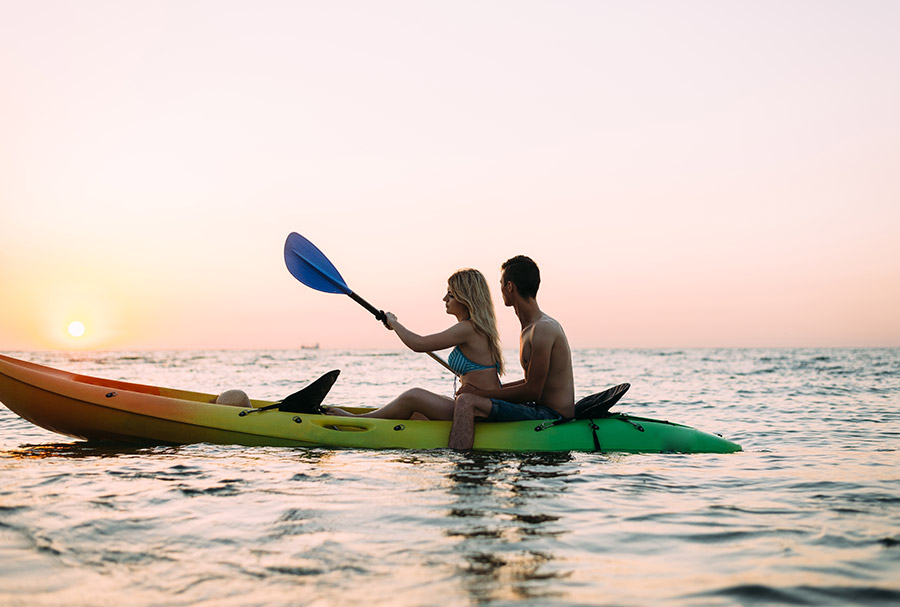 Sri Lanka, the paradise island of South Asia is a favorite destination for many travelers all around the world. Its tropical vibes, beautiful weather, and spectacular scenery invite tourists to have an experience like no other. Therefore, if you are a travel enthusiast who is fond of outdoor activities, Sri Lanka will be the perfect spot for you. In fact, the gorgeous beaches around and the rich river system within the country create ample space for a vast variety of wonderful activities, especially water sports. Among the water sports that amuse travelers, kayaking is a much-loved. So, keep reading to get to know all about kayaking in Sri Lanka!
The Delight of Kayaking in Sri Lanka
Kayaking is a rather safe and also adventurous water sport that one could experience in Sri Lankan waters. However, there are many reasons why one should try kayaking in Sri Lanka.
Firstly, kayaking is an amazing way to explore the sights that are harder to reach in any other way. Thus, kayaking among the stagnant tropical lagoons is considered to be a unique adventure. In fact, the wildlife and nature fans could explore the blue and green environment at the same time by a kayak. Then, the beautiful tropical weather adds more delight to the escapade. Furthermore, there are ideal locations in Sri Lanka to try kayaking in a thrilling manner in rough water bodies and also as a soothing experience in the calm waters exploring nature. The diversity in the river system provides opportunities to seek different experiences within the travel of a few hours.
Then, sea kayaking is also very popular among tourists to explore the coastal area and the scenic waves. Anyhow, there are plenty of facilities in Sri Lanka and one can enjoy kayaking to the fullest with maximum safety. After all, a kayak is an eco-friendly and low-budget activity for a tourist to travel over the spectacular lagoons, rivers, and the ocean, to amuse his eyes in a way like no other. So, the delight of kayaking in Sri Lanka should never be missed!
Kayaking Tours in Sri Lanka
If you are looking for a kayaking tour in Sri Lanka, there are many service providers that you can get in touch with, in order to organize yourself the perfect tour in accordance with your needs and interests. As there are many locations that are ideal for kayaking, one can choose the best location to meet up with different interests.
It is best to organize the tour along with a service provider considering safety measures and ease of access to facilities. They have the necessary equipment, professionals in kayaking, and contacts with the local authorities to arrange the perfect and stress-free tour.
Generally, they offer various packages. The prices of these packages can differ along with various factors such as duration, number of participants, and additional services such as refreshments, photography opportunities, etc. So, the travelers have more and more opportunities to compare kayaking packages of different service providers and to choose what suits them the best.
Best Time for Kayaking in Sri Lanka
For kayaking, the time period between December and May would be much more appropriate considering the sunny and dry weather.
As you know by now, Sri Lanka is a tropical island and generally has good weather for traveling throughout the year. Besides, there's a vivid diversity in weather within the country even though Sri Lanka is a small island. Also, the northeast monsoon and the southeast monsoon have a noticeable impact on Sri Lanka's climate. So, considering these facts that we mention to you that the time period between December to May would be ideal for kayaking in Sri Lanka. Besides, August is also a summer month and there's very little rainfall. During this time also, you'll be able to enjoy kayaking, feeling the sun on your skin while exploring the gorgeous water bodies.
However, Sri Lanka is a bit crowded in the tourist seasons, so it's better to make necessary arrangements beforehand to have a hassle-free tour. On the other hand, many kayakers love to arrange the tour to see the pretty sunrises and sunsets. Lagoon sunsets and sunrises are especially photogenic and it's a sight that you should not miss on your kayak trip. Hence, mornings and evenings are the best times of the day for kayaking in Sri Lanka.
Best Places for Kayaking in Sri Lanka
By now, you certainly know that there are many places ideal for kayaking in Sri Lanka. Among them, here's a list of the top picks for you to experience the best out of this delightful activity.
Kitulgala
Ahungalla
Madu River
Tangalle Lagoon
Kalpitiya Lagoon
Bolgoda Lake
Habarana
Weligama Bay
Wasgamuwa National Park
Need more information to choose the best place for your kayaking tour? The following sections will surely help you get the best choice!
Kitulgala
This is a well-known and beginner-friendly destination for watersports on the Kelani river. Kitulgala is situated in the Sabaragamuwa province and the distance from Colombo to Kitulgala via Avissawella is 88 kilometers. Early morning or evening is recommended for kayaking in Kitulgala to have a unique experience of sightseeing.
Ahungalla
Ahungalla is in the Galle district and is approximately 76 kilometers south of Colombo. You can kayak through a peaceful mangrove tunnel away from the usual hustle-bustle. Ahungalla is also renowned for bird watching. So, if you are a nature lover, kayaking at Ahungalla would surely be amazing!
Madu River
Madu River is a world heritage site situated 38 kilometers south of Colombo and 35 kilometers north of Galle. Also, the wetland area is home to a wide variety of flora and fauna. Kayaking through the Madu river will make you look into nature from a whole different perspective. So, if you are willing to spend some quality time with nature, kayaking at Madu River would be a perfect choice!
Tangalle Lagoon
Kayaking is the perfect way to explore the rich ecosystem in Tangalle lagoon which is situated 160 kilometers from Colombo. You can explore the mangrove forest and look out for wildlife and birdlife too. To get the most out of this expedition, kayaking in the early morning and evening is highly recommended.
Kalpitiya Lagoon
This is situated in the Puttalam district and kayaking through the Kalpitiya lagoon will be such a unique experience. It is better to avoid daytime while kayaking as it can get quite hot at that time.
Bolgoda Lake
Bolgoda Lake is situated just 19 kilometers away from Colombo. However, if you like to explore a freshwater body, this is the perfect location for you to try kayaking. Also, kayaking in such a peaceful environment is sure to soothe your soul. Besides, Bolgoda Lake is also famous for bird watching. Thus, these fascinations altogether would magnify the delight of your kayaking tour in these scenic surroundings.
Habarana
Habarana is a beautiful village in the Anuradhapura district. Hence, kayaking in Habarana will be a totally different experience as you will be able to have a look at the Sri Lankan village life too. Besides, Habarana lake is indeed a sight to sore eyes. So, kayaking at Habarana promises you some unique experiences that you would treasure the most!
Weligama Bay
If you are a fan of sea kayaking, Weligama Bay is the place for you. This is located 145 kilometers away from Colombo. One can practice kayaking as a sport in Weligama bay and also have a dip in the warm waters. However, it is recommended to visit from November to April to get the best out of the trip.
Wasgamuwa National Park
Kayaking in the Mahaweli river in the Wasgamuwa national park is a great tour for the adventure-loving kayakers. This is located in the Mahiyanganaya area. The guided tour will be 55 kilometers long where you will be able to explore a unique side of the island with plenty of wildlife and nature sceneries. This long tour can get quite hectic so, make sure you are physically fit enough for the challenge.
Things to Know before Kayaking in Sri Lanka
We are sure that you are eagerly waiting to witness the delight of kayaking in Sri Lanka. Still, before you plan your kayaking tour on this island, knowing a few things may surely help you witness the best. The following facts will surely help you with it!
There are many locations in Sri Lanka to have a stunning kayaking experience. So, it is up to you to choose locations that meet your best interests.
While kayaking is a beginner-friendly sport, make sure to go through the training sessions which will be offered by the service provider.
Choose the kayak and the other necessary equipment with the help of your guide.
Make sure that your attire is suitable for water sports.
Beware of the dangerous spots that you might face during the tour.
Make certain that you are totally safe before hitting the water and learn about how you can rescue yourself in an emergency situation.
If you are kayaking with a team, keep an eye on your team members as well.
Be communicative with your service provider and take well-informed decisions.
It is better not to kayak alone.
Keep a first-aid kit with you and it's better to avoid kayaking if you are not physically fit.
However, although your service providers guarantee you your safety, we would like to mention that your safety is always at your hands. In fact, the Sri Lanka Tourism Development Authority has no authority over the kayaking service providers on the island. So, be responsible for your decisions, and even when choosing the service providers for your kayaking tours, always look for the concern they have for your safety. Paying attention to even the simplest things will help you make your kayaking tour in Sri Lanka a pleasant experience.
The Bottom Line
Sri Lanka is the land of wonders. Hence, it is the dream destination of many travelers from all around the world. Besides, kayaking is definitely an experience that they would never miss as a tourist in Sri Lanka. Kayaking through the scenic routes is an absolute joy that will take you back to mother nature. In addition, Sri Lanka is an Instagram-worthy location for sure. Sri Lanka is safe and sound again and opening its doors back to the world. So, plan your dream tour in Sri Lanka to have this experience of a lifetime, and remember to leave only footprints behind. Happy and Safe Travelling!