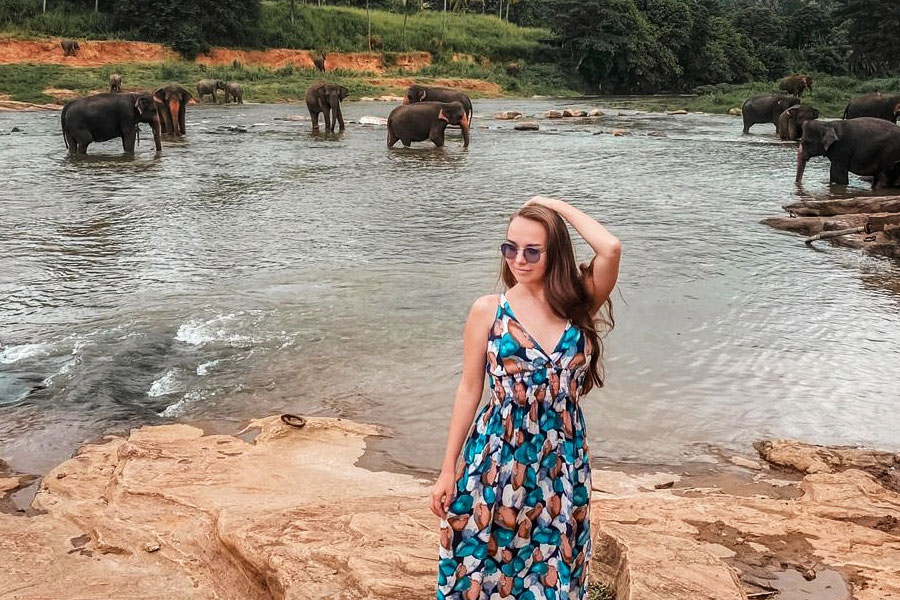 If you are a wildlife lover, of course, Sri Lankan elephants are a group of creatures that draws you to this tiny island of Sri Lanka, from whatever the corner of the world. Indeed, they hold that much of a special place among the Sri Lankan wildlife. And certainly, for many, elephants are a reason to visit Sri Lanka. However, if you are also such an elephant lover, you might be surely interested to get to know about the places to see elephants on this island. Yala National Park, Minneriya National Park, Kaudulla National Park, etc. will certainly top the list. Yet, let us highlight the fact that they are more like national parks to observe an extensive range of versatile Sri Lankan wildlife in their natural habitat. Meanwhile, if you are more interested in elephants, we suggest that Pinnawala Elephant Orphanage would be the best!
Why do we say so? You might be surely wondering about it. Keep calm! For the moment, let us simply mention that we say so because Pinnawala Elephant Orphanage is highly special. Let us get to know its specialities and significance in detail, through this read. So, why not? Let us start our exploration!
History of Pinnawala Elephant Orphanage
In brief, Pinnawala elephant orphanage is something beyond a typical wildlife orphanage. It is a nursery for these gigantics, and also a captive breeding ground for these majestic creatures.
Its history runs back to 1975. Sri Lankan Department of Wildlife Conservation established this orphanage with the motive of sheltering, feeding, and offering care for the orphaned baby elephants. Further, taking care of the injured elephants found in the wild was also an aim of establishing Pinnawala Elephant Orphanage. First, it was based at the Wilpattu National Park. Years later, the authorities shifted it to Bentota, and then to the Dehiwala National Zoo. However, finally this elephant orphanage was shifted to Pinnawala village, and it became popular as the Pinnawala Elephant Orphanage.
Significance of Pinnawala Elephant Orphanage
The bond Sri Lanka has with elephants is simply impressive. From the ancient days, they held a noteworthy position as important members of the Sri Lankan wildlife, as well as a remarkable symbol of the royal dynasty, that joined royal battles as well. Yet, with time, especially with industrial revolution, and the development of residential areas, the tragedies elephants had to face were unpleasant. The numbers of abandoned and injured elephants increased accordingly.
Even at present, cases of abandoned and injured elephants take high numbers. And the unfortunate situation is that the abandoned calves are unable to survive in the wild on their own, without their mothers. Hence, it is not a secret that calves like such, and the injured elephants require special care and treatments. And that is the instance where the significance of Pinnawala Elephant Orphanage comes on stage.
With the professionals serving at the orphanage, with the use of modern veterinary and traditional indigenous medical treatment, the role Pinnawala Elephant Orphanage plays in rehabilitating these helpless creatures is indeed special. They create a safe and appropriate environment for the elephants to adapt to their natural habitat back. They take care of them with much attention and love. And why not? They also feed them, and fulfill their nutritional needs. Accordingly, Pinnawala Elephant Orphanage has now become a safe home for a good number of elephants to cure and live a healthy life.
However, with the number of elephants increasing, Pinnawala Elephant Orphanage turned out to be the site with the largest herd of captive elephants in the world. Hence, the Sri Lankan government decided to develop it as a location for local and foreign visitors. Thenceforth, this location remains as a tourist attraction, and even hundreds of locals visit this place daily.
How many Elephants are there in Pinnawala Elephant Orphanage?
Pinnawala Elephant Orphanage shelters around 100 elephants. And the speciality is there in varying ages, and varying conditions. However, at the beginning, it was with five abandoned baby elephants that this orphanage initiated. Those five calves were named Vijaya, Neela, Kadira, Mathlee, and Kumari. Out of these five, three of them are still living at the Pinnawala Elephant Orphanage premises. They indeed hold a special place among the elephants there. Hence, we thought of sharing with you a glimpse about them as well.
Mathlee: She is now a grown up, and has become the matriarch of the herd. She is important owing to her historical value as a first member of the orphanage, as well as owing to her experiences, and the leadership she offers. She is a wonderful defender of the herd, and it is wonderful to note how the herd respects her. In addition, she has a wonderful power of breaking up fights, and soothing the little ones of the herd as well. Moreover, she possesses an impressive reproductive capacity. She birthed 5 calves, and her baby named Pinnawala, is still living with her in the same premises.
Kumari: She is also a member of the first group of calves that the Pinnawala Elephant Orphanage sheltered. Moreover, she was the first to attain motherhood at the premises, and she is now a proud grandmother of a wonderful generation. Further, she is the oldest elephant at the orphanage, and she is nearly 70 years of age.
However, these are just a few details about two significant elephants at the orphanage. There are many more, who are important and interesting owing to many reasons. So, by chance, if you visit the Pinnawala Elephant Orphanage, never forget to get to know about the interesting facts about these giants as well.
Facilities and Features of Pinnawala Elephant Orphanage
Pinnawala Elephant orphanage is open for public from 8.30 a.m. to 5.30 p.m daily. Moreover, if you choose to visit this site, you can simply witness the day of a life of an elephant up close and personal.
Two sessions of calves' bottle feeding, and elephants' bathing takes place each day. Apart from that, you can also witness how they feed the grown elephants. The bathing sessions take place at the Maha Oya, which is opposite to the park, and there are specific sheds within the park for elephant feedings. Moreover, several elephants are there in the free lands of the site amidst the greenery for you to observe as well.
Further, elephants resting sheds, an animal clinic, and keepers' rests can also be seen within the site. In addition, a cafetaria, souvenir shop, and a bank are available on the site for your ease. Moreover, the office, ticket counters, and the information center are there for your assistance, whenever required.
Pinnawala Elephant Orphanage Ticket Prices
You can find below the ticket prices of the Pinnawala Elephant Orphanage.
Ticket Prices for Locals
Adults
SLR 110.00
Children ( 3 – 12 years)
SLR 30.00
Children in School Uniform
SLR 20.00
Ticket Prices for Tourists
Adults
SLR 3000.00
Children ( 3 – 12 years)
SLR 1500.00
Ticket Prices for SAARC Tourists
Adults
SLR 800.00
Children ( 3 – 12 years)
SLR 400.00
Pinnawala Elephant Orphanage Ticket Prices
(Please note that the ticket prices might vary from time to time, and it might take a considerable time period for us to update them on the website)
Where is the Pinnawala Elephant Orphanage?
The Pinnawala Elephant Orphanage is located amidst the greenery on a 25 acre (10ha) coconut plantation, in the village of Pinnawala. The rhythmically flowing Maha Oya River, further enhances the splendour of the surrounding environment. Also, it acts as the main source of water that caters the water requirements of the herds of elephants at Pinnawala Elephant Orphanage.
The primary residential care area of the orphanage is on the East of the B199 Highway, Rambukkana Road. And then towards the west side of the highway, is the bathing area of the elephants at Pinnawala Elephant Orphanage. There is a viewing area by this bathing side as well.
How to Reach Pinnawala Elephant Orphanage?
You can reach Pinnawala Elephant Orphanage alone by public transportation, by a taxi, or even with your tourist guide here in Sri Lanka.
If you use the public bus service, you have to take the A1 Colombo-Kandy main road. Then make sure you take the turn off at the 82km post at Karandupana junction. Finally, you have to get on to a Rambukkana bus, and then you can get off in front of the Pinnawala Elephant Orphanage.
If you are travelling by train, the best is to get a train from Colombo, or Kandy, and then get off at the Rambukkana train station. It is around 2 km away from Pinnawala. So, you have to take a bus that heads to Kegalle, and then get off in front of the orphanage.
Best Time to Visit Pinnawala
As you might already know, the charming island of Sri Lanka is blessed with a pleasant weather and climate. Hence, Pinnawala is also a year-round destination. Yet, the best would be to visit there in between November to early April. In the course, the temperature would approximately range from 29 Celsius degrees to 33 Celsius degrees, with rare chances for heavy showers. Moreover, it is the time where many of the tourists visit the country. Hence, we would suggest that this season would be a good time for you to visit Pinnawala.
Things to Do in Pinnawala
Sri Lanka being a splendid island with a bunch of things to do, and Pinnawala being a wonderful destination, there are simply a number of things to do in Pinnawala. Below are some of them!
Visit Pinnawala Zoo
Go on an Elephant Safari
Visit Panduwasnuwara Ancient Temple
Visit Dadagamuwa Ancient Temple
If you are planning a trip to Pinnawala any sooner, we are sure that you are excited to know more about them. Nothing to worry about! Continue reading. We are ready to share with you a glimpse about them as well.
Pinnawala Zoo
Willing to experience the thrill and excitement of Sri Lankan wildlife? If so, the Pinnawala open zoo is simply the ideal choice. It shelters a wide range of wild creatures, in a wonderful verdant surrounding. Located near to the Pinnawala Elephant Orphanage, it obviously happens to be an attraction of hundreds of visitors daily. Enjoying the pleasures of the magical wild creatures in their natural habitat itself would surely offer you a delightful experience. So, why miss this fun? Make sure to visit it, if you ever plan a trip to Pinnawala.
Elephant Safaris
Just imagine exploring the beauty of the wonderful surroundings, sitting on the back of the gigantic elephant! What a fantastic experience would it be, isn't it? However, it would never be a dream for you, if you visit the charming little village of Pinnawala. There are a number of service providers that would offer you an elephant safari, at an affordable price. Moreover, the serene surroundings of Pinnawala, are ideal for you to witness the best of an unforgettable elephant safari. So, what are you waiting for! If you are visiting Pinnawala any sooner, plan an elephant safari, enjoy the pleasant surroundings, while witnessing the day of an elephant up close and personal!
Panduwasnuwara Ancient Temple
It is rarely visited by tourists, since it is located a bit far from the tourist routes. Still, it is an important cultural attraction, around Pinnawala. This site houses an ancient royal palace, two monasteries and a dagoba rampart that are hidden among the greenery. Also, this place has remains of Panduwasnuwara which was the ancient capital, in the history of Sri Lanka. Also, it houses a museum that exhibits the historical grandeur that this site holds with it. Hence, if you would prefer a wonderful exploration into the past of Sri Lanka, never miss visiting Panduwasnuwara ancient temple in Pinnawala.
Dadagamuwa Ancient Temple
Another rarely visited cultural attraction in the vicinity of Pinnawala. It happens to be a site with a historical importance, especially owing to the ancient inscriptions that are engraved. Moreover, this temple is situated on a rocky hill. Thus, the location itself enhances the charm and majesty of this attraction. Of course, it holds a unique sense of value, and decency. So, if you ever visit Pinnawala, spare a time to visit and observe its grandeur as well.
The Bottom Line
After all, Pinnawala Elephant Orphanage is simply a must visit, that tops the lists of the places to visit in Pinnawala, as well as in Sri Lanka. It not only offers you the space to witness the day of an elephant, but contributes to the well-being of the abandoned, and injured elephants, creating them a better tomorrow. So, it is indeed a place worth visiting. Make sure you never miss that wonderful opportunity. Happy and Safe Travelling!