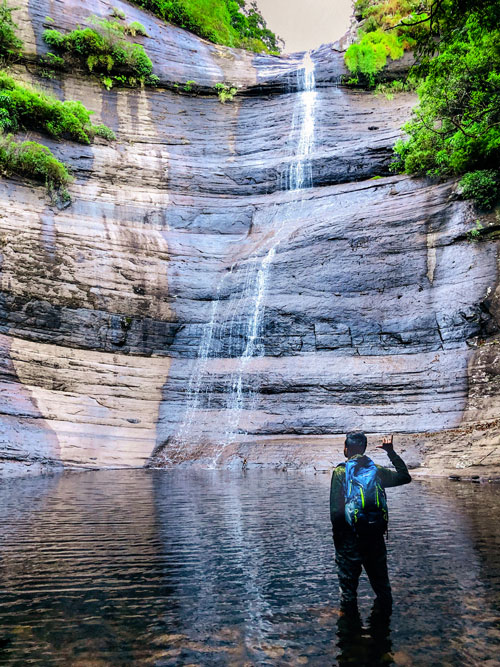 Being a splendid island rich with natural wonders, ancient grandeurs, golden shores and happy hearts, Sri Lanka happens to be one of the significant attractions of the world. Yes, indeed! It is peaceful and soothing. Sometimes crowded. Still, offers the perfect surroundings for a stay with true joys. However, due to its location off the south coast of India, this pearl shaped island of Sri Lanka seems to be underestimated. But believe us, Sri Lanka is certainly heavenly. Its breathtaking views, delicious cuisines, valuable cultures, and welcoming smiles, surely make backpacking in Sri Lanka just more magical than you ever think.
This beautiful island might not be a part of the most popular South-east Asia backpacking routes. Still, we suggest that Sri Lanka is a must. Why not? We are giving you many and more reasons as to why we say so. Of course, you can thank us later. But make sure you add this wonderful island to your bucket list. Moreover, to make your journey the best we are going to provide you with the perfect guide for backpacking in Sri Lanka as well.
Simply, we have lined up everything that you need to know! Tips to recommendations to suggestions to what so not! We have got everything covered to the right point. And that is all for you! Some find the task of backpacking in Sri Lanka a bit challenging. Still, it will not be so, if you are ready to go ahead with us. We guarantee that everything will flow smoothly and fine. So, what are we waiting for? Ready to start backpacking with us? Let us proceed ahead step by step. Here we go!
Reasons for you to visit Sri Lanka
Of course, by now, you might have even a simple idea about the significance of Sri Lanka. But by chance, if you need any clear-cut reasons to visit this country, below are some of them.
It is a land of natural wonders: Blue waves that hit the golden shores, gushes of water that pours down in cascades, lush green forests, and misty mountains, together with the enlivening wild creatures, make this island, one of the paradises blessed with natural wonders. So, if you are a nature lover, Sri Lanka is the ideal spot for you to enjoy these beauties as per your wish.
It is blessed with a fine weather: Owing to its location, a tropical climate is bestowed upon Sri Lanka. Thus, it has a warm and pleasing climate throughout the year, unless for the monsoon rains. Moreover, this island is also blessed with significant climatic changes even among cities that are nearby. Therefore, you can always find a perfect atmosphere to relax and enjoy on this beautiful island.
Sri Lanka holds rich cultural and historical values: With a proud history that runs back up to more than 2500 years, Sri Lanka stands as a country with ancient grandeur. Moreover, having a multicultural society, the amazing traditions, celebrations, and cultural values further enhance the beauty of this country. Hence, Sri Lanka is an ideal spot to enjoy the serenity of a rich culture.
Sri Lankans are just amazing: If you have ever visited Sri Lanka, surely the innocent smiles and the kind hearts of the Sri Lankans must have amazed you. Of course, they create you a home, away from home.
You can enjoy it on a low budget: Something interesting! Sri Lanka always offers you a variety of choices to enjoy the best, at an affordable price.
How to get to Sri Lanka?
Excited to visit Sri Lanka? We are sure that you are! However, if you are new to this subject of backpacking in Sri Lanka, you might be surely wondering about the best way to get into Sri Lanka. Obviously, 'How to get to Sri Lanka?' should be an immediate question of yours. Nothing to worry, because we are here, answering this frequent question!
As you might already know, Sri Lanka is an island, with blue waves guarding it. Thus, getting there through land is obviously impossible. If so, you have two methods left! Either flying, or rather sailing. But do note, that sailing to Sri Lanka is not possible anymore. That would be an illegal act if you try to do so. Thus, the only possible way to get to Sri Lanka is flying through the sky.
Of course, there are many air lines that create you the opportunity to fly to Sri Lanka, from every corner of this world. From some countries, it is true that you will have to take transit. Still, every second of the journey is worth, when compared with the true joys you get to enjoy in Sri Lanka.
Visa Requirements when Backpacking in Sri Lanka
If you have any doubt about the visa requirements for backpacking in Sri Lanka, let us help you clear them out. Hope the following Q&As would help you with that.
Question: Do I need a Visa to enter Sri Lanka?
Answer: Yes, of course! It is a must. You should obtain a Tourist Visa if you are visiting Sri Lanka for any of the below purposes.
For a holiday, or to visit your relatives or friends.
For medical treatments including Ayurvedic and yoga.
To participate in sporting events, competitions, and activities relating to cultural performance.
Question: How can I apply for a Tourist Visa?
Answer: Anyone should obtain Electronic Travel Authorization ( ETA) before entering the country of Sri Lanka. The simplest and the easiest way is to access the Electronic Travel Authorization (ETA) System by the Sri Lanka Immigration and Emigration Department. You can find a full guide with all the required details and costs, over there on their website.
Question: Can I get the visa at the Sri Lankan airport?
Answer: Yes it is possible. A limited facility to obtain ETA at the airport is available. Additional fees will apply, and only electronic card payments and cash in USD are accepted. If your application is approved, you will receive an approval notice. By chance, if you receive a referral notice, you will not be allowed to enter Sri Lanka. So, it is a bit of a risk and is costly to get a VISA at the airport. Thus, the best is to apply for a visa prior to your visit.
Question: How long is the visa valid for?
Answer: The visa is valid for 30 days.
Question: Can I extend the visa any longer?
Answer: Of course, you can. Still, remember that you need to apply for a visa extension before the expiry of your current visa. An extension of two months beyond 30 days shall be granted at the Department of Immigration Emigration Head Office at Colombo. However, any further extension shall only be considered for valid reasons.
Question: What do I need to submit to extend my Tourist Visa?
Answer: You should submit the following in order to extend your tourist visa. Further, the presence of the applicant is compulsory to collect the visa.
Return air ticket.
Details of the place of accommodation (Address, Contact Number, Hotel Vouchers and Bills)
The application along with the photograph of the applicant
Question: From where can I collect the visa extension form?
Answer: You can either collect it from the Head office of the Department of Immigration & Emigration, Colombo or download it from here.
Question: What are the documents that I should have with me when traveling within Sri Lanka?
Answer: You should always have your passport with you, and it is also better to have your National Identity Card with you for identity purposes.
Vaccinations for Backpacking in Sri Lanka
Unlike in several other countries, the Sri Lankan government does not request the foreigners to get any vaccinations prior to their visit. However, at present Sri Lanka is free from diseases such as Rubella, Malaria, and Neonatal Tetanus. Moreover, if you are highly concerned, we suggest you to get the Hepatitis A, Tetanus, Typhoid and Poliomyelitis vaccinations before you visit Sri Lanka. Further, Hepatitis B and Rabies if you go trekking, and Tuberculosis and Japanese B Encephalitis vaccinations if you are travelling around extremely rural areas.
Backpacking in Sri Lanka on Budget
So, as mentioned earlier, Sri Lanka is a perfect destination for you to enjoy at your heart's core, yet at a low budget. Indeed, it is comparatively cheaper than spending a holiday in a European country. Honestly, in a way it solely depends on the choices you make. Still, we are ready to prove to you that backpacking in Sri Lanka is going to be really budget friendly than you ever think.
Some might say that accommodation and alcohol prices are more expensive here than many of the backpacking attractions such as Bali and Bangkok. Of course, it is true in a way. But the dollars you will have to spend for transportation, accomodation, and to enjoy the attractions are considerably less here. It might be a bit higher than backpacking in countries like India, and Nepal. Nevertheless, Sri Lanka will offer you a thousand times healthier, and superior backpacking experience. So, after all, you can backpack in Sri Lanka without spending thousands of dollars.
Interested to know how? Nothing to worry! We have lined up everything you need to know. Let us begin checking what they are. Shall we?
Sri Lanka Currency
First things first. Before considering the budget of backpacking in Sri Lanka, it is always better to have a sound idea about the currency of this country. Of course, you might have heard about the currency in Sri Lanka earlier. Yes, it is Sri Lankan Rupees. Further, SLR or Rs. symbolizes this currency and makes it distinguishable among the other Rupees used in the world around. One Rupee is made out of 100 cents. However, cents are extremely rare, and almost not used for transactions on this island any more. So, it is only rupees that you will find when dealing with business transactions in Sri Lanka.
Of course, in most of the tourist attractions, and the vicinity around you can even use USD. Still, it is always better to have Sri Lankan Rupees, since use of USD cannot always be guaranteed. At the hour of composing, 1 USD is equivalent to 184.35 SLR. Slight variations might happen around with this rate. Still, it will range somewhere around.
With that let us move onto the most important facts that you need to know when planning for backpacking in Sri Lanka, in a budget-friendly way.
Things to know when planning for a budget-friendly backpacking in Sri Lanka
In simple terms, accommodation, travel mode, food, and other daily needs altogether sums up for your budget. But, you can take it easy because this island offers you a wide range of choices, covering all these aspects. Nevertheless, having a good idea on them will certainly help you with a budget-friendly backpacking.
So, let us now have a look at the choices available for you to plan your backpacking in Sri Lanka.
Cost of Living in Sri Lanka
Obviously, if you are spending a few days here on this island, you should definitely have a sound idea about the cost of living in Sri Lanka. Generally, everything in Sri Lanka is affordable for anyone owing to the variety of choices it offers. Thus, as we always say, your budget solely depends on your desires and the decisions that you make. Still, there are several costs that anyone staying a few days in Sri Lanka might need to incur. So above all, we thought of sharing that information with you!
Simply, this is a breakdown of average basic daily costs for a single traveller backpacking in Sri Lanka.
| | |
| --- | --- |
| Service / Activity | Cost in USD |
| A bed in an apartment | 6 onwards |
| A meal | 1 – 3 |
| A cup of coffee | 3 |
| A beer | 1 onwards |
| A long distance bus ticket | 3 onwards |
| Cleanser / Soap | 2 – 10 |
| Exercise | 10 – 30 |
Moreover, you can reduce your costs in Sri Lanka, if you pack the things right. So, why not? We are going to help you with that as well!
What to pack?
First of all, you can go ahead and pack up your essentials such as:
Passport, Visa, & Tickets
T shirts
Shorts
Trousers
Underwears
Bath towels
Slippers / Sandals
Toothbrush & Toothpaste
Deodorant
Shower gel
Sanitary products
First-Aid kit
Comb / Brush
Mobile
Camera accessories if required
Portable power bank
Headset
Waterproof phone cover
Chargers that you need
Waterproof document holder
Cash
Apart from these general essentials, make sure to add hiking pants, and hiking shoes if you are planning to hike. Moreover, as you might already know, Sri Lankan weather is warm, yet sudden rain might occur here and there once in a while. So, it is always better to be prepared. Have a cap, umbrella, sunscreen as well as a raincoat if you wish to. Further, always have a shawl with you when visiting religious places. They encourage you to wear something that covers your body, from shoulders to at least up to the knees. So, in any case if your dress does not suit to enter the religious place, your shawl would help you solve the problem. And another thing, mosquitoes are common on this island. So, we suggest you have an ointment which prevents you from mosquito bites.
By now, you have a rough idea about the cost of spending a few days here in Sri Lanka, and what to pack. Besides, we always highlighted the fact that your budget depends on your choices. So, we are sharing with you the details of the choices you have regarding several important aspects. Let us now have a look at them!
How to get around the island?
Sri Lanka is gradually reaching high in the list of backpackers. And one main reason behind this popularity is the ease of using public transportations methods. Surely, it is a significant plus point, in terms of budget-friendly backpacking as well. However, if you are not using your own private vehicle, there are two popular transportation modes, from which you can pick one mode as per your desire. Everything that you need to know about them is lined up below.
Busses in Sri Lanka
Traveling by bus is one of the most popular public transportation methods of Sri Lanka. At an average Sri Lankan roads spread across a distance of around 90,000 km, and these buses cover at least 80% of them. There are two main types of busses in use. One group of busses are registered private buses, and the other group comes from the Central Transport Board (CTB) of Sri Lanka. Both of these groups are available for short distances as well as for long distances. However, there might be slight variations, in terms of costs.
Furthermore, these buses are available the day throughout for all the major cities in Sri Lanka. Most of the major cities have got large bus stations, from where you can find the bus you need. But make sure you ask from a person working in the bus stand or else, at least two people around, in order to confirm whether you are getting into the right bus. And do remember. Buses are limited for certain destinations. Therefore, it is always better to double check the availability of a bus, before you plan your journey. Besides, the available buses would most probably arrive on time.
Other than that, travelling in a bus is certainly cheaper, and easier. All you have to do is to get into the right bus, tell the conductor about your destination, pay the travel fee, and then sit and relax, while enjoying the surroundings. Still, some of the normal buses might have high volume music, and people packed over till you have to squeeze to hardly manage to stand. However, you can easily avoid it if you choose to travel on a luxury bus.
Luxury buses for long distances
There are small air-conditioned buses for comparatively long distances, and air-conditioned volvo buses that run between Colombo and far corner major cities of the island. Moreover, you can find luxury buses that are travelling along expressways as well. Make sure to check if your destination can be reached through an expressway. If so, the best is to choose an expressway bus, because they are super faster.
Of course, the cost of air-conditioned buses are comparatively high, yet even the maximum will be below 10 USD. Surely, they are more comfortable than the other normal buses, and if you need you can even reserve them earlier. There are a few online options available and you can check them if you wish to. So, if you are longing for a more comfortable and faster ride, of course, you can go ahead with luxury buses. Still, it all depends on your desire and budget.
Trains in Sri Lanka
If you are planning to travel around while enjoying the beauty of the surroundings, indeed a train is best for you. And you know what? Some of the Sri Lankan train routes offer a magical experience beyond words. Specifically the train ride from Ella to Kandy, and Colombo to Badulla are some of the most significant. They take you through a journey with scenic views on both the sides, and the feel that it gives when the train winds through hill areas, tea plantations, farms, greenery lawns and mist is just awe inspiring.
However, trains are not available all the time. You can simply check the Sri Lankan train schedules through the e-service of the Sri Lanka railway, and it would be extremely helpful in planning your day. Unlike busses, trains are not always punctual. Still, a trip in a train would be more comforting than a bus ride that keeps chasing fast.
One might say that the trains in Sri Lanka are old-fashioned. Of course they come with open doors on sides, and some of them are even not that pretty looking. Still it will offer you a unique experience just for a few bucks. Besides, there are few AC trains mainly focused on the routes, Colombo to Kandy, and Colombo to Jaffna. They are surely more expensive than the others, and you need to reserve them a bit early if you are planning to travel in them.
Some other ordinary express trains have AC first class compartments, while the second and third reserved compartments do not have AC. Whatever it is, obviously, it is always better to make a reservation, if you are travelling a long distance. And for your information, most of the normal train journeys would cost below 3 USD, which is really budget-friendly, and affordable.
Tuk-tuks in Sri Lanka
Indeed, tuk-tuks are famous among Sri Lankans as well. Still, they are more suitable for short distances. Specially, when you are travelling around villages, or along narrow paths that do not belong to bus routes, tuk-tuks will be your only saviour. You can easily find tuk-tuks at every junction, and around every bus stop. Moreover, taxi hailing apps such as PickMe, and Uber also provide you tuk-tuk services. If not, you can even hire a tuk via your hotel or guest house.
The charges may depend on the distance of the travel, and waiting time. The tuk-tuk drivers would go on a trip for locals at a rate of around 0.6 USD per kilometer, at the moment of composing. But they would make that rate double, or even triple, when they see a foreigner. That is surely a point that you should think about twice. Still, circumstances might occur where tuk-tuks tend to be the only choice. At such instances, try your best to get a tuk-tuk with a meter. And make sure to get to know the rates before you start the journey. In that case, you can even have a rough idea about the cost that it would incur.
Taxis in Sri Lanka
Sri Lanka has got many and more taxi services spread across the country. Apart from that, taxi hailing services such as Uber and Pick Me cover the major cities of the country. Your expense may vary upon the distance you travel, and the waiting time. However, it is important to pick a taxi service that you can rely on. A quick search on the internet and the hotel or the guest house that accommodates you might help you with it.
Accommodation in Sri Lanka
Surely, this is something that you need to pay high attention on. Sri Lanka, being a tourist hot spot, it has got accommodation facilities covering a wide range. To start off with luxurious hotels, of course, there are many, mainly focusing on major cities such as Colombo, Galle, Matara, Hikkaduwa, Negombo, Jaffna Anurdhapura, Polonnaruwa Trincomalee and Sigiriya. They are ready to pamper you with extreme comfort, international menus, and breat-taking surroundings. Still, they will cost you high.
Besides, there are many more bungalows and guest houses that are nestled among the palm shades of the coastal areas, as well as around every other attraction in this island. They are just like a Sri Lankan home. You can either book a whole bangalow, if you are with a team, or else a room of a guest house, if you are alone or with few more. Some of them might be air conditioned, while some are not. Some may provide you meals and some may have a kitchen where you can cook on your own. So the prices vary along with the facilities they feature, yet would be around five times cheaper than staying in a luxurious hotel.
Meanwhile, Home Stays also tend to be a budding attraction when it comes to accommodation. In this method, you will get the opportunity of having room in a home that a family lives in. Plenty of homestays are available around each and every popular city. They are the cheapest, yet a number of varieties are available in home stays as well. Prices may differ upon these varying facilities.
And do remember!
Whatever your choice may be, make sure to contact that place first, and get to know about the availability, facilities offered and the final price upon bargaining. Of course, it is a bit hard to find accommodation, unless it is the off season. So we suggest that you start hunting for accommodation, at least two weeks prior to your travel.
Food in Sri Lanka
Whenever we visit another country, there is literally no secret that all of us would love to enjoy a plate of their own taste. Besides, the amazing Sri Lankan food should be a must if you ever visit this splendid island. Why not? You can keep exploring around for various flavours, and you will be surprised with the tastes that you discover. Luxurious Hotels to restaurants to small boutiques to street stalls along the roads. All of them cover a wide range of tastes starting from Sri Lankan classics to International cousins. So, deciding whether eating luxurious or eating cheap is up to you. But we suggest that tasting the few Sri Lankan dishes each day, would delight you, and help with your budget as well.
Sri Lankan food is mostly spicy. By chance if you prefer less spicy food, just inform them beforehand and they will prepare your meal accordingly. Of course, Sri Lankan food seems to have a simple influence from India as well. Still, the dishes and the varieties here are unique and have a taste of their own. However, for your information, we thought that it is better to share with you some interesting Sri Lankan food items. Also, make sure you taste them when you are here in Sri lanka!
Rice & Curry
Obviously, this is the main meal in Sri Lanka. Thus, you can find it anywhere on this island, from a small restaurant to a luxurious hotel. Of course, their appearance, tastes and nutritions may vary along with the curries that are decoratively added to the plate. Mostly, these curries are cooked out of coconut milk, coconut oil or vegetable oil, which are full vegan. So, if you are vegan, no worries, you can go ahead and enjoy rice and curry. Still, make sure that you purchase a rice that has only vegetables as curries. As your preference, you can add fish, chicken, eggs or any other seafood kind as a curry as per availability.
Kottu
Believe us! This is one of the favourites among Sri Lankan youth. Indeed, Kottu comes in several flavours. It depends on the addition you choose as chicken, fish egg and vegetable. And if you wish to taste it with a bit of creamy cheesy flavour, why not? You can even choose the cheese kottu. You can find kottu anywhere in Sri Lanka. Still to get the real experience of kottu, we suggest that you sit on a street food stall, and enjoy it with some locals who are gossiping around! Certainly, it would offer you a life experience that could never be replaced.
String Hoppers
String hoppers come with a South Indian impact, and they look a bit like noodles. Further, it is a famous option for breakfast and dinner in Sri Lanka. 'Indiappan!' That is what Sri Lankans call it and they make it using rice flour as the main ingredient. You can find it in both the colours, white and red. Moreover, a curry and 'pol sambol' (dish made out of grated coconut) would make the perfect match for string hoppers.
Hoppers
Hoppers too come with an Indian influence, yet seems to be more popular in this island of Sri Lanka. Also, known as 'Aappa', it is popular among Sri Lankans as a meal for breakfast, dinner, and also as a snack at tea-time. They even come with variations such as egg hoppers, milk hoppers and sweet hoppers. However, many choose to eat hoppers and egg hoppers with a spicy curry or a chilly mix. And know what? A plain-tea coupled with hoppers would be a heavenly combination!
Milk Rice
Of course, as the name suggests, milk rice is a combination of rice, and coconut milk. Their colour may vary as red or white, according to the type of the rice used. Moreover, many choose honey, chilli or a spicy curry to enjoy milk rice with. However, this is an indispensable Sri Lankan cuisine at special occasions and celebrations. Besides, it is a common breakfast choice of many Sri Lankans.
Pol Roti
Pol Roti also comes with an Indian impact, still, 'pol roti' is more significant for Sri Lanka itself. Grated coconut and flour happens to be the most essential ingredients when making Pol roti, and is popular as a meal for breakfast, dinner, and also as a snack. Chillies, or a fish, chicken or a pork curry would go perfectly along with Pol Roti.
After all, these are some of the most significant Sri Lanka cuisines that are rich with taste, as well as with nutrients. Moreover, you can find them easily wherever you travel on this island. Indeed, there are many and more delicious Sri Lankan dishes that you should never miss! But let us leave them out for you to explore and discover!
Best Time for Backpacking in Sri Lanka
And now, we have arrived at one of the toughest decisions to be made! The best time to visit Sri Lanka! In brief, Sri Lanka is a year-around destination. It is blessed with a warm and pleasing weather and climate during most of the times of the year. Still, monsoon seasons bring rains, and they can sometimes have adverse impacts by causing natural disasters such as floods, and landslides. Thus, best is to avoid these rain seasons when backpacking in Sri Lanka.
The South-Western Monsoon season gets active during the months of May to September. As the name suggests, this monsoon brings rain to the cities such as Colombo and Galle, in the South West quarter of the country. Moreover, the North-Eastern Monsoon comes into action during the months of October to January. Its major effect would be on the Northern Eastern quarter of the island. Likewise, it is clear that the best time to visit Sri Lanka solely depends on where you really need to visit on this island. So, if you need to know more details about this, you can simply check this article, on Best time to visit Sri Lanka. It will simply take you to the right place at the right time!
What to do in Sri Lanka?
Simple answer for this question is that you have many and more things to do in Sri lanka. Obviously, it is not only the natural wonder of this splendid island that attracts thousands of backpackers to Sri Lanka. There are plenty of activities for you to indulge yourself, here in this magical paradise. Need to know about them? Here are some lined up below.
Popular activities in Sri Lanka
Elephant Rides: This is obviously a thrill and a joy of life. They would take you around the villages and the surroundings, where you can enjoy the beauties of nature up close and personal. Elephant rides are popular among the areas such as Sigriya, Habarana, Minneriya, Kaudulla, Yala, and Pinnawala. .
Whale watching: Gigantic whales take the beauty of nature to another level, and enjoying them is a true joy. Trincomalee and Dondra Point are the most popular spots for whale watching in Sri Lanka.
Jeep Safari: It is a must if you are fond of enjoying the wild life at its best. Interesting right? Jeep Safaris are highly available in areas such as Minneriya, Udawalawe, Wilpattu and Yala.
Water Activities: Playful blue waves around Sri Lanka, creates you the perfect environment for many water activities. Surfing, snorkeling, kayaking, deep sea fishing, and diving are some of the popular things for you to do amidst the Sri Lankan waves.
Hikes: The misty mountainous surroundings in the Central Highlands of the country offer you the ideal opportunities for hikes. Sigiriya, Riverston, Pidurangala and Adam's Peak are some of the famous and not-that-hard hiking spots in this island.
Train Rides: Sri Lanka offers a series of train rides that would surely give you a magical experience. Kandy – Ella train ride, and the Colombo – Badulla train ride are significant among them, owing to the scenic environments through which they take you.
City visits: You can either visit ancient cities such as Anuradhaura or Polonnaruwa that stand with grandeur. Or else, you can choose a vibrant city like Colombo to explore its wonders.
Interested to know more about things to do in Sri Lanka? Simply check this!
Backpacking destinations in Sri Lanka
The golden shores that the blue waves hit, cascades of never ending waters, grandeurs of the past, and the wild life amidst the lush greenery makes Sri Lanka rich with backpacking destinations. Indeed, just getting them into a list is just a hard task. So, we thought of lining up the most significant destinations among them. So, ready to go on a journey around these wonderful destinations? Here we go!\
The most attractive beaches
The blue mighty waves that hit the sandy stretches create the perfect environment for one to relax and soothe himself. So, among them, we thought of sharing details with you about some of the most attractives that we can spot.
ArugamBay: The village Arugam Bay is on the East coast of Sri Lanka, and one of the picturesque beaches in the island. Further, it is famous as the best surfing spot here.
Bentota Beach: This is an ideal spot for a beach holiday, or a splendid weekend getaway. Moreover, it is on the Southern Coast of the land, and houses a resort complex as well.
Hikkaduwa Beach: Also, known as Hikka, this is one of the most picturesque beaches, with a mind-blowing underwater environment. Further, its waves are popular for water activities such as snorkeling, surfing, and whale watching.
Galle Beach: Located in the southern coast of the land, this beach bounds the fortified city of Galle built by the Portugues. Furthermore, it is also a fine spot for whale watching, snorkeling, scuba diving, and banana boat rides.
Mirissa Beach: Surely, it is a serene paradise for beach lovers, in the south coast of the country. Apart from its magnificent views, it also is an ideal destination for surfing, wakeboarding, tubing, and jet skiing.
Being an isle, Sri Lanka is blessed with several attractive beaches. Check this article for more details about them.
The Most Gorgeous Cascades
Of course, the topographic features, and the climate of Sri Lanka has bestowed it with a number of gorgeous cascades that gushes streams of white waters. Indeed, none of these beauties can be neglected. Still we had to pick a few among the large number of waterfalls in Sri Lanka.
Bambarakanda Waterfall: It stands with glory, at a height of 263 m, as the tallest waterfall in Sri Lanka. Located in the Badulla district, it offers visitors with a perfect environment to relax a bit, chill, hike and take photographs.
Diyaluma Falls: It is the second tallest waterfall on this isle, and is at a height of 220 m. Of course, you can hike to its top, where you have a fine view of a series of pools descending towards the edge of the cliff.
Dunhinda Waterfall: Gushing from a height of 64 m, it stands majestically in the Badulla district. A narrow path through a forest leads the path to the view point, and on the way you can even spot another small fall, named 'Kuda Dunhinda'.
Bopath Ella: Standing at height of 30m, it has a unique beauty as its waters pour through a narrow gap and then gradually through a widened stretch. Moreover, Ratnapura district houses this.
Excited to know more about these waterfalls? Check our article on the most attractive waterfalls, to learn more!
Cities to explore
Willing to explore cities? If so, Sri Lanka has got a bunch of vibrant cities for you. Out of them, below are some.
Anuradhapura: This is the first ancient kingdom of Sri Lanka. Further it majestically stands in the North Central Province, with a collection of ancient ruins and religious places.
Polonnaruwa: This is the second ancient kingdom of Sri Lanka. It too houses a series of ancient monuments, as well as sights with a religious value.
Jaffna: Jaffna is a city blessed with Hindu culture, and is in the North Central province of the isle. Of course, exploring this city with historical values and beauty is a unique experience for the visitors.
Colombo: Located in the Western province, Colombo is the commercial capital of Sri Lanka. Moreover, it is a vibrant city with historical monuments, antique buildings, modern architecture, and greenery streets.
Ella: Ella, is a scenic village among the misty mountains, and lush greenery. Certainly, it is one of the picturesque cities to explore, with hiking spots, natural beauty, amidst the enlivening atmosphere.
Kandy: Located in the Central province, kandy is one of the scenic cities with a cool breeze. Further, it houses the temple of tooth relic, and the Peradeniya Botanical Gardens.
Galle: Galle is a coastal city, with an influence of portugese. The galle fort, golden shores, and its unique architectural sites add more glamour to this city of delight.
Negombo: It is a major city in the western province, and is much closer to the Colombo International Bandaranayake Airport. It creates a perfect atmosphere with its amazing beaches,and lagoons,and is popular for canoeing and kayaking.
Ideal hiking spots
Specifically, the mountainous surroundings in the Central HIghlands of the island along with the sky-high waterfalls create several opportunities for hikers to go on hikes. Adam's Peak, Sigirya, Pidurangala and Riverson seem to be some of the hikes that anyone could easily try. Apart from that, many hilly mountain ranges have trails and some might not even be that much popular. By chance, if you feel that a hike is possible in a certain area, make sure you get to know about the possibility of hiking there, from the villagers around. Do remember, safety should always be your foremost concern!
The interesting wild
Indeed Sri Lanka is rich with lush greenery, vibrant blossoms, as well as amazing wild creatures. All these coupled with the natural beauty, makes Sri Lanka one of the ideal destinations for nature lovers! Of course, there are many and more interesting wilds on this island. Still, we have only lined up the most famous.
Sinharaja Forest: This is a forest reservoir, and also, a biodiversity hotspot. Further, it is also declared as one of the world heritage sites by UNESCO.
Yala National Park: Yala, is one of the most popular sites for enjoying the wild. A person who chooses to go an Elephant ride in Yala would get the opportunity to witness the beauty of wildlife fauna at its best.
Minneriya National Park: It is located in the North Central Province of Sri Lanka, and is popular as the largest known place with Asian elephants in the world.
Wilpattu National Park: This is the oldest national park of Sri Lanka. Moreover, a variety of wild creatures such as elephants, sloth bear, leopard, water buffalo, sambhur, spotted deer, mongoose, mouse, shrew along with other reptiles and birds reside here.
Tips for Backpacking in Sri Lanka
Finally, we have reached the end of our backpacking guide. But before we conclude, there are few important tips that you need to keep in mind when backpacking in Sri Lanka. So, ready to know what they are? Have a glance at the Q&As below. You will find everything that you need to know!
Wear something comfortable since Sri Lanka is warm most of the time. Accordingly, it is always better to avoid synthetic fabric, and to go ahead with cotton, linen and rayon woven clothes. However, if you are female travelling alone, best is to choose an attire that covers your shoulders and at least up to the knees. Moreover, have a shawl with you, cause you will need it in most of the religious places to suit the culture there.
Is it safe to travel alone?
Yes, it is fine. Still, if you are a female, you should be extra careful. Wearing a fake wedding ring, and acting familiar to the surroundings might avoid unnecessary disturbances. And of course, use Google Maps at everytime possible to track your location, and avoid night walks as much as possible.
How about the safety in Sri Lanka?
There are no severe safety issues, but make sure to keep your belongings within your eyesight. And as always, avoid night rides, and be with your gang, if you travel in a group.
What is the language that should be used when communicating with Sri Lankans?
English would be fine. Still, Sinhalese and Tamil being widely used in Sri Lanka, some villagers might not understand English. In such cases, try to proceed ahead with hand signs.
In addition, make sure you respect Sri Lankan traditions and culture, because you are a visitor in Sri Lanka after all!
Conclusion
So, with that, we have reached the end of our guide. Hope these details would help you have the perfect backpacking experience in Sri Lanka. Yes indeed, things might be challenging sometimes. But be brave, and take risks. Sri Lanka is waiting for you, with thousands of stories to live! Have a safe journey!