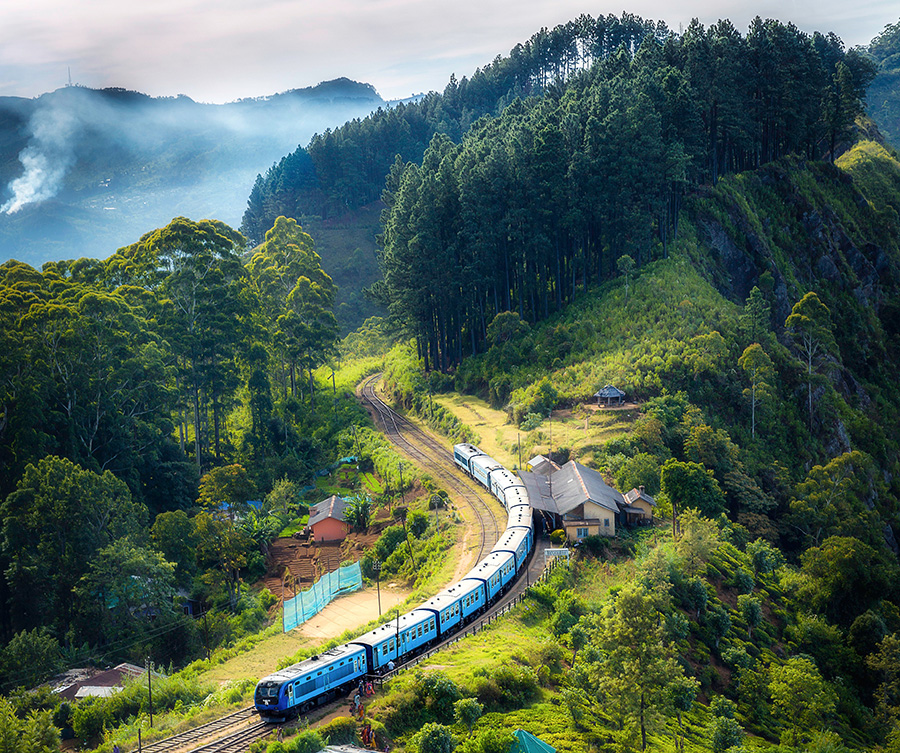 Of course, the tiny pearl-shaped island of Sri Lanka just seems to be inappreciable on the world map. Still, its breathtaking golden shores, attractive cascades, amazing wildlife, pleasant weather, and climate, along with its scenic natural beauty have given plenty and more reasons for worldwide travelers to visit Sri Lanka. Thus, it is one of the most significant backpacking destinations in the world by now. Accordingly, you might even be counting the days to arrive at this wonderland. If not, you might be planning to visit this magical paradise sometime sooner. However, if you are to arrive in Sri Lanka, it is no wonder that you can have a few doubts in your head. Among them, do you have any doubts about transportation facilities in Sri Lanka as well?
If so, let us help you clear out your doubts. Simply, Sri Lanka is a country with a very limited land area. In brief, it is spread across an area of around 65,610 km2. So, getting around in Sri Lanka is not that hard. Moreover, there are many and more transportation methods that you can choose as per your wish. And to be more specific, even the public transportation in Sri Lanka covers almost all the tourist attractions in this country. Hence, you can always find a way to travel between your favourite destinations on this island.
However, willing to know more about transportation in Sri Lanka? If so, there is certainly nothing for you to worry about! We are ready to share everything that you need to know about getting into Sri Lanka, as well as getting around on this island. So, what are we waiting for? Shall we start our journey around? Indeed, you will know everything about transportation in Sri Lanka meanwhile.
Getting into Sri Lanka
Sri Lanka being an island surrounded by the blue waves, you can only think of two ways of getting into Sri Lanka. Indeed, you guessed it right! Either you have to choose to fly, or else to sail across the Indian Ocean. However, we can tell you one thing for sure! Sailing to Sri Lanka is just impossible for you as a tourist. Surely, the authorities won't allow you in. Simply, it is illegal. Thus, the only possible way for you to get into Sri Lanka as a tourist is through flight.
Of course, there are several flights of various Airlines for you to arrive in Sri Lanka. Still, tourists from certain countries may have to travel for a long time along with transits. However, let us assure you that every second of your journey would be worth it when compared with the delight you experience in this splendid island of Sri Lanka.
Furthermore, a visa is an essential requirement for you to get into Sri Lanka. The most convenient way to apply for a visa is to access the Electronic Travel Authorization (ETA) System by the Sri Lanka Immigration and Emigration Department. You can find all the details regarding visa applications over there. Moreover, you can even apply for a visa at the Sri Lanka airport. Still, we would suggest that applying for a visa before your visit to Sri Lanka is the best to avoid unnecessary circumstances.
However, all the international passenger flights arrive at the Bandaranaike International Airport, which is also known as the Colombo International Airport (CMB). So, once you arrive in Sri Lanka with all your entry requirements fulfilled, the next doubt would be about how to travel from the Airport. Take it easy! We are ready to help with it as well!
Travelling from the Colombo International Airport
Colombo International Airport in the suburbs of Negombo, is in a distance of around 30 km from Colombo, the commercial capital of Sri Lanka. However, there are three convenient travel modes that you can choose to reach your destination from the airport.
1. A Taxi from an external service provider at the Airport
The moment you step out of the arrival hall at the airport, you will be amazed with the huge number of drivers hunting for their customers. Of course, they will come behind you pleading you to choose their service. Still, booking a taxi prior to your arrival would be the best. This would surely help you avoid all these hassles since your driver would stand there holding up a board with your name.
2. Airport taxi service
Of course, this is also a perfect alternative. The Airport and Aviation Services (Sri Lanka) Limited operates counters for this taxi service in the arrival Lobby. You can get to know about their charges from their website.
Whatever the option you choose of the above two, the charges may depend on the travel distance, and the waiting time. So, the best way to minimize your exhaustion is to spend your first day at Negombo. Being a city with fine accommodation facilities nestled among its golden shore, and lagoons, it would create an ideal surrounding to relax yourself amongst the natural beauties.
If not, the perfect destinations would be Colombo, since it can be reached within around 40 minutes. Or else, you can reach the cities such as Galle, Hikkaduwa, Unawatuna, Bentota and Mirissa within around 2 -3 hours.
3. A Bus from Airport
AC Buses to Colombo leave the Katunayake (Averiwatta) bus stand, every 15 minutes. Those buses would take the E03 expressway, and reach the Colombo Central Bus Station within 40 minutes.
Transportation within the island of Sri Lanka
Being a small country, transportation in Sri Lanka is not that much of a hard task. Moreover, many cities feature a collection of attractions that are located nearby. Even the travels between cities on this land don't take that much time. Therefore, it is obvious that you can cover up a lot within this wonderful island within a single day.
However, all these things solely depend on your method of travel. Thus, it is important to spend some time planning out your transportation modes when getting around Sri Lanka. Of course, there are many and more methods that you can choose among. In brief, the public transportation in Sri Lanka offers you the bus service and the train service. Apart from that, you can either choose taxi services, tuk-tuks, or else hire a car and driver. However, domestic flights are not that popular in Sri Lanka, still there are a few. Nevertheless, all these choices come with a series of specific pros and cons for each. So, excited to know more about them? Just check the sections below. All that you need to know is lined up just for you!
Public Transportation in Sri Lanka
As mentioned earlier, public transportation in Sri Lanka mainly revolves around the buses and trains. Let us look at the features of each service, associated costs, and their pros and cons, for a better overview.
Buses in Sri Lanka
Sri Lanka houses a well-connected network of roads which covers a distance of around 116113 kms. Almost all these main roads are carpeted, and thus, makes a fine path for the busses to travel. Accordingly, bus service happens to be the most staple, and the highly available public transportation method in Sri Lanka.
At a glance, there are two main types of buses according to their ownership. The red colour buses are from the Sri Lanka Transport Board (SLTB). Besides, the buses from the private sector come in various colors even with stickers and paintings all around. However, there is something more important that you need to know about these buses. That is the standard bus types in Sri Lanka according to the nature of their service, speed and cost. Below are their details.
Normal Bus: Usually, these buses stop at every bus halt that they come across. Moreover, they are mainly focused on short-distance bus routes, and the charges are extremely affordable.
Semi-luxury Buses: These buses are stopped only at limited bus halts, thus, the journey would be faster. However, the charges are almost 50% higher than the normal buses. Also, they have a set of considerably comfortable seats, and they should not allow standing passengers. Still, this rule always tends to be ignored. Moreover, the sticker with the route details of these buses come in blue.
AC Express bus: All these buses are from the private sector. They charge double the normal price, yet would offer you comfortable service.
Super Luxury (Express) Coach: They are more aimed at long distances, and are the only bus types allowed in the expressways. Passengers are not allowed to stand, and the charge is double the normal fee. Still, the comfort and the speed of the journey is worth the cost.
Pros and Cons of Bus service in Sri Lanka
Pros
Normally, buses are on time.
There are several buses a day for any of the bus routes.
Travel fee is extremely affordable and is cheaper than many other transportation methods.
Cons
Most of the normal and semi-luxury buses get fully loaded, and it would be uncomfortable to travel long distances, and place luggages or backpacks in them.
Most normal and semi-luxury buses have various colourful light designs inside, and they play high volume music, which can be distracting sometimes.
At certain times, the normal and semi-luxury buses go at a neck-breaking speed. Hence, you should pay more attention to your kids, belongings, as well as on maintaining your balance, at instances as such when travelling in them.
However, most of these comfort issues can be avoided if you choose to travel in an AC bus or a super luxury coach. Still, the problem is that they are mostly available focusing on expressway routes, and a few more long-distance routes. Besides, you can even reserve seats online to have a seat guaranteed. You can reserve seats, through the website of the National Transport Commission, and many other online platforms. The same website would help find the bus routes and timetables. Reserving might cost high, but the cost is worth the comfort and ease. Nevertheless, the best for a tourist is to get on a bus, at the starting point, or at least at a bus station. Below are a few suggestions to start your bus ride.
Pettah/Colombo Central Bus Station: This is the central hub of all the bus services in the country. Most AC-Express buses, important for tourists, leave from The Bastian Mawatha, and 4-5 parts of this bus station are there in this vicinity within walking distances.
Kandy Bus Station
Galle Bus Station
Matara Bus Station
Trains in Sri Lanka
Of course, Sri Lankan train service is also one of the widely used and the cheapest travel options on this land. Sri Lankan railways cover most parts of the island, and accordingly, there are three main railway lines. They are as follows.
South Rail Line: This is a railway line that lies upon the scenic coastal areas of the Southern coast, covering the popular cities, such as Hikkaduwa, Galle, Mirissa, and finally reaching the city of Matara.
East Rail Line: This rail line lies upon the most picturesque surroundings that one can ever think of. Surely, a train ride along this railway is one of the world's best train rides beyond doubt. A ride from Colombo through this rail line would cover the major cities such as Kandy, Hatton, Nanu Oya, Ella, and Badulla. On a ride on this railway, the part from Haputale to Ella would be the best. It would take you amidst the cool breeze, through the lush greenery of tea estates, mountainous surroundings amongst the mist and vibrant flora.
North Rail Line: Starting from Colombo, this line covers the way up to Anuradhapura, Mannar, and Jaffna. Moreover, one of its branches goes towards the Trincomalee, while another reaches the areas such as Polonnaruwa and Batticaloa.
Other Rail Lines: Another two significant rail lines lie from Colombo to the north, and from Colombo to Avissawella.
As you discovered earlier, Sri Lankan trains are a wonderful option for you to travel while experiencing the scenic beauties of this island. To be more specific, following train routes are the best for you to enjoy the true joys of a train ride, out of which Kandy- Ella train ride happens to be the most popular.
Kandy – Ella
Kandy – Nuwara Eliya
Colombo – Kandy
Colombo – Galle
Different Classes in Trains and Seat Reservations
With varying features and prices, Sri Lankan trains come in several classes. If you are ever planning on a train ride in Sri Lanka, it is a must that you should have an idea about them. They are as follows.
1st Class observation Compartments: You should definitely reserve a seat earlier, if you are wishing to travel in this compartment. They are high in price, yet offer perfect opportunities for travelers to enjoy the surroundings. Not all the trains have this class, but most of the long distance train rides on the East Railway come with 1st Class observation Compartments.
1st Class Air-conditioned Seats: Occasional intercity express trains have these seats, and they are available only for reservations.
1st Class Sleeper: Very few overnight trains carry sleeping-berths, and they are only available for reservations.
2nd Class Seats: They can be only reserved at the station on the day of the travel. So, not all the seats will be reserved, and reservation is not a must. All intercity trains come with 2nd Class compartments, and they have fans, windows, and padded seats. Sometimes, passengers might have to stand and travel.
3rd Class Seats: Unless for a very few trains, 3rd class seats in all other trains need not be reserved. Their charges are extremely low. They will be mostly crowded, and come with least facilities.
Now, having a clear idea about the types of classes, let us draw your attention towards seat reservations, and the ticket buying process.
Ticket reservations are possible up to 30 days. However, if you are not able to reserve a seat, there is certainly nothing to worry. You can always buy a second class or a third class ticket prior to your travel from the counters at the railway station that you are starting your journey.
Pros and Cons of Train Service in Sri Lanka
Pros
Charges for train rides are cheaper in Sri Lanka.
No distractions from high volume music and decorative bulbs like in private buses.
There are no races among trains. Thus, they would not reach neck-breaking speeds. So, the train rides tend to be more comfortable and stable than bus rides in that case.
Cons
Sri Lankan trains are slow.
They might not arrive on time.
Second and Third Class compartments might be extremely crowded sometimes.
Reservations during peak seasons are quite hard.
Moreover, let us highlight you that only a limited number of trains per day would be available on certain routes in Sri Lanka. So, it is always better to visit the website of the Sri Lanka Railways website to get an idea about the available trains on a specific route on a particular date.
Other Alternatives for Transportation on the island
By now, you should certainly have a clear-cut idea about the public transportation in Sri Lanka. Of course, it is the cheapest. Still, we do not assure you that it is the best. Indeed, there are a few reasons for why we say so.
Simply, the pros and cons that we brought you might also have given you an idea about the negatives of using these public transportation methods in Sri Lanka. However, Sri Lankan public transportation might be frustrating and time consuming sometimes. The roads around certain waterfalls and forests are narrow and in bad condition, and most of the beaches are located a few miles away from main roads. In such cases, surely, you will not be able to survive with public transportation. And most of the normal buses and trains in Sri Lanka, are old fashioned, and not equipped with high technology. Moreover, lack of space for your luggages, and issues that arise due to large crowds are common with regard as well. Thus, considering these factors, many, who are willing to pay a bit higher for transportation, choose some other alternatives, instead of public transportation.
The most popular other alternatives for transportation in Sri Lanka are as follows.
Rent a vehicle / Hire a car with a driver
Pick a Taxi
Use ride-hailing apps
Travel in a tuk-tuk
Domestic Flights in Sri Lanka
Willing to know more about them? Just check the sections below for a full overview about each and every one of them.
1. Rent a vehicle / Hire a Car with a driver
This is one of the ideal options for you to get around Sri Lanka, in a more comfortable and convenient way. Further, the new modern expressways on this island have shrunk the travel distances, and travel time. Indeed, that is also a plus point for you to hire a car or to rent a vehicle. Both these methods go along with each other. Yet, there are a few significant changes among them. So, let us first get an idea of what they are.
When you rent a vehicle, it means that you are burrowing that vehicle, with no driver. You will have to drive the vehicle, and look after the vehicle during your travel. But concerning your safety and convenience, we would suggest that this option is better to be ignored. Of course, you can go ahead and rent a vehicle, if you are super familiar with Sri Lankan routes. Still, for a typical tourist, this would not be an ideal choice to go ahead with.
Besides, hiring a car with a driver would be one of the best choices for any of the tourists. Some service providers would even give you an opportunity to accompany a travel guide, along with the driver as well. However, the normal rates of hiring a car and driver would be as follows. Please note that these rates may vary depending on various factors, and they are for a maximum travel distance of 200 km per day.
Budget car for two : USD50 per day onwards
Bigger car for 3-4 : USD75 per day onwards
Big van for 6-8: USD100 per day onwards
By the way, if you are interested in hiring a car, there are a few ways that you can proceed ahead. So, let us discuss with you about both these ways.
a). Hiring a car and a driver from place to place
Of course, there are both advantages and disadvantages of hiring a car from place to place. First of all, let us draw your attention towards its advantages.
Advantages
When you hire a car and a driver from place to place, it is just easier for you to change your plans. Just imagine an instance where you feel like relaxing a bit on a day. In such an instance, you can simply have a rest day and postpone your schedules, since there is no driver waiting for you at the gate. And by chance, you are at a forest, exploring the amazing wildlife there, and enjoying the scenic beauties out there. While you are still in the middle of its journey, you feel that you need more time to enjoy this site at its best. In such cases, you can simply go ahead, and spend more time there, cause there is no driver waiting for you, charging for waiting hours.
Moreover, just think that you find your driver annoying and not good. In such cases, you can simply have another car and a driver to reach your next destination, since you are not abiding to continue the whole journey with him. Also, you have advantages in terms of cost as well. If you have hired a car and driver for your whole journey, you will sometimes have to look into his accommodation and meals as well. You are free of all those burdens in this case. Further, you can bargain from driver to driver and fix your charges from travel to travel, which might sound a bit cheaper than the other option. Likewise, there are a series of pros of hiring a car and driver from one place to another. So, many tourists follow this method for convenient and relaxed travels.
Disadvantages
Of course, as in every other thing, there is a set of disadvantages coupled with these advantages as well. Above all, finding a suitable service provider to hire a car and a driver from place to place, is certainly a real burden. Simply, there might even be areas where these kinds of service providers are less. In such instances, you will surely feel the value of having a car hired for the entire journey. Besides, when you change the drivers from travel to travel, you will need a specific time to get familiar with the new drivers. That would make your travel a bit uncomfortable sometimes. Likewise, there are a couple of disadvantages of hiring a car and driver from place to place as well.
b). Hiring a car and a driver for the entire journey
Next, let us look at the advantages and disadvantages of hiring a car and a driver for the entire journey.
Advantages
When you choose to hire a car and driver for the whole journey, you will be travelling with the same person for days, or might even be for weeks. In that case, you will get a better opportunity to get familiar with your driver. Moreover, he too will understand your interests. Accordingly, he will share with you his experiences and recommend you places to visit, and to have meals as well. Moreover, he will be more than a driver for you. He will sometimes be your guide, sometimes a photographer, and sometimes a good companion as well. Thus, choosing a car and driver for the whole journey would certainly give you a memorable experience for sure.
Besides, you are free from extra burdens when you have chosen this method. You do not have to keep finding service providers from place to place. Simply, your driver would always be available for you throughout your journey.
Disadvantages
Of course, you are not in a situation to change your plans as per your wish, when you have a car and driver hired for the whole journey. Wherever you go, you will have to keep in mind that a driver is awaiting for you. Obviously, it will be an obstacle for your fun at certain times. Moreover, with most service providers, you will have to look into the driver's accommodation and food as well. These things will give you extra burdens. However, it is essential that you discuss these facts prior to your journey, along with the rates, in order to avoid unpleasant surprises. Also, when you choose a driver and car for the whole journey, it simply means they are for your 'whole journey', and no alterations in between. Thus, make sure that you consider the driver's personality and the condition of the car, prior to your travel.
Likewise, there are both advantages and disadvantages for both these methods. However, it is up to you to get the balance in between and choose the best way that suits you!
2. Pick a Taxi
Taxi services are available in Sri Lanka around most of the tourist destinations. Some of them come with meters, and some might not. However, the best is to get to know about their rates and negotiate, before agreeing upon the travel. Besides, your hotel would help you in picking a taxi, for an affordable price, and the normal rate for a taxi would range at around 0.5 USD per km. Also, please note that this rate may vary upon various factors.
3. Use ride-hailing apps
Of course, there are a number of ride-hailing apps that cover almost all the major cities of Sri Lanka. They might offer you a safe and reliable service abiding with a set of standard rates. Thus, use of ride hailing apps have become a popular option between Sri Lankans, as well as tourists. Below are some of the most popular taxi apps, or rather ride-hailing apps used in Sri Lanka. Moreover, it is not that hard to use them. You can simply install them on to your mobile, follow the instructions, and book your ride within a few minutes.
Uber
Pick Me
Yogo
Kangaroo Cabs
4. Travel in a Tuk-tuk
Tuk-tuks are one of the popular modes of transportation for Sri Lankans as well. Moreover, finding a tuk-tuk is never a hard task. They are highly available around bus halts, junctions, as well as around tourist destinations. Thus, they are more than available! So, you never have to reserve them earlier. So, isn't it a good point about traveling in tuk-tuks?
However, tuk-tuks happen to be your only saviour, in areas with no public transportation. Specially, you will have to choose a tuk-tuk to travel along the narrow, and damaged roads that lead to waterfalls, and forests in certain areas. In such instances, try your best to choose a tuk-tuk with a meter. Also, agree upon rates prior to your journey. Still, tuk-tuk drivers in Sri Lanka tend to make their charges double or triple when they see a tourist. Surely, that is an unfortunate situation when it comes to tuk-tuk travels. Accordingly, they would charge approximately 1 USD per km. Moreover, you can find tuk-tuk service agents in specific areas. However, your travel planner, or your hotel might help you find a tuk-tuk. Besides, they would offer you a safe and convenient travel for your destination.
5. Domestic Flights in Sri Lanka
Domestic flights in Sri Lanka are not that much of a common transportation mode within the island. Still, there are a few service providers who would create you the opportunity of travelling from a city to another in Sri Lanka by flight.
There are only a very limited number of domestic flight service providers within the country, and the top lead is Cinnamon Air. It offers you a range of daily scheduled flights, as well as luxury private charter flights and scenic flights. Moreover, their flights are scheduled covering their hub, Colombo International Airport, and many other scenic cities in the island, with the aim of giving a delightful bird-eye-view for its passengers. Excited to fly high with Cinnamons? Feel free to check their website for their service details, and why not? You can even book your flight online.
Finally, we have now reached the end of the guide about the Transportation modes in Sri Lanka. We hope we covered everything that you need to know with regards! After all, the best transportation mode might vary with what you do in Sri Lanka, where you go, and your budget. However, challenges won't be a surprise. Still, accept them and take risks. A proper plan would take you to the right place, at the right time!