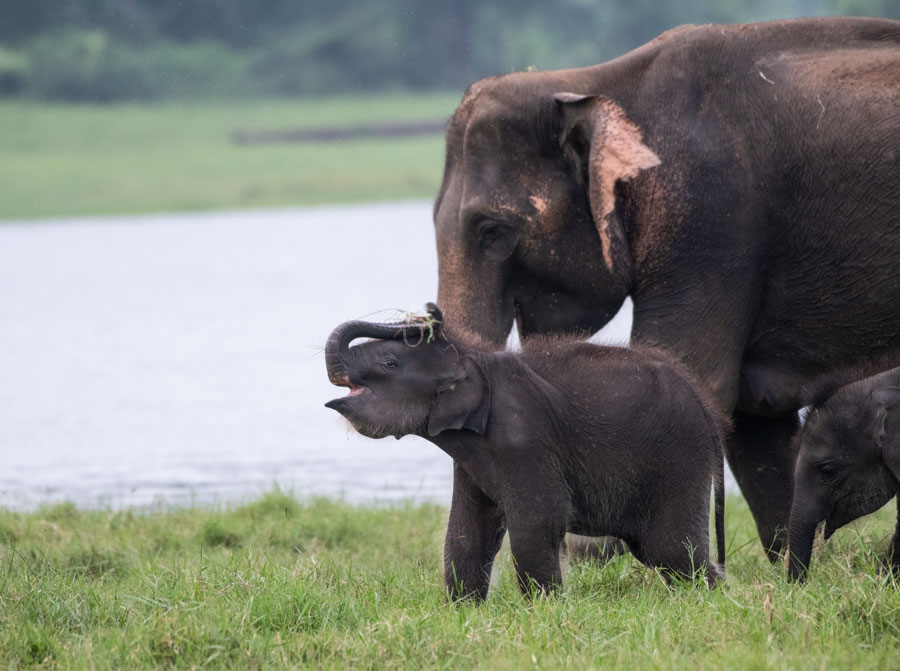 The beautiful island of Sri Lanka is simply a magical paradise. It offers you plenty of natural resources, wildlife and much more. Further, as per the local and international wildlife experts, Sri Lanka is indeed one of the best, for big game safaris outside of Africa. However, if you are interested in a few days of safari in Sri Lanka, we would suggest that Minneriya National Park appears to be the best destination you can think of.
And yes, one would have heard about the Minneriya National Park. Yet, did you know that it is one of the finest natural habitats of Sri Lanka? In addition, if you have heard of it, did you know enough about this splendid home of wildlife? Whatever it is, nothing to worry about! Keep reading, while we tell you everything you need to know about this beautiful place of natural habitat.
Significant Features of Minneriya National Park
Of course, it is not a secret that there are many national parks in Sri Lanka that are listed in Asia's top wildlife attractions. The landscape and vegetation vary from park to park and similarly, the flora and fauna. However, elephants and bird life are the most common in all these parks. Out of these beautiful parks, Minneriya is well known and liked by many. Excited to know why?
To be specific, Minneriya National Park allows you to observe high densities of endemic flora and fauna. Moreover, Minneriya National Park is a place that offers you the opportunity to camp inside a deep jungle. Going beyond, it offers you the most perfect safari experiences. Thus, it simply happens to be a must-visit on this splendid island, and significant out of all the other wildlife attractions!
Apart from that, in a period of six months, ending in August 2009, along with Kaudulla and Girithale National Parks, Minneriya National Park was able to earn a sum of Rs.10.7 million. Further, Minneriya also comes under the 70 Important Bird Areas (IBAs) in Sri Lanka.
The Location of Minneriya National Park
Minneriya National Park, is a local captivation in the North Central Province of Sri Lanka. It covers an area of 8,890 hectares and is located 182 kms away from Colombo. Similarly, it is close to many other wonderful sites. The fact that Habarana, Sigiriya and the ancient city of Polonnaruwa being located a few miles away from this national park, makes it possible to experience both Sri Lankan culture and wildlife in a single journey.
Interrelation between the Minneriya Tank and Minneriya National Park
The renovated vast ancient Minneriya Rainwater Reservoir that irrigates a considerable area of the Polonnaruwa district is the central point of the Minneriya National Park. Surrounding the beautiful Minneriya tank, Minneriya National Park's settings are strikingly different to the arid landscapes. The geography of the park includes scrub plains and mixed evergreen forest alongside rocky outcrops and wetlands. It provides a range of habitats with suitable ground. Likewise, we can interest you with a lot more fascinating facts about the National Park. Keep going!
The History of Minneriya National Park
Even though the national park was initially acknowledged on the 12th August 1997, it was officially declared as a wildlife sanctuary in the year of 1938. Surely, it was done with the strong motive of protecting the catchment of the Minneriya Tank and the natural habitat of the surrounding area. Moreover, due to the very reason that the tank was built by King Mahasen during the third century AD, the tank holds a great historical value as well. Further, the park consists of a dry season. Also, it feeds the ground for the elephant population dwelling in forests of the districts, Matale, Polonnaruwa, and Trincomalee.
Ecological Features of Minneriya National Park
Due to the park's location in the dry zone of Sri Lanka, it expects an average rainfall of 1,500–2,000 millimetres (59–79 in). However, the lowest and the highest temperature of the park are 20.6 °C (69.1 °F) and 34.5 °C (94.1 °F) respectively. A diversion of Amban River and Elahera Canal acts as a main source of water for the tank. Moreover, the months of October and January act as the wet season during the North-Eastern Monsoon. Similarly, May to September acts as the dry season.
Vegetation and Flora of the Park
The dominant habitats of Minneriya include low-canopy montane forests, intermediate high-canopy secondary forests, scrublands, abandoned chena lands, grasslands, rocky outcrops, and wetlands.
In addition, you can commonly find few of the floras such as the following, in the area around the Minneriya tank.
Terminalia Arjuna
Manilkara hexandra
Neem (Azadirachta indica)
Sacred Fig (Ficus religiosa)
Piliostigma racemosum .
Moreover, some dominant plant species like Chloroxylon swietenia, Vitex altissima, Berrya cordifolia, Diospyros quaesita and Drypetes sepiaria are frequent in Minneriya National Park. In addition, Randia dumetorum, Crotons, and Calotropis gigantea are common at the abandoned chena cultivations and scrublands. Also, Eucalyptus and Teak plantations, developed by the Forest Conservation Department, are clearly visible within the park. Further, Bambusa bambos, Ceylon date palm (Phoenix pusilla), Imperata cylindrica, and Panicum maximum include Monocots and grass species.
Fauna Species at Minneriya National Park
The National Park consists of twenty-four species of mammals, one hundred and sixty species of birds, nine species of amphibians, twenty-five species of reptiles, twenty-six species of fish, and seventy-five species of butterflies. Besides, the elephants at Minneriya National Park hold a remarkable significance owing to the elephants it shelters.
Elephants at Minneriya National Park
During the dry season, Plenty of Sri Lankan elephants drive towards the grass fields on the edges of the reservoir. Approximately 150-200 elephants gather around here. Besides, Minneriya Tank helps to maintain a quite large herd. Few records also describe that, the number of elephants is as high as 700. People believe that they migrate here from Wasgamuwa National Park and they get advantage of the park's forest food and shelter. However, at present, Minneriya National Park has become one of the best reasons to visit Sri Lanka due to the presence of the elephants, especially in dry season.
'The Gathering'
Clearly, you might wonder what precisely does this mean. Well, the area being a part of the elephant corridor, which joins up with Kaudulla and Wasgamuwa, you are sure to see elephants. In addition, as mentioned above, especially during the dry season, one of the most awesome wildlife spectacles 'The Gathering' of elephants can be witnessed. Elephants come together to the tank with receding water level to play and enjoy themselves.
Other Endemic Species
Apart from elephants, you have the ability to observe habitats that are more natural in the park. Gray slender loris is a common sight at Minneriya. Purple-Faced Langur and Toque Macaque are the two widespread monkeys of Sri Lanka, who find the park an important habitat. Large herbivorous mammals, such as Sri Lankan Sambar Deer and Sri Lankan Axis Deer habitually visit the park. Similarly, some rare species such as Sri Lankan Leopard and Sri Lankan Sloth Bear are frequently visible in Minneriya.
Endemic Birds Species
Below are some of the endemic bird species that can be seen in this wonderful National Park.
Sri Lankan Jungle Fowl
Sri Lankan Hanging Parrot
Brown-Capped Babbler
Sri Lankan Grey Hornbill
Black-Crested Bulb
Crimson-Fronted Barbet
However, the count of recorded endangered birds in this national park is 11. Further, for large water birds such as Lesser Adjutant, Painted Stork, and Spot-Billed Pelican, the Minneriya reservoir is a vital habitat. In addition, Minneriya is a dormitory for many resident and migrant bird species. Evidently, there is an identification of 2000 flocks of cormorants. Moreover, water birds like Great White Pelican, Ruddy Turnstone, and Grey Heron are commonly visible inside the park.
Threatened Endemic Species at Minneriya National Park
Specifically, rare and endangered species such as Sri Lankan Leopard and Sri Lankan Sloth Bear dwell in Minneriya. Further, as mentioned earlier, the number of recorded endangered birds in the national park is eleven. Besides, there are eight species of endemic reptiles, and all of them are considered threatened. Painted-Lip Lizards and Lankascincus fallax are also among them. In addition, Salt-Water Crocodile, Indian Python, Asian Water Monitor, and Bengal Monitor are among the other threatened reptiles species.
Threats Caused to Minneriya National Park
Firewood clearance has become one of the biggest threats to the park's forest. This activity can lead to a decline in the reservoir's water levels. The other threats caused by man to the reservoir are water contamination in bathing areas, invasion, illegal agricultural practices, over fishing and poaching. Meanwhile the spread of invasive Lantana camara is known as a natural threat.
Conservation Actions to Safeguard the Park
The area where the Minneriya National Park is located is also a part of the Minneriya – Giritale Nature Reserve. It was declared from 1988 to 1997 in four phases. Due to the above reasons, conservative measures by the relevant authorities have been proposed. Mainly, they include habitat restoration and the removal of livestock from the area.
Safari Camping – The New Era of Minneriya National Park
Undoubtedly, safari camping is the closest encounter with the wildlife and it is a remarkable experience. The luxurious camps, which take you overnight into the heart of the national park is a recently introduced concept in safaris. The wildlife sightings, amazing waterfront sights and cool breezes are the greatest part of it. Indeed, one can get a lifetime experience from a safari camping which one will never regret. It is simply an exciting experience to uncover the lush, green landscapes and explore the depths of the verdant jungles and grasslands. Moreover, specialised elevated jeeps designed with spacious seats, carry up to eight people along bumpy jungle roads, in search of wildlife in the national parks.
The Best Time to Visit Minneriya National Park
The most recommended time to visit Minneriya National Park is from May to October. The reason is the most amazing Wild Elephant Gathering taking place during that time. Furthermore, 5:30 am and 8:30 am is the best time to begin the jeep safari. The next best time slot would be from 3 pm to 6 pm.
The Entrance Fees and Vehicle Booking
The entrance fee to the park is around 15 USD. However, organising a jeep for the safari is not problematic at all. Making your way to the park entrance and getting yourself a jeep there or booking yourself a tour, including a pickup is possible.
Further Information Regarding Minneriya National Park
Within the area of the Minneriya National Park, there are two more national parks in close proximity. They are,
The National Park of Kaudulla
The Eco Park of Hurulu
All these three parks are highly popular among locals and foreigners around the world, because of their massive elephant herds. Generally, large numbers of elephants can be found in the Minneriya National Park each year during the months of July to September. Later, due to high rains and lakes filling up, they tend to migrate to Kaudulla National Park during the months of October to November. As the final stretch of their migration, the elephants travel on to Hurulu Eco Park, during the months of December to January.
Why You Should Definitely Visit Minneriya National Park During Your Lifetime?
Now you know that Minneriya National Park is a home to many faunas and vast grasslands with an excellent ecosystem of thick shrubberies and trees. With plenty of living and non-living attractions of the national park, it surely is an area of outstanding beauty. Furthermore, Minneriya National Park is one of the best places to see the largest, recurring Asian elephants gathering in the world with a scenic view. So, aren't these facts prove to you that you should definitely visit Minneriya National Park during your lifetime?
The Bottom Line
As we sum up, let us remind you again that visiting Minneriya National Park is an astonishing experience that you should never miss. Of course, it is not a secret that most of the locals and tourists have added this to their wish list. Yet, if you have not done it yet, and if you have never visited this wonderful destination, it is high time you do so! No place else would offer you the perfect opportunities as such of having a close encounter with the wild, which everyone would love to experience and and cherish. So, what are you waiting for? Visit Minneriya National Park, and witness the delight yourself. Happy and Safe Journey!