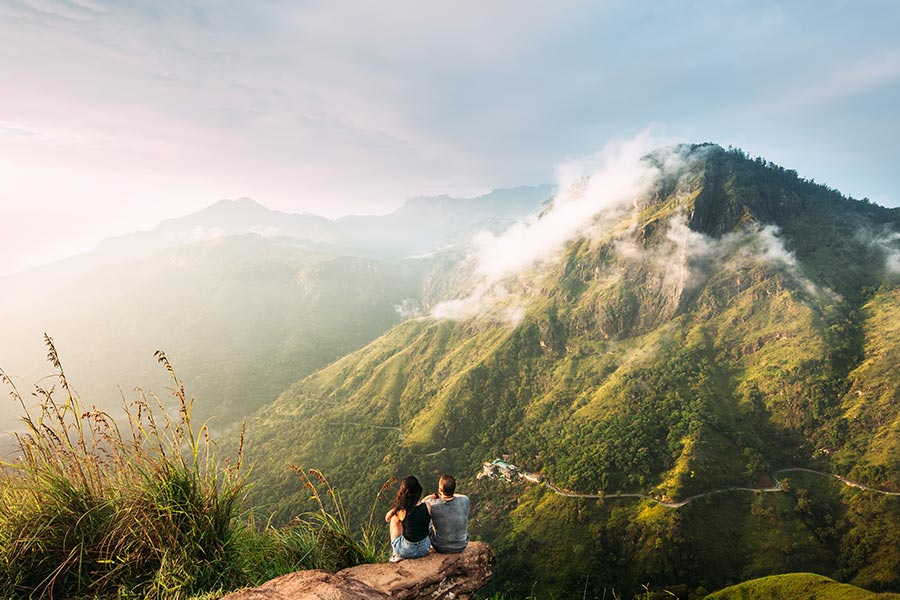 Sri Lanka, the pearl of the Indian Ocean, is simply a paradise that amuses any! In fact, it is not just a country full of green flora and fauna. It is full of beauty, it is atmospherically calm and quiet, climatically diversified and soothing. Besides, the romantic setting of Sri Lanka with the breathtaking beaches throughout and the scenic inland create the perfect atmosphere for a newly wedded couple to spend some time leisurely. In fact, this setting will allow them to spend their first stay together mesmerizingly. So, this island has become one of the best places for not only travelers, vloggers, and photographers, but also for couples who are longing to spend a romantic honeymoon. So, let us share with you how wonderful a honeymoon in Sri Lanka can be and all about the exciting and enjoyable activities a couple can enjoy within the territories of the island!
The Best Ways to Enjoy the Honeymoon in Sri Lanka
The following activities are sure to delight any of the couples who choose to spend their honeymoon in Sri Lanka.
Spending a beach holiday
Enjoying water sports
Going on a jeep safari
Hiking and camping
Visiting botanical gardens
Visiting ancient cities
Going on a train ride
Enjoying an elephant back safari
Taking part in Sri Lankan festivals
Shopping
Visiting waterfalls
Visiting tea plantations
Cycling
Visiting a Veddha village
Enjoying Sri Lankan cuisine
Continue reading to know about the fascination of these activities!
1. Spending a Beach Holiday
As an almost invisible island lying on the vast Indian Ocean, Sri Lanka is surrounded by blue waves. Thus, the beach is an obvious nature factor for this marvelous island. The specialty is that these beaches in Sri Lanka are allowed for visitors without any restrictions. Hence, it does not matter whether you are staying in North, South East, or West, you can get the beach experience with zero matter.
However, if an evening amidst sizzling wind, ticklish sand, rambling waves, greenish sea, far-sighted horizon, and perhaps the fading rainbows is not romantic, what is it? So, are the beaches not an ideal place for a newly-wedded duo?
Not only that, spending a beach holiday allows you to have a colorful time among the marine creatures, corals, and ocean floor. Further, you can have boat rides from one port to another, involve in diving practices, surfing lessons, and water sports while spending the time beside a beach. Also, turtle hatcheries, aqua houses, and perhaps whale watching are some added benefits.
So, owing to all these reasons, spending time beside different beaches in turn by your partner next to you will offer you some of the best moments in life. Hence, spending a beach holiday is one of the best ways to enjoy your honeymoon in Sri Lanka.
The following places would be some of the best choices for a romantic beach holiday!
Unawatuna
Tangalle
Hambantota
Weligama
Nilaveli
Mount Lavinia
Beruwala
Koggala
Wadduwa
Matara
Kalutara
Dikwella
Kalpitiya
Ahungalla
Arugam Bay
Pasikuda
Uppuveli
2. Enjoying Water Sports
Water makes romantic moments lovelier with the vibe it gives. So, even if not for romance, most people choose water-related activities to spend some quality time with their loved ones. People have that much of a bond with the water. Thus, if you are a couple who has a high interest in water-related activities, you can choose water sports to enjoy during your honeymoon in Sri Lanka.
As mentioned above, the ocean that surrounds the island, as well as the hundreds of water bodies on the island create the perfect opportunities for water sports. However, the majority of the water sports popular in Sri Lanka are associated with the sea. When considering the water sports here on this island, snorkeling, white water rafting, deep-sea fishing, scuba diving, windsurfing, kayaking, wakeboarding, seaplane rides, water skiing, Jetski, whale watching, boat safaris, banana tube rides, seaplane rides, speed boat rides, and sailing happen to be the highlights. All these tasks are extremely fun activities, not only because they are water-related but also due to the worldly vibe they give.
Here are some places where you can get the best experience of these activities.
For snorkeling, it is best to indulge in Pigeon Island, Hikkaduwa beach, and Kalpitiya.
For white water rafting, Kelani River and Kitulgala are the best.
Once again Hikkaduwa is ideal for Scuba diving, windsurfing, and skiing.
Negombo is also famous for skiing and Jet Skiing.
Bentota is ideal for deep-sea fishing, boat safari, windsurfing, and sailing.
Mirissa is ideal for whale watching.
3. Going on a Jeep Safari
While some couples love romantic moments, some love to experience thrill and excitement together. Since Sri Lanka is a place full of all types of experiences, it caters to the requirements of adventure seekers as well. Indeed jeep safaris give the kind of a thrilling experience since it is a deal with wild animals idling in their own territories. Yet there is nothing to worry about since there are no records of animal attacks on Safari jeeps. However, these journeys allow you to spend quality time among the trees and animals in some calm and quiet jungle areas.
No one can exactly say where the animals are and when the animals will appear. So, to witness their natural behavior you may have to visit the same jungle several times and spot each of them. If you explore closely and attentively you can find animals from macro to micro and invisible to visible. That is the challenge of going on a jeep safari.
Most importantly, the time you spend among flora and fauna is valuable. Simply, you will not get much time for anything. The beauty and the unique greenery of the Sri Lankan jungles and endemic animals along with migrated birds are the best part of it. And why not? The feeling that you get when you have your partner next to you to witness all these delights would be simply awesome.
The areas and national parks in Sri Lanka where you can have this experience to its fullest are as follows.
Make sure you choose accommodation closer to these parks to have proper timings for your jeep safaris.
4. Hiking and Camping
This is once again an option for a nature-loving and adventurous couple who urge to spend their honeymoon in Sri Lanka amidst a calm yet soothing setting. Till now we were talking about the flora and fauna generally. One of the other most amazing things that are available within the territories of Sri Lanka are tall, short, and perhaps ranges of mountains. They are some incredible and unbelievable creations of Mother Nature.
You may be wondering what is there for us in these mountains. Is it climbing? Actually, it is something similar to climbing; hiking, or trekking. But it does not stop with reaching the top and descending back. Additionally, they are suitable for camping and having a peaceful time on the highest ends of these mountains. Most importantly, you can have an uninterrupted couple-time amidst cool breeze, distant noises of animals, wild aromas, and far-sighted sun settings in the mornings. Imagine how this romantic setting would raise your feelings for each other!
However, before choosing hiking and trekking, you have to be ready for any challenge that you may encounter on your way. First of all, you need to get prepared to do everything by yourself from preparing accommodation to medicating if any harm occurs. These are the factors that make your trip more thrilling and adventurous. At the same time, make sure you won't carry unnecessary weights since you will be ascending all the time.
Let us suggest some locations where you can have the best hiking and camping experience in Sri Lanka without a miss-out.
Knuckles
Ella rock
Wangedigala
Hanthana
Little Adam's peak
Narangala
Idalgashinna
Meemure
5. Visiting Botanical Gardens
Amidst all these natural settings, Sri Lanka contains some man-made sites that are full of natural elements. The primary focus of these gardens is on flora. They contain an absolutely romantic setting with structured flower beds, lawns, boulevards, benches, and canopy trees. Hence, you will not find a more romantic place to spend your free time.
As a suggestion, you can arrange some picnics in these gardens from time to time during your stay. You can choose maybe a boulevard, or a well-maintained lawn, or near a well-structured flower bed under a canopy tree for that. Not only that, most botanical gardens are knowledge hubs where you can gain huge knowledge about the endemic plant species in Sri Lanka. They act as outdoor museums that preserve rare and endemic plants, flowers, and herbs on the island.
They have an extensive collection of rarely found plants along with their names. Therefore, perhaps you can explore the history of certain plants if you properly and attentively walk around the gardens while soothing your tired bodies. Not only that, they contain ponds, bridges, sometimes libraries, and snack bars as well.
Here are some such botanical gardens that you can find in Sri Lanka.
Mirijjawila Botanical Garden
Kawdu Pelella Spice, Herbal and Botanical Garden
Hambantota Dry Zone Botanical Garden.
6. Visiting Ancient Cities
One of the precious things that Sri Lanka preserves is its proud history which runs back to around 2500 years. During this whole time, most of the additions, damages as well as improvements happened. Sri Lankan history contains trivial details starting from the indigenous tribal groups to the civil war which lasted for thirty years. However, from all around the country, the cities that have a great collection of historical ruins from the earliest centuries are famous as the ancient cities on the island.
Besides, if you are choosing a country like Sri Lanka to spend your honeymoon vacation, there are ample opportunities for you to learn about its history, traditions, and culture. And you may explore Sri Lankan history not because you need to adapt to it, but because you need to remind yourself of some interesting facts about the country you spent your first journey as a married couple. Simply, that is the best souvenir you can have for you rather than materialistic things.
The specialty of these ancient cities is that you may find ruins; half-built buildings, remnants of completely destroyed buildings, and lakes made by the greatest kings, along with the way they contributed to the development of this valuable island. Also, they give 100% significance to the Buddhist religion.
Anuradhapura, Polonnaruwa being the major ancient cities Kandy, Jaffna, Sigiriya, Yapahuwa, Dambulla and Buduruwagala also belong to that category. Make sure to travel around these ancient cities by foot cycle in order to get the best experience.
7. Going on a Train Ride
Here comes one of the most spectacular things in Sri Lanka. No one miss-out this experience even if it is a brief stay of two or three days on this island!
Sri Lanka may be a small island in the Indian Ocean. Yet, it is a country that packs with some of the world's most thrilling rail journeys. The best part is the photogenic scenery you get to see during these journeys. It is not that every train journey in Sri Lanka is scenic, but certain journeys between certain areas are unbelievably beautiful.
Besides, if someone tells you that rail journeys are the most tireless mode of transportation, there is nothing wrong with that. It is not only because of the comfy but also because of the soothing and meditating views you encounter. What more a newly wedded couple needs than a nostalgic journey with some quality photographs that capture the moments. So, don't you think that train rides should be included in your bucket list for your honeymoon in Sri Lanka?
The scenery it gives, contains green tea gardens, thickets of tropical rainforests, effortlessly falling waterfalls, distant brownish mountain ranges, and unexpected streams here and there. However, make sure you choose one of the following epic rail journeys to witness this breathtaking beauty that is hidden amidst the mountains of the country.
Best urban rail journey: Colombo-Kandy
Best spectacular rail journey: Kandy to Badulla
Best coastal rail trip: Colombo to Galle
Best northern rail trip: Anuradhapura to Jaffna
It is best if you can engage in every four journeys since each is different from one another. The website of the Sri Lanka Railway Department will help you get to know about the train schedules.
8. Enjoying an Elephant Back Safari
Have you ever heard about animal safaris? Maybe you have. If you are visiting Sri Lanka, you will be lucky enough to enjoy such a safari for real. This is an exclusive opportunity for nature-loving and animal-friendly newly wedded couples since they add the best to their pockets during their honeymoon in Sri Lanka.
As mentioned above, flora and fauna are some essential parts of Sri Lanka. Moreover, elephants are an important part of the animal world on this island. Sri Lankan elephants are stronger and unique in color as well. And guess what! Elephant back safaris are funnier than we think due to the shaky way that the elephants walk.
These safaris are usually led through narrow paths into the woods with shallow water pits here and there. The difference you experience with safaris on elephant backs is that you can see a vast area all around. You can explore every single detail of nature from the sky to earth and from insects to huge animals. Apart from that, this safari allows you to understand the natural behavior of elephants since it is quite similar to a day with an elephant.
The best thing about Sri Lankan elephant back safaris is that you can find them around the famous tourist attractions such as Sigiriya, Habarana, and Minneriya. These areas are rich with ancient values, natural elements, fauna, wilderness, and rurality. Therefore, a safari on elephant back will fill you with several aspects unique to Sri Lanka.
9. Taking Part in Sri Lankan Festivals
The diversity in Sri Lanka not only lies in nature, climate, weather, and landscapes but in the community as well. Although it seems like Sri Lanka prioritizes the Sinhalese nation, it is actually a multinational country. All these nations and their religions are well-respected. Not only that, there are several festivals in each religion and annually they are celebrated grandly.
In Sri Lanka, there is a festival that makes the country vibrant and glittering in each and every month. All the people without any indifference join hands to celebrate most of the main festivals of every religion.
During these festival days, all the towns get decorated and lit up with multi-colors. Besides, during certain festival seasons, the crowds are flooding the towns and shopping for festive items. Most of the time, the shopkeepers make sure to fill their stores with the new stocks to get ready for those seasons. Hence, the festival seasons become the busiest time periods in Sri Lanka.
You, as a newly wedded couple, would get a chance to open up to different cultures and traditions that you have never experienced, if you visit Sri Lanka during a festival season.
The most vibrant festivals in Sri Lanka are as follows.
Try to participate and celebrate at least one festival that comes your way during your stay to see the vibe it gives.
10. Shopping
Shopping! It is something that attracts women more than men. Besides, this is something that commonly happens on any tour in any country. Essentially, it is to collect souvenirs and gifts for the families.
Yet, shopping in Sri Lanka takes a different look since you will find small stalls installed everywhere with different items in them. Hence, you don't necessarily want to find and visit places to do shopping. You can buy whatever you want for a fair price if you walk a little around town areas.
At the same time, if you need to buy quality and expensive products and quite unique products in Sri Lanka, you can visit the grand shopping malls installed in the main city areas. You can find most of the shopping complexes in the commercial city of Colombo. Not only that, you can find separate shops for souvenir items as well.
Owing to all these factors, shopping here is a different culture with a different vibe. So, make sure to roam around and visit the shopping areas and malls even if you do not buy anything. Shopping with your partner during your honeymoon in Sri Lanka, is certain to add a bunch of wonderful memories to your life.
11. Visiting Waterfalls
This beautiful island of Sri Lanka is rich with inland water sources such as lakes, rivers, streams, and waterfalls. Though the lakes and tanks are man-made water sources for agriculture purposes, all the others are nature's creations. Among them, waterfalls are something highly visited by both local and foreign crowds.
As a newly wedded couple, if you are looking for a completely quiet and calm environment to celebrate your love, you can choose an evening or an early morning near a waterfall. You will never find the calmness and the quietness that a waterfall gives anywhere in the world. It is because they are like hidden gems that are confined within thick woods in Central Sri Lanka.
One becomes speechless when he/she gets to see a waterfall due to the heart-stopping beauty of them. Falling down from a very high place amidst a forest or between two huge rocks, they make one amazed and question the creation of Mother Nature. The best part of them is that you can perhaps climb up to the starting point and see how the upper arrangement is formed while having a tranquilizer bath in quite a cool water pool. It would surely be a fun-filled, yet adventurous activity for you and your partner. You can even dive once or twice into the river area of the waterfall to experience the real beauty of it. Yet, please note that your safety is at your hands!
12. Visiting Tea Plantations
Mainly Sri Lanka is popular in the export world for tea, rubber, coconut, and spices. Annually, it earns a huge amount of dollars due to these products that are common in Sri Lanka. Among them, tea has fascinating demand even in the European market. It is simply due to the fresh and high-quality tea that Sri Lanka produces.
However, you can see tea plantations mostly in the Central Highlands of the country, not limitedly but by acres of them. If you choose to enjoy a train ride to central Sri Lanka as we mentioned before, you would get a chance to observe the beauty of the tea plantation to its fullest. The vivid green color and the shades of green that covers a whole area makes you blind to any other thing around it. Thus, just seeing even one slope of a tea plantation makes you feel like seeing heaven.
Simply, sipping a cup of Ceylon tea is an essential activity on the bucket lists of the visitors since it makes them forget the whole world and live in their own worlds. So, since you two start dreaming as one, visiting a tea plantation, capturing some photographs there, witnessing the process of forming tea powder, and drinking a fresh cup of Ceylon tea will take you to your dreams without your knowledge. All these activities would surely magnify the delight of your honeymoon in Sri Lanka.
It is hard to pinpoint an exact location to visit tea plantations since you can find them in several areas of Sri Lanka. Yet, if you want to get the original feeling of it, make sure to choose a tea plantation in the hill country, especially in Nuwara Eliya, where a tea factory is also there.
13. Cycling
As you already know, you have many places to visit and many things to observe in this magical paradise. And the most interesting fact is that you can find many of these places even around a single city. Therefore, cycling would be one of the best methods to explore those cities, and especially to enjoy the natural sceneries of this country. And yes, we are not asking you to cycle alone. You can cycle with your partner as you would be spending your honeymoon here in Sri Lanka, and it would be one of the best experiences in your life.
You would be traveling the same path, you would be facing similar challenges, you would help each other while enjoying your time together as you cycle together. So, doesn't this feeling itself give you the perfect beginning to your new chapter of life, as you begin your journey as husband and wife?
Besides, enjoying the charm of the nature together, spending some time by a beautiful lake, enjoying some street food with your partner while you rest, and getting to know the life of Sri Lankans together would be some interesting things that you would enjoy while you are cycling. So, doubts apart, going cycling with your partner is one of the best things for you to do while you are spending your honeymoon in Sri Lanka.
14. Visiting a Vedda Village
Veddha people are the indigenous community of Sri Lanka. Unfortunately, the people who belong to these generations cannot be found in many of the parts of the country today. Still, there are several villages around Dambana, and Mahiyanganaya where these vedda people live. And believe us, visiting one of these villages would be a unique experience to you and your partner.
The vedda community follows a special set of traditions and customs. The language they speak, the way they dress, the way they conduct rituals, and even their music and dance hold some totally different features than the other communities living in Sri Lanka. Observing their lifestyle, trying some traditional hunting with them, trying a bit of farming activities with them, and enjoying delicious meals of their style will surely give you a totally new experience. And why not? They would even bless you both according to their traditions, if they get to know that you both are a newly-wedded couple.
So, if you like to get to know about new cultures in the world, and to witness unique experiences, you can certainly pay a visit to a vedda village, during your honeymoon in Sri Lanka!
15. Enjoying Sri Lankan Cuisine
Here comes the best part of having a vacation in a South Asian country like Sri Lanka where you find a unique cuisine with a vast variety. Generally, Asian food is far more different from that of European and Western countries. Its specialty is the usage of spices. Just like that Sri Lanka is also famous for spicy food that some foreigners prefer to try even once in a lifetime.
Not only the taste, but the color of Sri Lankan food has a uniqueness in it due to the local and fresh spices that get into them straight out of plants and herbs. As a newly wedded couple who is going to try completely new things, trying some different meals or cuisine will not do any harm to you. However, the specialty of Sri Lanka cuisine is that it prioritizes rice and curry rather than wheat flour and non-veg.
Make sure you visit a food court in a rural area to taste real Sri Lankan cuisine along with its original aroma. The aroma only makes both your stomach and your heart full even before you eat a pinch of the plate you receive. As Ceylon tea, trying Sri Lankan cuisine is also worth having on your bucket list following its originality. That will give you a vibe of having a spicy time together in your own world.
The Bottom Line
If you choose to spend your honeymoon amidst the unusual beauty of this tiny island on the Indian Ocean, it will be the very first best decision you will take as a couple. Besides, spending your honeymoon in Sri Lanka will not limit to the above-mentioned list of activities. There are many more things for you to engage in, and many more places for you to visit in Sri Lanka. So, we can guarantee that if you choose to spend your honeymoon in the South's most Asian country, you will remember it throughout your lifetime as a precious memory. So, come down to Sri Lanka with your partner and explore as much as you want while celebrating your love to its fullest. The romantic setting you find in everything here will give you a completely fresh start in your new life. Happy and safe traveling!