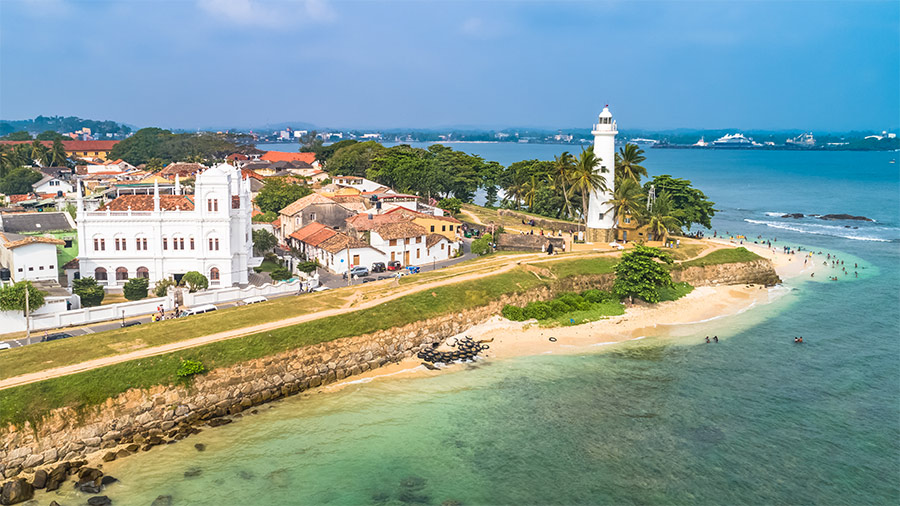 Sri Lanka is truly a paradise island that has a lot to offer to the world. And why not? It is always prepared to welcome its visitors warmly with happy hearts. However, out of the several wonderful places within the island, Galle receives special attention from tourists. Perched on the south-western edge of Sri Lanka, Galle is simply the living remains of the colonization of the island. Besides, it is one of the twenty-five districts of Sri Lanka, also known as the capital of the province and the largest city of Southern Province. So, excited to know about this splendid city? We are sure you are. Continue reading!
Galle, The Best Place to Relax Your Soul
Galle is a much-relaxed city and one of the best places to catch a fresh breath. Moreover, Galle is famous for its colonial fort, beautiful beaches, the iconic Galle lighthouse, the popular Galle International Cricket Stadium and much more. Further, Galle Fort is a UNESCO world heritage site and has history written all over its quaint streets. Another fascination is the globally recognized Galle Literary Festival which takes place annually in Galle, with a vast number of tourists. Moreover, Galle is all about sandy shores, fantastic music and culture. Undoubtedly, for adventure enthusiasts, it is a great choice! Indeed, the city is sure to win your heart with its charm. So, why not? Let us walk through the details to know more about this magnificent city.
Geological Features
Galle is a beautiful city with a surface area of 1,652 km2. To be specific, it makes 35 sq km of water and 1,617 sq km of land. Moreover, this region consists of rainforests, which is the catchment area for most rivers and lakes across the district of Galle. One of them is the Sinharaja Forest Reserve. Also, the River Gin starts from Gongala Hill of Hiniduma Paththuwa and it passes Neluwa, Thawalama, Nagoda, Baddegama and Thelikada, in its long journey of 113 km. Furthermore, the river sustains the land to an extent of 922 km2. Besides, the river flows to the Indian Ocean in the Gintota area of the Galle District. In addition, the river 'Madu Ganga' starts from Polathu Kanda and flows to the sea from Balapitiya. And yes, all of them contribute immensely to maintain the ecological balance in the Galle district.
Climatic Conditions
Meanwhile, Galle features a tropical rainforest climate and the annual rainfall is between 2000 – 2500mm. The area has no actual dry season although, in January and February, it is considerably drier. Temperature shows a little variation over the year, with an average of 26 ° C (79 ° F), which is normal for many areas with this type of climatic condition.
Furthermore, Unawatuna is a large mound-like hill that forms the eastern protective barrier to Galle Harbour and is known as 'Rumassala'. The hill is related to local tradition with some Ramayana events which is one of the great Hindu classics.
History of Galle
Galle is a town full of historical tales and few of the remains we still see, act as proof for those stories. As the capital city of the Southern Province, Galle District played a major role in the battles against enemies in ancient Sri Lanka. In 1072 A.C, ancient legends reveal that King Vijayabahu I began his war against "Soli " in Hinidum Pattu's Thambalagamuwa. Thus, according to legends, during the sovereignty of King Dambhadeniya Parakramabahu, his battle agent Queen Sugala was carried out in the Galle district. Also, during the supremacy of King Maha Parakramabahu, Galle was a very significant region. Similarly, it greatly helped the Dutch, Portuguese, and English to establish their empires.
Standing as a Chief Port
Before the arrival of the Portuguese in Sri Lanka, Galle was the chief port on the island during the 16th Century. The port in Galle was known as 'Gimhathiththa'. The phrase comes from the classic Sinhalese word meaning, "port near the River Gin". Moreover, it was referred to as Qali by Ibn Batuta, a Moroccan Berber Muslim traveler in the 14th century (which was in 1342). As early as 1400 BC, cinnamon was shipped from Sri Lanka, and since the source of the word itself is Hebrew, Galle may have been a major place for spice.
Galle Reaching the Pinnacle of Growth
Similarly, during the Dutch colonial era in the 18th century, Galle reached the highest of its growth. Notably, Galle is the greatest example of a fortified city built in South and Southeast Asia by the Portuguese, signifying the relationship between Portuguese styles of architecture and cultural beliefs. From 1649 onwards, the Dutch substantially fortified the city during the 17th century. In addition, a world heritage site, the Galle Fort is the largest surviving fortress founded by European occupiers in Asia. Further, James Emerson Tennent reveals that King Solomon used Galle as the seaport to draw ivory, peacocks, and other valuables.
The Arrival of Lourenço de Almeida in Galle
Galle had been a significant seaport in the country long before the Western rule such as Persians, Arabs, Greeks, Romans, Malays, Indians, and Chinese traded through the port of Galle. However, In 1502, a small group of Portuguese ships arrived in Galle as a result of a storm under the orders of Lourenço de Almeida. They were on their way to the Maldives.
The Arrival of Dutch and British in Galle
With the arrival of Dutch in Sri Lanka, they planned to construct a new fort at Galle in 1663. A reinforced solid granite wall and three bastions, known as "Sun", "Moon" and "Star" were installed. However, the fort remained unchanged after the British took over the country from the Dutch in 1796. Later, the British used it as the district's administrative center.
How Galle Got its Name?
As a result of the large number of bullock carts that took shelter in the area, following the slow journeys from remote areas of the island, the town got its name as 'Gaalla' in the native dialect. In Sinhala, 'Gaala' is the place where cattle herd together. Another assumption is that the word Galle comes from the Latin word gallus, which means 'rooster'. Although the dutch used the rooster as a symbol of Galle, the word possibly comes from the Portuguese word Galo (rooster).
Unforgettable Devastating Tragedy Happened in 2004
Apart from the above-mentioned remarkable historical tales, another historical incident took place. However, it was marked as an unforgettable devastating tragedy to all Sri Lankans. The city was destroyed on the 26th December 2004 due to the huge tsunami triggered by the Indian Ocean earthquake, which occurred a thousand miles off the coast of Indonesia. Consequently, in the city alone, thousands of people died. Moreover, the Galle International Stadium, which is one of the most scenic cricket grounds in the world, was damaged brutally by the tsunami. Later on, it was rebuilt and on the 18th December 2007 and test matches resumed there.
Diversity Among the Ethnic Groups in Galle
In brief, according to Sri Lankan specifications, Galle is a huge town with a population of nearly 101,749. Most of them are Sinhalese along with a large population of Sri Lankan Moors (Muslims). Moreover, Buddhists are 93% of the population, with 4.7% of Muslims, 1.5% of Hindus and 0.9% of Christians.
Towns in Galle
Galle is a major city in Sri Lanka. Karapitiya is a suburb in it, while Ambalangoda and Hikkaduwa are two urban councils of Galle. In addition, Galle contains a few main towns. They are as follows.
Yakkalamulla
Wanduramba
Koggala
Neluwa
Pitigala
Rathgama
Batapola
Bentota
Uragasmanhandiya
Ahungalla
Balapitiya
Elpitiya
Habaraduwa
Hiniduma
Hikkaduwa
Imaduwa
Karandeniya
Ahangama
Kosgoda
Mapalagama
Nagoda
Ambalangoda
Baddegama
Boossa
Thawalama
Udugama
Scholars of Galle
By now, you clearly know that the city of Galle has plenty of picturesque sights and a soulful culture to offer you. Similarly, Galle is a place where many recognized scholars were produced in the country. Meanwhile, important contributions to Sinhala literature by a variety of individuals can be seen from the Galle district. Similarly, Thotagamuwe Vijayaba pirivena, which was a prominent educational institute in the Kotte era, was able to create several notable scholars. Moreover, below are some of the notable residents from Galle that emerged as eminent personalities.
Migettuwatte Gunananda Thera
Hikkaduwa Sri Sumangala Thera
Edwin Ariyadasa
Martin Wickramasinghe
M. B. Ariyapala
Nandadasa Kodagoda
D. J. Wimalasurendra
Senarath Paranavithana
Ariyapala Gurunnanse
A. T. Ariyaratne
Gunadasa Amarasekera
Places to Visit in Galle
If you followed this read up to now, it is no secret for you that Galle is a paradise of beauty, and culture. So, take a look at this list of places if you are heading South. Indeed, they will simply amaze you!
Galle Dutch Fort
Dutch Reformed Church
Galle Lighthouse
Sri Sudharmalaya Buddhist Temple
The Maritime Museum
St. Joseph's Chapel
St. Mary's Cathedral Galle
Meeran Jumma Mosque
Old slave Quarters
Old gate of Galle Fort
Historical Mansion Museum
Galle Fort Jumpers
Galle Harbour
Sea Turtle Hatchery Center in Mahamodara
Sea Turtle Hatchery Center in Hikkaduwa
Japanese Peace Pagoda
Yatagala Raja Maha Viharaya
Of course, understanding Galle better, from cultural performances to historical landmarks will help to give you a glance at the past, and a delight of the present. So, why not? Let us get to know about these attractions in detail.
1. Galle Dutch Fort
Galle fort is fairly small, but there are plenty of remarkable places to visit. A walking tour around the Old Town is the best to do in Galle if you want to comprehend more about its history. Established on a large portion of land in Galle many years ago, the Galle Dutch Fort was used by the Portuguese until it was taken over by the Dutch. With a lot of rebuilding and restoration, the British ultimately claimed the fort as theirs. Now listed under the UNESCO World Heritage Sites, Galle Fort's colossal structure is undeniably a deserving place on the list of places to visit in Galle.
Certainly, the beautiful scenery of this place is well admired and pre-wedding shoots are preferred to be taken in the dutch fort by couples. Moreover, the place is open twenty-four hours and is free of charge. This is the kind of place, where you get some relaxing time at the beach and enjoy a bit of cultural travel. And yes, strolling along the ramparts is one of the unavoidable things to do in Galle.
Things to Do at Galle Dutch Fort
Surrounded by water on three sides, Galle Fort is positioned in a very advantageous and attractive location. Despite its age, its walls are remarkably in great condition.
You can find quaint streets to wander inside the walls of Galle Fort.
The fort has restored its old buildings to their former glory. Therefore, you can visit several hotels, hostels, guest houses, restaurants, cafés and stores which are currently available in the fort.
Moreover, you have the chance to explore museums and gemstone workshops at this nice place.
Along with typical South Asian designs, decorations, monuments and buildings which belonged to the Portuguese, Dutch and British era's proudly stands on the narrow and busy streets with various wealthy architectural styles. You have the ability to visit these places too.
In addition, you can visit the Dutch Reformed Church, the Clock Tower and Fort Lighthouse, which are among the most popular attractions.
However, it is a must to walk around this enticing place and take in the vibrant feeling of the city.
2. Dutch Reformed Church
With a few impressive structures visible in Dutch Galle Fort, the Dutch Reformed Church narrates tales from centuries ago. If you get yourself a guide who can assist you with related incidents, you will be able to take a walk through history. The door of this church is the work of a craftsman from the 18th century. While they have made the pulpit using Malaysian wood, this church, which is otherwise called Groot Church, includes a lot of graves on the floor. Opening hours of the church are from 8.30 a.m to 4.30 p.m. The entrance fee is an amount of USD 1.70 (Rs.300) for adults and USD 0.85 (Rs.150) for children.
3. The National Museum of Galle
This informative building preserves everything from architectural designs, relics, masks, shells, wooden carvings and the Beeralu Collection to archaeological objects that take you to the depths of this land. The presence of the Dutch in Sri Lanka years back is noticeable by various objects such as weaponry and vessels which are on display. If your excitement for life is motivated by the history of the world, then the Galle National Museum is the ideal place for you. It is one of those tourist spots in Galle that helps to research the times of the 4th century of Sri Lanka. You have the ability to find the National Museum of Galle on Church Street. It is open from 09.00 a.m to 06.00 p.m. The entrance fee would be USD 0.20 ( Rs.35) for adults and USD 0.11 (Rs.20) for children.
4. Galle Fort Clock Tower
This Clock Tower has a fascinating past to it. During your visit to the Galle Fort, a local guide will love telling you about it. The structure overlooks the room of the former guard, named Moon Bastion. Furthermore, as a tribute to the humanitarian doctor Peter Daniel Anthonisz, who won a lot of hearts, they have constructed the Galle Fort Clock. The record says that the people living in Galle joined in to get enough money to build this tower on the campus of Galle Fort. It is open to visitors for 24 hours. Also, it is free of charge and you can easily find it on the Galle fort premises.
5. Galle Lighthouse
Facing the far-off ocean, the fascinating architecture, tall buildings and the wind are all spectacular scenes one can witness and feel by visiting Galle Lighthouse. For ancient mariners, it was a great relief. Similarly, for visitors today Galle Lighthouse is a mesmerizing sight. The amazing thing is that you need not pay a single penny for all the beautiful scenery here. Moreover, the Galle Lighthouse is an impressive wonder, which welcomes visitors 24 hours.
6. Sri Sudharmalaya Buddhist Temple
White means peace and this temple bears witness to that. Around the temple is a smiling garden that stands out to invite people. Among believers, this shrine holds a lot of religious significance and during festivals, many gather at this location. You have the ability to see a big Buddha statue in a resting position at the front. In addition, there is a prayer hall with a belfry within this temple. You will also find a tiny stupa that looks years old but is still attractive as a new one. The resident monks can also teach you how to pray or more about the faith if it interests you. You can easily reach it in Parawa Street in Galle Fort. Moreover, Sri Sudharmalaya Buddhist Temple is open for visitors from morning to evening.
7. The Maritime Museum
It is a familiar fact that people around the whole world recognize Sri Lanka and the harbor of Galle for their maritime trade. Among those tourist places in Galle, the Maritime Museum brings you back to the trade routes and relics of the Dutch East India Trading Company. This location is a perfect place to comprehend Sri Lanka's past and the attacks it has faced. In this precious warehouse, you can see some marine pieces, boat models, etc. You have the ability to find the Maritime Museum in Queens Street, Galle Dutch Fort. Moreover, the place is open from 8.30 a.m to 5.00 p.m for visitors.
8. St. Joseph's Chapel
In each wall, this tiny chapel has absorbed an ounce of tranquillity that offers the tourists inner peace. The Chapel of St. Joseph is a reflection of the Portuguese Roman Catholics. However, the Dutch revived it later. In this small chapel, one can see a hint of the Dutch architectural style. Within this holy house, spending some quality time gives in a lot of calm. You can easily find the St.Joseph's Chapel in Lighthouse Street. Moreover, it welcomes tourists free of charge and it's open 24 hours.
9. St. Mary's Cathedral Galle
This Cathedral is one of the favorite sites in Galle for the Roman Catholic Diocese residing in this part of the country. In 1983, the Bishops took up the call to arrange a place for the diocese to pray. This happened with the growth of other religions in the area. This church prays to the Blessed Virgin Mary by Catholics. The location is the Galle Fort premises. Moreover, it is free for visitors and is open from morning to evening. However, the best time to visit is from 5.00 a.m to 7.00 p.m.
10. Meeran Jumma Mosque
The Meeran Jumma Mosque, built correctly facing the angle of Mecca, is another striking structure seen while walking around the streets of Galle Fort. The interior of the mosque is of pure elegance of Italian flooring, chandeliers, artistic glasses and huge corridors. Islamic followers spend some time outside on the lawn to watch the mosque in awe of its charm. The mosque gives consent to women to enter if they have dressed decently. They also added another prayer room just for women in the new renovation. The entrance is free of charge. You can find the Meeran Jumma Mosque in Galle Fort facing the Lighthouse. However, it is open for 24 hours.
11. Old Slave Quarters
Old Slave Quarters are located at the Star Bastion. It was the Slave Quarters and prison where the Dutch and British stored all the fighting needs. There are still some cannons on display in this location. The Dutch and British once used them in the course of wartime. You have the ability to find this place easily in Galle Fort. It welcomes visitors 24 hours without any charge.
12. Old Gate of Galle Fort
Another remains of the British from their days in Galle is the Old Gate. This Old Gate, which is an arty carving of a coat of arm tops, is on the entrance of Galle Fort. The British have engraved the letters VOC, which stands for Verenigde Oostindische Compagnie, and 1699, the year of its making on this patch along with two sculptures of lions between the letters. The place is 24 hours open. Besides, it is free for visitors.
13. Historical Mansion Museum
Here is another spot for history enthusiasts, who not only want to look at the ruins of ancient times but also want to purchase some for themselves. A variety of Dutch period antiques are on display on the private museum's shelves. They include typewriters, jewelry, cameras, lamps, and etc. A visit to the gem house is an impressive experience that will let you witness the sapphire cutting & shaping as well as live embroidery. The Dutch-era is not only a spectacular relic to look at but also a fantastic place to pose for a few pictures.
14. Galle Fort Jumpers
The talent of the Galle Fort Jumpers is a significant thing that you should definitely watch. Their dive is far from a real dive as they land right on their chest and climb back up the cliff-like walking on a smooth, even path. A group of five boys engages in this stunt by jumping off a forty-feet high cliff, into the sea. Apart from the height, what cringes people is that due to the rocks around the site it looks tough, they might land on one of them. In Galle Fort, you will see this breath-taking stunt and it costs nearly USD 5.67 (Rs.1000). Five times a day, the jumpers perform the stunt so that most visitors are likely to observe it.
15. Galle Harbor
Existing for two thousand years now, the Galle natural harbor is one of the best places to visit. This port has a high level of operation and acts as a regional port in Sri Lanka. The Galle harbor is one of the very few locations where the International Yacht Societies have been accepted as one of the recognized places to spend time on their yacht. Seeing people at work and seeing the inscription in three languages left behind by a Chinese man many years ago is a common attraction at the Galle Harbor. You have the ability to reach the Galle Harbor on the south-western coast of Sri Lanka. Moreover, it is open for 24 hours.
16. Sea Turtle Hatchery Centre in Mahamodara
The Mahamodara Sea Turtle Hatchery Centre is a creative idea where volunteers work for the survival of sea turtles who, if not taken care of, are destined to reach extinction. The place helps turtles to hatch and grow their babies. Certainly, the volunteers take care of a lot of sea turtles of all sizes. Indeed, they leave the turtles in their natural habitat. It would be a very enlightening and adorable visit. The Turtle Hatchery Centre is in the Galle Main Road and is open from 8.00 a.m to 6 p.m in the evening.
17. Sea Turtle Hatchery Centre in Hikkaduwa
Only a few people in Sri Lanka have devoted their lives to seaside wildlife. Out of them, one such family runs the Sea Turtle Hatchery. Each participant is vigilant in assisting sea turtles who need medical assistance, or who are pregnant. They also help the sea turtles breed and provide a healthy place for them to lay their eggs and care for them. You can find this place in Hikkaduwa, Sri Lanka. Sea Turtle Hatchery Centre in Hikkaduwa is open from 7.30 a.m to 6.00 p.m. The center will charge an amount of USD 2.83 (Rs.500) from each visitor.
18. Japanese Peace Pagoda
For all those individuals who are looking for spiritual enlightenment and some time for self-reflection, the Japanese Peace Pagoda would be the best place. You can find this structure at the top of Rumassala Hill from where you can see the massive ocean and the dense jungle. They conduct daily routines for people at 5.30 p.m. in the evening. The building is visible for individuals standing on Unawatuna Beach and Galle Beach. At dusk, the atmosphere is fascinating and takes one into a different beautiful world. It is located in the Rumassala mountain in Unawatuna. The place is open from 7.00 a.m to 9.00 p.m.
19. Yatagala Raja Maha Viharaya
The Yatagala Raja Maha Viharaya is an ancient Buddhist Stupa with a border of elephant head sculptures. Also known in some old scriptures as the Mani Chethiya or Yattalaya. The place gives a great in-depth description of the construction. Along with the lotus pond, you can also see a Buddha statue, which is one of the very few remains on this site. The place is in Unawatuna, Galle. It is open from morning to evening.
Beaches in Galle
Of course, as Galle lies on the coastal area it contains a number of beautiful beaches. These sandy beaches attract a large number of people, keeping them busy particularly on weekends and holidays. Some of the main attracts among them are as follows.
Lighthouse Beach
Jungle Beach
Koggala Beach
Unawatuna Beach
Pitiwella Beach
Sahana Beach
Beach of Bonavista
Mihiripenna Beach
All these sandy shores are second none in their looks, and astounding with what they offer. The following briefs about them will surely prove you this fact furthermore.
1. Lighthouse Beach
If you have done with admiring the elegance of Galle's tall lighthouse, you can walk down to the beach that it oversees. With slippery rocks, sitting on the glittering sand and looking at the sea until your eyes touch the horizon is the best thing to do on this beach. Lighthouse beach is on the eastern side of the Galle Dutch Fort.
2. Jungle Beach
You can reach this magnificent scenic place in Rumassala which is close to Galle and Unawatuna Beach. Indeed, you can sit back and get a beautiful tan on the sandy shore, or swim in the clear waters that show the ground underneath. If you are a fan of aquatic life, you have the chance to spend some time swimming to see for yourself the life of Galle's wealthy marine life. Jungle Beach is a peaceful place that is a storehouse for all the quiet time you need on your vacation. This beach is more relaxed with fewer people than all the other tourist places in Galle.
3. Koggala Beach
Among other beaches in Sri Lanka, Koggala Beach has become a preferred place for visitors due to the stunning view of the coastline. The beach is not only a perfect place to relax as you listen to the waves embrace the beach, but also a nice place to get some surf lessons and walk to Koggala Lake. It is just 12km away from Unawatuna bay.
4. Unawatuna Beach
The best place during your trip to Galle! It is certainly a beach with golden sand that complements the clear ocean waves. Moreover, Unawatuna Beach is one of the most popular spots for swimming, walking, and relaxation among visitors. You can find it about 6km away from Galle town, in the southern region of Sri Lanka. To take the day off from the city, you can also hire some sunbeds and just lie still as you adore the sea. A lot of eateries surround this beach that certainly completes a well-spent day. A perfect activity on this beach is canoeing.
5. Pitiwella Beach
If you are looking forward to staying at a beach or close to the beach during your visit to Galle, Pitiwella Beach is the best option. You can visit this place easily, which is about 9km away from Galle town, on the Colombo – Galle main road. It is a tourist hub and is close to Galle's top places to visit.
6. Sahana Beach
If you are on a holiday and wishing to surf, and then have quality time improving those talents, Sahana Beach is a perfect choice. On this beach, you can find many surfing instructors assisting newbies to improve on this art of balancing, using a surfboard on the waves. Sahana Beach is about 4km away from Galle town. Also, it lies parallel to the Galle – Matara main road.
7. Beach of Bonavista
In Sri Lanka, this beach is a hidden treasure that visitors without any guide can discover on their own. Apart from excellent accommodation, the beach will provide you a relaxed and a lot of local delicacies. Many of the local attractions are close to this beach. On this coast, you can get your surfboards up and sway on this shore. The beach is just about 10km away from Koggala Airport.
8. Mihiripenna Beach
Mihiripenna is a peaceful beach in isolation that can make you feel as cozy as you like. With the natural reef being the highlight, the water on this beach is calm. It welcomes all those who want to enjoy a swim without having to fight the waves. Also, it is a perfect place in the shallow waters to get a glimpse of some sea turtles or other underwater marine life. You can also go snorkeling here. In addition, you will have the chance to get a snack at restaurants on the beach or rent a sunbed to laze around. The beach is around 8.74km away from Galle railway station. Moreover, the best time to visit is before sunset to watch the stilt fishermen at work.
Biodiversity Hotspots in Galle
Undoubtedly, Galle is an amazing hotspot having an unusually high number of endemic species in it. The following places are the ideal choices with regard.
Sinharaja Forest Reserve
Rumassala Sanctuary
The following briefs will further enlighten you about the significance of these biodiversity hotspots.
1. Sinharaja Forest Reserve
Designated as a World Heritage Site by UNESCO, Sinharaja Forest Reserve (Kingdom of the Lion) is heaven for enthusiasts of nature and wildlife. It is home to approximately 95% of endemic birds and 50% of endemic mammals. The forest is covered by plenty of rain clouds throughout the year. It is one of the most popular places to visit around Galle. You can witness the wildlife leisurely deep down the dense evergreen rainforests. The distance from Galle town to Sinharaja Forest Reserve is about 65km. It opens daily from 6.30 a.m to 6.00 p.m. The price of an entrance ticket ranges from Rs. 664 to Rs.1160.
2. Rumassala Sanctuary
A visit to the Rumassala Sanctuary is certain to take you back on an epic journey through the tale of Ramayana. Several herbal and medicinal plants grow in this sanctuary. If you are fortunate, you can also spot quite a lot of bird species. This panoramic peak was once used to transport ships and various travelers with precious stones and spices. The location is in Unawatuna, which is nearly 5km away from Galle Railway Station.
Boutique Shopping in Galle Fort
The Old City, full of European flavors, Portuguese and Dutch architecture, Italian Gelaterias, French Creperies, British schools, and cute boutiques, gives you the feeling of having stepped into an ancient European coastal town oddly situated on Sri Lanka's south end! Although the town is fairly small and completely walkable, there are plenty of great places to eat, shop, and explore. Certainly, Galle Fort is the heaven of shopping. Unlike most of Sri Lanka's other cities and towns where you seem to find the same array of clothes and souvenirs, Galle is home to some relatively different boutiques. There are also plenty of lovely souvenir shops, with handmade bags, household goods and carved beach treasures if you are looking to decorate a house. Some of the mains among them are as follows.
Sithuvilli Gallery
Bare Foot
KK Boutique
Exotic Roots
Spa Ceylon
Orchid House
Olanda
Mini Mango
Koccorico
Lihiniya Gems
Shoba Display Gallery
The Three by TPV
Old Railway
We are sure that you are excited to do some shopping there. Below is a complete guide for a better shopping experience in Galle.
1. Sithuvili Gallery
A visit to the Sithuvili Gallery is a must if you are an art collector and willing to bring back a unique piece of art from your vacation in Galle, Sri Lanka! In 2004, when the artist felt the need to portray the dying art, the idea and the gallery arose. This gallery's unique selling proposition (USP) is that anything created in the gallery or sold from this gallery is environmentally friendly and reusable. The place is in Galle Fort and it welcomes customers from 9.00 a.m to 7.00 p.m.
2. Bare Foot
It is among the prominent boutique stores that tourists and locals both visit. It has a relationship with the flagship store located in Colombo. The store was built in an old house with surrounding rooms and a lovely little courtyard that was restored to its current beauty. This store is most famous for its unique items. However, they believe that the other shops in the area have copied its style. While the specialty of the store is hand-woven goods, the place also sells a range of sarees in full length and table settings. This store also offers the finest Galle Fort books and postcards.
3. KK Boutique
This is a popular gift shop in the heart of Galle. This boutique store is within the sight of everyone. It contains a huge room that has a large selection of clothes, paintings, trinkets and decorative items for both men and women.
4. Exotic Roots
It is one of the oldest souvenir shops in Galle Fort and is popular with visitors. This shop was said to have been opened up about two decades ago by two children and a mother who are known to make all the painted pieces and artwork on their own. This store has been in the same location since its beginning. It offers products that are unique to its theme.
5. Spa Ceylon
This store is a spa as well as a store selling their own signature products that are very popular among tourists. You can just enter the Spa Ceylon store and pleasure your senses as well as relax your exhausted mind and body. Choosing your preferred scented items that suit your personality can be a nice and satisfying experience.
6. Orchid House
It's a fantastic and classic shop in Galle Fort. The majority of the products sold here are designed by its founder & owner. He takes the responsibility of ensuring that the shop is always well stocked and looks attractive with multiple unique items. You have various stuff here to buy for everyone back home. There you can find a coffee shop or tea room to satisfy the refreshment requirements needed by the exhausted shoppers. It gives you the possibility to take a short break before resuming your shopping session. You will not leave the store empty-handed as it contains a wide range of fantastic handmade pieces. Besides, it includes locally produced teas and herbs, natural spa goods, jewellery, clothing, handicrafts, and ceramics.
7. Olanda
This shop contains antique furniture for sale. Certainly, you will love the designs that are found here, a few of which are local designs. Also, an interesting fact is, this is essentially a colonial house in dutch Fort, that has been turned into an antique shop for furniture.
8. Mini Mango
It is an expensive store and a successful boutique of fashion that sells unique clothing, intended for all occasions. The designer Jo Eden refers to the clothing as 'beach to cocktail wear'. It means that in the morning you can comfortably and seamlessly wear the light-weighted kaftan and still look stunning during the day, regardless of what your plans are. If you are on a beach holiday, authentic and colorful scarves and kaftans would be the ideal choice on your Sri Lankan trip which the store offers you.
9. Koccorico
Koccorico is a simple local store occupying the first floor of an old Colonial building. Of course, there you can find a large range of affordable trinkets, traditional Sri Lankan souvenirs, tropical clothing, beach bags, and oil paintings to take home along with you.
10. Lihiniya Gems
Most people admire pieces of jewellery, particularly females. Lihiniya Gems is a shop willing to offer an amazing collection of stunningly beautiful jewellery and unaltered gems available to buy. The shop provides great customer service and surprisingly better rates. Further, the shop offers stunning necklaces, earrings, and rings studded with colourful stones.
11. Shoba Display Gallery
Shoba Display Gallery includes a wide range of handicrafts and beautiful lace-work. Generally, these handicrafts and beautiful lace-work are created by impoverished local women in the most undeveloped and rustic areas of the island. Thus, buying an object from the Shoba Display Gallery means you are also contributing to the welfare of the local community.
12. The Three by TPV
One of the most luxurious boutique stores in Galle Fort is the Three by TPV. Certainly, lovely home details, specially designed jewellery, and original artwork, charm the store in a well-organized manner.
13. Old Railway
This one-stop souvenir shop offers a variety of locally made clothing, trendy souvenirs, decor pieces, and houseware. Also, after you complete your shopping session, you can relax upstairs in the store. There you can enjoy a cozy café that serves various types of local delicacies.
Places to Eat in Galle Fort
Galle Fort is Sri Lanka's best destination for day-outs. Certainly, as it contains a European environment, narrow streets, tiled roads, a wide selection of restaurants, art galleries, souvenir shops, and places to eat. Due to the above-mentioned features, everyone loves Galle because apart from Colombo, it's probably the only place in Sri Lanka where you have a choice of restaurants with different menus in an original aura. However, it can get a bit stressful to pick a place to eat here. Of course, the reason is that within Galle Fort itself there are dozens of eateries. Some of them are as follows.
Galle Fort Hotel
The Peddlers Inn
A Minute by TUK
Indian Hut Family Restaurant
Aqua Forte
The Tuna & The Crab
Elita
Hoppa
Isle of Gelato
The best feature of Galle fort is that the restaurant's setting suits the food. Besides, the below details of these restaurants in Galle Fort would impress you undoubtedly.
1. Galle Fort Hotel
The hotel is a tad pricey as it offers a picture-perfect setting, well-spiced and delicious Sri Lankan food, and pleasingly happy employees.
2. The Peddlers Inn
The Peddlers Inn is located in the building that was used to act as the office of the British Post. Further, it boasts a stunning exterior and interior design that is a blend of modern traces of antiques, books, and jewelry. And of course, with salads, burgers, pasta, pizza and rice, and curry all on one menu, the choice of food is moderately wide. Certainly, to satisfy a large group of people with different choices, the place will suit well for its ambiance or in case you need an easy pick.
3. A Minute by Tuk
For many Sri Lankan restaurants, a blend of local and Western dishes, including burgers, pasta, soups, and salads are familiar on the menu. Besides, the Sri Lankan dishes are the most liked menu among all. Placed on the second floor of the Old Dutch Hospital this casual eatery has an amazing undisturbed view of the ocean. Also, you may choose to sit on the terrace or sit inside the bar, which means a good breeze. A Minute by Tuk has been around since 2014, with some great food, a reasonable price, and offers a gorgeous sea view.
4. Indian Hut Family Restaurant
When in Galle and you are craving to have some wallet-friendly, very filling Indian or Chinese food, you can spot Indian Hut right up your alley. The atmosphere is not exactly the most fanciful, but they serve a variety of delicious dishes you wouldn't regret having.
5. Aqua Forte
In Galle Fort, Sri Lanka, the exquisite and refined AQUA Forte is an authentic Italian restaurant. Of course, every aspect of the restaurant is built to take you on a journey to Italy from the moment you step through the arched doorway. Besides, from the artistic etchings that beautify their walls to the baked bread, ravioli, lasagne and more dishes prepared using quality ingredients and traditional recipes, you are certain to love every little detail of the restaurant.
6. The Tuna & The Crab
This ultimate hybrid seafood and Japanese restaurant are located in the Galle Dutch Hospital. Of course, as the name suggests, it will provide you seafood, a variety of sushi, and steak dishes with an indoor seating area for forty guests.
7. Elita
With the experience of chef Krishantha, Elita is a fusion of the Sri Lankan taste, along with the influence of Belgium and South-East Asia flavours. Further, this restaurant is the best South Coast seafood restaurant in SriLanka, and it has a good selection of fresh seafood dishes prepared to its perfection.
8. Hoppa
In many interesting ways, Hoppa makes some good hoppers pairing them with delicious curries. Besides, a variety of roti, rice and curry are available in the restaurant. Also, in terms of beverages, they serve juices, iced tea and beer.
9. Isle of Gelato
Of course, as the name suggests, this place has a range of homemade gelatos. Each type of gelato comes with its own particular identity, popping with flavour and secret surprises, especially in Caramel gelato including chunks of caramel.
The Bottom Line
Undoubtedly, a better knowledge about the rich heritage of the city of Galle will surely amuse you. Moreover, Galle's art and cultural events can give you an insight into the customs, as well as the culture and traditions of Sri Lanka. Also, visiting the cultural attractions in Galle would prove to be interesting and informative, while attending its arts activities is sure to leave you pleased. Thus, Galle is the best destination for both tourists and locals to have a great time discovering history, watching the sunset at the Galle fort wall, visiting trendy shops, cafes, restaurants, beaches and much more. Indeed, it is sure that choosing Galle as your next travel destination will give you an experience of excitement and reminiscences. So, why not? Visit Galle, and delight yourself. Happy and Safe Traveling!