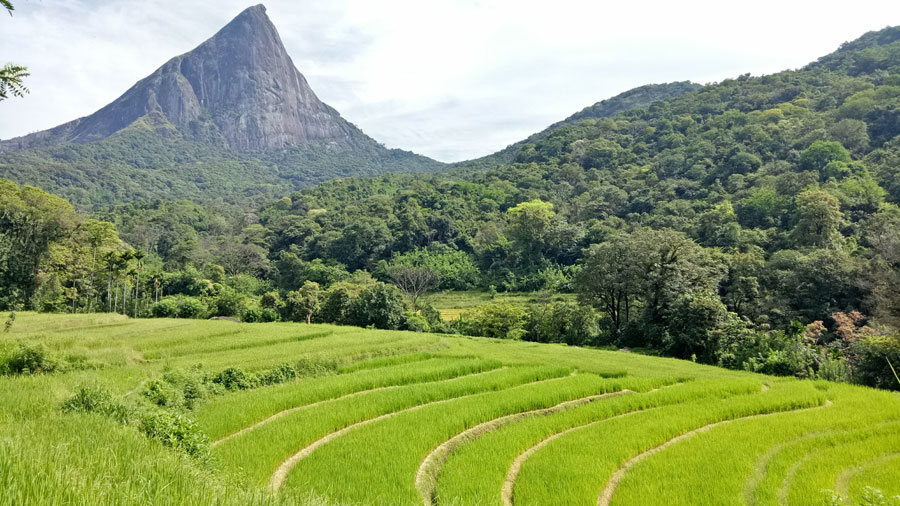 The pearl of the Indian Ocean, Sri Lanka is simply a land like no other. The amusements it offers coupling its rich cultural values together with nature's charms are indeed impressive. Besides, due to these perplexing natural and anthropogenic modes of allurement, Sri Lanka has been able to become one of the most triumphant countries in Asia. Yes, this tiny teardrop island has ranked as a rapidly growing country in the face of tourism. Further, when considering with regard, it is a must mention that ecotourism has become one of the major growing niche sectors that keeps alluring millions of tourists from different corners of the world to this splendid island. Thus, we thought of focusing this read on the top reasons to visit Sri Lanka for ecotourism. Excited, isn't it? Take it easy! Let's begin our exploration!
Ecotourism in Sri Lanka
Ecotourism keeps Sri Lanka in a significant position in the world of tourism due to its unique exposition. Furthermore, it sustains the well-being of the local people and involves the interpretation and education of all parties involved. However, it is never to forget that ecotourism in Sri Lanka is mainly revolving around its natural treasures such as the misty majestic mountains, luxurious ocean beds, scenic landscapes, venturesome forests, lagoons, sanctuaries, etc. However, the opportunities they offer to the travellers have the capabilities of leaving anyone gape in wonder.
Why is Ecotourism Important in Sri Lanka?
Ecotourism in Sri Lanka plays an important role, owing to several reasons. In brief, ecotourism has become the core of the establishment of several sustainability projects on this island. Investing in zero plastics is one of the leading initiatives out of them. The zero plastic project has drastically minimized the pollution of nature. Besides, ecotourism helps the Sri Lankan community by opening doors to a number of alternate sources of livelihood. This helps to maintain sustainable use of resources, conserve biological diversity, and conserve the ecological environment while achieving economic goals.
Moreover, ecotourism increases the foreign exchange rates of the nation and expectations for everyday comforts of the individuals. Furthermore, with the arrival of more visitors from all over the world, the rapid expansion of the tourism industry and development in those areas takes place. However, there is a major involvement to encounter 'living with nature' as at no other time. Hence, experiencing ecotourism is only the start of a union with mother nature. And yes, it will evolve further, befitting both nature and humankind.
Is Ecotourism Expensive in Sri Lanka?
The cost of ecotourism in Sri Lanka has gradually decreased within years. Several years ago, the entrance ticket prices or the lodge fees in Sri Lanka were very expensive for low-budget travellers. Hence, there was a considerable unwillingness of such groups to experience these amusements themselves. But, due to several fund-raising projects related to the Sri Lankan ecotourism industry, the prices have become affordable to every traveller at the moment. Moreover, there is a wide array of facilities at varying price ranges in Sri Lanka at present, creating opportunities for the travellers to choose what they like, as per their budget.
Besides, there are more other reasons for this fee decrement. The majority of the Sri Lankan people were unaware of methods of preserving these natural habitats due to a lack of visits. The main reason was that people were reluctant to pay a high cost to visit nature. But, with the decrease in prices, more people tend to visit these places. The intellectuals have therefore discovered different ways of guiding tourists and maintaining standards that should be followed while visiting the ecotourism hotspots. In the same way, the government has been able to provide free of charge visits to local schools and university students. It is an important step in educating the new generation on the significance of ecotourism.
The collection of an entrance fee has contributed to the maintenance of parks and reserves. The staff is receiving an amount from the collection that is allocated for them. The staff takes care of the facility improvements. As a result, the cost of ecotourism in Sri Lanka is currently at an affordable level.
Ecotourism Experiences in Sri Lanka
There are numerous activities related to the ecotourism industry of Sri Lanka. Some of them are as follows.
Trekking
Rainforest Exploration
Wildlife Safari
Village Walks
Bird Watching
Cycling
Agrotourism
Experiencing the Life of the Indigenous Tribe
Accommodation in Eco Lodges
Homes Stay with a Local Family
Many tourists do not fail to experience all these activities in one go. Some tend to love doing the same few activities in several areas. However, let us go through each of these amazing activities to help you choose the best!
1. Trekking
As you might already know, trekking is an activity of taking long walks on foot. The walks are arduous. There are different kinds of trekking among travellers. However, mountain trekking and forest trekking are the most popular in Sri Lanka.
First of all, let us go through the famous biodiversity hotspots in Sri Lanka that are suitable for mountain trekking.
Devil's Staircase
Ella Rock
Haputale Tea Factory
Lipton's Seat at Haputale
Bambarakanda Waterfall
Weligalpoththa Monastery
In addition, one can enjoy forest trekking at the following places.
Meemure
Before trekking, it is important to have a heavy breakfast followed by a light lunch to avoid exhaustion at the end. Besides, there are no restaurants or hotels on the way of trekking to buy food and drinks whenever and wherever one needs them. Thus, it is recommended to carry necessary refreshments such as energy drinks, energy bars, chocolates, and snacks. Moreover, the travellers usually carry several gadgets along with them such as the following.
A compass
A map of the location
A torch
A taser
A first aid kit
In addition, some people carry a change of clothes, in preparation for an emergency situation. It is advisable to carry a mini oxygen tank if trekking is down towards high altitude locations. Most local and tourist individuals that have an active physique go trekking for longer distances. This will build more endurance in them.
Trekking has many perks for increasing the metabolism of the body. Similarly, it boosts a healthy mood, improves the balance of the body, and strengthens the bones. But, for those who live at low altitudes, it may cause fatigue, which is lightheadedness when approaching high altitudes. Therefore, those individuals should certainly take necessary precautions before trekking.
2. Rainforest Exploration
The second most common ecotourism activity in Sri Lanka is rainforest exploration. The experience is quite similar to that of trekking but they are localized to rainforests. Furthermore, Sri Lanka owns a number of rainforests which are the treasure troves of biodiversity and beauty. The most famous rainforest in Sri Lanka is the Sinharaja rainforest. It is located in the southwestern region of Sri Lanka, spreading over Galle, Matara, and Ratnapura districts. Sinharaja rain forest covers approximately an area of 99 km2. Being a vast biodiversity hotspot that gives shade to thousands of endemic flora and fauna species, UNESCO has named it a world heritage site several years ago.
In the same way, the second-largest rainforest of Sri Lanka is the Kanneliya rainforest located in the Galle district. It is a catchment area for two major rivers in Sri Lanka which are the river Gin and Nilwala. These rivers add more beauty to the rain forest. Furthermore, the third-largest natural reserve and rainforest in Sri Lanka is the Peak wilderness sanctuary. It is a tropical forest. Adam's peak, Horton plains, Piduruthalagala and Hakgala surround this area. A world-rarest species of toad named Adenomus kandianus was rediscovered in this rainforest after 133 years. Moreover, another world-famous rainforest in Sri Lanka is the Knuckles forest reserve, which covers an area of about 175 km2 in the Kandy and Matale districts of Sri Lanka.
Accordingly, visitors have the chance to observe the behaviour of different reptiles, birds, mammals by thoroughly exploring these forests. Botanists have a great opportunity to enjoy the beauty of various species of flowers, herbs, plants, shrubs, creepers, and trees. In addition, it will be beneficial for the travellers to carry along exploring tools like compass, hand lens, and clinometers while exploring.
3. Wildlife Safari
Wildlife safari is an amusing and intriguing experience. Vehicles such as jeeps or buses are usually used for wildlife tour travelling. Wildlife safari in Sri Lanka mainly takes place in the following list of places.
Wasgamuwa National Park
Arugam Bay Green Tour
Lunugamvehera National Park
Waskaduwa National Park
On safari, various carnivorous animals that cannot be observed at close proximity are noticed. The trip is completely safe inside the vehicles. Usually, a guide who is a zoologist accompanies the travellers throughout the safari trip. While on the safari, zoologists engage in describing various behaviours of animals. The zoologist explains the theory behind each action done by the wild animals along with their eating habits. A pair of binoculars aids in observing wild animals that are in far proximity while on the safari. It is recommended to only carry a water bottle during the safari as carrying food may be at risk. The odour of food may attract these wild animals towards the vehicles and they may tend to attack.
4. Village Walks
Walking in a village owing to its beautiful surroundings is an activity for mind relaxation. Most individuals belonging to both local and foreign communities tend to engage in this activity at a higher pace. This is because the majority of them are from bustling cities filled with environmental pollution. Village walks are a perfect getaway for escaping from their busy lifestyle. Village walks in Sri Lanka exist in areas such as Sigirya, Kandy, Dambulla, and Matale in the central province. The tour through the rustic rural community is accompanied by an expert guide.
Indeed, village walks are not merely a walk only but an authentic encounter with the local village folk. One can experience their lifestyles, cultures, and hospitality after such a visit. Moreover, visitors have the opportunity to enjoy the luxurious beauty of conventional rice fields, vegetable farming, cultivation of native yams, and other crops in the village. Some villagers provide immense hospitality by offering a delicious cup of pure Ceylon tea with jaggery.
The walk is going through mesmerizing forests of pine, tea estates, jungle patches, flowing streams, and also domestic spice fields. Sometimes the villagers offer the tourists' grams, vegetables, and fruits of the village on their return from the walks. In addition, visitors have the ability to engage in several village activities such as fishing, pottery making, and clay brick making during these tours. Accordingly, one can achieve a great experience of different lifestyles in a village from a village walk.
5. Bird Watching
Sri Lanka is well renowned as a tropical island consisting of the finest climate setting and natural habitats. This ranges from forests to scrublands to seas and agro lands to many more. Thus, it surely is admired by both local and foreign tourists as a gift of home by mother nature to 439 species of birds. 236 of them being breeding residents, 203 being migrants and the rest being vagrants is a speciality. Having 33 endemic species and 68 endemic subspecies signifies that Sri Lanka is undoubtedly one of the finest destinations in the globe for birdwatching. However, the following birds are majorly identified as endemics.
Parakeets
Coucal
Owlet
Hornbill
Barbet
Malkoha
Mynah
Swallow
Sri Lanka being a finer destination for bird habitat in turn has become an island for bird watching by tourists.
Kumana national park is the main bird sanctuary in Sri Lanka which happens to be the most important nesting and breeding place for birds. However, even the Bundala national park happens to be a favourite ground for breeding where birds like the flamingo and stork pay regular visits. In addition, the following destinations are identified as popular eye-catching bird habitats specific to bird watching.
Bodhinagala Forest Reserve
Wilpattu National Park
Anawilundawa Bird Sanctuary
Kalametiya Bird Sanctuary
The months of October to March are the best times to spot migratory birds. The months of November to April are the best times to spot endemics. The amazing reservoirs attract the largest percentage of these birds out of all other bird sanctuaries on the island.
6. Cycling
Cycling is one of the main reasons why travellers would love to choose Sri Lanka as it is one of the best destinations to start travelling in. While getting engaged with the local culture, cycling allows travellers to discover the amazing diversity of nature. There are a number of places scattered around this beautiful island of Sri Lanka where travellers can cycle to enjoy tropical rainforests, mountains, beaches, and villages. In addition to ecotourism visits, both local and foreign visitors have the chance to engage in cycling at the following cities in Sri Lanka that consist of stunning cultural and significant attractions.
Hikkaduwa
These travellers would love to gain an insight into the Sri Lankan lifestyle. Besides, cycling in Sri Lanka doesn't require any specific clothing standards. Travellers wear anything they feel comfortable with while they are cycling through beautiful destinations in Sri Lanka. Generally, many choose lightweight clothes and suitable footwear for cycling. Yet, when travellers visit temples and other religious places in Sri Lanka, they must wear proper attire covering their shoulders and legs down to the knee level.
Apart from that, cyclists have to be aware of different climate conditions on the island, especially when they are cycling in mountain areas. Among all the beautiful cycling destinations, the mountainous surroundings of the central region and the amazing beaches in Sri Lanka are the most recommended places for cyclists. Besides, travellers would also love cycling through villages and paddy fields, to discover the authentic Sri Lankan lifestyle. Of course, those areas are ideal for them to pedal in peace and enjoy the sereneness of the countryside. And why not? While cycling, most cyclists can enjoy Sri Lankan traditional food which they really enjoy as well.
7. Agrotourism
Sri Lanka is a country that has claimed its unique spot when it comes to agriculture. This is with a span of 2500 years of its making history. Agrotourism which is also known as agritourism consists of agricultural locations and agriculturally driven activities. This attracts the tourists' eyes towards a particular country. Furthermore, the concept of agrotourism creates a space for the tourists to indulge in the essence of the Sri Lankan heritage, the ancient irrigation systems, paddy cultivation, and plantation activities. Tourists can gain insight into how the food production process has taken place and how food was locally created through this. Accordingly, this course of action promotes a boost in the income of farm owners. This in turn leads to an expansion in the economy of the country. Such experiences can be witnessed in Sri Lanka, mostly in the rural parts of the country.
Furthermore, another important aspect of agrotourism is the priority given for the tourists to access the culture-based life of the farming community focusing on locally produced crops that can provide details about the local livelihood. Apart from that, agrotourism also focuses on promoting locally produced crafts and clothes which brings the authenticity of our country to the spotlight. Most farm owners welcome their guests and provide accommodations within an authentic agricultural background in order to enhance the cultural experience. Camping, agricultural museums, farm holidays, annual paddy festivals are a part of this immense experience.
8. Experiencing the Life of Indigenous Tribe
The word Veddas refers to the indigenous community in Sri Lanka. They prevail from the original Neolithic community of the country. Originally, the Veddas were hunter-gatherers, with the women of the tribe remaining at home to care for their families. They engaged in hunting with bows and arrows and collecting wild herbs and honey. However, they are now compelled to work in the fields. Caves and rock shelters were the Veddas' first homes. Yet, there are indigenous tribes that are still existent in Sri Lanka in the following areas.
Dambadeniya
Mahiyanganaya
Gal Oya
Dambana
Travellers can witness many complex cave paintings, mostly drawn by the women of the Veddas clan during a visit to these areas. Visiting the Veddas of Sri Lanka in their village provides guests with a once-in-a-lifetime opportunity to learn about their culture. They still own a culture that has remained relatively untouched by contemporary technology and commercialization. However, Veddas are proud of their traditions.
Visitors will have the opportunity to meet Uruwarige Wannila Atto, the Veddas' Chief. But, visitors cannot participate in communal activities without their consent, according to tribe norms. Once given, it is possible to observe Vedda culture closely as well as participate in some of its activities. A famous dance that is known as "Kiri Koraha" is one of their ancient means of seeking the gods' favours. There are a few other customary activities that they participate in.
9. Accommodating in Eco Lodges
Eco-lodges are a set of projects that help to reduce the negative effects of staying in the environment. Besides, they positively support conservation activities. Eco lodges emphasize the use of renewable energy sources to power their establishments and highlight energy-efficient lighting and water conservation. However, it is critical to conduct thorough research on any eco-resort in determining whether they are having a positive impact on not only the environment but also the local people and wildlife. However, travellers are becoming more aware of the impact of their decisions on the nations they visit. They are aware that it is more vital than ever to make a positive contribution. As a result, there has been an increase in demand for environmentally friendly lodging and experiences.
Besides, Sri Lanka is at the forefront of sustainable travel, with a plethora of eco-hotels and resorts to choose from. In the same way, there are environmentally friendly hotels and eco-lodges in Sri Lanka to suit all tastes, whether you want to stay by the beach, in the highlands, or in the middle of the jungle. Unlike many other countries where truly sustainable tourism practices are difficult to come by, this lovely country offers plenty to offer anybody interested in ecotourism and environmentally friendly lodging and activities. Furthermore, staying in eco-hotels and eco-lodges in Sri Lanka, not only supports green practices, but many of these accommodations will allow you to help the local population economically. Accordingly, one can find eco-lodge in Kithulgala, Wilpattu, Kandy, Tangalle, Sigiriya, Monaragala, and in many other places around Sri Lanka.
10. Homestay with a Local Family
The local stay allows tourists to engage in traditional activities along with the local family members. The length of stay can range from one night to a few weeks. It will be offered free of charge in exchange for monetary reimbursement. Indeed, the tourists will get the chance to cook meals together, engage in house chores and sit at the same dining table to enjoy meals together. Most tourists also volunteer to help these families through their finances while they reside at their homes. But, a major con of this experience is the language barrier. Due to language barriers, some family members are having difficulties communicating with tourists. Therefore, some homestays are accompanied by a fluent guide in both Sinhala and a foreign language.
Anuradhapura, Kandy, and Polonnaruwa areas of Sri Lanka are immensely suitable for a homestay experience. The family members offer to escort the tourists around the village for other ecotourism activities as well. And yes, the homestay experience in Sri Lanka is for travellers that are seeking to embrace themselves in the local cultural environment.
Future of Ecotourism in Sri Lanka
Indeed, ecotourism is ecologically liable travel and inspection to moderately unobstructed natural territories, so as to relish and acknowledge nature that advances preservation, has less negative tourist effect, and offers usefully dynamic socio-economic participation of native communities. It has been one of the fastest developing areas of the universal tourism industry. Moreover, it makes a better business prospect and the most rapid developing section in the tourism industry.
Besides, the Sri Lankan tourism industry is altering its viewpoint to withstand ecotourism. Subsequently, Sri Lanka is rich in social and environmental varieties. Therefore, it can possibly build up ecotourism ideas superior to various destinations to assist the Sri Lankan economy and society. The Sri Lankan hospitality industry will support close collaboration with the social and natural atmosphere and offer progressive monetary advantages to the nation.
Currently, every person is discussing sustainable expansion, biology, cognizant ways of life, and the decrease of environmental imprints due to the influence of ecotourism. In the same way, ecotourism shows a growing demand in the field of tourism. The universal tourism industry will no uncertainty keep on expanding in the coming years after the Covid-19 pandemic and as the assets become increasingly constrained and ecosystems endure more harm, the practices appearing by valiant and others related to ecotourism can create the upcoming tourism industry further sustainable. And the efforts of the Ministry of Tourism in Sri Lanka, in shaping the ecotourism of Sri Lanka towards the betterment is indeed appreciable.
The Bottom Line
Conclusively, let us highlight to you that the splendid island of Sri Lanka is simply the ideal destination to experience the best ecotourism. Besides, when you choose to witness the fascination of ecotourism experiences, you thereby choose to preserve mother nature, appreciate the future and the beauty of the island, while helping the local community. So, if you are ever arriving in Sri Lanka, make sure that you experience the delight of ecotourism on this charming island. Happy and Safe Travelling!