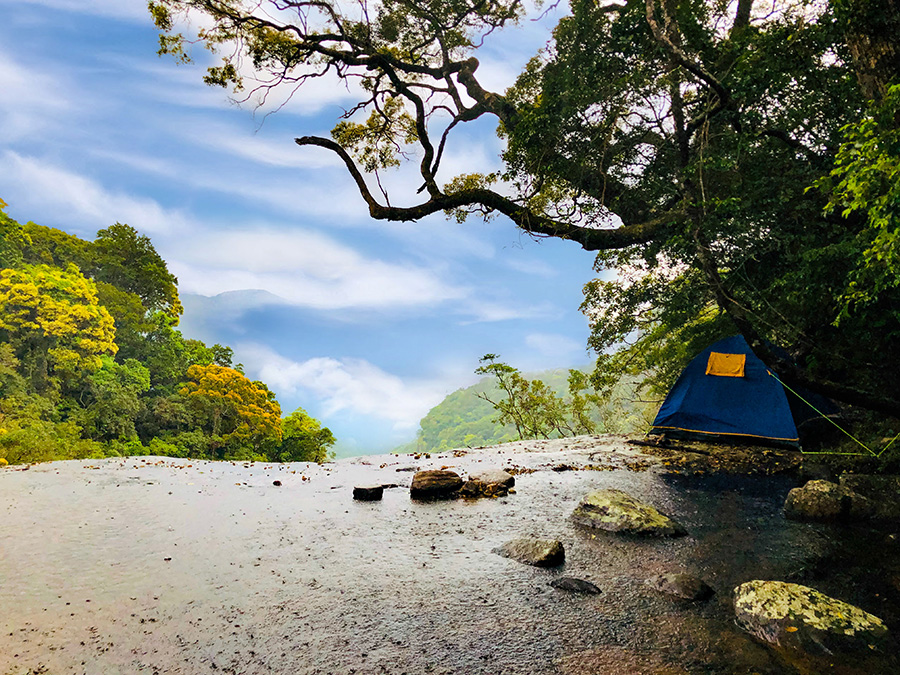 As you might already know, Sri Lanka is a splendid island surrounded by blue mighty waves of the Indian Ocean. Moreover, it is located north to the equator within the tropics between 5° 55′ to 9° 51′ North latitude and between 79° 42′ to 81° 53′ East longitude. All these features together have made it land with a perfect climate throughout the year, but with significant climatic changes within the country itself. However, considering the weather throughout, Sri Lanka is well known as a year-round destination and many choose it as a backpacking destination.
Of course, the weather and climate in Sri Lanka have a beauty of its own. Moreover, the series of climatic changes it bestows on different cities in this country proves this magic. Generally, sun rays shine through the skies above this beautiful island during most of the days. Accordingly, the coastal areas of Sri Lanka get an average temperature of around thirty degrees celsius. Meanwhile, the temperature in the Central Highlands of the country would range at around twenty degrees celsius. So, the areas of the central highlands always tend to be cooler and refreshing than the coastal areas here.
At a glance, one might argue thinking, 'What is so special here?'. But why not? Obviously, there is a significance about the climatic changes on this island. Usually, European countries also have significant climatic variations along the four seasons of the year. Still, a country where a traveler could experience both the warm and cold climates just within a drive of around two to three hours is obviously rare. Sri Lanka is blessed with that enchantment, even though there are no clear cut seasons to be seen. Simply, that is the reason why we say that the Sri Lankan climate variations have a beauty of their own.
Interested to know more about it?
If so, nothing to worry about. Of course, we are ready to take you on a ride around such the most appealing destinations of Sri Lanka to make you feel this delight yourself. So, here we go!
Sri Lanka at a Glance
First things first! Surely, it is always better to know where we go. Hence, it is essential to know a bit about this land before we start our journey around.
In brief, Sri Lanka is a country that spread across a land of 65,610 square kilometers. Considering the ease of administration processes, this country is divided into nine provinces and twenty-five districts. Accordingly, it is easier to identify the cities and their locations if we have a sound idea about them. So, first of all, let's have a quick glance at these provinces and the districts that belong to them.
Province
District
Central Province
Kandy
Matale
Nuwara Eliya
North Central Province
Anuradhapura
Polonnaruwa
Northern Province
Mannar
Mullative
Kilinochchi
Jaffna
Vavuniya
Eastern Province
Batticaloa
Ampara
Trincomalee
North Western Province
Puttalam
Kurunegala
Southern Province
Hambantota
Galle
Matara
Uva Province
Badulla
Monaragala
Sabaragamuwa Province
Rathnapura
Kegalle
Western Province
Colombo
Gampaha
Kalutara
Impact of Topographic Features on the Climatic Changes
Moreover, the diverse topographic features of Sri Lanka is also the main reason for its high tourist attractions. Further, these features have a significant impact on the wind patterns, temperature levels, humidity levels, rainfall, and all the climatic changes as a whole. Accordingly, the country is further divided into three main regions, namely, the coastal belt, plains and the central highlands.
The coastal belt of the country is the outermost land area that surrounds the country. Further, the golden shores, lagoons, bays, and offshore islands make up this region, and there are several districts that belong here. Specifically, the sandy stretches across Galle, Matara, Hambantota, Trincomalee, Puttalama, Mannar, and Batticaloa districts make up this zone.
Next is plains. In brief, this is the region that covers the largest area of the land. Generally, areas that mostly remain flat, except for a few sudden hills that stand in between some idyllic verdant lowlands belong to this region. Most parts of the Gampaha, Anuradhapura, Polonnaruwa, Vavuniya, and Kurunegala districts belong to this region.
Central highlands is the centermost part of Sri Lanka. Moreover, this spreads across the highest parts of the land, which houses mountainous surroundings, peaks, valleys, and gushing waterfalls. Specifically, Nuwara-Eliya, Kandy, Badulla, and Ratnapura districts make up this region.
Besides, the climatic changes are often common in the districts that belong to these same regions. Hence, having an idea about them would be easier for us to identify their uniqueness as we travel around.
Finally, all set for the journey. So, let us now start the journey of exploring the significant climatic variations among the cities in Sri Lanka!
Climatic changes between Colombo and Kandy
Since Colombo is the commercial capital of the country, we thought that it would be an excellent spot to mark the start of our journey.
In brief, located in the Western Province of Sri Lanka, Colombo happens to be a city with a mix of land and water. When drawing your attention towards its weather conditions, it specifically hosts a tropical climate. The highest temperatures record at around 32 degrees Celsius, during the months of March, and April. Moreover, the monsoon seasons bring rain showers from April to June and September to November. Besides, it gets plenty of sunshine in the course of the year, thus remaining hot throughout, unless for the monsoon rains.
Then, from Colombo, we are heading to Kandy. Specifically, a distance of around 120 km lies between these two cities, and it is a drive of around 3 hours. However, during this journey, you might get the opportunity of experiencing a slow and ambient fall of temperature. Truly, this wonderful climate variation makes the ride even more pleasant and vivid.
In brief, Kandy is a splendid city, located in the Central Highlands that belong to the Central Province of Sri Lanka. Of course, it is surrounded by mountainous areas that create scenic sights along with the rhythmical flowing Kandy lake, refreshing tea plantations, and vibrant florals. Besides, all these geographical features have bestowed Kandy with an average temperature of twenty degrees Celsius. Hence, except for the high rainfalls from October to December, the city remains calm and enlivening, with a perfect climate to chill. This pleasing climatic change can especially be identified when traveling from a warm city like Colombo. Thus, the 3-hour drive from Colombo to Kandy, or rather vise versa would be one of the perfect journeys to experience the significant climatic changes within this country.
Climate changes between Kandy and Nuwara-Eliya
Accordingly, as to the previous section, you already know that Kandy has got a refreshing climate with an average temperature of around twenty degrees Celsius. Yes, of course, it is just amazing. Still, interested in spending a few days in a colder surroundings? If so, just cheer up! Indeed, Nuwara Eliya would be the perfect cool-climate escape for you!
Nuwara Eliya, also known as 'Little England', is in the Central Province of Sri Lanka. Also, it too belongs to the region of the Central Highlands. Further, this city houses the tallest areas of the country and is overlooked by Piduruthalagala, the tallest mountain on this land. Besides, Nuwara Eliya is well known as the district with the coldest breeze in Sri Lanka. Therefore, it is a world-famous attraction, and many choose this as a destination to soothe their body and mind.
Generally, the average annual temperature of Nuwara Eliya is at around 15 degrees Celsius. Even though the geographic features have blessed this city with a colder climate, it has got a fine sun angle too. Still, the impact of the sun doesn't get prioritized over the colder atmosphere its topological features have bestowed over it. However, this can be easily identified when the frost accumulated overnight gets warmed up rapidly during the daytime of the following day.
Above all, the mind blowing beauty of Nuwara Eliya coupled with this colder climate makes it a perfect destination to spend some time around. Besides, the two and a half hours drive from Kandy to Nuwara Eliya along the climatic variations would give you one of the best travel experiences ever.
Climate changes between Ella and Arugam Bay
So now, we are ready to draw your attention towards two of the most attracted charms of this spectacular island. Indeed, they both are truly magical in their own ways. Nevertheless, the impressive fact about them is that they lie within a distance of around a three-hour drive, yet with significant climatic variations among them.
In brief, Ella is a small endearing village that lies among the misty hilly areas of the Central Highlands. Specifically, it is in the Badulla district, which belongs to the Uva Province. Besides, having an approximate elevation of 1,041 meters above sea level, it rests as a perfect destination with a relaxing climate.
Ella is warmer than Nuwara Eliya, yet colder than Kandy. Moreover, the average temperature of Ella would range at around eighteen degrees Celsius. So, many choose this as a destination to escape from the searing temperatures of the coastal areas and plains. While May happens to be the warmest, December happens to be the coldest month here. However, the average sunrays among the misty hills, along with the cool breezes here create a perfect freshening atmosphere. Nevertheless, its scenic verdant surroundings along with the colorful blossoms add more beauty to this climate. So, Ella is loved by both locals and overseas tourists beyond words.
Next, moving towards Arugam Bay!
It is located around 130 km away from Ella, and as mentioned earlier, the drive among these two destinations would take just three hours. Even though the distance among the cities is not that extensive, Arugam Bay has got an extremely different climate than Ella.
In brief, the village of Arugam Bay is located towards the southern end of the East coast of Sri Lanka. Obviously, as the name suggests, it is a bay. Hence, it belongs to the coastal region of this land. Of course, it is one of the most striking golden sand stretches along the shores of this tear-shaped island.
Unlike Ella, the climate here is always high. Further, the average temperature ranges from 29 to thirty degrees Celsius. So, unless it rains, every day you visit Arugambay would surely be a warm day with plenty of sunshine. April happens to be the warmest month here while February happens to be the coldest and driest. Obviously, it is true that Arugam Bay might not give that exact relaxing sensation just as the climate in Ella. Still, the warmer climate along with the onshore winds offers the visitors a mind blowing experience. So, yes, the climate of Arugam Bay is quite different from Ella. But, it too has got a spirit of simple beauty flowing in it.
Climatic changes between Badulla and Polonnaruwa
After all, next in line is the journey from Badulla to Polonnaruwa. You might have already heard about these cities since they rank top in the 'must-visit' lists of travelers. Besides, these sites house a number of attractions that both locals and tourists love to visit.
However, Badulla is an area with a colder atmosphere, and Polonnaruwa is one of the cities that experience sizzling temperatures. Still, they just lie just within a considerable short distance. Yes, of course, they are wonders of the Sri Lankan climate variations, which should be appreciated and enjoyed. So, while traveling around this wonderful isle, it is worth finding out a bit about this journey as well. So, here we go!
In brief, located 670m above sea level, Badulla is the major city of the Badulla district. Also, it belongs to the Uva Province. Further, it is a city rich with natural scenic beauty, with gushing waterfalls, verdant lawns, and misty hilltops. Surely, the climate here is refreshing and energizing, with a wintry weather condition throughout the year.
Specifically, the average annual temperature range at twenty-five degrees Celsius. Moreover, the temperatures remain pleasant with its value nearing the annual average temperature in the course of January to May. Still, rain showers are common between October to December, while October happens to be the wettest. Besides, freezing weather conditions are common in this area, with mists and fog in the mornings and evenings. Nevertheless, all the features further enhance the beauty of this climate making this city more attractive in a way that the visitors would embrace it with love.
Next, heading towards the city of Polonnaruwa!
In brief, this is one of the ancient kingdoms of Sri Lanka, that lie with grandeur, in the North Central Province. Further, it is around 140 km away from Badulla, and a ride between these two cities is nearly three hours. However, by chance if you travel between these cities, you would experience how the climate gradually turns into the total opposite of the other city. So, even though the distance is not that great, the climate change that takes place in between is simply significant.
Obviously, being a city that gets plenty of sunshine, the temperature of Polonnaruwa always tends to be considerably high. Further, the temperature here ranges between 29 to 32 degrees Celsius, while having July as the warmest month. The rain showers would normally be a common sight during the months of October to December. Nevertheless, the city lies underneath the scorching sun that shines during most of the other parts of the year.
However, the rain in this city seems to be quite unpredictable in certain years. Of course, sometimes, it longs for rain showers for longer times even without a single drop of rain for a number of months. In such instances, several droughts have also occurred around Polonnaruwa with a series of undesired situations arising. As of now, such natural disasters are a bit rare in Sri Lanka, but the city might remain searing sometimes. So, all these factors prove how notable the climate variations are between these two cities, Badulla and Polonnaruwa.
Climate Changes between Kandy and Dambulla
Finally, now, we are ready to take you back to the charming city of Kandy. Indeed, most visitors who enjoy the serene beauty of Kandy, and worship the Temple Tooth of Relic, choose Dambulla as their next destination. That is simply because it houses the eighth wonder of the world, Sigiriya, and many more important sites. However, during this trip, they get the opportunity to experience a remarkable climate change between the two cities.
As you already know, of course, Kandy has got a refreshing climate with an average temperature of around twenty degrees Celsius. Moreover, the cool breeze it grants the visitors, along with an exemplary warming atmosphere comforts them and places them at ease. So, as we mentioned earlier, this climate gently changes as the visitors reach the Dambulla.
In brief, Dambulla is a city that houses a number of small villages and is located in the Matale District, of the Central Province. Lying 163m above the sea level, generally, its climate does not reach any extremes. Specifically, its annual average temperature ranges at around twenty-seven degrees Celsius. During the months from January to May, it is possible to experience a pleasant temperature that reaches the average approximately. Further, Dambulla gets the highest temperature in the month of April, and the lowest in the month of February. Also, November is the wettest month.
Accordingly, despite its rainy season, the city of Dambulla rests calmly amidst the warm climates under clear blue skies. Moreover, the sun shines would not be that scorching, and the winds would not be that much chilly. Thus, it clearly proves that there is a significant climatic change between the cities, Kandy and Dambulla.
Climatic Changes between Anuradhapura and Jafnna
Both Anuradhapura and Jaffna tend to be popular attractions for visitors. Moreover, both of them hold a unique significance in varying aspects. However, when considering their average climates one might even argue what is so significant among these cities. Of course, it is true that both of them have comparatively dry climates. Still, what we are going to highlight is that they both have a notable difference in those dry climates as well.
In brief, Anuradhapura is well known as an ancient kingdom of this land, and it stands with grandeur in the North Central Province. Indeed, this is a city that is roofed by extremely crucial angles of the sun, when compared to the rest of the cities on this island. Hence, Anuradhapura is famous as a warm and dry city from the ancient days onwards. Specifically, its annual average temperature ranges at around 31 degrees Celsius. Still, the city of Anuradhapura is rich with super scale reservoirs, tanks, and streams. Moreover, greenery lawns and sky-high trees are a common sight in the surroundings. Thus, the impact of strong sun rays is a bit controlled with the help of nature.
However, the climate of Jaffna, which is at a distance of around 180 km from Anuradhapura is completely different than this. Of course, it is warm and hot with an average temperature of around 29 degrees Celsius. However, unlike Anuradhapura, its surroundings do not look that verdant and fresh. The dry nature has captivated most of the areas, and the breezes that revolve around tend to be highly dull and dry when compared with Anuradhapura. You will only take around 3 hours to reach Jaffna from Anuradhapura, but once reached, you will surely feel the clear difference of climates in a moment's time.
Average temperatures variations of these cities
After all, now, you have a clear about how these significant climatic changes take place. Despite the fact of how close they are, notable temperature changes, and rain pattern changes can be identified among them. Above all, to sum up, everything, we thought of sharing you with the information regarding the temperature variations among these cities. Hope this would further enhance your insight into the Sri Lankan climatic changes.
Average temperatures variations (in degrees Celsius) of these cities throughout the year
| | | | | | | | | | | | | | |
| --- | --- | --- | --- | --- | --- | --- | --- | --- | --- | --- | --- | --- | --- |
| City | | Jan | Feb | Mar | Apr | May | Jun | July | Aug | Sep | Oct | Nov | Dec |
| Colombo | Minimum | 22 | 23 | 24 | 25 | 26 | 26 | 25 | 25 | 24 | 25 | 24 | 23 |
| | Maximum | 31 | 32 | 32 | 31 | 30 | 31 | 30 | 31 | 31 | 30 | 30 | 31 |
| Kandy | Minimum | 18 | 19 | 19 | 21 | 22 | 21 | 20 | 21 | 20 | 20 | 21 | 20 |
| | Maximum | 30 | 31 | 31 | 30 | 28 | 28 | 29 | 28 | 29 | 28 | 29 | 28 |
| Nuwara Eliya | Minimum | 9 | 10 | 10 | 11 | 13 | 13 | 12 | 13 | 12 | 12 | 11 | 11 |
| | Maximum | 21 | 23 | 23 | 21 | 19 | 19 | 20 | 19 | 20 | 20 | 19 | 20 |
| Ella | Minimum | 16 | 16 | 17 | 16 | 18 | 18 | 17 | 17 | 16 | 17 | 16 | 16 |
| | Maximum | 24 | 27 | 27 | 26 | 27 | 27 | 26 | 27 | 27 | 24 | 23 | 23 |
| Arugam Bay | Minimum | 23 | 22 | 23 | 24 | 25 | 25 | 24 | 24 | 25 | 24 | 23 | 23 |
| | Maximum | 29 | 30 | 31 | 32 | 33 | 33 | 32 | 32 | 31 | 30 | 29 | 29 |
| Badulla | Minimum | 18 | 19 | 18 | 19 | 19 | 18 | 19 | 19 | 18 | 19 | 19 | 18 |
| | Maximum | 26 | 28 | 29 | 30 | 30 | 31 | 30 | 30 | 28 | 26 | 25 | 25 |
| Polonnaruwa | Minimum | 22 | 22 | 23 | 24 | 25 | 24 | 25 | 24 | 24 | 23 | 23 | 22 |
| | Maximum | 30 | 32 | 33 | 33 | 32 | 33 | 33 | 32 | 31 | 30 | 29 | 28 |
| Dambulla | Minimum | 21 | 21 | 22 | 23 | 24 | 24 | 23 | 24 | 23 | 23 | 22 | 21 |
| | Maximum | 31 | 33 | 33 | 32 | 31 | 31 | 32 | 32 | 31 | 30 | 29 | 29 |
| Anuradhapura | Minimum | 21 | 21 | 22 | 23 | 24 | 24 | 25 | 25 | 24 | 24 | 22 | 22 |
| | Maximum | 29 | 31 | 33 | 33 | 32 | 32 | 33 | 33 | 32 | 31 | 30 | 30 |
| Jaffna | Minimum | 22 | 22 | 24 | 26 | 28 | 27 | 27 | 26 | 26 | 25 | 24 | 23 |
| | Maximum | 29 | 30 | 31 | 32 | 32 | 31 | 31 | 30 | 31 | 30 | 28 | 28 |
Conclusion
Indeed, the weather and climate of Sri Lanka are just perfect than ever. Moreover, they truly bring out the beauty of nature and even create an adoring atmosphere that anyone would love. Going beyond, the climatic changes it bestows on various cities enhances the splendor of this island furthermore. Of course, there are many and more environmental factors that have impacted these amazing climatic changes. Still, the vibe of them adds more color to the beauty that flows in from the Sri Lankan climate.
However, if you are planning to walk around these cities any sooner, make sure you consider these simple facts. Obviously, these are just a few. You might even discover many wonders while you travel yourself. They would surely pave the path for you to plan the best ever trip that suits your interests. But make sure that you are ready to enjoy these simple differences, that make your journey more memorable.
Moreover, if you need further climatic details of any other city, you can simply get them through the official website of the Department of Meteorology, Sri Lanka. So, as always, let us remind you again! Obviously, small research would always take you to the right place at the right time.