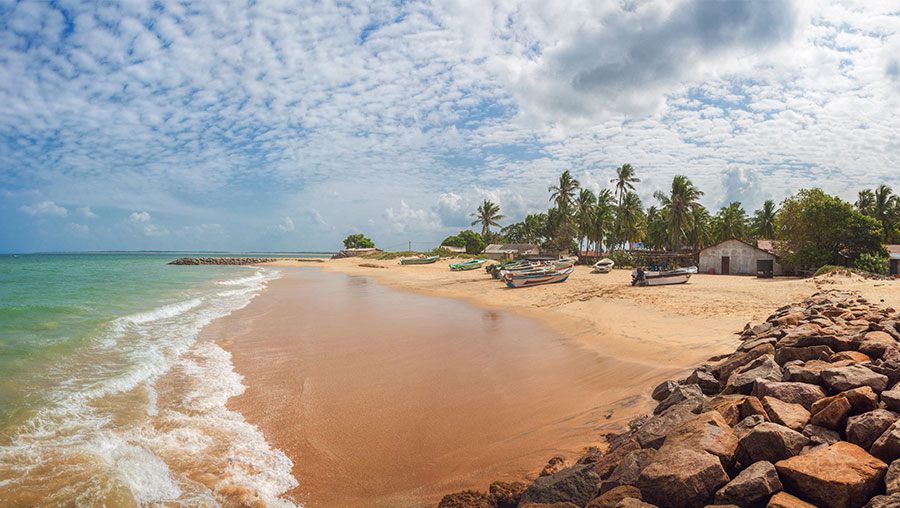 Sri Lanka is a dream destination for avid travelers from all around the world. That is simply because there are many famous tourist destinations in literally every corner of Sri Lanka. Such tourist attractions are rich with tourists all year round. Yet, if you are a tourist who loves to explore more lesser-known and authentic locations, keep calm because there are ideal places for you in Sri Lanka as well. Kalpitiya is also one such location.
It is a small beautiful coastal town located in the Puttalam district of Sri Lanka. Many tourists pass this area but rarely choose it for a stay because they aim at the most popular tourist towns. However, owing to this reason, Kalpitiya is a perfect location to have a calm and quiet vacation.
Also, there are several locations in the Kalpitiya area that are worth exploring. So, it will be a delightful experience to travel through this lesser-known town. Here is all you need to know about Kalpitiya!
Where is Kalpitiya Located?
It is a coastal town in the northwestern region of the country. To be specific, Kalpitiya is in the Puttalam district of the North Western province.
Kalpitiya is actually a peninsula that consists of a total of fourteen islands. This whole region is just so eye-catching and it is rapidly developing as a tourist destination as well. The largest island of the Kalpitiya division is Mutwal or the Dutch Bay. Then, the smallest island of the Kalpitiya division is Vellai 1. The Indian Ocean covers the west side and the Puttalam lagoon covers the east side of the Kalpitiya peninsula.
Best Places to Visit in Kalpitiya
As an emerging tourist destination, there are several eye-catching sites to visit in the Kalpitiya area. Besides, these places are not usually overcrowded as the other high-end tourist destinations in more popular towns in Sri Lanka. So, these places in Kalpitiya are sure to provide you with the holiday of your dreams.
Here are some of the best places that you shouldn't miss when visiting Kalpitiya.
1. Kudawa Beach
Kudawa beach is one of the best beaches situated in the Kalpitiya area. This beach is famous for its calm waters. Hence, it is an ideal location to have a refreshing dip after a fun day in Kalpitiya. It is also a very secluded and clean beach.
This is the best location to have a perfect beach vacation away from the usual hustle-bustle of the cities. There is a mesmerizing view of the Indian Ocean from the massive Kudawa shores. So, you can have a great time on the sandy shores of this marvelous beach. Since the beach is not populated with tourists most of the time, you can take a peaceful walk around the beach enjoying the breathtaking views.
However, the most interesting feature of Kudawa beach is the water sports. The most loved activity to do in Kalpitiya is dolphin and whale watching. There are only a few places in Sri Lanka to go on such excursions, and thus, experiencing the delight of this activity in Kalpitiya would be indeed interesting.
And then, kite surfing is also a fun activity that you can indulge yourself in on the Kudawa beach. On the other hand, there are different kinds of boat rides to try here. And yes, it is one of the most exciting ways to enjoy the beautiful surroundings of the lagoon and the sea. Apart from all these things, even if you just want to relax and have a moment of peace, Kudawa beach is the ideal place for you!
2. Kalpitiya Dutch Fort
There are several displays of the colonization period around Sri Lanka. Dutch Forts are one such display, and you can see them in quite a few places around the country. In Kalpitiya also, there is the Dutch Fort which is now one of the most sought-after tourist destinations in the area.
As you may already know, Kalpitiya was an epicenter during the colonial period due to its important location. During the invasion of the Dutch, they built a Fort in this area for their administrative purposes. They completed it by the year 1676. Besides, this was considered an important administrative point during the Dutch rule as it enabled the Dutch to keep an eye on the external trade of the Kandyan Kingdom.
In comparison with the other Dutch Forts in Sri Lanka, Kalpitiya Fort has an interesting structure. In fact, it looks square-shaped and the walls of the fort reach up to 4 meters. The entire Fort is built with the coral and limestone found in the surrounding areas.
As in other Dutch Forts, here also there are four bastions in each corner of the Fort. However, the British also used this Fort during their rule and also the Sri Lankan navy during the civil war. So, if you are interested in historical places, you should pay a visit to this historical site when in Kalpitiya.
3. Kalpitiya Lagoon
Kalpitiya lagoon is one of the most beautiful locations in the Kalpitiya area. In fact, it is one of the fast-growing tourist destinations in the whole Puttalam district. However, it is still a secluded area and is well-known for its stunning sunsets. So, this is one of the best places in Kalpitiya for a splendid holiday getaway.
In addition, there are many activities that you can try in this lagoon. Because of the windy nature of the lagoon, many consider this area very suitable for kitesurfing and windsurfing. There are different kinds of wave patterns in the lagoon for you to try these activities in different manners. You can even take kitesurfing and windsurfing lessons from there.
Then also, don't forget to take a kayak ride through the mangrove forests of the lagoon. It is one of the best ways to explore the unique ecosystem. On the other hand, you can also try some other adventurous activities like standup paddleboarding in the lagoon. This lagoon is also well-known for whale watching but it is important that you visit during the season to spot a majestic beast. Besides, you will also be able to observe a variety of wildlife and birdlife here. So, owing to all these reasons, Kalpitiya lagoon will add so many amazing memories to your vacation in Sri Lanka, and thus, it is indeed worth visiting.
4. Dutch Church Kalpitiya
Sri Lanka is a multicultural, multi-religious country. Hence, there are many iconic religious places around Sri Lanka. Dutch church is also one such religious place that you can visit in Kalpitiya. It is a small yet eye-catching location that you can visit in this area.
Before colonization, Kalpitiya was a hometown for most of the Hindu Tamil community. Then, after the Portuguese captured the area, this town was bestowed to the society of Jesus by the King of Portugal. Then, for the Dutch also, Kalpitiya became an important location for their ruling purposes. So, they built a small church just 350 meters away from their Fort.
During British rule, the usual church services of this Dutch church were stopped, and instead, the church was used for Anglican services. Afterward, Sri Lankan Archeological Department took over the church as it is an important symbol of Sri Lanka's colonial period. After 2010, the church got under the supervision of the Dutch reformed church.
While it is a church with a very simple structure, it is so worth a visit while you are visiting Kalpitiya. Specifically, you will be intrigued by the tombstones situated on the church premises with various inscriptions and epitaphs. So, make sure you don't miss visiting this church, as you explore the beautiful Kalpitiya area.
5. Wilpattu National Park
Here is one of the very popular tourist attractions to visit when you are exploring Kalpitiya!
Wilpattu National Park is one of the oldest and largest national parks in Sri Lanka. If you are into wildlife and nature, this is an absolute must-visit on the paradise island. Especially, Wilpattu National Park is famous for its leopard population. Apart from that, you will be able to spot many other mammals and reptiles in the park such as the Sri Lankan elephant, sloth bear, spotted deer, Indian python, and monitor lizards. Then, you will also be able to spot so many endemic birds in the park such as Sri Lanka junglefowl, whistling teal, and painted storks. Altogether, this park is of so much importance and value to the whole country.
While the park is well-known for its incredible ecosystem, the park also holds historical values. There are ancient ruins inside the park and there are also several historical and mythological stories related to this park. Besides, if you love jeep safaris, this is one of the best locations to go on a jeep safari in Sri Lanka.
So, owing to all these reasons, your trip to Sri Lanka won't be complete without paying a visit to the park. Thus, don't forget to visit the park, while you are in Kalpitiya.
Best Time to Visit Kalpitiya
The best time to visit Kalpitiya actually depends on the places that you are planning to visit in this area. But as a whole, considering the climatic conditions as well, Kalpitiya is at its best from April to October.
While the weather is quite hot and humid throughout the year, this time is the best to have the perfect moments on the beach and to try many water sports. Then also, it is better to avoid the rainy season when visiting Kalpitiya. So, always keep in mind to check the climatic conditions beforehand to avoid any difficulties that you would face during your trip.
How to Reach Kalpitiya?
Kalpitiya is located 166 kilometers away from Colombo, the commercial capital of Sri Lanka. So, if you are traveling to Kalpitiya from Colombo, the easiest option is to take the Bus to Puttalam from Colombo, and then take a bus from Puttalam to Kalpitiya. If not, you can even take a train from the Maradana station to Puttalam station and then take the rest of the distance to Kalpitiya by taxi. However, this journey will take about 6 hours.
Then again, if you don't like traveling by public transportation, you can always arrange a mode of private transport from the airport itself as well.
On the other hand, Kalpitiya is located 168 kilometers away from Kandy. So, if you are visiting from Kandy, take the bus to Colombo first and then go to Kalpitiya from there. You can also arrange private transport to this town from Kandy. However, despite the fact from which city you are taking your taxi, the cost of private transportation would always be higher than public transportation costs.
The Bottom Line
After all, Kalpitiya is a small, yet amazing coastal town where you can have an extraordinary and unforgettable vacation. In fact, you should pay a visit to a less explored city like Kalpitiya to have more of a unique and authentic Sri Lankan experience. Indeed, there is something more about spending some time in cities like Kalpitiya which are not that popular as tourist destinations. So, don't forget to add Kalpitiya to your bucket list in Sri Lanka. It will be an enriching experience for your vacation time on the paradise island. Happy and safe traveling!