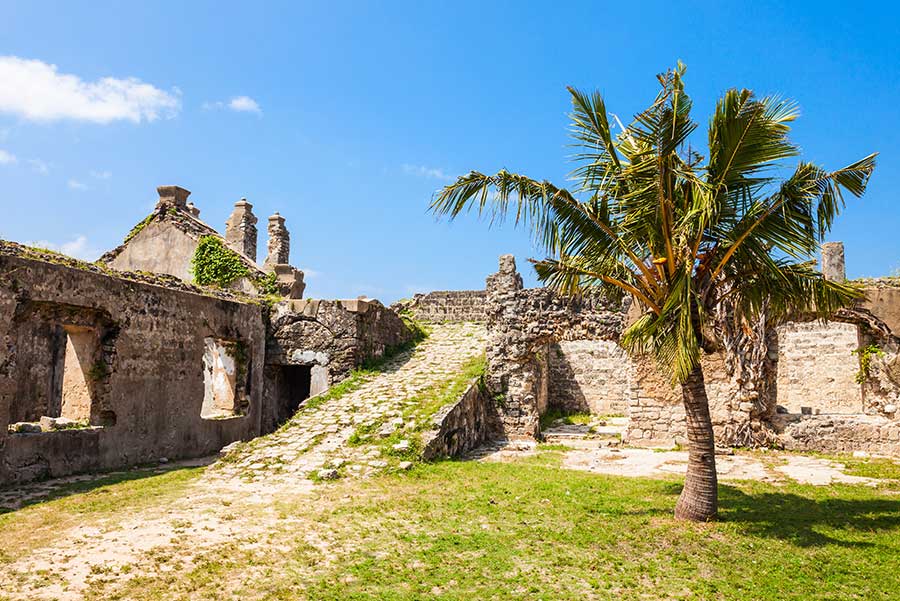 Sri Lanka is a well-known island with palm trees and white sand dreamy beaches. Yet, that is not the only thing that makes this island beautiful. Ample sunshine, golden sunsets, and endemic wildlife that you can't find anywhere else on the Earth make this island worth exploring. Besides, another interesting fact that attracts tourists to Sri Lanka, is the small offshore islands that it owns. These small islands are nothing but amazing little destinations which can give you a heart-touching experience. Hence, we thought of focusing this read on the most famous islands of Sri Lanka. Continue reading to know about them!
What are the Famous Islands in Sri Lanka?
Sri Lanka is the twenty-fifth largest island in the world by area. Besides, there are nearly 30 islands clustered in the northern and eastern parts of the island of Sri Lanka as well. Among the many islands surrounding the island of Sri Lanka, the following are the most famous.
Delft Island
Pigeon Island
Velanai Island
Mannar Island
Nainativ Island
Pungudutivu Island
Madol Duwa
Baththalangunduwa Island
Kirala Island
Katchatheevu Island
These islands are full of colorful coral reefs, scenic settings, friendly people, fresh air, and even mountains to relax in. And why not? The historical monuments that they hold further magnify the value of those islands. The following sections will let you know more about the delight of these islands!
1. Delft Island
Delft Island is a hidden paradise in the middle of the Indian Ocean. It has a scenic landscape and vegetation with a beautiful marine environment. This island got its name after the Dutch city of Delft by Rijckloff van Goens. Neduntheevu is another name to identify Delft Island.
However, it is located in the Strait of Pok, the sea between the Indian state of Tamil Nadu and the northern coast of Sri Lanka. The island has an area of ​​50 km² and is roughly oval in shape.
Delft Island is home to a small population of Hindu Tamils and Christians, mostly living close to the northern coast. These communities principally engage in fishing, producing dried fish, rearing cattle and poultry, and cottage industries centered on Palmyra products.
How is the Atmosphere of Delft Island?
This island is a perfect place for experiencing what rural life in a remote village is like with lovely people helping with eco-building and farming. Witnessing their simple daily lives and seeing how contented they are and how they make use of what they have will teach you many important life lessons.
Besides, with its untouched rural and remote ecosystem, Delft Island will give you a beautiful sightseeing experience worth visiting the historical monuments. On the west coast of the island, there are the ruins of a 1000-year-old temple that belongs to the period of the Chola dynasty. Apart from that, you can find the remains of a Dutch colonial fort as well.
The vegetation of this island is semi-arid tropical, with palm trees, dry shrubs, and grasses growing on pale grey porous coralline soil. Other than that, you can see papayas and banana cultivations on this island.
Local houses have roofs with palm leaves and fences of coral stones. The wild horses roaming freely on the island are truly the iconic feature of the island that speaks of the island's colonial past.
What are the Significant Attractions on Delft Island?
From the natural beauty of Delft Island to the spectacular colonial heritage, there are plenty of things for its visitors to enjoy. Among many, the following attractions are highlights in Delft Island.
Portuguese Fort
Baobab and Banyan Trees
Quindah Tower
Sarapiddy Wells
Footprint Rock Formations
Old Stables
Pigeon Fort
Old Stupa
Delft College
Coral Walls
How to Reach Delft Island?
This place is located about 30 kilometers from the mainland in Sri Lanka's Northern Province. Hence, the tourists must cross the water to reach Delft Island. Boat transfer from Jaffna to the island is a good adventure in the beginning.
What is the Best Time to Visit Delft Island?
The best time of year to visit Delft Island is from July to August when the weather is pleasant and comfortable with occasional breezes. As in mainland Sri Lanka, February can be relatively cool and January is a wet month with rain.
Regarding the travel time, it is better if you opt for the ferry service in the morning as it can be changed in the evening in case of unpleasant weather. So, be wise when choosing the best time to travel to Delft, in order to get the best experience.
2. Pigeon Island
Trincomalee was a very strategic natural port valued by all the colonial masters during the colonial era. The island was about 20 kilometers from the harbor and was used as a firing point by the colonists. Further, Pigeon island is located about a kilometer from Nilaveli Beach, North of Trincomalee. After all, this place is a well-known destination for local and foreign tourists.
Pigeon Island consists of a total area of ​​around 470 hectares. Besides, the island got its name from the rock pigeon that inhabited it. Another important fact about this island is, it is one of the two marine national parks of Sri Lanka. Pigeon Island was declared a sanctuary in 1963.
In 2003, it was re-designated as a National Park. Accordingly, the Pigeon Island National Park is considered the 17th National Park in Sri Lanka. Moreover, Pigeon Island was one of the few protected areas affected by the 2004 Indian Ocean tsunami.
The two islands there are known as Large Pigeon Island and Small Pigeon Island. The Large Pigeon Island is bordered by a coral reef. It is 200 meters long and 100 meters wide. Further, its highest point is 44.8 meters above mean sea level.
What is the Best Time to Visit Pigeon Island?
You can visit Pigeon Island National Park in summer and winter. Yet, the best time to visit the island is in summer, in June. Moreover, the ocean around Pigeon Island is in its best state between May – October. Hence, if you visit during this time, you can have the benefit of the calm sea with beautiful bright weather. Moreover, if you are looking for some water sports, summer is the best time to visit.
What Can You Experience at Pigeon Island?
Pigeon Island is a paradise for people looking for a good snorkeling spot. Clearwater ranges up to 6-7 feet making snorkeling easy and safe. While you enjoy snorkeling, you can see various underwater life like Trump fish, angel fish, parrot fish, eels, coral gardens, and other colorful fish. There is a high probability of seeing large sea turtles and even black sharks as well.
Besides, you can swim to the other side of the island or even fish in the ocean. Windsurfing is another auxiliary activity you can do at Pigeon Island Beach, but you have to be fortunate with the waves.
3. Velanai Island
Velanai Island is also identified as Leiden in Dutch. The name Velanai is believed to be derived from the Tamil god Velan.
This is a small island located on the coast of the Jaffna Peninsula in northern Sri Lanka. There are a number of villages on this island like Allaipiddy, Mankumpan, Velanai, Saravanai, Puliyankoodal, Suruvil, Naranthanai, and Karampon.
The majority of the people living on this island are Hindus, and there is a minority of Christians as well. Therefore, you can find a number of Hindu temples and several churches out there.
Velanai was also the site of violence as part of the Sri Lankan Civil War, including the Allaipiddy Massacre in 1983. However, this island is famed for the archaeological remains of ancient civilizations near the sea. The main attractions of the island are as follows.
War Memorial
St. Anthony's Church
Kites Village
Chatty Beach
4. Mannar Island
This is a must-visit simply as it is the largest island in Sri Lanka. However, it is a part of the Mannar District in Sri Lanka. To be specific, it is an island off the coast of Mannar that is connected to the mainland by a seaway. There is a belief that it was once connected to India by a chain of limestone shoals called Adam's Bridge.
However, the island covers an area of ​​approximately 125 square kilometers. The majority of the island consists of white sand and large stretches of palm trees. There are also palm tree forests near the coast that are home to several monkey tribes. Besides, Mannar Island is home to a large number of donkeys and flamingos during the migration season which falls between November and March.
The island of Mannar is known for its sunny, cloudless weather and ancient baobab trees, said to have been planted by Arab traders who visited the island centuries ago. Besides, the island contains the main city of Mannar, while visitors can also visit the following attractions.
Keeri Beach
Talaimannar Lighthouse
700-year-old Baobab Tree
Mannar Fort
The island lies within the Central Asian Flyway, a common route for migratory birds. Moreover, the Vankalai Bird Sanctuary is located on the mainland south of the island. It is protected by the government of Sri Lanka and recognized as an important area for endemic and migratory birds, especially as a waterfowl habitat under the Ramsar Convention on Wetlands of international importance.
What is the Best Time to Visit Mannar Island?
Mannar Island and all it has to recommend is best enjoyed between July and September and between December and February. It is best to avoid the summer season between April and June as the weather can be very hot in the northern parts of Sri Lanka.
After all, this island offers the perfect setting for a relaxing getaway that will let you recharge in a beautiful setting with palm trees and colorful sunsets. So, make sure you visit it if you are exploring Northern Sri Lanka!
5. Nainativu Island
This island is also well-known as the tiny Nagadeepa Island. It is located off the coast of the Jaffna Peninsula in the Northern Province of Sri Lanka. This island is one of the many islands in Sri Lanka in the Pok Strait. Yet, what sets it apart from other islands of Sri Lanka is its unique religious history and ethnic diversification. About 3000 Tamil-speaking people live there. Most of them are Hindus and about 150 islanders are Muslims.
On this beautiful Nainativu Island, you will find the Hindu shrine of Nagapooshani Amman Temple; one of the prominent 64 Shakti Peethas. Moreover, it is a historic Hindu temple dedicated to the main goddess of Tamil Hindus. Buddhist shrine Nagadeepa Purana Viharaya is another incredible temple you can visit at Nainativu Island. The presence of many sacred shrines in a very small space like Nagadeepa Island shows the cultural lavishness of the people of the Jaffna Peninsula.
The name of the island refers to the Naga people who are the inhabitants of folklore. Moreover, Nainativu means the island of Shiva in Tamil, and Nayinaar translates to Lord Shiva. Besides, the old Tamil name of the island is Manipallavam. During the Dutch colonial period, people called it Harlem. Likewise, people have called this island many names over the past.
However, Nainativu is a small plot of land of about 4 square kilometers. Further, this island is rich in palm trees. The greatest distance of this island is around 4 km from north to south. The maximum width of the island is approximately 1 km.
6. Pungudutivu Island
Pungudutivu is a Tamil-dominated island in the Northern Province of Sri Lanka. To be specific, it is located to the west of the Jaffna Peninsula.
This is a small island consisting of several villages. Pungai Idu Tivu is another name for this island. Originally, it had the name Middleburg and later, the Dutch renamed it.
There are nearly 15 Tamil schools for the benefit of the place. There are also government hospitals and some private clinics too. Most of the island's residents are Tamils, with a majority of Hindus and a minority of Christians. There are many Hindu temples along with some Christian churches in this region. Pungudutivu is also home to the famous Kannaki Ambal Temple. Recently, it was renamed Sri Raja Rajeshwari Ambal as well.
Pungudutivu Lighthouse is located on the southern tip of the island. The tower is 25 feet tall and white in color. It also has a white stone lamp, and it is one of the major attractions of this island.
7. Madol Duwa
This is a small island that is located 30 minutes away from Galle city. This island is well known for the children's novel "Madol Duwa" by Mr. Martin Wickramasinghe. Of course, this award-winning book has an English translation as well. Owing to this reason, it has the power of attracting so many visitors even though it is a very tiny island. With the number of visitors, it gets each day, we can undoubtedly say that it is one of the most famous islands of Sri Lanka. Besides, 'Duwa' in Sinhala means the island. So, there is nothing wrong with calling this 'Madol Island' as well.
Madol Duwa is located in the middle of Koggala Lagoon. This lagoon is also unique. It is the only natural lagoon in Sri Lanka and has no tributaries or waterfalls. Hence, this lagoon is rich in only natural water. The three or four coconut trees at Madol Duwe remind us again and again of Upali and Jinnah in the novel "Madol Duwa".
There are several other islands around Madol Duwa As you climb to the top of the island you will find a seagull and a deserted well. Anyone going by boat towards Mangrove Island can see the ferry hidden among the mangrove swamps. This ride is more fun if you go in a rowboat. You can take boat trips and explore the islands around Koggala lake. There are loads of boats available for touring here.
8. Baththalangunduwa Island
Baththalangunduwa Island is a small island off the coast of Kalpitiya in the Puttalam District of the North West Province of Sri Lanka. To be specific, Baththalangunduwa is about 30.3 km from the mainland. Hence, it is approximately a 50 km boat ride from Kalpitiya and takes about 3.5 hours on average.
Baththalangunduwa Island has an area of ​​around 145 hectares. However, this place is an iconic place for beach camping, enjoying nature, and photography purposes. Other than that, dolphin and whale watching out there is a popular task on tourists' do list. Kalpitiya Dutch Fort is a huge attraction you can find here. Besides, Baththalangunduwa is a perfect place for kayaking, kite surfing, and bird watching too.
Moreover, Baththalangunduwa Island Beach Camping is one of the most popular and famous beach activities in Sri Lanka. Camping on the beach of Baththalangunduwa Island offers you a cool evening breeze, a picturesque view of the setting sun or a tented night, and the sweet sound of waves crashing on the beach. So, altogether, there is a lot for you to enjoy on this splendid island. Hence, this island happens to be one of the best islands for you to visit in Sri Lanka!
9. Kirala Island
Kirala Island is an isolated island located in Bolgoda Lake, Moratuwa, which is just 19 km from Colombo. Surrounded by cork trees, the island features a haven of nature – perfect for escaping the hustle and bustle of city life. Besides, this island has Sri Lanka's largest model train exhibition, and family entertainment attractions such as sports, music, entertainment, fishing, boating, and barbecues. It is also available for private parties.
In addition to that, there is a restaurant that serves a variety of local and international dishes and is open daily from 10 am to midnight. Constructions at this place take an ecological theme. Moreover, the architectural and other man-made structures are carefully constructed and managed with minimal disturbance to the natural environment. Moreover, in keeping with the environmental theme, they have implemented a wastewater management system and waste management system to make Kirala Island a symbol of an eco-friendly holiday destination. So, owing to all these reasons, it is indeed a destination worth visiting.
10. Katchatheevu Island
This land is a 163-acre uninhabited island controlled by Sri Lanka. However, it was a disputed territory claimed by India until 1976. The island is located between Nadunthivu in Sri Lanka and Rameswaram in India. Traditionally, the Sri Lankan Tamil and Indian fishermen use this island.
In 1974, the then Prime Minister of India, Indira Gandhi, handed over Katchatheevu to Sri Lanka under the "Indo-Sri Lanka Maritime Agreement" with a view to resolving the maritime boundary in the Palk Strait. In 1976, another agreement was signed and it restricted fishermen from both countries from fishing in each other's exclusive economic zones.
However, at present, this island is a well-known destination for visitors. The main attraction of this island is the only shrine on it, St. Anthony's Church. It is a shrine that has got its name after Antony of Padua. Christians consider it to be the patron saint of seafarers. As per the records, Srinivasa Padaiyachi, a prosperous Indian Catholic (Tamil) fisherman built it in the early 20th century. Christian priests in India and Sri Lanka conduct worship services and processions at this shrine. The annual church festival of this shrine goes over for three days. So, it would be best to visit this island on those days.
The Bottom Line
After going through all these facts, it is clear that there is no shortage of breathtaking sights, historical, and cultural values, as well as interesting activities in any of these islands of Sri Lanka. Simply, each of these islands is more picture-perfect than the next. Besides, a wide range of diverse physical environments makes these islands more special. Moreover, the diverse cultural landscape, each with its own cultural heritage gives a different shade of uniqueness to these islands.
Likewise, all these facts prove to us again and again that these are the best islands for you to visit in Sri Lanka. So, make sure you visit them, as you explore this charming island of Sri Lanka. Happy and safe traveling!