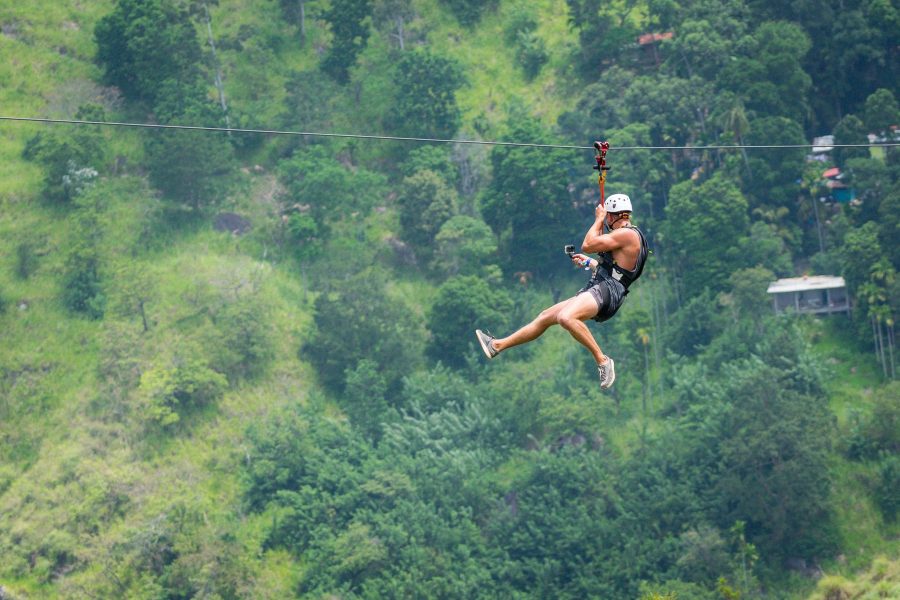 Apart from being a welcoming land with rich culture, wonderful landscape, aesthetically pleasing beauty, and wide palms with majestic waterfalls, what do we know about Sri Lanka? Let us assure you that there are many more significant aspects of this splendid island that you need to know. And what we are going to discuss today, is also something of that sort. In fact, we are going to enlighten you about the wonderful adventure sports in Sri Lanka that are sure to delight you beyond a doubt.
To be specific, Sri Lanka features a wealth of adventures from the tops of the hills to the depths of the oceans. Scuba diving and surfing are the most popular beach sports in the country, aside from swimming in the waters or snorkeling. Besides, Sri Lanka has some of the best diving in the world. The sea around Sri Lanka is also one of the most challenging sites for marine game fishing, white water rafting, kayaking, and canoeing. Moreover, Sri Lanka offers several options for dedicated hikers and trekkers, with a few roads twisting through expanding mountains, lush green forests, rice fields, parks, and tranquil villages. Trailblazing along the tracks and paths on horseback or on the back of an elephant in Sri Lanka will also be a new experience.
So, all these things together, promise you a fantastic adventure vacation in Sri Lanka that you should not miss. Continue reading, and you will get to know how fabulous an adventure holiday on this splendid island will be!
Most Popular Adventure Sports in Sri Lanka
By now, you clearly know that Sri Lanka is an adventure waiting to explode. With several adventures packaged within a few kilometers of each other, it eagerly awaits to amaze you with the utmost delight. The mountainous landscape, steep peaks, deep chasms, mountain gaps, high waterfalls, and twisting rivers of Sri Lanka provide a great backdrop for eco and nature-friendly adventure sports. However, among the extensive range of adventure sports available in Sri Lanka, we feel that the below would be the most popular. Have a look!
Trekking
Rock Climbing
Camping
Zip Lining
Adventure Safari
Cycling and Mountain Biking
Water Sports
Hot Air Ballooning
Paintball
Of course, you might need more information on these activities to plan your next trip. Take it easy, because the following sections will enlighten you with everything that you need to know!
1. Trekking in Sri Lanka
The diversified and beautiful hilly terrain of Sri Lanka offers a wealth of hiking opportunities for enthusiastic hikers. In fact, the lovely areas of Nuwara Eliya, Haputale, and Diyatalawa, in Sri Lanka's hill country, give a great starting point for a range of hiking and trekking treks through the jungle, tea gardens, and up mountains in this country. Besides, Sri Lanka's rivers and several waterfalls also allow hikers and trekkers to cool down while on the trail. So, all these things blended together in Sri Lanka offer visitors delightful trekking and hiking opportunities on this splendid island.
Best Trekking Spots in Sri Lanka
You can find below some of the best areas to visit in Sri Lanka for amazing trekking opportunities.
Ohiya
Haputale
Kandy
Horton Plains
Sinharaja
Dambana
Nuwara Eliya
Ella
Simply, these areas are rich with plenty of wonderful trekking trails. In fact, if you are around Kandy, and love trekking, don't miss a visit to the magnificent Knuckles Mountain Range. Besides, trekking through nearly uncharted territory in the southeast, via the famous Yala National Park, where leopards hunt and elephants wander would also be simply amazing. And why not? Trekking through the bird-rich Kumana wetlands, and into an area where hundreds of abandoned temples, possibly even towns that await exploration would be even more exciting.
Further, the legendary Adam's Peak is also a perfect hiking spot. However, when hiking Adam's Peak, passing the wilderness area at night would be interesting. Then, you can arrive at the top in time for a stunning sunrise. Yes, that is when the peak's mysterious shadow is perfectly projected across the clouds. It's one of those once-in-a-lifetime experiences that will linger in your mind long after the aches and pains of hiking have faded. Moreover, Little Adam's Peak, Ella Rock, and the Namunukula Mountain Range are among the many treks available in the picturesque Bandarawela area of Sri Lanka's hilly environment and the surrounding town of Ella.
Also, a hiking trip in Sri Lanka isn't complete without a detour at the interesting Sinharaja Rain Forest. Out there, a selection of tracks can be tailored to the group's particular interests and levels of fitness.
Likewise, this charming island of Sri Lanka holds with it some of the most gorgeous walking paths. So, if you ever arrive in Sri Lanka, make sure you witness the splendors of this wonderful adventure sport!
2. Rock Climbing in Sri Lanka
The craggy mountains and enormous craggy rocks in Sri Lanka are unyielding. They have stood the test of time, changing just slightly with the weather and the passage of time. So, climbing and scaling these heights has proven to be an incomparable joy.
However, climbing rocks in Sri Lanka is both mentally and physically challenging. It will put your strength, energy, stamina, balance, technique, and emotional stability to the test. Without the right equipment, path advice, and understanding of safe climbing skills, the activity can be extremely deadly. So, before going on a climb, always double-check your gear.
Besides, Sri Lanka allows you to practice this adventure spot in several styles. They are as follows.
Aid Climbing– Climbing with the use of equipment that facilitates both upward and downward movement. It's all about the climber's safety. As a result, aid climbing, often known as class 6, is currently the most popular technique of climbing for huge cliffs.
Free Climbing – This is the most convenient method of climbing, and it refers to climbs that rely on the climber's own brute ability and expertise, with some type of device backup for safety.
However, it is important to be familiar with crack climbing, face climbing, slab climbing, and simul-climbing techniques if you are to experiment with hard rock climbs in Sri Lanka.
Still, Sri Lanka is also an excellent spot to begin rock climbing as well. It features a number of convenient and reliable climbing routes. Further, the guides can assist you with your first climbs. And if your plans change, that's fine, too. Sri Lanka has many other adventure sports to offer for your vacation. Your joy is certain, so go ahead and create some precious experiences!
3. Camping in Sri Lanka
Sri Lanka is ready to change people's minds about the so-called 'world's most well-known holiday topics'. In fact, most people think of camping as 'the activity of spending a vacation sleeping in a tent'. Still, this magnificent island of Sri Lanka elevates it to this as it is going to offer you some unforgettable days packed with thrill, desire, unique experiences, and excitement. To be specific, an open-fire meal, followed by a wonderful night's sleep under canvas beneath a spectacular sky filled with millions of sparkling stars is a promise when camping in Sri Lanka. Thus, every holiday camping experience in Sri Lanka will be curiously rewarding.
Besides, camping in Sri Lanka will offer you enough and more space to delight yourself as follows.
Engage yourself in a never-ending cycle of eating, sleeping, bathing, and wandering around the campsite.
Relax and immerse yourself in a very natural and wild environment.
At your leisure, go in search of wild animals.
Investigate the traditional Veddah peasants' way of life.
Exclusive accessibility to national park locations when the animals are at their most natural.
Nevertheless, camping does not have to be limited to National Parks or areas with dense vegetation. There are interesting camping locations on the beaches, in the mountains, and in villages around Sri Lanka as well. Yala, Wilpattu, Gal Oya, and the Knuckles Mountain Range are among the most scenic locations. Further, camping in Sri Lanka can be an unforgettable experience, with options ranging from traditional camping sites to more luxurious glamping arrangements. So, owing to all these things, we can assure you that camping in Sri Lanka would be a fantastic experience, during your adventure holiday!
4. Zip-Lining in Sri Lanka
Zip Lining is one of the most recent additions to adventure sports in Sri Lanka. Thus, everyone including locals and tourists can experience this adventurous sport in beautiful Ella now! A zip line, also known as a zip-line, zipline, zip wire, or aerial runway, is a pulley or a roller strung from a cable, usually made of stainless steel, and fixed on a slope. Its purpose is to let a person move from the top to the bottom of an inclined cable by grasping or being connected to the freely moving pulley. However, modern usage favors those connotations, and it is not limited to adventure sports, recreation, or tourism.
So, anyone who is willing to enjoy this thrill and excitement should not miss this wonderful zip-lining experience if they visit the mountain town of Ella. The two-wire zip-line which is more than half a kilometer long lets the adventure seekers glide at 80 kmph. It provides an astonishing bird's-eye perspective of the island's picturesque highlands. So, it is certain to offer them a bunch of lifelong memories. Generally, it costs around USD 30 – USD 40 per person to experience zip-lining in Sri Lanka.
5. Adventure Safari
The magnificent wildlife sanctuaries of Sri Lanka provide an unrivaled glimpse of mother nature in its purest form. In fact, they have one of the most diverse ranges of wildlife species on the entire Asian continent. Hence, going on safari in one of the national parks will allow you to see the forest inhabitants' lives and habitats in their natural state.
In fact, Sri Lanka has 14 national parks, which account for 8% of the island's total land area. The most popular among them are listed below:
Wasgamuwa National Park
Wilpattu National Park
Eighty-Six different species of mammals, birds, and reptiles call Sri Lanka's fourteen wildlife parks home. The main attraction is large groups of wild elephants. The leopard is the most famous of the predatory animals. Sloth bears, jackals, and mongooses are examples of other predatory creatures. Animals such as common Langurs, endemic macaques, purple-faced leaf monkeys, and shaggy bear monkeys can be found in large groups roaming the woods. So, with all these wild creatures, going on an adventure safari in Sri Lanka would be a once-in-a-lifetime opportunity.
There are several adventure safari providers around these national parks. They offer various safari packages, and their costs vary depending on the services provided, the number of members for the team, and the duration. So, if you love to observe the wildlife up close and personal, going on an adventure safari in Sri Lanka would be a perfect choice. And do remember! It is always better to book your safari beforehand, to avoid unfavorable circumstances.
6. Cycling and Mountain Biking
Cycling or mountain biking is one of the adventure sports in Sri Lanka that allows you to witness the country's beautiful scenery. Moreover, cycling enthusiasts can access all areas of this small island thanks to a network of main highways and numerous country roads, gravel paths, dirt tracks, foot walks, cart tracks, and estate tracks.
The geography throughout the country presents obstacles for both beginners and specialists. In fact, cycling in the plains isn't difficult, but cycling in the central highlands can be challenging. Cycling in the Central Highlands, on the other hand, is exciting because of the terrain, which is dotted with tea plantations that stretch seamlessly over hill ranges, terraced agricultural processing, and farmlands.
The different landscapes of Sri Lanka also provide tourists cycling in Sri Lanka with new perspectives on cultural identity and experiences in remote village life. In fact, cycling through paddy fields and rural villages; through tea-covered smoky mountains; along the coastline roads of the Southwestern and Southern coastal belts; and across the cultural triangle adorned with statues, redeveloped temples, and ruins of ancient Sri Lanka benefit all cycling obsessives with unparalleled scope and scale. Likewise, cycling is indeed a fun way to see the island. Still, cyclists should be especially cautious on the main roadways. Hurrying buses, zigzagging three-wheelers, and other cars may force bikers into tight corners.
Further, four National Cycling Trails go through starkly different geographical regions in Sri Lanka. These trails run along the routes that run from the southern coast to Koggala. Moreover, they go through the Cultural Triangle in the North Central Province. Going beyond, they pass the Sabaragamuwa province at the valley of the Central Highlands, and then the splendid Central Highlands, where the tea estates and beautiful waterfalls magnify the delight of the surroundings.
7. Water Sports in Sri Lanka
Sri Lanka, as an island bordered by seas and with numerous rivers and waterfalls, is the ideal location for a variety of water-based activities, including some exhilarating water sports. So, try out the numerous energy-boosting and also tranquil water sports in Sri Lanka if you like to sprint and have some fun in the water. Whatever your age or stage of life, there is something in store for you. In fact, here are some exciting water sports listed below for you!
White Water Rafting
White Water Rafting is a thrilling water sport and a challenging recreational activity. However, contrary to popular assumptions, white water rafting is not a physically demanding activity. An average level of physical health and a positive attitude would suffice. However, white water rafting, which may be done in both whitewater and other rough streams, provides a thrilling experience for water sports fans. Though swimming expertise is a distinct advantage, a mandatory Personal Flotation Device will be provided, which is an essential piece of equipment for white water rafting because it will avoid drowning if you fall into the water.
Besides, white water rafting is not recommended for anyone with cardiac conditions, epilepsy, or those who are uncomfortable in rough waters. However, white water rafting is available on some of Sri Lanka's rivers for recreational activists and water sport enthusiasts. The most famous site in Sri Lanka for white water rafting is the small town of Kitulgala in the hill region. The optimal period to participate in this activity in Sri Lanka is from April to November.
Surfing
Surfing is more of a leisure sport that many people enjoy. So, Sri Lanka is the place to be if you want to spend your days surfing under the 30-degree sunshine. To get the most out of surfing, you must be on a beach with gorgeous breaking waves against which you can surf. Of course, patience is essential in the sport of surfing since you must wait for the wave. You should also be willing to take risks in the face of large waves and remain calm if things get tense.
Arugam Bay, on Sri Lanka's east coast, is the ideal location for a surfing vacation. The ripples on the coast attract hordes of surfers, especially from wave-starved European countries. There are generally intermediate surfers in this area. However, if you are a beginner, surfing classes are provided to assist you. On the east coast, the months of June to October are ideal for surfing in Pasikuda and Arugam Bay. During the months of November to May, places like Unawatuna on the southwest coast are also popular for surfing.
Scuba Diving
Sri Lankan waters are home to a diverse range of marine life. Sri Lanka has it all, from the enormous Blue Whale to the tiniest nudibranch. In fact, Lionfish, rays, and nudibranchs are among the most stunning aquatic animals found there. So, owing to these wonderful features, many visitors who love adventure sports choose to scuba dive in the blue waters of Sri Lanka.
The North-East Coasts, South-West Coasts, and the West Coasts are the most appropriate for scuba-diving in Sri Lanka. The best time to dive the west and south-west coasts of this island is from October to May. The northeast shore, on the other hand, is best visited from May to October.
There is no problem even if you are new to scuba-diving. Most of these areas have service providers who also provide you training for a few hours before you indulge yourself in this activity. So, if you are planning for a scuba-dive along with the training session, of course, the session would go for a good 5 – 6 hours. However, it is important to note that the cost for scuba-diving in Sri Lanka varies highly depending on the area and the service provider you choose. Nevertheless, we can promise you a wonderful scuba-diving experience, here in Sri Lanka!
Snorkeling
Snorkeling in Sri Lanka is one of the most exciting water sports available! Deep under the sea, tropical fish, colorful coral reefs, and shipwrecks will enchant you. So, if you want to go on an excellent snorkeling vacation, head to Sri Lankan seas, which stretch for 3 nautical miles. Such adventure sports can be found all over Sri Lanka, especially on its south coast. Pigeon Island, Hikkaduwa Beach, and Kalpitiya Beach are the greatest spots to go snorkeling. The months of March, April, and May are ideal for snorkeling in Sri Lanka.
Deep-Sea Fishing
If you have a fishing passion and are looking for a suitable fishing spot, Sri Lanka is ideal. It offers several fishing opportunities and deep-sea fishing is highly popular around the South-West coast of this island. Catch some big fish with the fishing equipment provided, and your day will be made.
Another intriguing aspect of deep-fishing in Sri Lanka is that you will get the opportunity to investigate the region's diverse aquatic life. In fact, deep fishing in Sri Lanka provides a thrilling experience with the possibility of catching species such as Jack Trevally, Spanish mackerel, marlins, yellowfin tuna, skipjack tuna, sailfish, and frigate tuna. The best location for this adventure sport in Sri Lanka is Hikkaduwa which is located 17 kilometers northwest of Galle and 98 kilometers south of Colombo. Due to the monsoon season, the best period for deep sea fishing in Hikkaduwa is between November and mid-April.
The price ranges for deep-fishing in Sri Lanka start at around USD 85 and go up to around USD 400 per tour. The prices vary depending on the package selected and the additional services included.
Whale Watching
Observing the majestic whales in their natural habitat is one of the most magnificent things to do in Sri Lanka, making it one of the most popular water activities. If you want to see a mind-blowing whale spectacle, Mirissa is the spot to go.
Many might not even consider it as an adventure sport owing to the nature of this activity. Still, for the ones who are new to sailing in the sea, and observing the aquatic life, of course, this is more like an adventure. The excursion begins in the morning with a trip out to sea to see the whales while keeping a lookout for some local fishermen. Breakfast may be offered as part of your whale-watching tour. The approximate cost for a whale watching tour in Sri Lanka may range between USD 100 – USD 200. However, the prices may vary depending on the packages you choose. Above all, we can mention to you that whale watching is one of the best things to do on this splendid island.
Waterfall Abseiling
Why not learn to abseil if you have always enjoyed being outside? This is one of the most amazing adventure sports in Sri Lanka that will undoubtedly be both difficult and exciting. Enjoying the sight of a beautiful waterfall is already incredible. Still, abseiling elevates this thrill beyond the scope of a typical tourist attraction. The tremendous and overwhelming feeling of the water, mixed with the idea that you're hanging from a rope with nothing other than the water beneath and above you, will give you an adrenaline rush like no other. Thus, abseiling down a waterfall is a great way to put your nerves to the test.
However, the waterfalls chosen for abseiling in Sri Lanka are around 100 feet in height. The duration of the experience would be around 3 hours for four people. The approximate cost for waterfall abseiling on this island would cost within the range of USD 50 – USD 150 per person. So, witnessing this experience would never be a waste while you are spending an adventure holiday in Sri Lanka!
8. Hot Air Ballooning
Hot air ballooning is a great way to experience the thrill of flight while getting a bird's eye view of the area below, as well as a silent ride through the sky. Cruising softly over the cultural triangle or a wildlife park in a hot air balloon will be memorable, and nothing compares to a hot air balloon trip across the central plains.
However, the excitement you witness as you fly in the blue skies, over a landscape dotted with numerous small man-made lakes, and historic buildings would be amazing beyond a doubt. And why not? You can even propose to your fiancée in a hot air balloon, celebrate your birthday in a hot air balloon, exchange vows, or even get married in the skies! However, weather and climate impact this experience a lot. So, better to note that the time period between December to March would be the best time period for a hot air balloon ride in Central Sri Lanka.
There are many hot air balloon ride service providers in the country, and almost all of them will give you a safety briefing before you board the balloon. Then, you would be able to enjoy most probably a one-hour trip while drifting serenely over gorgeous and spectacular vistas of the countryside of Sri Lanka. And yes, only the occasional blasts of the burners breaking the silence would distract you as you experience this wonderful activity.
However, the charm of this splendid island plays a major role in offering you amazing hot-air balloon rides. Thus, we believe that going on a hot-air balloon ride in Sri Lanka would be one of the best adventure sports for you to experience in this land of charms.
9. Paintball
As you might already know, paintball is a competitive team shooting activity. The participants exclude competitors from the game by shooting them with cylindrical dye-filled gelatin capsules known as paintballs, which burst on hit. Normally, the time duration for each activity and the number of paintballs given to each player vary according to the service providers and their packages. However, those are the factors that limit this game. Generally, without impacting the game's safety, quality, or enjoyment, the game will be extended from one hour to two hours. The game requires a minimum of 12 participants. The approximate cost for a paintball session in Sri Lanka would range between USD 10 – USD 20.
Are the Adventure Sports in Sri Lanka Suitable for Kids?
Of course, yes, adventure sports in Sri Lanka seem to be suitable for kids. Still, neither the Ministry of Tourism or any other authority maintains safety standards for adventure sports. Hence, we cannot ignore the fact that adventure sports are kind of risky for children not just in Sri Lanka, but all over the world. Owing to this reason, our recommendation is to involve kids in adventure sports only under the supervision of trainers and adult family members.
Besides, the suitability of certain adventure sports for kids depends on their age. In fact, the palm-fringed beaches and placid, swimmable waters will appeal to toddlers, as will the various turtle shelters around Bentota. Further, water sports such as water skiing, surfing, scuba diving, and canoeing would be more appropriate for teenagers. Mountain biking in the hill country, and activities like hot-air balloon riding, and whale watching would suit children who are above the age of around 10 years. So, it is up to you to decide whether you involve your kids in these kinds of adventure sports, or not. However, if you prefer some other activities to enjoy with your kids, here are a few of some interesting activities for you to take part in.
Visiting a Turtle Hatchery
Exploring Ancient Cities
Catching a Cricket Match
Taking Part in Surfing Lessons
Enjoying the Wildlife
Hiking Sigiriya
Relaxing on the Beach
Going on a Train Ride
Need more information on things to do with children in Sri Lanka? Keep calm, and read our article with regard. You will find many and more interesting things to do with your kids on this splendid island.
What to Pack When Going for Adventure Sports in Sri Lanka?
You don't need many things, but proper preparation is always better. Go through the below points. They will surely give you an idea about what to pack when going for adventure sports in Sri Lanka.
If your service provider does not provide drinking water bottles, the best would be to take at least 2 liters of drinking water per person. For longer travels and hot days, you'll need more.
Take dry bags that are waterproof. This will help you pack your things, especially if you are taking part in adventurous water sports.
Wherever you go, take a small torch with you. Adventures might take more time than you expect. So, having a source of light will help you in case it gets dark before you return.
Having a kit for first aid would be highly beneficial. As you might already know adventure sports are fun, yet dangerous in some instances. Of course, your service providers will provide you with first aid in case of an emergency. Still, having your own first aid kit would be the best!
It is better to have a map, compass, and ideally, a GPS, especially if you are trekking, camping, or cycling. A satellite phone or your cell phone are also essentials when you are engaging in such activities.
Having a repellent for insects is also recommended. You have no idea where the adventures will take you. So, having a repellent will always do good for you, despite the fact whether you just travel, or go for an adventure.
However, most of the service providers will offer you refreshments, and also safety equipment. So, it is always better to get to know what the service providers will provide you beforehand. Doing so will make it easier for you to decide what to pack!
What to Wear When Going for Adventure Sports in Sri Lanka?
We cannot recommend a specific costume for you to wear when going for adventure sports in Sri Lanka. Still, we suggest you wear protective clothing that is appropriate for your activity and expected conditions. Besides, hypothermia is a major danger in wet areas. Therefore bring wetsuits and a dry change of clothes, if you are engaging in water sports. However, even if you are not taking part in water sports, having an extra set of clothes is always better when you are heading for an adventure.
Further, you can also wear strong boots, sunglasses, and protective eyewear, if the activity you engage in requires so. Also, don't forget that Sri Lanka is a country with a comparatively high temperature. So, it is better to use sunscreen, if you have a concern with regard.
When is the Best Time to Experience Adventure Sports in Sri Lanka?
Generally, December and mid-April happen to be the best time to enjoy adventure sports in Sri Lanka. Besides, it is regarded as the peak season. However, never forget that this country is truly a year-round vacation destination. So, there is always something for you, on this beautiful island, at any time of the year.
In fact, the climate is very consistent throughout the year. The typical temperatures in the coastal parts range between 25-30°C, and in the highlands between 15-18°C. Further, if you're visiting in the summer (May to September), you'll also want to travel to the east coast and northern areas for dry, sunny weather, while the west and southwest coasts are prone to rain. Besides, during the winter months (October to February), when the monsoon season affects the east and north, the west and southwest enjoy pleasant weather. So, considering these climatic conditions, you can decide when to visit, and where to visit in Sri Lanka.
The Bottom Line
Above all, we can mention to you that Sri Lanka is a fantastic place to visit with your family. This small island appears to have it all, offering something for any family, whether they're searching for culture, wildlife, excitement, or simply a week or two of sunbathing on some of Asia's best beaches.
Apart from all that, Sri Lanka is also an adrenaline junkie's ideal vacation. With 830 miles of coastline for water sports, national parks strewn over the country, and a guarantee of seeing wildlife, this country is to offer you plenty of amazement. So, for thrill-seeking vacationers, Sri Lanka is still the ideal place. So, if you are an adventure seeker, why wait longer? Plan your next trip to this magical island, and experience these amusements yourself. Happy and Safe Travelling!