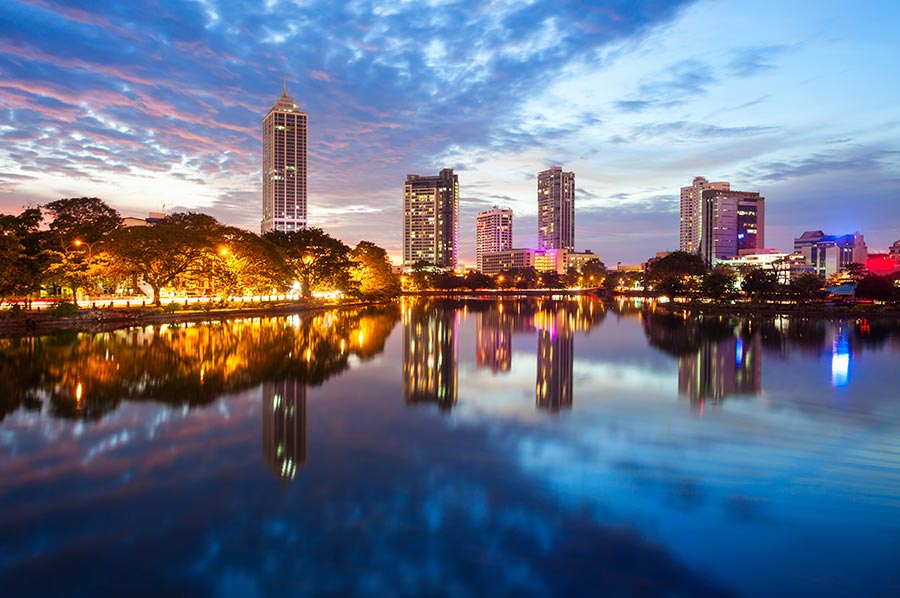 Sri Lanka is famous all around the world for its beautiful landscapes, beaches, wildlife, and natural attractions. Is it all about Sri Lanka? Not at all. Even the bustling city of Colombo has got so much fun and excitement awaiting you. The greenery that the city holds amidst the sky-touching tall buildings, the wonderful places with ancient grandeur, as well as the cultural diversity out there add a unique shade and a different vibe to this wonderful city. So, walks around the city of Colombo will surely be an unforgettable part of your visit to this beautiful island of Sri Lanka.
Still, wondering why we say that Colombo is worth exploring? Keep calm! This read will explain to you all about it. Continue reading!
Significance of Colombo City
Colombo is the commercial capital of Sri Lanka. It is located on the west coast of the island. Bordering the city of Colombo, the Kelani River flows majestically to the ocean. The name of Colombo city is said to be derived from the term "port on the river Kelani".
Colombo has a significant historical value because it has been an important site since the colonial period when the country witnessed the rule of three nations – Portuguese, Dutch, and British. The large natural harbor in Colombo has always been an attractive center for traders even in those days.
However, at present, the city is a mixture of modern vibes and ancient vibes emanating from historical colonial buildings and ruins. Therefore visiting this vibrant city of Colombo will offer you a variety of exciting experiences.
Walks in Colombo
There is nothing wrong with saying that Colombo is the heart of Sri Lanka. Simply, it is a lively city with so much excitement.
Just a few kilometers away from the Bandaranaike International Airport, Colombo is the best place for you to relax upon arrival in the country. Before starting up the journey to your travel destination in the other parts of the country, taking a walk around the city of Colombo is an ideal thing to do.
Of course, there are places to visit, and walks that you can take in this vibrant city. Here are some of the best options that we suggest for walks in Colombo:
Walk around the Galle Face Green Enjoying the Sea Breeze
Meander around in Colombo Fort (Pettah Market/Red Mosque/Floating Market)
Explore the Water's Edge and Beddagana Wetland Park
Sightsee in Cinnamon Garden (Town Hall/ ViharamahaDevi Park/ Colombo National Museum)
Take a Walk in Slave Island (Gangaramaya temple/ Colombo City Centre / Park Street Mews)
Visit the Majestic Independence Square
Taking a walk in these iconic places in Colombo will enliven your time in Sri Lanka. Let's see how interesting your walks in Colombo will be.
1. Walk around the Galle Face Green Enjoying the Sea Breeze
The Galle Face Green is a beautiful beach park. It will be the best choice of a place for you to relax and enjoy a scenic view of the crystal blue ocean.
Besides, Galle Face Beach has got plenty of areas for relaxation and for children to play around. Further, there are many street food stalls for you to experience the best of Sri Lankan flavors. So, why not try some 'isso vade', beloved street food in Sri Lanka, made deliciously with lentils and prawns? Moreover, you can even taste some creamy ice creams from the ice cream trucks over there as well.
If you arrive at the beach in the evening you can soak in the mesmerizing view of the sunset. Also, Galle Face Green is the ideal place to fly kites, wander around and spend some quality time.
While on your walk in Galle Face Green you can catch the sight of the lighthouse along the marine drive, in Colombo Fort. It proudly stands 34 meters high, reflecting both scenic beauty and historical value. Besides, the old parliament building of Sri Lanka is another architecturally and historically important landmark around Galle Face. Moreover, if you wish to have a shopping tour around Colombo, One Galle Face Mall is the best place. It is situated just opposite the Galle Face and attracts many locals and tourists since anyone can find all their needs ranging from groceries to clothes to souvenirs here. Apart from that, you can find many star-class hotels around Galle Face. There are both modern hotels and hotels with routed history.
So, all these things together make a walk around Galle Face a perfect opportunity to explore the delight of Colombo.
2. Meander around in Colombo Fort (Pettah)
It would be one of the best walks in Colombo if you choose to visit the Pettah Market, Red Mosque, and the floating market. Scroll down to know the significance of these places.
Pettah Market
If you are someone who relishes new experiences, Pettah market is where you should be at. It has a number of streets dedicated to different trades. In fact, the busy streets of the market with fruits and vegetables, electronics, jewelry, clothing, and almost everything, is a place where you can experience many new things – new people, new sounds, and even new fragrances. Yes, it will give you a unique experience. While strolling through the market, you can find many goods to match your needs at a low budget as well.
Red Mosque
The unique red and white brickwork of Jami-Ul-Alfar has given it its name Red Mosque. The unusual color patterns and majesty of the building will amaze you. It is an architectural and historical attraction that also signifies the cultural diversity of Sri Lanka.
Floating Market
While on your walk in Pettah, your next destination will be the scenic Floating Market by Beira Lake. It is very convenient to get there because it is located between Pettah's main bus and train station. It has many shops and restaurants with beautiful settings. You can have delicious Sri Lankan food at the shops in this beautiful floating market.
3. Explore the Waters Edge and Beddagana Wetland Park
Here is another best among the walks in Colombo that you can take in order to rejoice in the company of nature and serenity.
Beddagana Wetland Park
Beddagana Wetland Park located at the edge of Diyawanna Lake is a beautiful landscape in marshland, and a bird sanctuary. In the swamplands, you can find a variety of birds, butterflies, and other animals. It is simply a unique place with rich biodiversity close to the busy city of Colombo.
The wooden walking paths extending over the marshy lands will let you get immersed in the beauty of nature. Also, on your walk in the wetland park, you will come across the duck pond and the butterfly trail. So, this is the ideal place for you to visit in Colombo if you are a nature lover.
Diyatha Uyana
When you are done with your visit to Beddagana Wetland Park, Diyatha Uyana (Water's edge) is the best place in the neighborhood for you to relax at. It is a man-made urban park lined by Diyawanna Lake, and it is located in Sri Jayewardenepura Kotte.
The park has a chain of footpaths around the place, which are used by joggers and runners. Near the entrance of the park, there are a number of stalls that sell flowers, plants, fruits, batik clothes, and souvenirs. You can also find numerous restaurants offering food and beverages. So, this is a nice place to relax and have some evening snacks while watching birds swimming in the gorgeous Lake. In fact, there are plenty of Geese, Pelicans, and ducks in the lake.
Also, the Lake bank has got footpaths and benches for you to relax on. Besides, the park has also got a children's play area, a floating restaurant, and an open aquarium, just to make your visit there worthwhile.
'Ape Gama'
'Ape Gama' is a model village in the middle of this busy city, which gives you an authentic village life experience. This demonstrates what Sri Lankan village life was like decades ago. There are mud huts with straw-thatched roofs around the village with painted figurines of farmers and gardeners modeling the villagers. There are demonstrations of village life such as authentic cooking, trading, and daily life.
You can sip some 'Beli mal' drink in a coconut shell cup and have a bite of the Sri Lankan sweet treats while taking a walk around the 'Ape Gama'. You can also purchase Sri Lankan jewelry, batik cloth, woodcrafts, pottery, brassware, and cane work at the Laksala, the souvenir store located on the 'Ape Gama' premises.
So, owing to all these reasons, a visit to this model village 'Ape Gama' would be an amazing experience that you can only enjoy in Sri Lanka.
4. Sightsee in Cinnamon Garden
Cinnamon Gardens was known to be home to a large number of Cinnamon trees spread over vast areas, sometimes back. But now, it is not a piece of land with Cinnamon trees anymore. Instead, it is home to many important landmarks in Colombo.
If you take a walk in these fine streets of Cinnamon Gardens and stop by the amazing places like ViharamahaDevi Park, Colombo National Museum, and the National Art Gallery, you can surely have an awesome time. In fact, it would be one of the best walks that you can have in Colombo.
So, we thought of sharing with you about these places around Cinnamon Gardens
Viharamahadevi Park
Viharamahadevi Park is a main attraction in the city for the tourists and locals who come there for recreation. It is a cheerful place where you can sit and relax at any time of the day. The greenery of the grass lawns around will keep you calm and merry.
You can also see local fish, turtles, and lobsters in the mini aquarium. Besides, it is also a very good place to take your kids to, since they have many forms of entertainment there, including a children's park. How about resting on the soft green grass while the kids have some fun in the park? And yes, the Viharamahadevi Park makes it possible!
Don't forget to see the Cenotaph war memorial in the park, made to pay respect to the Sri Lankan military killed in World War I and II. Then, you can saunter in the walkways to enjoy the view of the beautiful lake in the park.
After having a joyous time in the Viharamahadevi Park, you can visit Colombo National Museum and the National Art Gallery in the Ananda Coomaraswamy Mawatha, Colombo 7.
Colombo National Museum
The Colombo National Museum proudly showcases the rich cultural and natural history of Sri Lanka. In fact, it is where you can see galleries full of ancient art, carvings, statues, and other important collections with historical value. To be specific, there you can see the throne of the last monarch of Kandy, remains from the colonial era, various tools related to Sri Lankan life, and many more things. Besides, it has also got a wide collection of guns and swords as well.
Further, the National Museum Library has local publications printed over many years and manuscripts in palm leaf. On the premises, you can also find the Museum of Natural History, where Jurassic-period fossils and specimens of different kinds of plants and animals native to Sri Lanka can be observed.
All these things together will take you down the lane of Sri Lankan history if you visit the Colombo National Museum. So, make sure you visit it, as you explore the wonderful city of Colombo. It is open from 9 a.m. to 5 p.m. but remains closed on public holidays.
National Art Gallery
The National Art Gallery of Sri Lanka has 03 sections: The Permanent Exhibit Hall, the East Hall, and the West Hall.
In the permanent exhibit hall, you can see the artwork of famed local artists. These works range from traditional paintings to revolutionary modern artwork. There are many artworks that symbolize the traditions, history, and culture of Sri Lanka.
The East and West Halls are for temporary exhibitions for the artists to display their paintings or artistic crafts. Often there are temporary exhibitions in the art gallery. So, if you are an art and culture enthusiast, this is the best place for you to have a glimpse of Sri Lankan culture and art.
Likewise, each section of the Art Gallery will hold something for you to study and enjoy. So, never forget to visit it, if you are taking a walk around Cinnamon Gardens.
5. Take a Walk on Slave Island
Here is one of the walks in this vibrant city of Colombo, which can occupy your whole day, yet give you a variety of experiences.
How about starting your day with the tranquillity of Gangaramaya temple, then having a shopping tour at the Colombo city center, and enjoying a good time with good food and entertainment at the Park Street Mews?
Scroll down to know more about the fascination of visiting these places.
Gangaramaya Temple
Gangaramaya Temple is a place of Buddhist worship in Sri Lanka. It is one of the oldest and most culturally significant temples. In fact, it is filled with astonishing carvings and statues. Moreover, it has a mix of modern and cultural architecture, and that indeed gives this temple a unique charm. Besides, the Beira Lake which surrounds the temple adds to its visual beauty.
Further, there are many things to study and observe in this temple complex. In fact, you can see a museum, library, residential hall and an educational hall here.
So, owing to all these reasons, the Gangaramaya Temple happens to be a place that you shouldn't miss if you adore Buddhist culture and the peaceful feeling it brings. You can visit Gangaramaya from 5 a.m. to 6 p.m. every day, free of charge.
Colombo City Centre
After spending some quality time at Gangaramaya, you can head to Colombo City Centre which is only a few minutes away. It is the ideal place for shopping for all the local and foreign travelers because you can buy both local and luxury brands under one roof.
You can wander around the stores full of clothing items, souvenirs, cosmetics, and even plants and flowers. Then you can reach the food studio which has a variety of food including Sri Lankan, Indonesian, Indian, Japanese, and German cuisines. You can also find a number of chain restaurants, ice cream parlors, cafes, and juice bars here.
So, you can enjoy shopping, have some delicious food, and have a cinematic experience at Scope Cinemas.
Park Street Mews
After spending the day with a variety of activities, you can reach Park Street Mews in Colombo 02 for a chilled-out night with good food. Yes! It is a street full of entertainment.
It consists of restaurants, bars, street food stalls, and venues for events. Visiting the place at night will take you to a fairytale with the vibe given out by stylish boutiques and the streets full of fairy lights. So, this is the best place for you to visit for some fun and relaxation.
6. Visit the Majestic Independence Square
If you want to have a vibe of leisure, historical value, and nature at the same place, Independence Square in Colombo is where you would take your walk to. It is surely going to be one of the best walks out there in Colombo.
Independence square is a historical monument that was built to commemorate the incident of achieving independence for Sri Lanka in 1948. And now, apart from the memorial hall, you can find walking and jogging paths, a beautiful pond with fountains, and a green lawn on the premises of Independence square.
The Memorial Hall is an open-sided hall. It has creatively carved cement columns and a shapely tiled roof. Also, there are statues of seated lions surrounding the hall. The structure of this hall is known to be made with resemblance to the 'Magul Maduwa' of the Kandyan Kingdom. Further, there's a Memorial Museum at one end of the hall.
However, at present, people not only consider this place as a historical monument but also as a place to relax a bit. So, you can find joggers and cyclists all around the day on the jogging paths of Independence square. It will be a calming experience for anyone, to sit on the beautifully maintained lawns while enjoying some cool breeze. So, never forget to spend some time by Independence Square, as you take your walks around Colombo.
Arcade Independence Square
After chilling out in the beautiful lawns of Independence square, you can then walk into the Arcade Independence Square, which is a beautifully built shopping complex with shades of the Colonial style. It has a wide range of shops, restaurants, and outlets from which you can purchase products from local and international brands. In fact, you can find a number of shops for ladies' garments, cosmetics, and accessories. It has also got electronic centers, sports hubs, jewelry stores, and handicraft shops. You can taste Sri Lankan food as well as pastries, sweets, and short eats from the cafes and restaurants in the Arcade as well. So, all these amusements together promise you a wonderful time at the Arcade Independence Square.
Things Not to be Missed During the Walks in Colombo
By now, you already know that Colombo is a city of delight, with a good number of places for you to visit and explore. However, your walks in Colombo won't be completed without the following.
Street Food
Nightlife
Experiencing the Cultural Diversity
Shopping
The following sections will brief you more about these fascinations.
Street Food in Colombo
Colombo is one of the best places to enjoy street food in Sri Lanka. The authentic Sri Lankan flavors that they offer, with a variety of food items that amuse your taste buds are sure to magnify the delight of your city exploration.
Why not try some Isso-Vade – made with lentils and shrimp, or the iconic street food dish of Sri Lanka – Kottu? You can also try vegetable samosas and colorful sherbet drinks in the streets. The best places to try street food in Sri Lanka are Aluthkade street food, Park Street Mews, the Galle Face Green, and Eat Street. Make sure you enjoy them once, and then, we are sure that you are going to taste them several times more.
Nightlife in Colombo
The nightlife in Colombo is all about illuminated streets, good music, food, and drinks. And believe us, this city has got many wonderful places for you to get these experiences at their best.
However, not every part of the city is famous for its nightlife. Anyway, the Galle Face area, and the Colombo Fort areas are crowded till late at night and thus, are suitable for night walks in Colombo. Apart from that, there are top-class restaurants, hotels, pubs, clubs, and gambling spots, if you wish to spend a night of one of a kind. You can follow your heart, and enjoy the nightlife of Colombo. Whatever your choice would be, the delight it offers would be amusing beyond a doubt.
Experiencing Cultural Diversity
As mentioned earlier, Colombo is a multicultural and multi-ethnic city. So, in this city, you can find people, monuments, and activities related to different ethnic groups. In fact, within the boundaries of Colombo, you can not only see the Gangaramaya Temple of Buddhists, but also the beautiful Red Mosque of Muslims, the Dutch Reformed Church of Catholics as well as the Kathiresan Kovil of Hindus, just a few meters away from each other. Therefore, Colombo is the best place in Sri Lanka to observe the wonderful cultural diversity of the island and to engage with different communities.
Besides, Arabic, Portuguese, Dutch and British influences are evident in Colombo, owing to the colonization period of the past. Hence, there are many differences in culture, language, buildings, and even food items among the Colombo communities. So, Colombo is one of the best places to prove to you what Sri Lankan culture is, and what a beautiful combination of elements it consists of. Hence, make sure you notice it as you explore this wonderful city.
Shopping in Colombo
Shopping in Sri Lanka is anyway unique, and delightful. Further, Colombo is one of the best places to get this experience. That is because this vibrant city has got many malls, shopping complexes, and clothing stores. Besides, they also consist of many shops that feature international brands along with local brands. They are sure to offer you a good variety of choices. You can also find Sri Lanka's exclusive fabric, arts, and Ceylon tea in these places, especially if you are shopping for souvenirs. Thus, shopping in Colombo is simply something that you shouldn't miss, as you enjoy the walks out there.
How is Accommodation in Colombo?
Staying in Colombo is very convenient for visitors as they can choose their accommodation from a number of places ranging from small holiday houses to star-class hotels. Besides, the convenience of reaching Colombo easily from the Colombo International Airport, makes you more comfortable in planning your accommodation in Colombo, as you explore this city.
You can book your accommodation upon your arrival, or even prior to your arrival with the help of the tour guides, or online reservation facilities.
How to Get to Colombo from the Bandaranaike International Airport?
Colombo is around 32 km away from Bandaranaike International Airport.
You can either take an express bus, an ordinary bus, or an airport taxi to reach Colombo city from the airport.
The Colombo Expressway Buses operate every day from 05.30 a.m. to 8. 30 p.m. and a bus departs every 30 mins. It will take about an hour to reach Colombo on an expressway bus as such. Further, you can find ordinary buses 24/7, and the journey will take about 1 and half hours through the normal route.
Apart from that, you can book a taxi online or simply take one from the airport. It is much more convenient to use a taxi if you are carrying luggage.
The Bottom Line
After all, Colombo is a top-rated travel destination that will delight you with so many exciting things different from one another. You wanna stroll through a busy street lit up with fairy lights, sipping a mocktail? Or sit relaxed by a beautiful lake, or a beach watching sunsets? Well, any of your desires can be brought about in this lively and vibrant city of Colombo. In fact, you will be amazed to discover all these attractions in this vibrant and beautiful city.
So, if walks in Colombo are not there on your 'best things to-do' list on your visit to Sri Lanka, add them right now! Even the Sri Lanka Tourism Development Authority has paid attention to developing the facilities for you in Colombo. So, it is an experience that you shouldn't miss out on, and missing it would surely make you regret it later. So, take a walk around Colombo, and make your travel complete. Happy and safe traveling!