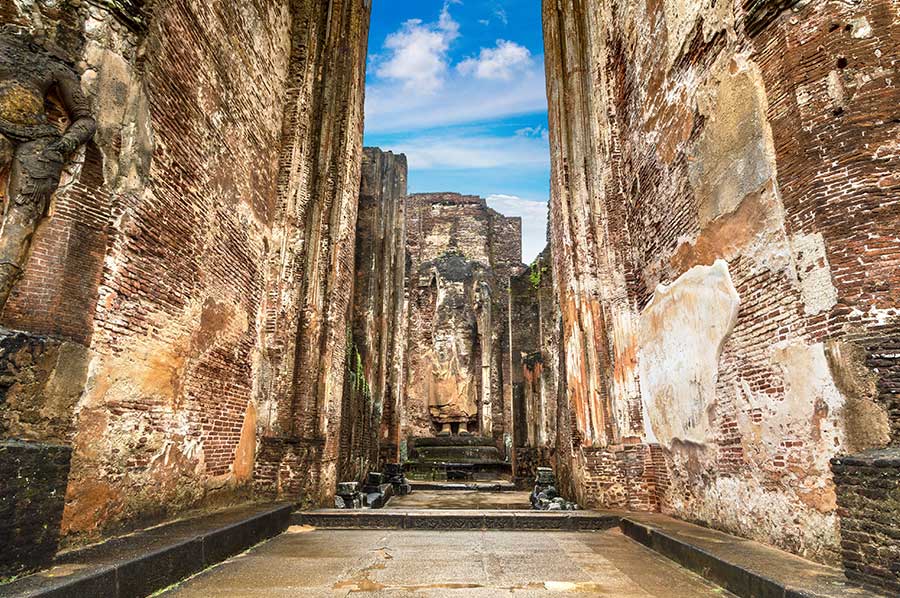 Sri Lanka, the splendid island of the Indian Ocean is simply a cultural treasure trove. And yes, the ancient cities in this country play the most important role in adding this significance to this charming island nation. However, for someone who would wish to explore the heritage of this wonderful island, a visit to the ancient city of Polonnaruwa is simply a must. And when exploring this city, you will surely identify Alahana Pirivena, as one of the most important attractions within the city limits. Hence we thought of coming up with this read to enlighten you about this wonderful place with great values!
What is Alahana Pirivena?
To be specific, Alahana Pirivena is one of Polonnaruwa's famous monuments from the days of kings and kingdoms. The Department of Archaeology in Sri Lanka has done several excavations in this place, and they have proved that this is a place with wonderful archaeological values as well. Further, history reveals that it is Sri Lanka's largest ancient pirivena complex. It spans across 70 hectares and holds ruins with elegant borders, brooks, stone projections, ponds, and gardens. All these remains prove that this place has a significant bond with the island's history. Thus, there is a lot for you to know with regard. Continue reading for a full overview!
History of Alahana Pirivena Monastery
The birth of Alahana Pirivena dates back to the region of King Parakramabahu I (1153-1186), which was of course a golden era in Sri Lankan history. During this era, the priests have used the uppermost patio of the Alahana Pirivena, as an assembly point. In fact, on poya days, monks along with the chief priests have assembled at this building. The purpose of this gathering had been to recite the "Vinaya" or rules of discipline among the monks.
Significance of Alahana Pirivena Monastery
Besides historical values, Alahana Pirivena also holds some significant artistic values. Indeed, it is a cultural paradise! It holds a number of ruins that reflect the past. There are many significant things and places that can be found in this historical place. They are as follows.
1. Baddha Seema Pasada
The "Baddha Seema Pasada," is a massive brick structure that can be seen within the Alahana Pirivena premises. People consider it as the chapter house for resident monks during the Polonnaruwa kingdom.
The small rock columns that stand from outside the building are indeed a highlight and they define the chapter house's borders. Besides, the term "schema" refers to the boundaries of the building floors, which are defined by the various border stones. The area of the lowermost floor is approximately 106 x113 square feet. We also know that much of it looked red, with paint flecks still visible among the debris. They are in relatively good condition, and we may probably assume that the entire construction would have resembled most other chapter houses of its type. For example, we frequently replicate these structures, such as the well-known Lohada Pasada and Sathmahal Pasada, with a high, pointed tiled roof on top and the entire structure tapering upwards.
2. Kuda Gal Viharaya
A cave known as the Kuda Gal Vihara is there on the eastern side of this chapter house. This is a temple with religious values. It is located on a lower terrace and houses three miniature stone seated Buddha figures. However, it's not easy to find these caves. Despite being close to a major tourist route, there is no walkway or directions. To get to this temple, you have to follow the main pilgrim route until you see the Badda Seema Malakaya on your left. Then, you have to walk through the ruins' pathway towards the Malakaya from here, and shortly before reaching the Malakaya, you'll see this cave shrine.
3. Lankathilaka Pilimage
The Lankathilaka Pilimage, also known as the Lankathilaka Image House, located on the south side of Kiri Vehera, is a monolithic Buddha image house built by King Parakramabahu. The structure is entirely made of stones, and the exterior walls are covered with carving and patterns. The Buddha statue is similarly built entirely of clay bricks and stands at a height of 41 feet. This statue was built using specially crafted flat bricks, and the area above the shoulder is now gone.
Two enormous brick pillars stand at the entryway to the Lankathilaka structure. The tallest one stands at 58 feet. These pillars were estimated to have been at least twice as large before they were destroyed. According to records, this structure has had five stories.
The design of the two stairways leading to the upper floors of the Lankathilaka stupa house is unique. A step's breadth is only around 4 inches, and each one is about one foot in height.
Another characteristic of the Lankathilaka Image House that many people are unaware of is its uniqueness. The Nagini picture that can be discovered in a balustrade at this image house, is the only one of that sort now available in Sri Lanka.
4. Kiri Vihara
As per history, Subhadra, King Parakramabahu I's queen, built the dagoba Kiri Vihara. However, this place was ignored for several years. As per history, the last renovation of this stupa happened 700 years before its discovery in the recent past. Still, the initial lime plaster of this stupa was discovered to be in excellent shape even after several decades.
Artistics Values of Alahana Pirivena
The external walls of the ruins of the Alahana Pirivena with bas-reliefs still exhibit the special features of the small buildings of Polonnaruwa architecture. They are all finely carved in brick with a lovely coat of stucco, as if they were a page from history. Besides, the moonstones of the small chapter house in Alahana Pirivena are indeed special. They signify a blooming lotus within a line drawing at the middle and a row of swans running along the perimeter greeting the visitors.
Further, there are several well-built symmetrical ponds on these premises. They may have been used for bathing and several wells have been found, which may have been used to store water.
There is also a water drainage system with clay pipelines, stone outlets, and ornate gutters. Many interpret that the large hospital complex here is similar to the one which was in Mihintale. Still, having sanitary facilities connected to the living quarters and having a separate treatment section, makes this hospital complex more special. Besides, the 'beheth oruwa', or medicine trough that you can see here is beautifully designed.
This is a glimpse of the artistic features that the Alahana Pirivena holds. All these significant features of Alahana Pirivena reveal to the world the grandeur of Sri Lankan culture.
How to Reach Alahana Pirivena Monastery?
Reaching the Alahana Pirivena Monastery is never a hard task, once you reach the ancient city of Polonnaruwa. The following section will brief you on the best routes to arrive at Polonnaruwa from the main cities around.
Route from Bandaranaike International AirPort to Alahana Pirivena Monastery -Polonnaruwa Sacred City

Through: Katunayaka(through highway)/ Ambepussa / Kurunegala / Dambulla
201 Km from Katunayake
Travel time

If you are aiming to travel by a public bus
By a Private Vehicle / Taxi Service
Route from Colombo to Alahana Pirivena Monastery – Polonnaruwa Sacred City

Through: Ambepussa / Kurunegala / Dambulla
220 kilometers from the capital of Sri Lanka
Travel time

If you are aiming to travel by public bus
By a Private Vehicle / Taxi Service
Route from Kandy to Alahana Pirivena Monastery -Polonnaruwa Sacred City

Through: Matale / Dambulla / Habarana
145 Km from beautiful Kandy the sacred city
Travel time

If you are aiming to travel by a public bus
By a Private Vehicle / Taxi Service
The Bottom Line
Sri Lanka is undoubtedly a place rich in culture and natural beauty. Besides, Alahana Pirivena, in the wonderful city of Polonnaruwa, is a site where you can visualize the kingdom's history as a drama series. So, we anticipate that particularly Alahana Pirivena-Polonnaruwa, the archeological heaven, is a well-known tourist destination that draws visitors from all over the world. Hence, when you visit Sri Lanka, don't forget to include this amazing spot on your agenda. Happy and Safe Travelling!