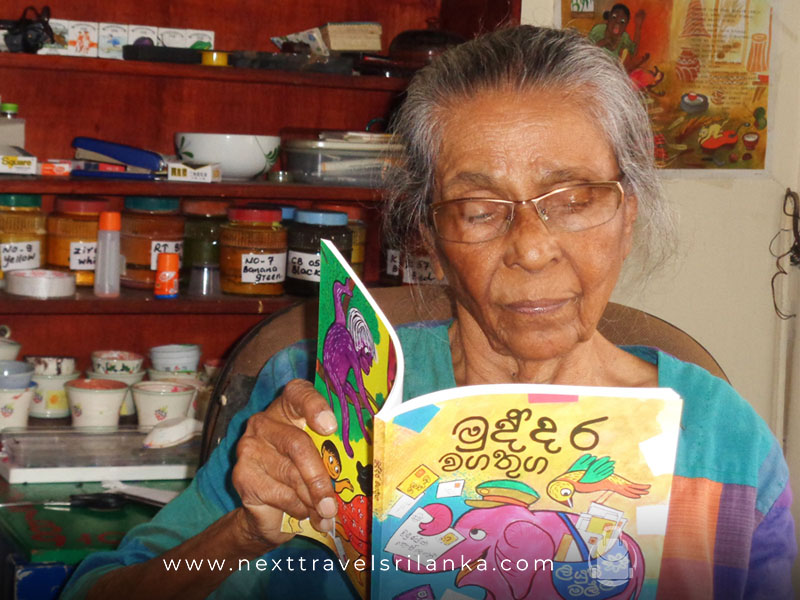 Sri Lanka is a country that owns rich literature. And yes, there are many authors who contributed to this long journey of Sri Lankan literature as well. However, among them, Sybil Wettasinghe is indeed special, as her focus in literature was different. In fact, she was an author who gave much attention to bringing out creative content for small kids. Apart from being an author, Sybil Wettasinghe was also an illustrator and writer. This fact simply made her more special, and thus, she undoubtedly became a national icon in Sri Lanka.
Owing to all these reasons, Sybil Wettasinghe is a significant personality worth knowing about. So, why not? Continue reading to know more about her life and career!
Early Life of Sybil Wettasinghe
The maiden name of this wonderful writer was Sybil De Silva. She was born in 1928 in the village of Gintota, situated in the suburbs of Galle, in southern Sri Lanka. Sybil spent the first six years of her childhood in the village of Gingtota. Then, her family moved to Colombo when she was 8 years old. Accordingly, she started schooling at Holy Family Convent Bambalapitiya, a leading school in Sri Lanka.
As per her recollections, she has been an investigative child since her small days. In fact, she had asked questions about everything from her parents, which made them enroll her in school when she was much younger. She used to love the village she lived in and was grown up amidst nature. Moreover, she had been into drawing imaginary pictures and writing stories of her own since she was a child.
With that influence, she started writing children's stories for the Ceylon Observer. In the meantime, she was invited to do drawings in a children's book by H.D. Sugathapala. Admiring her talent, she got the opportunity to draw pictures in the 'Ape Gama' Novel by Martin Wickremesinghe as well. Of course, this was a turning point in her life.
Known widely as a children's writer, it was her desire to bring out the inner child in herself. Indeed, that had been the driving factor for her writing. Her autobiography, titled 'Eternally Yours' describes her childhood in rural southern Sri Lanka and how it affected her career and life. She ends her autobiography with a message which says "Keep a child in your heart for eternal life". And yes, that simply sums up her motto of life, which kept her writing interesting and unique children's stories, even in her old age.
Career of Sybil
At the age of seventeen, Sybil Wettasinghe joined the Lankadeepa newspaper. Thereafter, she moved to the much-demanded Lake House publications in 1952. There, she got the opportunity to become the leading illustrator of the Janatha newspaper. Her entry into LakeHouse opened the door for her to chase a career in journalism.
Besides, she was the first Sri Lankan woman to work full-time as a journalist in Sri Lanka. However, upon entering Lakehouse, she got access to an entire network of newspapers. Accordingly, she wrote and illustrated for the newspapers: Sunday Observer, Sarasaviya, Daily News, and Silumina. Later, she got married to Don Dharmapala Wettasinghe, who was the Chief Editor of all the Lakehouse Newspapers in 1955.
Sybil's Books
She entered the arena of writing stories in 1952 while working at the Janatha newspaper. Her first creation was a narrative named "Kuda Hora". She did this for the children's page of the newspaper. Later, she developed this narrative into a book. She then involved herself in writing and illustrating over 200 children's books.
Most of her books have been popular internationally. In fact, they were translated into languages like English, Japanese, Chinese, Swedish, Norwegian, Danish, Korean, Dutch, and Tamil. Although Sybil Wettasinghe mainly focused on children's stories, she released a collection of short stories named 'My Giddi Aunty' for adults in 2012.
Some of her books can be listed as follows:
The Umbrella Thief
Kusumalatha
Sooththara Puncha
The Child in Me
Meti Gedara Lamay
Run Away Beard
Magul Gedara Bath Netho
Rasawathi
Little Red Car
Uda Giya Baba
Hakuru Thalapa
Podday Poddiy
Kirihami
Tikira
Keum Yodaya
Vesak Lantern
The Devil Dance
Monster in the Well
My Giddi Aunt
International Acclaim
The story "Kuda Hora" was first published in 1952 and it became a success in Sri Lanka as well as foreign countries. It was translated into many languages including English and Korean. Some of her books which were translated into other languages include:
Holity the Fox in 1994, translated into Japanese, Korean, Swedish, Norwegian, Chinese, and English
Little Granny in 1970, translated into: Tamil and English
Poddi and Podda in 2009. Translated to: Japanese
Thambaya Takes a Ride in 1986. Translated into: Tamil and English
Run Away Beard in 1999. Translated into: Japanese, Tamil, and English
Strange Visitors to the Cat Country in 1994. Translated into: Japanese, English, Tamil
Wesak Lantern in 1965. Translated into: Tamil and English
Eternally Yours in 2009. Translated into: Tamil and English
Little Red Car in 2000. Translated into: Tamil and English
Monster in the Well in 2010. Translated to: English
Child in Me in 1995. Translated into: Dutch, English, Tamil, and Japanese
The Umbrella Thief in 1956. Translated into: Japanese, Chinese, Swedish, Norwegian, Danish, English, Korean, and Tamil
Her books were also popular in Japan and Scandinavia. She used to hold exhibitions in Japan regularly, where she received many awards for her books.
National Awards Won by Sybil Wettasinghe
Sybil Wettasinghe was able to receive many awards from the Sri Lankan government, and societies. Some of them are as follows.
"Vishwa Prasadini" Award for Art and Children's Literature was presented by the 1st Prime Minister of Sri Lanka Hon. Sirimavo Bandaranayaka, in 1996
"Rohana Pradeepa" Award from the University of Ruhuna in 2003.
"Galu Pahansilu" Award from the Young Men's Buddhist Association Galle, in 2004
Kala Keerthi Award presented by the Democratic Socialist Republic of Sri Lanka, in 2005
"Solis Mendis Award" in the year 2007
The State literary awards – For "Dura Gamanak"
International Awards Won by Sybil Wettasinghe
Sybil Wettasinghe has achieved much international acclaim. Her children's stories secured awards both in Europe and Asia. Some of her awards include:
Isabel Hutton Prize for Asian Women Writers for Children in 1965 for 'Vesak Lantern'
'Kuda Hora' was chosen for the Best Foreign Book Award in Japan in 1986. In 1987 it won the Japanese Library Association Award as the most popular children's book
Nikkei Asia Prize for Culture for 2012
The Gratiaen Prize for Most Creative English Book in the year 1995 – for "The Child in Me"
State Literary Award for best English Children's book in the year 1996 – for "The Wesak Lantern"
Prize for illustrations of "Deeptha Lama Maga" – awarded by prestigious Biennale of Illustrations in Bratislava
State Literary Award in the year 1971 – for "Magul Gedara Bath Natho"
Best Children's Picture Book award by Ministry of Cultural Affairs of Japan, in 1986 – for "The Umbrella Thief"
Most popular Children's Book award by Tokyo Children's Library, in 1987.
Best Juvenile Children's Book Award by Arts Council of Sri Lanka in 1992 – for "Meti Gedara Lamay"
Best English Children's Book award by Arts Council of Sri Lanka in the year 1994 – for "Wooley Ball"
Gratiaen Prize for best English Children's Book in the year 1995 – for "The Child in Me"
Award for "Hoity the Fox" – By the Ministry of Culture and Social Welfare Japan, in 1995.
Award for Illustrations of the "Deeptha Lama Maga " Sinhala Children's Bible in 1989, presented by Biennale of Illustrations Bratislava.
Later Life of Sybil Wettasinghe
After the death of her husband Don Dharmapala Wettasinghe in 1988, Sybil Wettasinghe lived with her three children and five grandchildren. However, she is well-known to have led a peaceful life where she listened to Pali chants and Buddhist sermons at her home in Nugegoda.
This exemplary writer and illustrator, Sibyl Wetasinghe, died on the 1st of July 2020 at the age of 92 due to complications related to old age. Although she is no more, she is always celebrated by those who were fans of her stories and illustrations.