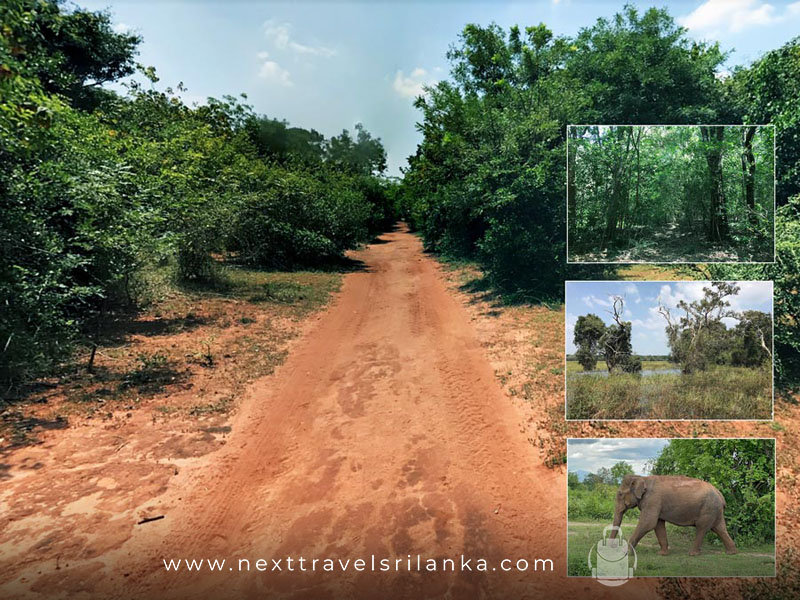 When we talk about Sri Lanka, natural beauty is something that no one can ignore relating to the context. In fact, it is an island filled with lush greenery, the very point which makes the country a major touristic landmark. Most important thing is that the country itself puts so much effort into enhancing the given beauty by conserving them. In fact, we can find national parks, wildlife sanctuaries, botanical parks, wetlands, etc, from each part of the island without an exception. All these items elaborate on the natural beauty and its value without doing any harm. One such example is Madhu Road National Park. It is less known, yet holds a high significance when it comes to natural attractions. Hence, we thought of enlightening you about this wonderful land. Continue reading for a full overview!
History of Madhu Road National Park
Madhu Road National Park has gained its recognition as a sanctuary at first. This is one of the few sanctuaries that we could find in the Northern part of the country. With the end of the civil war, the government executed several changes in the Northern province for the purpose of renovating the damages that happened. One of such major changes they made was with the sanctuaries.
Due to the issues such as illegal sand excavation, tree cutting, and unplanned reconstructions, the natural settings of these lands were damaged. As a solution to all these problems, the Governmental Integrated Strategic Environmental Assessment of Northern Province, collaboratively with the United Nations Development Programme and United Nations Environmental Programme, announced the Madhu Road as a National Park in 2014.
When making it a national park, they excluded all the reconstructed parts and surrounding state-owned parts to separate the remaining area for the national park. Therefore, the original land of 65,920 acres decreased to 63,067 acres when the sanctuary became a national park. Yet, in order to preserve the natural beauty of the park, they stepped on this action, which has become successful and preserved for many years.
Physical Characteristics of the Park
Madhu road national park, as mentioned above, is in the Northern Province of this tiny Island. It is precisely 25km east of the district of Mannar, the lagoon area of the Northern part of the island. This is a plain area where the forest lies beside a wild road which spreads for around 267km2. Covered with varieties of plants and huge trees, it reveals the naturalness it possesses.
Since this is in an area surrounded by sea, the experience it gives is priceless. A great combination of sea breeze, wild smell, and animal sounds opens up your mind to a different world while giving it a soothing and relaxing touch. Hence, a visit to this green world amidst the dry Mannar grounds is worth having if you are traveling towards the Northern part of the country.
Reasons to Visit Madhu Road National Park
The first and foremost importance of this park is that it is one of the rarely-found national parks in the Northern Province of Sri Lanka. There are around three or four other known national parks in this province. Along with that, the inclusions of it and its environment add some more significance to the park. Apart from that, the following aspects of this park, further enhance its significance, giving you more reasons to visit it.
Flora & Fauna
This is especially habitat for dozens of rare and unique wildlife and bird varieties. Perhaps you can find some rare species that cannot be found within other parts of the country as well. Mentioned below are some of the wild species that can be found here.
Asian elephant
Bear
Chital
Golden jackal
Grizzled giant squirrel
Even different types of deers and monkeys also live there. They can be spotted anywhere in the park. Hence, the more attentive you be, the more wildlife you can find.
Other than that you can find numerous varieties of both endemic and migrant birds. Following are some bird species that dwell in this park.
Asian palm swift
Jungle Prinia
Alexandrine parakeet
Ashy-crowned sparrow-lark
Ashy Prinia
Spotted dove
Sri Lanka grey hornbill
Sri Lankan junglefowl
Tawny-bellied babbler
White-bellied sea eagle
Ashy wood swallow
Asian koel
Baya weaver
Black drongo
Black-hooded oriole
Black-rumped flame back
Black-winged kite
Blue-faced malkoha
Brahminy kite
Brown-headed barbet
Changeable hawk-eagle
Common emerald dove
Common Iora
Coppersmith barbet
Common myna
Common tailorbird
Crested honey buzzard
Common wood shrike
Crimson-fronted barbet
Greater coucal
Greater racket-tailed drongo
Green bee-eater
Green imperial pigeon
Grey-breasted Prinia
House crow
Along with them, there are rare varieties such as parakeets, sparrow-larks, wood swallows, hawk-eagles, pigeons, and peacocks. Thus, this is a place that any wildlife or bird lover can get many more benefits in collecting more information about both known and unknown species.
Shrine of Our Lady of Madhu
This is the only exception that can be found in the park instead of flora, fauna, and natural beauty. This is a Roman Catholic Marian Shrine which is 400 years old. It is a well-known pilgrimage site worshipped by Roman Catholics in Sri Lanka. This is the holiest and a well-known Catholic temple of both Tamil and Sinhalese devotees.
Considering the location of this Catholic temple, it acts as a symbol of peace between the two ethnic communities living in the area. It is also renovated and reconstructed numerous times to patch up the damages done by the war and refugee camps after the war. However, now the area is completely safe and sound for pilgrimages and visits. It is an unexpected monument in such a nature-filled environment.
Road to Madhu Road National Park
There are 4 main transportation modes that you can take to reach Madhu road national park; by bus, by train, by taxi, or by drive.
If you are traveling by bus you need to take a bus that goes to Vavuniya through Nittambuwa. Then you can take a bus from Vavuniya to Mannar. After that, on your preference, you can choose either a tuk-tuk or a taxi to reach the park. This will take around 7 hrs. Quite tiring, yet the outcome is beneficial.
If not, you can travel by train. You can take the Jaffna train from Maradana station. After around 4-hrs of a journey, you can get down at Vavuniya station. Thereafter you can either get a bus or a taxi to reach the park.
Apart from that, you can even take a taxi from Colombo to Rathmalana and then take a flight from Ratmalana to Jaffna and end up at the park by bus or a taxi. Yet, flights are hard to book, and rarely available.
However, if public transportation is not your choice, you can also take a taxi or drive from Colombo to Madhu road directly. The trip would take around six hours, and the prices would vary depending on the service providers.
Still, the cheapest way to reach the park is by bus. However, the fastest is to take a flight for half the journey, which is really expensive and not very common.
The Best Time to Visit Madhu Road National Park
The air temperature in this location remains at a similar level throughout the year. There is no wavering in the temperature. Only the length of the day varies slightly throughout the year. There is a difference of around 1 hour between the longest and the shortest day. Hence, since this is a park to go through, you have to consider the rainfall mainly. Rain is uncertain in this area. However, the lowest rain will be in the month of June while the highest rainfall is in the month of November. Therefore it is better to choose either June/July or some other time except for November to have a valuable and worthy visit to the park.
The Bottom Line
All in all, it is very clear that this park is the best choice for especially the animal lovers and bird watchers who have the urge to explore new species. Besides, the pleasant surroundings that it houses have the capability of soothing your body and soul. Hence, if you are longing to witness the best of nature on this island, we suggest a visit to this park. So, never miss this chance, and regret it later. Visit Madhu Road National Park, and enjoy it at its best. Happy and Safe Travelling!