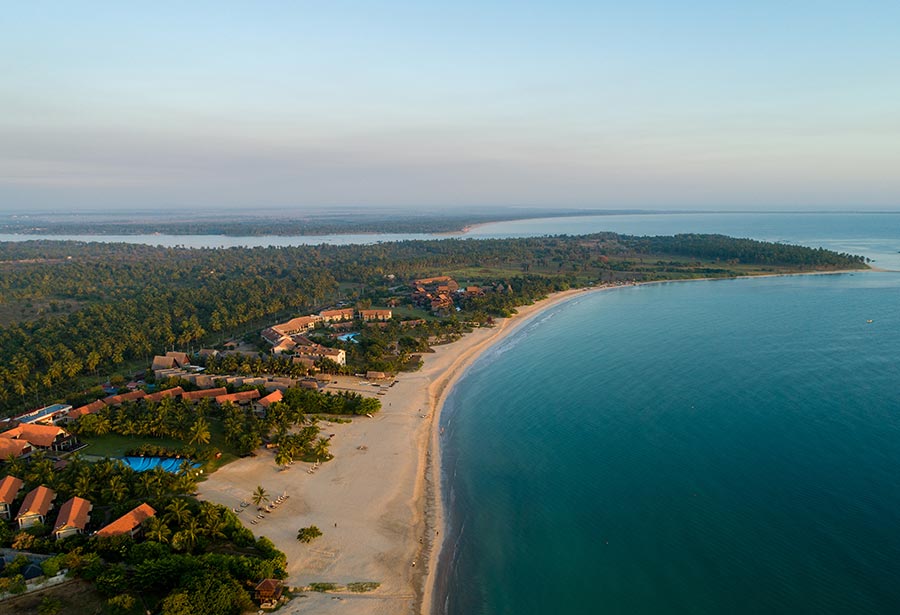 The island nation of Sri Lanka is an internationally popular location as one of the best beach destinations in the world. So, if you are a fan of natural beauty, then Sri Lanka must be on your bucket list. The gorgeous beachline of the island is one of the most attractive features of the whole country. There are numerous golden beaches around the country that are very popular among tourists. Are you also wondering what beach to choose in Sri Lanka for your sun-kissed vacation? Then, you should definitely give Passikudah a chance. It is undoubtedly one of the best beaches in the country!
You will often find Passikudah at the top of the list of best beaches in Sri Lanka. Keep reading to know why you should definitely add Passikudah to your must-visit destinations and here is all you need to know about this dream destination.
Why Visit Passikudah?
Passikudah is an absolutely amazing beach destination. In fact, this small coastal village is the perfect location to have a quiet and tranquil vacation. And yes, it will probably be one of the prettiest beaches that you have visited so far!
The deep blue ocean and the white seashore make it a picture-perfect location as well. Furthermore, it is a safe and nice spot to have a swim in the warm waters. Since the beach is shallow, a traveler from any age group can enjoy the beach day without many safety concerns. The serene environment around the serene beach is ideal for a relaxing beach day. In comparison with the other popular beaches of the country, Passikudah is a less crowded beach. Therefore, the beach is hardly polluted and much more enjoyable. So what's not to love about Passikudah?
In addition, Passikudah is increasingly getting local and international recognition as a tourist destination. So, basically, there is every facility that you may require as a traveler there for you to have a convenient and stress-free vacation. Moreover, if you are someone who looks for a little bit of adrenaline rush during your traveling, then, Passikudah is the perfect choice for you! Yes, you can try several water sports on this beach. Then, there are many service providers in the area for you to try the water sport of your choice with ease.
And also, your photographs from Passikudah will draw a lot of attention from social media as the location is literally postcard-worthy. However, don't forget to visit the other tourist attractions close to Passikudah as well. They will surely magnify the delight of your travel!
Things to Do in Passikudah
Are you also someone who requires a lot of planning prior to your trip? Well, there are a lot of travelers who can relate to you. In order to make it a little bit easier for you, here are some of the must-try activities if you are planning to visit Passikudah during your tour in Sri Lanka. Keep scrolling to read about those activities in detail.
1. Spend a Day on the Passikudah Beach
Passikudah beach is obviously the place that gets the most attention in the Passikudah area. Many call it one of the best beaches in the country due to its soft white shoreline and warm translucent waters. Because of the climatic conditions up there, the skies are clear and the ocean is warm throughout the year. The shallow beach and the perfect weather conditions make it perfect to try many water sports such as snorkeling, diving, and sailing as well. It is also a beach where you can enjoy swimming at any time of the year. So, if you are looking forward to having a relaxing time at the beach, you'll have a great time at Passikudah. You can enjoy the breathtaking views of the dazzling Indian Ocean and the sandy surroundings at the same time.
Apart from that, Passikudah doesn't get that many tourists in comparison with the other popular beaches in Sri Lanka, especially in the southern area. Therefore, this is an ideal location if you don't like crowded beaches. You can enjoy your beach day to the fullest here.
Then, there are several star-class hotels and restaurants where you can have a luxury beach holiday. Also, have a delicious seafood meal from a beachside restaurant. The local flavors amidst the beautiful views will add to your beach experience. Hence, a day at Passikudah beach will be one of the most memorable experiences that you can have in Sri Lanka.
2. Visit the Kalkudah Beach
Kalkudah beach is within close proximity to Pasikudah bay. You will be able to reach the Kalkudah beach with just a 20 minutes drive from Passikudah. The gloriously secluded beach is basically a 4 km-long stretch of sand. So, the view of serenity goes as far as the eye can see.
Kalkudah beach is even less visited than Passikudah beach. So, you will be able to get a similar experience as the Passikudah beach here as well. However, it is quieter and more remote at Kalkudah beach. Hence, if you need some alone time to recharge yourself during the vacation, this is the place to go! It is also ideal to have a fun-filled family vacation.
This gorgeous beachline is backed by coconut palm estates and cashew nut plantations. The perfect blend of blue, white, and green colors is such a refreshing view. However, the beach is not suitable for swimming if you are a beginner. But still, you can walk or jog through the long sandy beach for hours, enjoying the satisfying sea breeze. There will be some local fishermen with their fishing nets on the beach.
Even though this is a gorgeous destination, it is still not developed as a tourist destination. So, there aren't that many hotels or restaurants there other than some low-key stalls. Therefore, if you are planning to spend the day at the Kalkudah beach, make sure to pack a meal and some snacks on your way.
3. Go on a Cycling Tour
A bicycle ride is unarguably the best method to explore Passikudah. Getting to know the area more will be an enriching experience for your beach vacation. It will be easier to understand the local culture and also appreciate nature through a fun bicycle ride. Especially if you are an adventure-loving, avid traveler, a cycling tour is a must-have experience for you in Passikudah. And then, it is important to protect the environment when you are traveling. So, cycling is the most eco-friendly method of traveling. Many local and foreign tourists consider it the most fun way to discover new horizons, especially in an exotic area like Passikudah. Furthermore, if you are traveling on a low budget, cycling is again the most cost-effective method.
There are several service providers in the area from where you can rent a bicycle and also a tour guide if you need one. Some hotels also include cycling tours in their package. Mostly, these cycling tours curate around the popular tourist attractions of Passikudah. In addition, if you are traveling with a service provider, the package will include meals and refreshments as well. As a whole, a cycling tour is a convenient and time-saving method to enjoy the beauty of Passikudah. In order to make your cycling tour more pleasurable, make sure that you are physically and mentally enough for the tour and be mindful of your safety gear.
4. Try Some Water Sports
Passikudah is blessed with the perfect coastal conditions for many fun water sports. The most sought-after water sports at Passikudah beach include surfing, snorkeling, diving, windsurfing, water skiing, and kite surfing. Yet, if you are a more experienced sportsman, then you can also try more adventurous water sports like jet skiing, kite surfing, and kayaking.
Besides, Passikudah bay is well-known for its offshore coral system. The best way to explore through the colorful corals which are filled with rich marine life is by snorkeling and scuba diving. Spending some quality time in the underwater world is such a rewarding experience to have in Passikudah. Passikudah is also one of the safest beaches in the country to try surfing even for beginners.
Since Passikudah is mostly known as an ideal spot for many water sports, there are several service providers in the area in this regard. So, you don't have to worry about the equipment as you will be able to rent any equipment you need for very reasonable prices. You can also get training from well-trained instructors in such institutions. Apart from these water sports, you can also try activities like boarding a catamaran for a sunset cruise. After all, who doesn't like a little bit of luxury during a vacation?
And, the vibrant sunset will be one of the most picture-perfect views that you have ever witnessed. Then, exploring the wrecks of the HMS Hermes will be an interesting activity if you are trying diving.
5. Explore Batticaloa Town and Fort
Batticaloa town is the closest major city to Passikudah. It is also the administrative capital of the Batticaloa district.
This is an area that suffered the most due to the three-decade-long civil war which prevailed in Sri Lanka and other natural disasters such as tsunamis, cyclones, and floods. However, the town is emerging as a tourist attraction as this is an ideal location to absorb the local essence from the Eastern province of Sri Lanka. The majority of the population of Batticaloa consists of the Tamil community. Since it is a very compact town, you can easily walk around the town to explore the local lifestyle. If not you can easily hire a tuk-tuk to go through the town. You can also buy souvenirs to take home from the local stalls in Batticaloa. Also, don't forget to pay a visit to the Batticaloa lagoon.
After your tour in Batticaloa town, another destination which is worth visiting is the Batticaloa fort. The Portuguese built this in 1628. This historical site is located on the island of Puliyanthivu. After the Portuguese, the Dutch and British rulers also used the fort for administrative purposes. It is a remaining stronghold from the colonial era. There are many cannons and colonial remnants in the Fort which are placed overlooking Batticaloa city. Furthermore, you can get an amazing view of Batticaloa city from the fort. Due to these fantastic views, it can also be considered an Instagram-worthy location.
6. Visit the Kokkadicholai Thaanthonreeswarar Kovil
Here is a quite different, yet unique experience that you can have during your beach vacation. The easiest way to get a glimpse of the local culture of an area is to visit a religious site. So, in Passikudah, you can visit the Kokkadicholai Thaanthonreeswarar kovil.
It is a Hindu kovil situated approximately 1 hour away from Passikudah. According to historical records, the roots of the kovil run back to the 4th century. Therefore, it is one of the oldest kovils and an important kovil for the Hindu community of Sri Lanka. This kovil is dedicated to lord Shiva. According to popular belief, this temple was built by Ulaga Naachi of the Chola empire. In order to reach the kovil, you have to go through the Manmunai bridge. There is a colorful entrance to the temple with two graceful blocky pillars on either side.
The kovil represents Hindu devotion and it attracts thousands of devotees from around the country. Even people belonging to other religions also visit the Hindu temple to take blessings from lord Shiva. There is an annual chariot festival in the kovil which is usually held in mid-August. It is marked by processions, prayers, and holy acts.
The devotees believe that the Hindu temple is a miraculous site. There are several mythical stories about these miracles happening in the kovil premises. However, if you are visiting during the festive season, be mindful of the crowds as it can get pretty hectic there.
Where is Passikudah Located?
The small coastal town of Passikudah is situated in the Batticaloa district of the Eastern province of Sri Lanka. It is located 35 kilometers northwest of Batticaloa town. The distance from Passikudah to Colombo is about 296 kilometers. And then, the distance from Passikudah to Kandy is about 189 kilometers. Batticaloa and Trincomalee are the closest major towns to Passikudah. Some of the attractions around Passikudah are as follows.
Kallady Beach
Batticaloa Lighthouse
Palmyra Handicraft Outlets
Passikudah Bay
Batticaloa Bay
Make sure you visit them as well, while you explore the beautiful town of Passikudah!
How to Reach Passikudah?
If you are traveling from Colombo, the recommended and time-saving method is taking a domestic flight. Besides, if you are around Negombo, you can take a taxi to Negombo and then take a flight to Passikudah from there. However, it can be quite expensive. So, the cheapest option is traveling by train.
You can take a train to Polonnaruwa from the Fort station and travel the rest of the distance by bus or taxi. You can also travel by bus. If so, you have to take a bus to Habarana from the Colombo Bastian Mawatha bus terminal and it will be easier than traveling to Polonnaruwa by train. Then, if you don't like to travel by public transportation, you can easily arrange yourself to the location from the airport itself as well.
Then, if you are traveling from Kandy, the recommended option is traveling by bus and train. So, from Kandy, first, you have to take a bus to Colombo and then get the train to Polonnaruwa from the Fort station. Then. from Polonnaruwa also, you need to take another bus to Passikudah. As you can see, this can be quite a journey, and the whole journey will take around 10 hours. So, if the budget is not a problem, you can also book private transport from Kandy to Passikudah. This can be pretty costly but you will be able to reach Passikudah within a short period of time.
Best Time to Visit Passikudah
Most of Sri Lanka's coastal areas are almost always warm and sunny. This part of the country is very dry and hot. So, during the summer, the temperature of this area can rise up to 37°C. During the colder months, the temperature can go down to 21°C. The average temperature stays around 28°C.
Then, the warmest month for Passikudah is usually May. It receives the most rainfall in October and the least rainfall in the month of June. While Passikudah is often considered a year-round destination, the best time to enjoy Passikudah to the fullest is between the months of March to October.
Accommodation Facilities in Passikudah
Finding accommodation facilities in Passikudah won't be a problem for you as there are many hotels and resorts in that area. It has been rapidly developing as a tourist destination. In fact, there is a wide range of hotels from star-class to low-key resorts that you can choose from according to your budget requirements. Most of these places are ideal to have a relaxing vacation as they are not overcrowded in any part of the year.
You can do your research online beforehand or get recommendations from your tour guide in choosing your place of stay in Passikudah. It will be convenient for you to book the hotel prior to your visit to avoid any hustle.
The Bottom Line
After all, do you need any more reasons to book your tour to Passikudah right away? This small beach hamlet has so much to offer if you are a fan of beaches. Apart from the stunning beaches, there are several other tourist destinations that you can visit to make your tour more valuable for you. You will be collecting a lot of unforgettable memories in Passikudah for you to cherish for a lifetime. Now, this is your chance to add Passikudah to your travel list and plan an epic holiday with your loved ones in the coastal paradise. Happy and safe traveling!