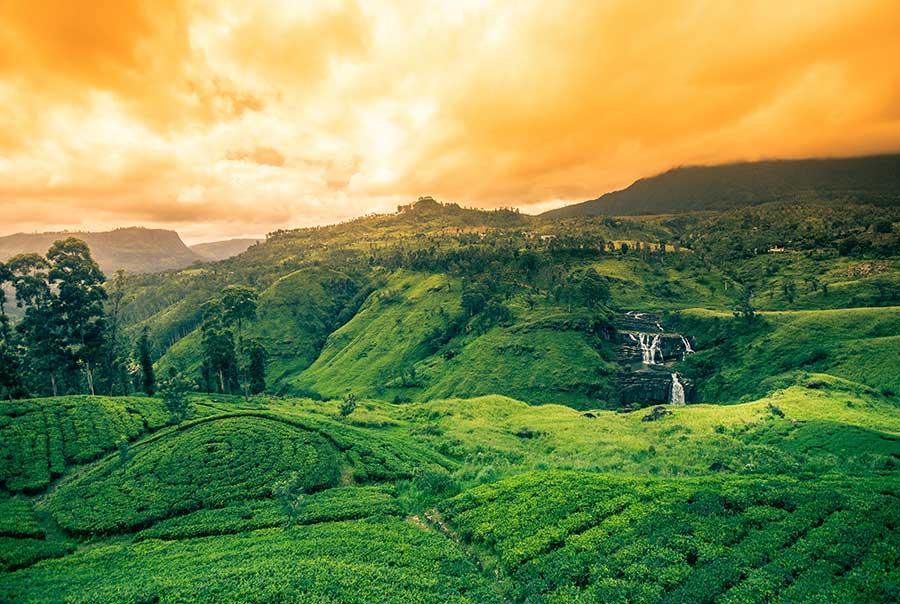 Sri Lanka is unarguably one of the most beautiful countries in the world. Nevertheless, if you are a photography enthusiast, Sri Lanka is a country that you should visit at least once in your lifetime. You will find so many amazing subjects for your photography on this beautiful island in the Indian ocean. Specially, Sri Lanka is an ideal location if you are into nature and wildlife photography.
There are so many tourist destinations in literally every corner of Sri Lanka. Among them, nature and wildlife parks get the most attraction from tourists from all around the world. These destinations will provide you with the perfect opportunity to capture Sri Lankan nature at its best.
Besides, from the gorgeous beachline to the greenish central hills of the country, the whole of Sri Lanka is basically a paradise for nature photographers. Keep reading to get more interesting facts about nature photography in Sri Lanka.
Why Should You Choose Sri Lanka for Nature Photography?
Nature photography takes a special talent. Then, in order to capture the best shot, the location also plays a special part. And as mentioned earlier, Sri Lanka is filled with many such locations.
In fact, there are so many less visited yet gorgeous places on the beautiful island of Sri Lanka. So, you'll be able to take some unique photographs in these special locations of the country.
Furthermore, the huge national parks provide safe havens for a variety of wildlife. Therefore, obviously, you will be left with so many cool subjects for photography in Sri Lanka.
Then, there is a well-established tourism industry in Sri Lanka. Thus, it is very convenient for a tourist to arrange an amazing tour of the paradise island and capture some iconic photographs of a lifetime. You can also refer to the photographs taken by famous photographers in Sri Lanka to get an idea about the capacity for photography here.
So, owing to all these reasons, we can undoubtedly say that Sri Lanka is one of the best places for nature photography!
Best Places for Nature Photography in Sri Lanka
Since there are so many popular tourist destinations in Sri Lanka, you may get confused about what places to choose for your nature photography tour. It is better if you can do your own research prior to your visit to choose the places according to your interests and convenience. However, here are some of the best and top-rated locations that you should consider paying a visit to if you are visiting Sri Lanka for a nature photography session.
1. Sigiriya Rock Fortress and Pidurangala Rock Summit
Sigiriya is one of the most sought-after tourist attractions in Sri Lanka. The historic monument is held in high regard as an architectural marvel of the country. According to the Sri Lankan historical records, King Kashyapa built Sigiriya as his palace to protect himself from the attacks of his brother. It had been a Buddhist monastery for a long time in the past, specifically until the 14th century. Currently, it is one of the most visited tourist destinations in Sri Lanka.
Many tourists visit Sigiriya to capture unique photographs in the iconic background. Apart from the world-famous frescoes and the historic features, there is a breathtaking, panoramic view of the surrounding from the top of the Sigiriya rock fortress and Pidurangala rock summit. Pidurangala rock summit is a nearby hilltop to the Sigiriya which provides an unbelievable view of the rock fortress and its surrounding.
The view of the forested cover from the top is actually a sight for the sore eyes. You'll be able to take some creative shots which highlight the significance of Sri Lanka and nature at the same time. In addition, you will have so many angles to work with in the wide space.
The Sigiriya rock fortress stands with grandeur in a scenic small village named Sigiriya, in the Matale district of Sri Lanka.
2. Nuwara Eliya
Nuwara Eliya is unarguably one of the most beautiful cities in Sri Lanka. It is often referred to as the 'Little England' of the hill country. The chill weather, lush greenery, and eye-catching locations make Nuwara Eliya one of the best tourist destinations in the country.
Furthermore, the colonial-era buildings and the well-maintained pretty gardens add the look of a small British village to the area. It is simply one of the must-visit destinations in the country. It is the perfect place to have a relaxing vacation. Then, Nuwara Eliya is a much-loved location by photographers as well. The lush greenery and the misty climate provide the best background for nature photography.
Moreover, there are many locations to visit in Nuwaraeliya. Some such places are Horton Plains, Moon Plains, Victoria park, tea estates, tea factories, Hakgala Botanical Garden, waterfalls, strawberry and vegetable farms, Ambewela farm, etc. So, if you are planning your vacation in this gorgeous landscape, you'll be able to take some cool nature photographs in many locations which are very unique.
After all, Nuwara Eliya must be on your bucket list if you are visiting Sri Lanka for a nature photography tour. Nuwaraeliya is situated about 170 kilometers away from the main city of Colombo.
3. Sinharaja Forest Reserve
Sinharaja forest reserve is a tropical rainforest and a biodiversity hotspot in Sri Lanka. It is home to a variety of endemic wildlife on this beautiful island. In fact, it is where 50% of Sri Lanka's endemic species of mammals, butterflies, insects, reptiles, and rare amphibians live. Thus, this evergreen rainforest is also a popular tourist destination.
UNESCO declared Sinharaja a world heritage site, and it spans an area of 18,900 acres in the Sabaragamuwa and Southern provinces of Sri Lanka. It is mostly popular for trekking as exploring through the dense forest which is packed with tall huge trees and lush greenery is such a delightful experience. The gloomy forest is a really good location to capture some awesome photographs.
Many tourists visit the location just to get some good nature photographs. What other place is ideal for nature photography other than a tropical rainforest? Therefore, the Sinharaja forest reserve is actually one of the best locations for nature photography in Sri Lanka.
On the other hand, you will be able to take some valuable photographs as well considering the high population of endemic species out there. However, be mindful of conserving this valuable environmental system during your nature photography tour.
Sinharaja rainforest is situated around 175 kilometers away from Colombo.
4. Yala National Park
There are over 26 national parks in Sri Lanka and Yala National Park is probably the most popular one out of all of them. It is a safe space for a huge number of wild animals. So, it will be an unforgettable experience to explore this awesome wildlife park with its animal population which lives side by side, roaming freely in the jungle. However, this wildlife park is very popular for its high population of leopards.
Yala National Park is considered a must-visit tourist destination, especially for nature enthusiasts and wildlife photographers. You'll be able to capture so many iconic photographs of nature and wildlife within the enormous landscape of Yala.
The best way to get the best photography shots in the Yala National Park is by a jeep safari. A jeep safari through the grassy plains and the rich lagoons will be an unforgettable memory for your Sri Lankan tour. It is also the best way to explore the huge park within a short period of time. You'll be able to easily arrange a jeep safari in the Yala National Park through a service provider.
After all, this natural paradise will be one of the most valuable locations for a photographer. The park is situated 267 kilometers away from Colombo.
5. Peradeniya Royal Botanical Garden
Royal Botanical Garden in Peradeniya is the oldest and the most popular botanical garden in Sri Lanka. There are more than 4000 plant species in the 60-hectare land area of the Peradeniya garden. The huge tropical trees, palm avenue, spice garden, great lawn, cacti display, plant house, orchid house, and flower garden are the highlights of the botanical garden. Moreover, the Mahaweli river, which is the chief and the longest river in the country flows alongside the botanical garden.
The scenic splendor of the garden is literally a perfect background for nature photography. Besides, Peradeniya's Royal Botanical Garden is often chosen as a location for popular Sri Lankan movies, teledramas, and music videos. It was used as a location by several international entertainment projects as well. So, all these facts prove to you clearly, how perfect this place would be for nature photography in Sri Lanka.
Simply, the Royal Botanical Garden is an ideal location for nature photography due to its serene landscape and also for its convenience. And why not? You will be able to have a fun picnic in the garden while capturing so many awesome clicks.
Besides, Peradeniya garden is an insta-famous location because of its availability of many photography locations within the same space. So, make sure to add the Peradeniya Royal Botanical Garden to your must-visit list in Sri Lanka.
It is situated around 5.5 kilometers away from Kandy and approximately 119 kilometers away from Colombo.
The Bottom Line
In conclusion, let us highlight to you that the places in this article are just a few places that are very suitable for nature photography in Sri Lanka. However, these can be considered the most sought-after locations by nature photographers. Apart from the above-mentioned locations, there are so many more hidden and lesser-known locations in Sri Lanka. Basically, you will be able to find any type of location according to your likes and interests on this paradise island. So, if you are a nature enthusiast and a nature photographer, Sri Lanka will be a once-in-a-lifetime experience for you for sure. Happy and safe traveling!