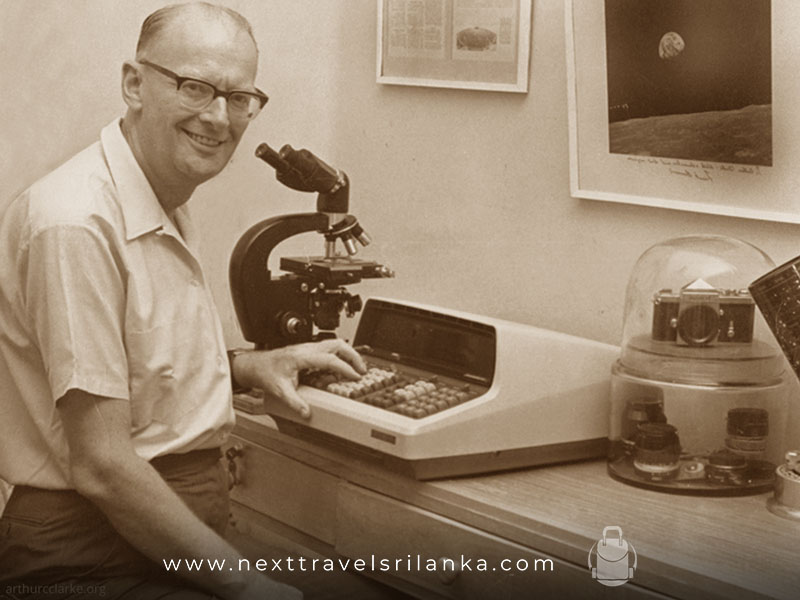 Among the world-famous fiction writers and authors, the name Arthur C Clarke is one of the most heard names. His work and his research are still in use as main information sources, particularly for the field of Science. Further, he is a futurist, inventor, undersea explorer, and television series host as well. He is not a Sri Lankan by birth. Yet, his in-depth interest in diving, traveling and science made him live half of his life in Sri Lanka and explore the subjects that grabbed his curiosity. So, more than an English writer he gained recognition as the most well-known foreign resident in this beautiful country.
Continue reading to know more about this famous personality from Sri Lanka!
What is Arthur C Clarke Famous For?
Arthur C Clarke is simply famous for science and technology. Apart from that, he has a strong bond with the fields such as art, adventure, and nature as well.
Arthur C Clarke, Science, and Technology
Mainly as a Science fiction writer, he has worked on several fiction on hard scientific facts in the form of essays rather than as the facts they are. Due to his realistic ways of presenting the facts, many even consider him a philosopher and chronicler. Mainly, his work represents his ability to maintain the balance between intellectuality and creativity. It is because his work does not merely present his views about the universe and human conditions. Yet, they consist of a dramatic approach in a way to make the readers understand them easily. Further, he is famous for producing science fiction with less arbitrariness, unlike most science fiction deals.
It is not that he has just worked on ordinary scientific facts, but he is famous for producing a vast collection of books, essays, and speeches on space travel, telecommunications, undersea exploration, and technology that would shape the future of humanity. However, many believe that Sri Lanka created him the freedom, and the environment to take part in his research and innovations successfully.
Arthur C Clarke's Interest in Art
He collaborated with dozens of non-fictional works such as co-authoring books, co-authoring screenplays, hosting TV shows, and creating digital content. Therefore, his popularity is not limited to the pages of books but has spread its wings across several genres and media platforms. So, it is clear that he is successful in the artistic dimension as well.
Clarke's Interest in Adventure
Apart from all these, Arthur C Clarke is also famous as a discoverer. In fact, he took risky experiences that no one would ever think of trying. This side of his life is the reason that inspires him to visit Sri Lanka as well.
In fact, he has spent his life enjoying adventures and explorations in different parts of the world. As a discoverer, he satisfied his craving for scuba diving with the blue mighty waves around Sri Lanka. This might be the reason why he spent some time of his life around Unawatuna, a wonderful coastal island on this splendid island.
However, most of these experiences and the insights gained through them helped him in presenting realistic productions; Science fiction, short stories, and novels with regard to oceanic themes. Besides, through this aspect of him, he became a commonly seen character in the travelogues and documentaries during a certain period back then.
Clarke's Interest in Space
Arthur C Clarke was also a person who is highly interested in space and the world beyond the sky. He is even respected by NASA and the Russian space agency since he has done several important discoveries about space and its content. The most important thing that he has done with regard to this field is that he has counted the number of astronauts and cosmonauts in front of his friends and fans. He has even envisaged geostationary communication satellites in the mid-19s as well.
Early Life of Arthur C Clarke
Although he is one of the most known figures in the field of Science, he is a person who was born poor in Minehead, Somerset, England. Yet, this condition itself inspired him to have scientific behaviors and reactions.
As a child, he lived on a farm in the countryside. So, he enjoyed time stargazing, collecting fossils, collecting dinosaur cigarette cards, and reading American science-fiction pulp magazines. Indeed, these were the inspirations that made him lead his way in science. However, self-study and undeniable interest in different things are what made him the innovative person he was, rather than an education. It is because he lacked the means of higher education and had to stop completing secondary education.
His career as a Science popularizer and an author started with him joining the British Interplanetary Society which advocated the development of rocketry and space exploration. Also, serving in the Royal Air Force opened up more opportunities for his explorations. In fact, it is the place where he started his career as a writer by writing an article entitled 'Extra-Terrestrial Relays for a wireless world'.
Later, he began selling short stories to Science fiction magazines in the United States and Britain. Later, after achieving a Bachelor's degree from King's College in London, he started writing non-fiction in different dimensions.
Arthur C Clarke's Career as a Science Fiction Writer
Clarke's first Science fiction was based on space exploration; 'Prelude to Space', which is about the first flight to the moon, and 'The Sands of Mars', which is about the colonization of that planet and Islands in the sky, which revolves around a space station.
Then, he converted his imagination and creativity into words by writing the book 'Childhood's End'. It was about the evolutionary transformation that can take place in humanity with alien contact. Later in the 1950s, he wrote two short stories, 'The Nine Million Names of God' and 'The Star', which eventually became Science fiction classics owing to the advancement of those stories.
After moving to Sri Lanka his interest in undersea exploration developed and he explored different aspects of the field along with embarking on his second career, Scuba Diving. With the experience he took through these discoveries he worked on a vast number of books and produced a succession of books related to that field; The Coast of Coral, Against the Fall of Night, The City, and Stars.
Famous Fictions of Arthur C Clarke
Mentioned below are some of Clarke's most famous fictions.
A meeting With Medusa – An expedition that discovers life in the clouds of Jupiter
Rendezvous with Rama – A book about contact with aliens
Imperial Earth – A tale of cloning and solar system colonization set in the 23rd Century
The Fountains in Paradise – About the construction of a space elevator on the island country of Taprobane
The Songs of Distant Earth – About the arrival of the last survivors from a destroyed Earth
Glide Path – Based on Clarke's wartime service with the Royal Air Force
Apart from that, his work can be categorised as follows.
Sequel
A Space Odyssey
Odyssey Two
Odyssey Three
Collaborations
The Garden of Rama
Rama Revealed
The Light of Other Days
Solo Novels
The Ghost from the Grand Banks
The Hammer of God
The Final Odyssey
Autobiographical Volumes
Ascent to Orbit: A Scientific Autobiography
Astounding Days: A Science Fictional Autobiography
Final Novel
Some of these fictions were composed into films. And yes, they became the best movies of the time owing to the rare scenarios included in the actions. However, these realistic, yet reader-friendly Science fiction took him to the heights of popularity in no time while making him a world-famous figure.
Clarke's Views on Technology
Arthur C Clarke is a renowned futurist owing to the authentic predictions he made with regard to technology. In fact, he presented three laws with regard to Science and Technology. Among these three laws, the third law which is particularly about technology is the most famous and widely cited view of Clarke. According to his essay, Hazards of Prophecy: The failure of Imagination, where these three laws appear, states the third one as 'any sufficiently advanced technology is indistinguishable from magic'.
Further, he stated and demonstrated several predictions on technological aspects several years back, that are presently in use. For example, he has presented views on communications satellites, remote surgery, the internet, search engines, spam mail and personalized ad targeting, tablet computing and interface, and the rise of digital pornography. The views, suggestions, and possibilities he has presented in his writings with regard to these aspects have become real, improved, and even built upon his ideas.
The following sections detail more about his views and suggestions with regard to those various fields.
Communication Satellites
Clarke's views on communication satellites primarily appear in his famous essay, Wireless World. He has presented this view as a possibility of generating geosynchronous satellites. He has suggested that there is a possibility of re-using a Nazi V2 rocket technology to place satellites in a geostationary orbit around the earth in order to create a global relay network. This idea made him the originator of the idea of the geosynchronous satellite. In fact, in the present context, this particular satellite officially occupied a 'Clarke orbit'.
Remote Surgery
In his novel, Imperial Earth, Clarke presented an idea with regard to an unreliable or 'laggy' network connection that can be a serious problem in remote surgery. In fact, he was entirely correct to predict that network issues would hamper the progress of remote surgery. It is because, it has been proven that even with 5G networks, the connection latency for telesurgery needs to be no higher than 1 ms. In the present context, the practice of remote surgeries takes place with successful results following the improved network connections as per the ideas of Clarke.
The Internet
During an interview in 1974, there was a question for him about what the world of 2001 would look like. Then, he responds by highlighting that by that time there will be a technology where people can do all their daily chores in milliseconds using the internet. At that time, he even predicted voice searching, emailing, and other forms of network messaging that are familiar to the world in the present. Also, in his famous essay, Imperial Earth, there is a device that he calls a Comsole. He introduced it as a terminal to a vast repository of information, complete with its own search engine. So, all these things simply prove the advanced vision that he had for the future.
Search Engines
Clarke has predicted how people would locate information in a more accurate way than in his contemporary time using the internet and search engines. He has presented it as how people would acquire any information; they need in no more than 5 seconds by typing them in a portal rather than looking for them physically. His view is related to the modern laptop search that is highly visible in the modern world. So, there is nothing wrong in mentioning that Clarke was the initiator of this concept in the world.
Spam Mail and Personalized Ad Targeting
This particular prediction of Clarke is also visible in his famous essay Imperial Earth. There, the user of Comsole receives something similar to spam communications based on data mining. His experience is quite similar to creepily apt ads that appear using our online search history.
Tablet Computing Device and Interface
He has prefigured a small form factor tablet device in his several Science fiction and TV series such as Star Trek. In the original series, he introduced it as a Personal Access Display Device. It was quite similar to the tablet PC that we use nowadays. Later in A Space Odyssey, he describes the thumbnail interfaces that are familiar to the present world.
The Rise of Digital and Network Pornography
When it comes to this aspect, Arthur C Clarke has predicted how advanced technology can be and to what extent it can be harmful to the younger generations. In the essay published in 1959, 'The Collected Stories of Arthur C Clarke', the author describes the first point where he gets connected with this concept. There he presents one of his encounters with a U.S. network executive excited by his view on this aspect. In fact, Arthur C Clarke shared with him that there is a possibility that satellites and new communications technologies might give rise to the field of adult entertainment.
Further, one of the novels to which he contributed with ideas features a videogame system that includes interactive sex scenes based on popular pornographic stars. Hence, he tried to warn future generations through this particular prediction of him which went in vain as his prediction has come true by now.
Unlike the predictions that came true, there are certain predictions of Arthur C Clarke that have never become true in the technological world up to now. These predictions have even put his career at a level where he could lose all the contributions he has done with no value. Some of them are; the end of professional criminals via electronic monitoring in 2009, the ascension of AI to the 'human level' in 2020, the abolition of all existing currencies in 2016, etc.
However, whether it is true or not, his prediction has contributed in many ways to the prevailing technology and scientific establishments.
Awards and Honors of Arthur C Clarke
Considering all the contributions, predictions, and innovations of Arthur C Clarke, it would be surprising if he had not received any awards, honors, and recognitions, at least a few times in his life span. And yes, he received several valuable awards during his time. The below list shows almost all his achievements.
Stuart Ballentine Medal from the Franklin Institute for the concept of satellite communications
Hugo Award for the short story, The Star (1963)
UNESCO-Kalinga prize for the popularisation of science (1961)
The Award Nebula for his novella, A Meeting with Medusa (1973)
Nebula (1979) and Hugo (1980) awards for the novel, The Fountains of Paradise
Nebula (1973) and Hugo (1974) awards for the novel, Rendezvous with Rama
Marconi prize for innovation in communications and remote sensing in space (1982)
Science Fiction Writers America name him the 7th SFWA Grand Master (1985)
Awarded an Honorary degree by the University of Bath (1988)
Nominates for a Nobel Peace Prize by law professor Glenn Reynolds (1994)
Named a distinguished supporter of the British Humanist Association (2000)
Awarded the Telluride Tech Festival Award of Technology (2003)
Heinlein Award for outstanding achievement in hard or science-oriented science fiction (2004)
2001 Mars Odyssey is named in honor of his work
Received a CBE and was knighted (2000)
The list goes on and he has gained all these awards, fame, and recognition only for his dedication and knowledge. At the same time, you can find several awards honored after his name such as:
Arthur C. Clarke Award for science fiction writing – An award given annually in the UK
Sir Arthur C. Clarke Award for achievements in space – Awarded annually in the UK
Arthur C Clarke Foundation awards – Arthur C. Clarke Innovator's Award and Arthur C. Clarke Lifetime Achievement Award
Death and Legacy
After doing immense work in the Science and Technology field for decades, Sir Arthur C. Clarke passed away in 2008. The illnesses started to surface in 1962, with him being diagnosed as a Polio patient. This resulted in reducing his activities. Then, in 1988, he was diagnosed with post-polio syndrome. Later, he deteriorated to the level where he had to spend most of his time in a wheelchair. From then until he died, he had to spend his life in a wheelchair. This indeed brought restrictions on his expansion of innovations, findings, and predictions.
However, Arthur C. Clarke's legacy bridges the contradictory worlds of the arts and Science as his work ranged from scientific discovery to science fiction, from technical application to entertainment. Nevertheless, Arthur C Clarke is one of the best scientists in the world, and no one can replace him!