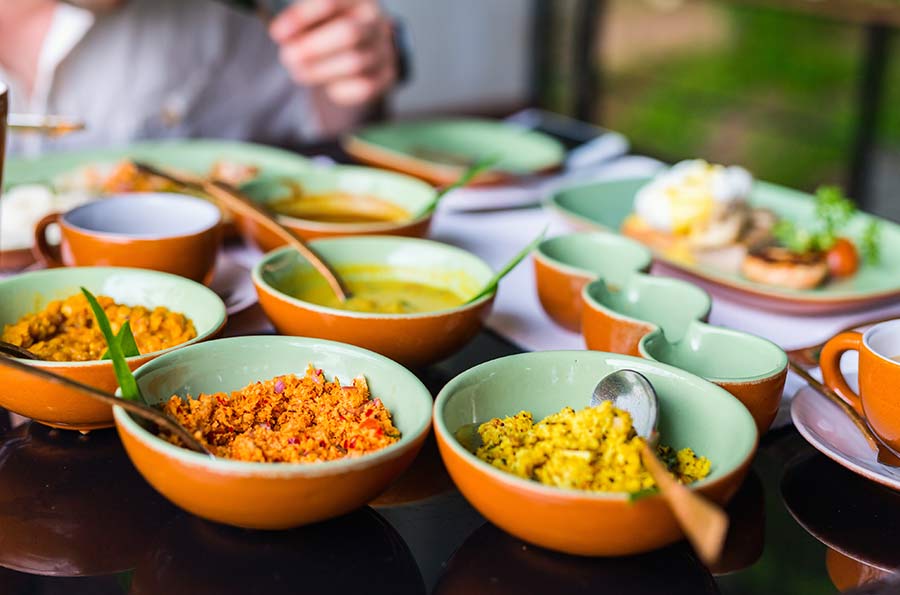 Sri Lanka is a country with a real culinary treat. As Sri Lanka has a great history, many cultures have influenced its cuisine through years of colonization and trade. In fact, the Sri Lankan food tradition has strong bonds with the nutritional, health-related, and therapeutic logic of food ingredients and preparation methods. Also, the local and traditional cuisine of Sri Lanka presents a perfect blend of cultural diversity. Thus, in Sri Lankan culture, food holds a special place, in preserving its heritage, and wonderful societal values. Of course, a food holiday in Sri Lanka is the best to witness them.
Besides, Sri Lankans are willing to share food with neighbors, family, and friends. In fact, home visits are always accompanied by lots of food items. Some cuisines and preparation methods are unique for certain areas as well. Moreover, personal taste, family preferences, cultural influences, health concerns, societal pressures, convenience, cost, variety, etc. play a major role in adding uniquenesses to this Sri Lankan food culture. So, all these things are sure to offer you a wonderful food holiday in Sri Lanka. Continue reading to know more about this delight!
Significant Features of Sri Lankan Cooking Culture
Sri Lankan cuisine is well-known for its special combinations of herbs, spices, fish, vegetables, rice, and fruits. Besides, these cuisine mainly use coconut milk and oil, as well as many varieties of rice when preparing food. Moreover, as Sri Lanka is an island, it is rich in seafood. So, whether it is fresh fish or preserved fish, seafood plays a significant role in cooking. Apart from that, there are many other features that make the Sri Lankan food culture unique. Scroll down to know all about them!
1. Use of Spices
Sri Lanka, the land of spices, is famous for its delicious food full of rich spicy flavors. In fact, spices have been an integral part of Sri Lankan cuisine throughout history. All vegetarian curries, side dishes, and snacks have a blend of spices that tickle the taste buds.
In contrast to the local cuisine of neighboring regions, Sri Lankan cuisine stands out from the rest owing to the heavy use of Sri Lankan cinnamon and black pepper, as well as Maldivian ingredients such as fish, goraka, pandan leaves, lemongrass, and jaggery. Undoubtedly, these essential spices and herbs impart a wonderful taste and fragrance to Sri Lankan food.
The following sections brief about some of the most famous spices from Sri Lanka.
Cinnamon
Sri Lanka was historically famous for its cinnamon. It has a milder, sweeter flavor compared to Cinnamomum cassia, which is commonly found in other South Asian cuisines.
Red Chilies
Red chilies are a staple spice and a crucial ingredient in Sri Lankan cooking. As the name suggests, it gives a spicy taste to dishes. However, Sri Lanka grows several varieties of chilies. Many Sri Lankans love spicy food, so they use red and green chilies to add extra crunch.
Coriander
Coriander is also a main ingredient in Sri Lankan curries. It has been a staple of Sri Lankan cuisine for centuries. It has a mild, fragrant smell. Hence, many use it to flavor vegan dishes.
Besides, it gives a deep fragrance when it is roasted, which is essential to taste meat dishes. Further, its leaves are one of the main ingredients for garnish salads and side dishes. Coriander seeds and ginger are boiled together to make a drink that is very beneficial in boosting immunity against coughs and colds. This delicate herb grows is available in herbal gardens.
Cumin
Cumin is also a well-known spice made from the seeds of the Cuminum cyminum plant. We can describe its flavor as earthy, nutty, spicy, and warm. However, adding Cumin benefits a lot. Using cumin as a spice increases antioxidant intake, promotes digestion, provides iron, may improve blood sugar control, and may promote weight loss and fat reduction.
Fenugreek
Fenugreek is another main ingredient we use in Sri Lanka. Sri Lankans use it for both roasted and unroasted curry powder. It has many health benefits and roasted fenugreek is also a home remedy for stomach aches.
Turmeric
Sri Lankans have been using turmeric in cooking since the olden days. It is the spice that gives Sri Lankan curries their golden yellow color. Of course, this attractive color greatly enhances the appearance of the dish.
Pepper
Black pepper is the world's most traded spice and is one of the most common spices added to cuisines in Sri Lanka. Its spiciness is due to the chemical compound piperine, which gives a different kind of spice than the capsaicin characteristic of chili peppers.
Mustard Seeds
Mustard seeds are a popular spice in Sri Lanka. They are used to temper curries, and these tiny black seeds give off a strong fragrance when sprinkled in hot oil. The addition of mustard seeds enhances the taste of the dish.
All these spices have the power to impart flavor and aroma or piquancy to foods. So, there is no secret that these spices make Sri Lankan food unique. Of course, you will surely witness their taste as you enjoy your food holiday in Sri Lanka.
2. Use of Coconut Milk
Coconut milk is an opaque, milky-white liquid extracted from the grated pulp of mature coconuts. Besides, coconut milk is an ingredient for most of the traditional food items popular among Sri Lankans.
Most coconut milk in stores is made from mature coconuts, as the older fruit has more fat and a deeper coconut flavor. However, coconut milk is incredibly versatile and Sri Lankans use it when preparing both sweet and savory food items. In fact, coconut milk adds a sweetness to curry that counteracts the spice, creating a nice balance. It also adds an extra nutty flavor to foods without it being too overpowering. Besides, a Sri Lankan meal won't be complete without a dish that includes coconut milk.
Kiri Hodi is a popular and traditional Sri Lankan curry where Sri Lankans mainly use coconut milk. Also, curries like the dhal curry (Parippu Kirata), potatoes curry (ala kirata), and beans curry (bonchi kirata) means these vegetables or grains prepared in a milky flavor. Likewise, Sri Lankans prepare almost every sort of vegetable with the use of coconut milk.
3. Having Rice and Curries as the Main Meal
A central feature of Sri Lankan cuisine is boiled or steamed rice, fish, or meat curry served with other curries made with vegetables, lentils, or fruits. And yes, this dish is called a plate of rice and curry, and it is a must-experience while you enjoy a food holiday in Sri Lanka.
There are many varieties of rice that Sri Lankans use for cooking. However, among them, Kekulu rice is a popular traditional Sri Lankan rice variety. This rice is the same grain as Nadu rice, but it is never parboiled or parboiled before the milling process. Mostly, kekulu is white or red but there is also brown kekulu, which is considered to be one of the most nutritious rice varieties in the country. So, coupling some delicious curries with a type of this rice is simply going to offer you the finest delicacy.
After all, there is nothing more common to eat in Sri Lanka than a nutritious plate of rice and curry, during your food holiday. So, make sure that you don't miss it!
A Cooking and Food Holiday in Sri Lanka
Fresh local ingredients, amazing spices, and recipes bequeathed by colonial history create a diverse and delicious culinary scene on this splendid island. And yes, it offers you the perfect opportunities to spend a week or two here having fun, grazing, cooking, and enjoying. So, owing to this reason many love to enjoy a cooking and food holiday in Sri Lanka.
What to Expect in a Food Holiday in Sri Lanka?
Well, the best experience would be cooking a traditional Sri Lankan meal all by yourself. And yes, most service providers make sure that this is done in a traditional village house in order to offer you the best experience. In fact, there would be a series of mud huts designed to emulate the open-air concept of rural homes in those areas. Then, while enjoying the natural cool breeze, and the charm of the surroundings, you would be able to go ahead cooking, following the Sri Lankan traditional culinary styles.
Apart from that, many of these packages would allow you to go on an early-morning fishing tour in a traditional boat with local fishermen. And yes, you can catch your own breakfast and bring it ashore, and the fishermen will prepare a delicious fresh morning picnic for you to enjoy on the lake shore.
Further, you may also get a chance to visit a village home during a food holiday tour in Sri Lanka to get to know the secrets of making the perfect buffalo gravy. You can certainly end your lesson with a delightful tasting of this popular and delicious dessert.
Besides, during a food tour in Sri Lanka, you can even participate in some incredible food tours too. Most service providers offer food tours around main cities such as Colombo, Kandy, or Galle. That is simply the best way to satisfy your cravings for local street food and Sri Lankan culture.
However, what you get to experience on a food holiday in Sri Lanka may vary depending on the service provider you choose, their packages, as well as the town that they are focusing on. Yet, most of the food holidays in Sri Lanka will guarantee you the above delights!
Food Not to Miss During Your Food Holiday in Sri Lanka
Among the wide array of food items in Sri Lanka, there are a few that are very unique. You can taste them ONLY in Sri Lanka. So, you should never miss enjoying them during your food holiday here.
Polos Curry
Polos curry or Polos ambula is a traditional Sri Lankan jackfruit curry. If you are visiting the island, this is one Sri Lankan vegetarian, vegan curry that you should not miss out on trying.
Lamprais
A lamprais is a food parcel hidden inside a banana leaf. Once you unwrap it, you find a mix of tender, bite-sized chunks of meat (pork, beef, chicken, and/or mutton), rice cooked in meat stock, pickled eggplant, coconut flakes, and chilli paste.
Batu Moju
Sri Lankan Eggplant Moju or Batu Moju is a delicious sweet and savory eggplant dish that is a must-have for your next rice and curry festival menu. This dried version of the classic eggplant moju is simply packed with the flavor that your heart yearns for. Moreover, this curry lasts longer without spoiling.
Hoppers
This is the supreme Sri Lankan street food that everyone loves. In its simplest form, hoppers are bowl-shaped pancakes made from fermented rice flour and coconut milk. To enjoy the fantastic taste of hoppers you should have them with a curry sambol.
Kottu
Kottu is a mixture consisting of kottu roti (godamba roti), eggs, onions, chilies, spices, and optional vegetables or meats, such as beef and chicken, and occasionally mutton or chicken. Besides, kottu roti is a very popular dinner in Sri Lanka. In fact, it is comforting street food and is a favorite delicacy among adults and kids.
Halapa
Halapa is a well-known Sri Lankan traditional delicacy. Sri Lankans prepare it by mixing ragi flour (kurakkan flour), grated coconut honey, or sugar. Halapa, go as a snack with a cup of tea or a treat to keep your energy levels high.
Lavariya
Lavariya is a popular traditional Sri Lankan sweet dumpling. This delicious food has rice flour/string hoppers flour and sweet coconuts. Simply, it is a caramelized coconut wrapped in a string hopper.
Pol Roti
Pol roti in Sinhalese translates to coconut roti or coconut flatbread. Sri Lankans use fresh coconut grated with flour, diced green chilies, and onions when preparing Pol Roti. And yes, pol roti is popular among vegetarians since they can simply enjoy it with a chili paste.
Hath Maluwa
Hath Maluwa or Seven Vegetable Curry is a healthy, traditional Sri Lankan dish full of flavorful original spices. The dish is over 1500 years old. To make Hath Maluwa they are using many ingredients like Potatoes, Leeks, Carrots, Chickpeas, Green Beans, Cashews, Eggplant, Onion, Ginger, Garlic, Curry Leaves, Cinnamon, Fenugreek Seeds, Green Chilies, Curry Powder, Pepper, Chilli Powder, Turmeric Powder, Salt, Oil for tempering, Cumin and Mustard seeds.
Kalupol Maluwa
Kalupol Maluwa is a unique food item in Sri Lanka and Sri Lankans prepare it using jackfruit seeds. When you are making this curry you have to first wash and boil the jackfruit without removing the skin, and then cut it in half without separating. Next, you can fry and grind coconut and raw rice until brown. After that, you have to mix all other ingredients and add 1 cup of light coconut milk and cook. Later, you can add 2 cups of thick coconut milk and cook it. This curry tastes better if cooked in a clay pot.
Kiri Bath
Kiri Bath or Sri Lankan Milk Rice is the national dish of this country which Sri Lankans make for every special occasion. It is also a classic breakfast that Sri Lankans use to enjoy.
Kesel Muwa Sambol
Here, the banana flower recipe is also popular as "kesel muwa curry" in Sinhalese. You can cook this curry with different methods and you won't believe the mouth-watering taste of banana blossoms unless you taste it.
Dried Red Chilli Sambol
This dry red chili sambol is popularly known as Lunu Miris in Sri Lanka. It is a spicy food that many local people eat with Milk Rice and hoppers.
Mun Kaum
"Mun kaum" is one of our favorite and unique Sri Lankan sweets. Sri Lankans usually prepare it during the New Year season and on special occasions.
Asmi
Aasmi is a traditional Sri Lankan deep-fried sweet snack. It is mainly famous during the Sinhala and Tamil New Year seasons.
Saw Dodol
Saw dodol, also well-known as Welithalapa is a Sri Lankan traditional food. Sri Lankans prepare it with rice flour, coconut milk, and Kithul or Coconut treacle.
Achcharu
Pickle (Achcharu ) is a very popular dish in Sri Lanka. People especially prepare it during the April New year season and during special functions.
Kiri Kos Maluwa
Rice is the staple food in Sri Lankan cuisine. But jackfruit comes second in terms of popularity. Sri Lankans prepare it in many ways with different flavors. However, milk jackfruit is a jackfruit dish with ripe fruit, and coconut milk, but with minimal use of chilies and other spices.
Kola Kenda
Kola Kenda is a wholesome herbal porridge and people usually drink it before breakfast. It is very nutritious. People make it using raw rice, coconut milk, and the fresh juice of medicinally valued leafy greens.
Seeni Sambol
Seeni sambol is a sweet and spicy onion flavor. You can make this condiment to make your meals enjoyable. Simply, it can add flavor to anything from crackers to plain bread.
The Bottom Line
After all, this article briefs you on everything about a cooking and food holiday in beautiful Sri Lanka. Simply, Sri Lanka is the best place to taste the most amazing foods in the world and the uniqueness of these foods makes your mouth water. Most importantly, Sri Lankan traditional foods are rich in nutrients too. So, good food is the foundation of genuine happiness and Sri Lanka is a place that provides good food. Thus, never think twice to choose a cooking and food holiday on this splendid island. Happy and safe traveling!