The pearl of the Indian Ocean, Sri Lanka, surrounded by the blue mighty waves, is well-known for its stunning beaches. But you might not know that what lies underneath this blue vail is even more astounding. Yet, believe us, the Adam's Bridge Marine National Park creates the opportunity to explore the magnificence of Sri Lankan underwater life at its best. Thus, we thought of focusing this read on this wonderful Marine National Park in Sri Lanka. Continue reading, to get to know about it!
Why is Adam's Bridge Marine National Park Important?
Adam's Bridge Marine National Park, commonly known as Rama Sethu Bridge, is a great place to explore the ecologically and biologically diverse underwater life. Moreover, it is one of the most significant national parks in Sri Lanka.
This National Park is situated in Talaimannar village south of the Mannar district. It covers an area of 18,990 ha (46,925 acres) surrounding the Sri Lankan section of Adam's Bridge. As the government of Sri Lanka announced Adam's Bridge a national park in 2015, which is pretty recent, it might not be as popular as the other marine national parks in Sri Lanka. But it has its own unique features and an interesting backstory, which makes it incomparable to others.
Now you might be curious to know more about what makes the Adam's Bridge Marine National Park stand out from the other marine national parks. Nothing to worry about! We are ready to share all about it, as well as ways to get to Adam's Bridge Marine National Park and the climate there. So keep reading to quench your curiosity.
History Related to Adam's Bridge Marine National Park
Adam's Bridge is what separates the Palk Strait from the Gulf of Mannar and is approximately 30 kilometers long. It is made of a chain of limestone shoals which creates a bridge between the island of Pambalm in India and the island of Mannar in Sri Lanka. These miniature islands are called 'Dancing Islands' as they appear and disappear within minutes due to sea tides. Moreover, these 'Dancing Islands' caught the attention of NASA and they sent archaeologists after seeing the satellite pictures. They found out that the limestones there are much older than the sand around them, which indicates the Adam's Bridge is man-made. Even though there is no definite proof, 'Ramayanaya', a famous tale in both Sri Lanka and India, has mentioned that Adam's Bridge is a man-made bridge from India to Sri Lanka.
According to 'Ramayana', Lakshmana, a brother of Prince Rama harassed Suparnika, a sister of King Ravana. Therefore, King Ravana kidnapped Seetha, the wife of Prince Rama, as revenge. Rama's 'Vanara' army built 'Rama Sethu', or now commonly called Adam's Bridge, in an attempt to come to Sri Lanka in order to rescue Seetha.
Still, we do not know whether 'Ramayanaya' is a myth or actual history. However, it does not change the fact that Adam's Bridge is a place you should visit at least once in your lifetime. Besides, considering its ecological values, the Sri Lankan government with the support of the United Nations Environment Programme and the United Nations Development Programme announced this area as a national park, on the 22nd of June 2015.
How to Visit Adam's Bridge Marine National Park?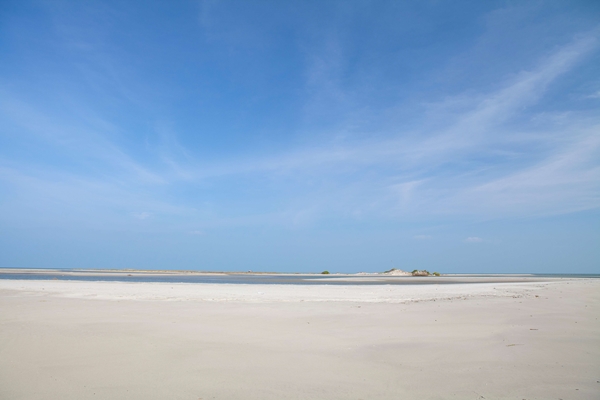 To visit this amazing marine national park, you have to come to Talaimannar village south in the Mannar district. It is 256 kilometers away from Colombo, the commercial capital of Sri Lanka. It takes approximately five and half hours to reach there by your own vehicle. If you take the train, it would be a lot cheaper, yet it will take about eight hours for the ride.
After reaching Mannar, you have to travel 32.2 kilometers along the Medawachchiya Talaimannar Highway up to Talaimannar. Then turn to Beach road to reach Adam's Bridge Marine National Park. It will take approximately an hour to arrive from Mannar. If you are more of a sea lover, you can take a boat from Mannar too.
Furthermore, the Mannar island is connected to the mainland with a 157 meter long Mannar Bridge and Mannar Railway line. As the breathtaking view of the ocean surrounds you, it will be an amazing experience to travel through one of these routes.
How is the Weather in Adam's Bridge Marine National Park?
Adam's Bridge Marine National Park's location in the northern part of Sri Lanka shows the climatic conditions related to the dry zone. Normally, the temperature varies from Celsius 28 to 32 (from Fahrenheit 82 to 90). Considering the monsoonal rains which provide rain to this area, the park has a rainy season and a dry season. However, the rainy season is from December to February which gives heavy rainfall to the area. The rest of the year has dry, sunny weather. Thus, most of the time around the year Adam's Bridge Marine National Park has the perfect weather to explore the park and enjoy the activities.
Flora and Fauna at the Park
Adam's Bridge Marine National Park falls on the route of migratory birds that visit Sri Lanka. Moreover, those birds use the sand dunes of Adam's Bridge as breeding grounds. Thus, you can see thousands and thousands of migratory birds flocked around these sand dunes. This happens during the migrating season because this is one of their crucial nesting areas. For example, Greater flamingos and Brown noddies are some species that visit Adam's Bridge area annually. Thus it is not wrong to say that this marine national park is one of the best places in Sri Lanka for bird watching.
Besides, this marine national park has high diversity in terms of biology, as well as ecology. Therefore, birds are not the only species you can see here. Rent some snorkel gear or any other swimming equipment of your liking and dive into the water to witness the amazing underwater life. The shallow waters of the sand dunes are home to a variety of aquatic grasses and fish. Moreover, dolphins, porpoises, and turtles swim freely in the sea surrounding the park. In addition to that, this park is a habitat of dugongs, a vulnerable marine animal. Thus, this amazing variety in species highlights the biodiversity of this park.  
Water Sports Activities
Adam's Bridge Marine National Park is the perfect place for kitesurfing. The reason is that it has the strongest and most consistent wind in Sri Lanka. Therefore, no matter whether you are a beginner, intermediate or advanced kitesurfer, this marine national park will give you the best kite surfing experience. Moreover, the sea level is just waist-deep up to a kilometer in most areas. So, anyone can simply swim and explore the marine park without worries.
This park is still developing as a tourist hot spot. Therefore, you will not find great amenities and facilities here, compared to the other national parks in Sri Lanka. But the natural beauty of the park is guaranteed to give you an experience of a lifetime.
Can You Walk on Adam's Bridge?
Now you might be thinking of making Adam's Bridge Marine National Park one of the destinations in your next vacation and have a free walk on the bridge. Indeed, you will get the chance to walk on Adam's Bridge. It will be a phenomenal experience to walk on this historical bridge which is in the middle of the blue sea with the wind brushing through your hair. But, you must be alert to the tides that come from both sides.
The Bottom Line
All in all, no words could explain to you the fascination that Adam's Bridge Marine National Park holds with it. Therefore, if you are excited to witness the charm of Sri Lankan underwater life, a visit to this National Park is surely a must. The scenes you witness there, the delight you experience, and the wonderful memories you create are certainly going to amaze you beyond a doubt. So, if you are to ever arrive on this island, make sure that you visit this place of marvels. We assure you that it won't ever be a decision that you regret. Happy and Safe Travelling!