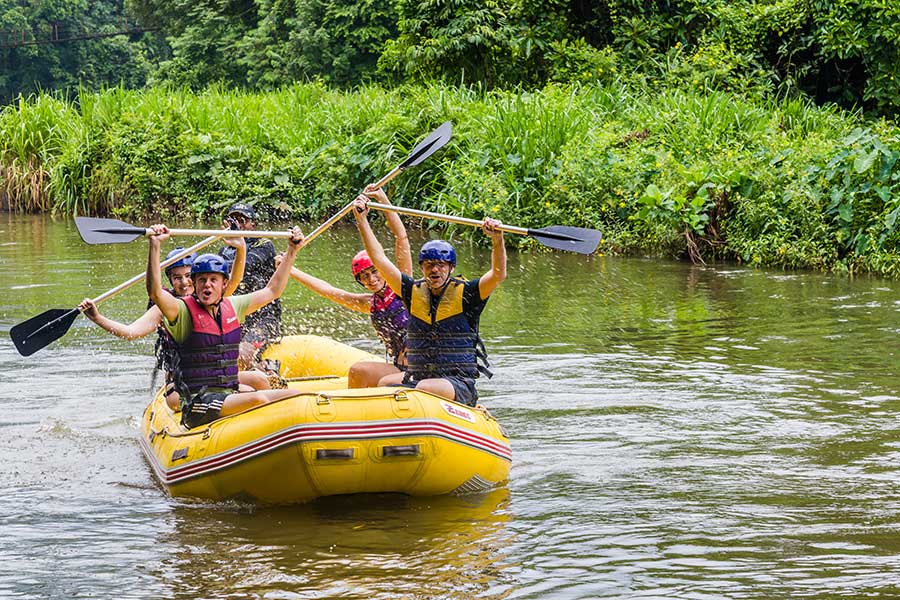 Of course, hearing the term 'white water rafting' itself will surely cheer you up! It is that sort of a challenging, enjoyable, and never-to-be-forgotten activity that can be done as you travel around. However, the canals, rivers, waterfalls, and streams in Sri Lanka provide excellent opportunities for water rafting. Among them, Kitulgala in Sri Lanka is the best place to experience the best white water rafting. Not only foreign travelers but also local travelers visit this place again and again to experience the beauty of tropical waters. Hence, we thought of sharing with you the delight of white water rafting in beautiful Kitulgala. Continue reading, for a full overview!
Why Go for White Water Rafting in Kitulgala?
Simply, there are several reasons why you should go white water rafting in Kitulgala! The first thing is the location and the climate of this beautiful environment.
Kitulgala is at a distance of around 80 km from Colombo towards the Nuwara Eliya district. It belongs to the wet zone of Sri Lanka and it gets rainfall of nearly 5000 mm. Further, this beautiful area is covered by lowland rainforests, mountains, huge rocks, rivers, and waterfalls. The temperature at Kitulgala ranges from 27-32 celsius. All these features, together with the landscape here are well designed for white water rafting. And yes, that gives you a reason to go white water rafting in Kitulgala.
Besides, the white water rafting in Kitulgala is bound with the beautiful, mesmerizing Kelani river. The river consists of high banks with trees on both sides of the river that provide shade to water rafting travelers. There are about five major rapids here. There are also four minor rapids. So, they create the ideal atmosphere for a perfect white water rafting adventure.
Further, the green mountain peaks, very high vegetation density, especially Kithul trees, biodiversity, flora, and fauna add to the beauty of Kitulgala. Thus, this Kitulgala area is famous as a place for perfect photo opportunities as well. Indeed, that gives you another reason to go white water rafting in Kitulgala.
So, all these features together, make white water rafting in Kitulgala a must, if you are seeking adventure opportunities in Sri Lanka.
Kithulgala Rapids
As mentioned earlier, there are several rapids in the Kelani River that make this Kitulgala area ideal for white water rafting. Five of them are major rapids. They belong to grades 2 and 3. The grade 2 rapids consist of white water and the roughness of water ranges somewhere higher than grade 1 rapids. Rock formations can be seen around as well. However, some of these rapids are not suitable for beginners, as high waves are visible. In fact, there should be some basic level paddling skills to raft in those areas. Still, grade 3 rapids are not like grade 2 rapids. The waves in those areas are small and hold white, clear water.
Besides, these rapids are called by different names depending on their characteristics. They are the head chopper, the rib cage, the virgin's breast, the killer fall, and the butter crunch. Also, the natural water pools formed by rock coverings are great resting places for rafting. Here you can take a bath and refresh.
All in all, if you choose to enjoy white water rafting in Kitulgala, you will have the opportunity to raft on the best lines of these rapids. Anyone from the inexperienced to the professional level can experience the beauty of the tropical waters, as they enjoy this wonderful activity.
How to Reach Kitulgala?
Kitulgala is easily accessible from several major cities in Sri Lanka. However, this is kind of a rural area. Hence, there are no train facilities in Kitulgala. Most travelers usually use a taxi as the most suitable option for traveling, and of course, it is highly convenient.
However, the journey from Colombo to Kitulgala takes about 2.5 hours. It is a very easy journey. If you are traveling by bus, you can take the Hatton bus from Colombo Fort. The journey from there is only three hours. If you are coming to Kitulgala from Anuradhapura or Jaffna cities you can take the Jaffna / Kandy Expressway. Also from Anuradhapura, you can travel to Kitulgala via Padeniya and Kurunegala.
By chance, if you are traveling to Kitulgala from Kandy, you can reach this town as you travel towards Hatton. The journey from Kandy to Kitulgala would approximately take one hour and 50 minutes.
Moreover, if you are traveling from Galle city in the Southern Province, you can take the Southern Expressway via Colombo Fort to Kitulgala. This journey normally takes four hours.
Is White Water Rafting in Kitulgala Safe?
Of course, yes! White water rafting in Kitulgala is safe. Anyone over the age of 10 can experience this wonderful activity.
The service providers provide you with safety gears, comprehensive safety, and modern rafts. They also provide safety lectures, safety equipment like helmets and tools. They will always be with you, giving you the advice you need and guiding you all the way. And also, the Sri Lanka Tourism Development Authority (SLTDA) conducts training programs to improve raft guides' skills. Still, it is important to note that the authority is not responsible for the safety of these activities.
Besides, physical fitness, health is very important in white water rafting. People with heart difficulties should not participate in rafting. Rafting will be quite tricky your first time. Paddling should change depending on the conditions of the waves. However, if you follow the trainers' instructions very well, water rafting is very safe and thrilling.
What is the Best Time for White Water Rafting in Kitulgala?
The best time to enjoy the beauty of the place, water sports along rivers, streams, and creeks are between the summer season and the rainy season. In fact, May to December is the best time to enjoy white water rafting in Kitulgala at its best.
These rivers can be very rough and dangerous during periods of heavy rainfall. The flood season is normal from June to August. Of course, an experienced person can manage white water rafting during those periods as well. Still, it is totally dangerous for beginners to experience this sport during those times.
Also, the service providers and consultants recommend that it is very easy for anyone to experience this activity when the water level here is normal. So, it is important to choose this period when you are planning your white water rafting adventure at Kitulgala.
Is White Water Rafting in Kitulgala Expensive?
Not at all! The white water rafting packages in Kitulgala are worth what they offer.
As you might already know, the cost of kitulgala white water rafting varies according to one's choice. In fact, different service providers offer different white water rafting packages. Some packages provide pick-ups, food, and safety equipment. Meanwhile, some packages offer a collection of adventure activities, along with refreshments, and camping opportunities. Some packages are for a single day, while some others are for two or three days. Hence, it is hard for us to mention the exact cost of white water rafting in Kitulgala. So, it is up to you to compare the different packages of different service providers, and choose the best!
How to Book White Rafting Packages in Kitulgala?
Your tour guide, tour operator, or your hotel is sure to help you with it. Or else, you can even book white water rafting packages online or via email. Still, it is important that you check the reviews before choosing a service provider for a better experience.
You can also contact the service provider over the phone and book a package by paying in advance. This will give you a very efficient and quick service. If not, you can also book your package by physically visiting the place.
Upon booking, you will usually receive a confirmation email or a phone call. If you are unable to attend for any reason, a cancellation facility is provided by many service providers within 24 hours. However, we suggest you to get to know about their terms and conditions, as well as about the exact service provided for the package beforehand, in order to avoid any undesirable circumstances that would happen afterwards.
Accommodation Facilities
If anyone wants accommodation near Kitulgala Rapids, they can find plenty of beautiful, comfortable, eco-friendly eco-lodges nearby. However, in Kitulgala, you cannot expect large-scale accommodation facilities. There are only a few luxury hotels or accommodation spots. Still, there is a high demand for nature-loving ecolodges, since travelers love to stay and interact with the natural environment and love having a nature talk. However, almost all these eco-friendly ecolodges in this area are very comfortable with air conditioning, meals, cold and hot water, etc.
These places give chances to stay in the middle of a forest, spend the night among the rivers, look at the beautiful mountains, go for a walk with the birds, enjoy flora, fauna, and nature. You can also meditate and relax amidst nature. Delicious meals, beverages, and snacks are all available at these lodges for a nominal fee. They provide takeaway food and water and provide you with all the guidance you need for your journey as well.
Other Recreational Activities at Kitulgala
Kitulgala is not only ideal for white water rafting, but also for many other wonderful sports. Some of the recreational activities that you can take part out there are as follows.
Black water rafting
Flatwater rafting
Rainforest trails
Waterfall abseiling
Waterfall trekking
Bird watching
Cycling
Walking
Confidence jump
Stream slides
River slides
Caving
The Bottom Line
Knowing all about the delight of white water rafting in Kitulgala, you will no doubt dream of a white water rafting experience in these scenic surroundings. Indeed, it is the best chance for a thrilling white water rafting ride on the tropical waters of Sri Lanka. Also, you would love to add experiences of adventurous, challenging, and enjoyable water sports to life. There is no other place like Kitulgala where you can embrace that beautiful experience in a very short time, at a very small cost. So, do not wait anymore. Book your chance. Enjoy the sweetness of the tropical waters. Come today and enjoy life. Happy and Safe Traveling!