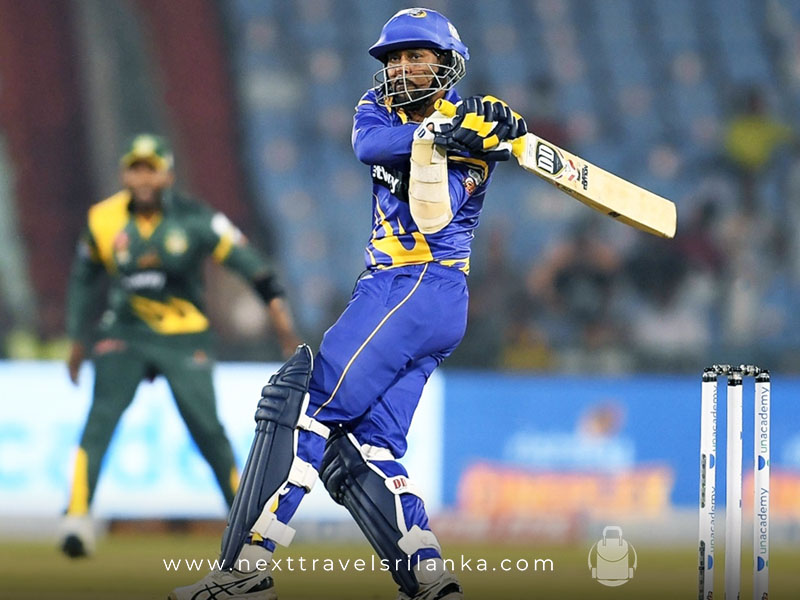 What comes into your mind when you hear the name 'Sri Lanka'? Of course, the golden shores that surround the island, the good-hearted people, its natural marvels, and above all, Sri Lanka Cricket! Indeed, cricket has that much of a bond with this wonderful country, and simply, the love for cricket among Sri Lankans seems to be something that comes from their blood. Besides, the role of Sri Lankan cricketers in placing the name 'Sri Lanka' higher in the international sports arena, and the love and respect that the Sri Lankans have for their beloved cricketers are interesting things to note. However, among the most popular Sri Lankan cricketers, Tillakaratne Dilshan is a highlight. Hence, we thought of dedicating this article to this amazingly talented cricketer. Continue reading to know all about him!
Who is Tillakaratne Dilshan?
Tillakaratne Mudiyanselage Dilshan, who is also popular as T M Dilshan is one of the most talented cricketers that Sri Lanka has ever produced. He even captained the Sri Lankan cricket team and is renowned as one of the most innovative cricketers of the recent past.
One of the significances of Thillakartne Dilshan is that he is an allrounder. In fact, he does well in all parts of the game, which means batting, bowling, fielding, and wicket-keeping. He is a right-hand batsman, and he served most of the time as an opening batsman. Further, the 'Dilscoop' – his unique shot that sends the ball over the keeper makes him so special. Of course, it was the secret behind the brilliant scores that he gained during his cricket career. Also, he is a marvelous off-break bowler and an energetic fielder in the point region.
Early Life and Family
Tillakaratne Dilshan was born on 14th October 1976, to a Malay father and a Sinhalese mother. He was blessed with five siblings.
He completed his primary education at Jaffna Sinhala Madya Maha Vidyalaya, and cricket was not that much of a significant part of his life back then. However, entering Moratu Maha Vidyalaya and Kalutara Vidyalaya for secondary school has paved the way for him to fall in love with cricket, and to begin his cricket career as a schoolboy.
However, after becoming a professional cricketer he married Nilanka Vithanage and divorced her later. Dilshan is now married to Manjula Thilini, a Sri Lankan actress. They have two boys and two daughters out of this marriage.
Tillakaratne Dilshan's Cricket Career
Tillakaratne Dilshan was a middle-order all-rounder batsman during the early stage of his cricket career. However, he began his International cricket career on 18th November 1999. It was against New Zealand. During his first match, he could only score 9 runs. Yet, in the second test between Sri Lanka and New Zealand, Dilshan was able to score his first test century, by scoring an unbeaten 163 runs in the first innings.
Dilshan's highest test score was against England, scoring 193 runs at the Lord's Cricket Grounds. Besides, his first ODI century was against the Netherlands, where he scored an unbeaten 117 runs along with Sanath Jayasuriya, who is well known as Master Blaster.
During the later years of his cricket career, approximately after 2007, he served the Sri Lankan cricket team as an opening batsman. During that era, one of the most significant scores of Dilshan's cricket career records was in India on 15th December 2009. In this match, he scored 50 out of 38 balls, 100 out of 73 balls, and 150 out of 115 balls, and accordingly, Dilshan marked his third ODI century. However, this running rate indeed made the audience believe that Sri Lanka would win. Yet, India had set a good score of 414 and Sri Lanka lost the match just by 3 runs. Nevertheless, Dilshan's amazing runs made this match a highlight in his cricket career.
However, with his amazing performances, and with his own aggressive stroke, which got the name 'Dilscoop', he could rule the cricket field in whatever the games he played. Of course, he was a Sri Lankan cricketer that the other cricketers were afraid of. Meanwhile, he was indeed a reason to make Sri Lankan Cricket shine brighter in the world.
Tillakaratne Dilshan in World Cup Series
Tillakaratne Dilshan participated in two world cup series, in 2011, and 2015, to be specific.
ICC World Cup 2011
In the 2011 Cricket World Cup, Dilshan was the leading run-scorer. In nine One Day International innings, Dilshan scored 500 runs, with a top score of 144 securing against Zimbabwe. Besides, Dilshan's partnership with Upul Tharanga for the first wicket in a quarterfinal in this game records as one of the best ever chasings in a quarterfinal in a World Cup game. However, T M Dilshan scored two centuries, two half-centuries, 61 boundaries, and four sixes during the 2011 Cricket World Cup series.
ICC World Cup 2015
Tillakaratne Dilshan scored an unbeaten 161 runs against Bangladesh in the 2015 ICC Cricket World Cup group stage match on 26th February 2015. This was his highest individual score in an ODI, and it was also the highest score by a Sri Lankan in Cricket World Cup history. Moreover, this was also his third score of over 150 and the best individual total in ODI history without a six. Besides, Dilshan, together with Kumar Sangakkara managed to score 206* runs for the second wicket partnership during his innings. And the significance is, that this became Sri Lanka's greatest second-wicket partnership in ODIs at that moment.
Also, during the ICC Cricket World Cup 2015, Dilshan became the third Sri Lankan to score 3000 runs and take 100 wickets. This was during a group match against England on 1st March 2015. Further, in a match against Australia during this series, Dilshan smashed six consecutive fours in an over, which was a World Cup record.
Captaincy of Tillakaratne Dilshan
After the ICC World Cup 2011, Thilakaratne Dilshan was appointed as the Sri Lankan cricket captain for all forms of games. He even had stated that he is not willing to take up the captaincy after his retirement in ODIs. Yet, since there was no suitable cricketer in the team to take up this responsibility, Dilshan finally accepted this post for six months. However, there is a doubt whether the expected results were gained since there was no significant improvement in the team during this time. Of course, he mentions that the injuries of the team members and lack of support from the coaches brought hardships for him to lead the team towards wins. However, following several defeats Dilshan voluntarily left the captaincy in January 2012.
Awards, Rankings, and Significant Milestones of Dilshan's Cricket Career
Being a super-talented Sri Lankan cricketer, Tillakaratne Dilshan has passed several milestones in his cricket career. Mentioned below are some of the significant events among them.
Dilshan earned the Twenty20 International Performance of the Year title at the 2009 ICC Awards for his 96 runs off 57 balls in the semi-final of the 2009 ICC World Twenty20 in England Vs West Indies.
Further, in the 2009 ICC World Twenty20 event, Dilshan received the man of the series award for his individual batting performances.
Moreover, he is the fourth Sri Lankan to reach 10,000 ODI runs and the eleventh overall.
Also, he was the second-highest ODI run-scorer in 2012, with 1119 runs.
Dilshan reached 10,000 ODI runs in the fifth ODI against Pakistan at Hambantota on 26th July 2015. He became the fourth Sri Lankan and the eleventh overall to accomplish the feat.
Dilshan was the 11th highest ODI scorer and the 7th highest century-maker till his withdrawal from the format.
He is also the third player to score 1,500 runs in Twenty20 Internationals and the first Sri Lankan to do so.
Further, he is the first player to hit 200 fours in the T20 Internationals.
Dilshan passed 1,493 runs in Twenty20 Internationals on 9th November 2015, while becoming the top run-scorer for Sri Lanka.
Tillakaratne also set a new record by hitting 200 fours in all twenty20 Internationals, making him the first player to do it.
Also, T M Dilshan owns the greatest individual Twenty20 International score that a Sri Lankan has secured.
Tillakaratne Dilshan also became the fifth player in the history of International cricket to hit hundreds in all formats.
Career Statistics of Tillakaratne Dilshan
The following table summarises the career statistics of this wonderful Sri Lankan cricketer, Tillakaratne Dilshan.
| | | | | |
| --- | --- | --- | --- | --- |
| Competition | Test | ODI | T20I | FC |
| Matches | 87 | 330 | 80 | 233 |
| Runs scored | 5,492 | 10,290 | 1,889 | 13,979 |
| Batting average | 40.98 | 39.27 | 28.19 | 38.8 |
| 100s/50s | 16/23 | 22/47 | 1/13 | 38/59 |
| Top score | 193 | 161* | 104* | 200* |
| Balls bowled | 3,385 | 5,880 | 258 | 6,501 |
| Wickets | 39 | 106 | 9 | 90 |
| Bowling average | 43.87 | 45.07 | 29.66 | 36.16 |
| 5 wickets in innings | 0 | 0 | 0 | 1 |
| 10 wickets in match | 0 | 0 | 0 | 0 |
| Best bowling | 4/10 | 4/4 | 3/16 | 5/49 |
| Catches/stumpings | 88/– | 123/1 | 31/2 | 356/23 |
Tillakaratne Dilshan: Career Statistics; Source: https://www.espncricinfo.com/player/tillakaratne-dilshan-48472
Dilshan's Retirements from Sri Lanka Cricket
On 25th August 2016, Tilakaratne Dilshan announced his retirement from international cricket. Many commentators came up with different interpretations of this announcement. Some said that Dilshan made this announcement owing to some conflicts that took place between him and the Sri Lankan Cricket Board. However, Dilshan denied these rumors.
Accordingly, on 28th August 2016, he played his final ODI at Rangiri Dambulla Stadium. In this match, he was only able to score 42 runs. Yet, the team dedicated this match to Dilshan, and even the thousands of spectators were gathered here on this day to pay tribute to this wonderful cricket player.
When it comes to Twenty20 Cricket, Dilshan retired from this form of the game in the year 2016. On 9th September 2016, he played his final Twenty20 International at R Premadasa Stadium. Unfortunately, he could only score a single run in this match, but he did well in bowling and fielding. Accordingly, he ended his 17-year cricket career with two significant wickets. And the significance is that Dilshan was the second-highest T20 International run-scorer of all time at the time of his retirement.
The Bottom Line
After all, it is not a secret that Tillakaratne Dilshan is a Sri Lankan cricketer of all time. As the commentators mentioned, he is indeed a legend that never retires. Anyone who had seen Dilshan play on the field won't forget his brilliant shots and amazing performances. Besides, he is indeed a great example for the budding cricketers who are to take over Sri Lanka Cricket. The way Dilshan faced challenges, the way he took over responsibilities, and the way he did his part in the field on behalf of the country are indeed significant qualities to note, that many of the players lack. Therefore, Tillakaratne Dilshan is simply one of the legends of this century that made the Sri Lankan flag fly higher. So, while thanking him for all his wonderful contributions, we take this opportunity to wish him all the best with all his future endeavors!