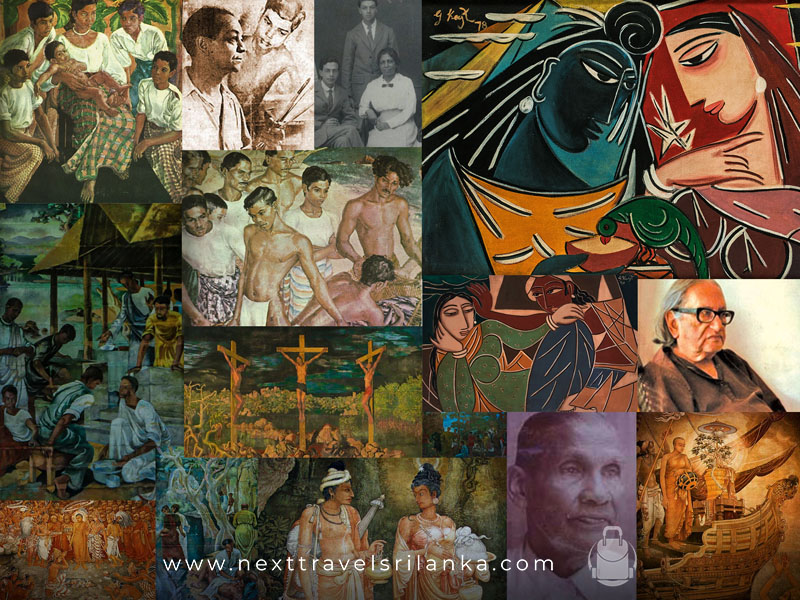 Sri Lanka is a country with a great history and culture. The traditional arts and crafts are a significant part of it. However, the journey of the Sri Lankan arts has not stopped there. The Sri Lankan art culture evolved with time, along with the shades of novelty. As a result, there are many significant facts to highlight with regard to the contemporary modern art scene in Sri Lanka. Besides, there are several Sri Lankan artists who play a huge role in this field. In fact, they have come up with very creative and unique art pieces. Besides, they are well-known for their distinctive nature in creating eccentric art. Thus, their contributions cannot be ignored. So, let us get to know about a few of them through this read.
Who are the Most Famous Sri Lankan Artists?
If you love studying Sri Lankan art, there are so many Sri Lankan artists that you should study. So, here is a list of the most popular Sri Lankan artists who have contributed immensely to Sri Lankan art, especially in recent decades.
David Paynter
Jagath Weerasinghe
George Keyt
Lionel Wendt
Ivan Peiris
Thamotharampillai Sanathanan
Chandraguptha Thenuwara
Sujeewa Kumari
Isuri Dayaratne
Jayasiri Semage
Priyantha Udagedara
Gayan Prageeth
Prageeth Manohansa
Muvindu Binoy
Abdul Halik Azeez
Pakkiyarajah Pushpakanthan
Dinusha Upasena
Nuwan Nalaka
Nawi Samaraweera
Hanusha Somasunderam
Sanjay Geekiyanage
D. Raja Segar
Anoma Wijewardane
Justin Deraniyagala
Anoli Perera
Scroll down to read more about them!
1. David Paynter
David Shillingford Paynter is an internationally acclaimed Sri Lankan artist. He is especially well-known for his contribution to the western art form in Sri Lanka.
David Paynter was born on the 5th of March 1900 in Almora, India. His father was born in Bicester in Oxfordshire and his mother is a Sri Lankan. As members of the salvation army, they first worked in India and then moved to Sri Lanka in 1904. David Paynter received his education from Breeks Memorial school in India and then from Trinity College, Kandy. Even without a formal education in art, he could receive a scholarship to the Royal Academy. Of course, this is where he really flourished as an artist.
During the early days of his career, he mostly used themes regarding religion and religious experiences. However, David Paynter's most notable works are murals at the Trinity College in Kandy and the Chapel of the Transfiguration at St.Thomas College, Mount Lavinia.
He also had good talents in the branch of art called portraiture. During his time, many famous personalities of Sri Lanka, especially from the elite community, wanted to get their portraits done by David Paynter. Some such well-known portraits by him are the portrait of Sir John Kotelawala that you can see at the Sri Lanka parliament and the portrait of Sir Ivor Jennings placed in the University of Peradeniya.
Besides, he was widely acclaimed by Christians around the world and even by the Pope for his religious art. He passed away on 7th June 1975 at the age of 75.
2. Jagath Weerasinghe
Jagath Weerasinghe is another prominent figure in Sri Lankan art. He is a popular contemporary artist in Sri Lanka and also an archeologist. Jagath Weerasinghe is considered the most influential figure behind the development of contemporary Sri Lankan art from the 1990s.
He was born in 1954. He completed his Bachelor of Fine Arts with honors from the University of Kelaniya, and then a Master of Fine Arts from American University, Washington D.C. Now he is the director of the Postgraduate Institute of Archaeology at the University of Kelaniya.
His knowledge and understanding of archaeology are evident in his works of art as well. One significant feature of Weetasinghe's art is his usage of societal themes such as nationhood, religion, identity, and confrontation for commentary.
Jagath Weerasinghe used the phrase '90s art trend' in introducing his and his followers' art. He is also the co-founder of the Theertha collective and inspired the foundation of the Colombo Art Biennale.
As a scholar, Jagath Weerasinghe became the international voice who represented Sri Lankan contemporary art. One of his notable works is the monument 'shrine of the innocent'. He designed this monument upon the request of the Sri Lankan government to commemorate the innocent lives of southern Sri Lanka who suffered during the 1980s and early 1990s.
Jagath Weerasinghe has influenced and also supported many upcoming Sri Lankan artists and such initiatives. According to him, the current trend in Sri Lankan art is 'para-modernism'.
3. George Keyt
George Keyt is one of Sri Lanka's best-known modern painters. His full name is George Percival Sproule Keyt. His genre of art mainly revolved around cubism.
Keyt was born on 17th April 1901 and he belongs to the Anglo-Dutch Burgher origin. He received his early education from Trinity College, Kandy. Further, he developed an interest in art and the study of art from a very early age.
He often claims that the inspirations behind his paintings are contemporary Henri Matisse, ancient Buddhist art and sculpture in India's Sanchi and Gandhara, and the Buddhist Jataka tales. However, he created his own unique style of drawing figure paintings with rich colors and calligraphic lines with the influence of Sri Lankan life.
Apart from being a renowned painter, George Keyt also earned much reputation as a poet. His translation of Gita Govinda into English and Sinhala is considered the most notable work of his career as a writer. Besides, he used line drawings in illustrating these translations. Of course, that made his work more special.
Furthermore, George Keyt is probably the most loved Sri Lankan painter in India. He is also the founder of the Colombo 43' group which became a beloved place for many Sri Lankan painters. Besides, his paintings were exhibited in many art exhibitions in Sri Lanka and in many European and American art centers. In fact, some of his popular works are still exhibited in art galleries in London and New Delhi.
Keyt along with his admirers formed the George Keyt foundation in the late 1980s. This reputed artist passed away on the 31st of July 1993.
4. Lionel Wendt
Lionel Wendt is an important Sri Lankan personality who did an impressive service for many genres of Sri Lankan art. He is a pianist, photographer, filmmaker, critic, promoter of arts, and mentor of artists. Accordingly, he is a brilliant and revolutionary figure of all time in Sri Lanka.
This all-rounder was born on 3rd December 1990 to a family comprising mixed descendants of European settlers. His full name was Lionel George Henricus Wendt. His family was a major reason for him to do art, as his father was also a talented photographer.
Wendt received his education from St. Thomas College and then studied law at an inner temple in London. Even though he is a lawyer by profession, he was much more interested in art. So, he always focused on developing and showcasing his artistic pursuits.
Lionel Wendt contributed much to Sri Lankan art as a dedicated supporter. In the hope of bringing independent Sri Lankan artists together, he founded the Colombo 43' group and he was also the leader of the group. Moreover, Lionel Wendt promoted Sri Lankan artists by purchasing their work, organizing exhibitions, and even publicly defending those artists in newspapers against various scrutiny. Likewise, he wanted to promote modern art trends in Sri Lanka while prioritizing the country's ancient heritage as well.
However, Lionel Wendt faced an untimely death at the age of 44 on 19th December 1944 due to a heart attack. However, his still name is celebrated as one of the most influential figures in Sri Lankan art even at present. The Lionel Wendt Art Center which is a major art center and theatre in Colombo has got its name, in the loving memory of this wonderful Sri Lankan artist.
5. Ivan Peries
Ivan Peries is one of the leading Sri Lankan artists. He is known for his work influenced by the Sri Lankan landscape.
He was born on the 31st July of 1921 and he grew up in Dehiwala, Colombo. Besides, his brother is Sri Lanka's one of the most well-known film directors, Lester James Peries.
While he spent more than half of his life in London and Southend-On-Sea, almost all of his notable works are inspired by his early years and experiences in Sri Lanka. As a progressive and intellectual personality, Peries became recognized as one of the Sri Lankan artists by the age of 20. Peries is also one of the founding members and leading Sri Lankan artists of the Colombo 43' group. As he says, his mentors in art were David Paynter, Aubrey Collette, and Harry Peries.
Ivan Peries is often referred to as an important postcolonial artist and also an influential figure behind the origin of contemporary Sri Lankan art. His personal style was inspired by his cultural dislocation as well. Sri Lanka's rural life and ocean shoreline were often the subjects of his paintings.
In contrast with his early work, his mature work shows more control over his emotions and techniques. Ivan Peries has held several one-man exhibitions both in Sri Lanka and the UK. However, you can see his work in the Sapumal foundation and the Anton Wickremasinghe collection in Sri Lanka. He passed away on the 13th of February 1988.
6. Thamotharampillai Sanathanan
Thamotharampillai Sanathanan is one of the popular Sri Lankan Tamil artists. He was born in Jaffna to a middle-class family. However, it says that he found it much more difficult to study and pursue a career in art in Sri Lanka.
Still, through his art, Sanathanan explores complex issues regarding the Sri Lankan civil war. With his first-hand experience, he traces his lived experience of the Sri Lankan civil war and then the issues faced by the minority communities of Sri Lanka as an artist. As he was away from his mother country most of the time, he released his anguish about the fate of his people through his paintings.
However, he can be considered as a figure who plays a prominent role in Sri Lankan art as he is experiencing a less explored subject from a different perspective. Sanathanan's work often revolves around subjects such as loss, memory, home, and the self.
7. Chandraguptha Thenuwara
Chandraguptha Thenuwara is another prominent figure among contemporary Sri Lankan artists. Apart from being an artist, he also acts as an activist, curator, and educator. His interests lie in sculptures, painting, drawing public monuments, and collaborative projects.
Thenuwara was born in 1960, in Galle. He is now working as a professor in the Department of History and Art Theory at the University of the Visual and Performing Arts.
As one of the leading Sri Lankan artists, one of his main concerns is the post-impacts of the civil war. His personal style can be defined along the lines of one of his own stylistic formations called barellism. As a scholar, his research interests were on topics such as painting, art history, visual and cultural studies, film, and curriculum development.
Chandraguptha Thenuwara founded the Vibhavi Academy of Fine Arts which is now a popular art school. In 1997, Thenuwara started a self-curated art exhibition which he holds annually in remembrance of 'Black July'. As an activist, he often embodies his political ideologies in his art. Some of his well-known exhibitions are neo-barrelism, wall, beautification, monotony, and electric chair for sale.
Thenuwara was also the president of the Arts Council of Sri Lanka from 2015 to 2020. So, likewise, he has contributed immensely to Sri Lankan modern art forms.
8. Sujeewa Kumari
Sujeewa Kumari is another top-ranked contemporary artist in Sri Lanka. She was born in 1971 in Bandarawela.
She studied art at the Institute of Aesthetic studies at the University of Kelaniya. Then, she completed her Master of Fine Arts at the Dutch Art Institute.
Her first art exhibition was 'Kismet and Karma' which was held in Leeds Art Gallery in 2010. From then on, she had several art exhibitions both in Sri Lanka and in the United Kingdom. Besides, her contribution to Sri Lankan art as a female artist is very important.
Her works often deal with the subject of social identity and women in the post-colonial context. Accordingly, she has addressed issues surrounding de-realized memories, cultural images, and other complex artistic styles. Kumari's work has been featured in many prominent local and global art festivals Besides, she was a top ranked artist among the top 100 contemporary Sri Lankan artists.
9. Isuri Dayaratne
Isuri Dayaratne is quite different in her interests from the other Sri Lankan artists mentioned in this list. In fact, she is a freelance illustrator and a comic artist based in Colombo.
She studied art at Columbus College of Art and Design. Her personal style is mainly focused on children's picture books. Her character-based illustrations are very appealing which made it well received by the children's audience and even by adults.
Isuri claims that the biggest influencers behind her work are the Brazilian wonder twins, Gabriel Ba and Fabio Moon. Further, she has experimented with illustrations, drawing, and coloring from a very young age. Of course, that has made her grow up into one of the best illustrators in the country.
Isuri has been working for many foreign organizations while living in Sri Lanka. However, this talented artist is currently working in Vietnam. At the moment, she is working on a sculpture and a comic book.
10. Jayasiri Semage
Jayasiri Semage is an internationally famous Sri Lankan artist and newspaper illustrator. He is well-known for his paintings related to Sri Lankan history.
Kalasuri Jayasiri Gamage was born in 1938 in the southern town of Ambalangoda, the birthplace of many talented artists of Sri Lanka. He received his education from the Ambalangoda Dharmasoka College. He developed an interest in paintings from a very young age. Jayasiri proved himself to be a promising budding artist as he could even hold a solo art exhibition at the National art gallery of Colombo when he was still a student. Later on, Semage started off his career as an artist at the Lankadeepa newspaper and proceeded to be the chief artist there.
Jayasiri Semage identified himself as a traditional artist and thus, he mostly stayed away from involvement in commercial art. However, he has created from small postcard-size paintings to huge paintings over 40 feet in length. As a traditional artist, his personal style was mainly influenced by the Sigiri and Ajantha paintings. Semage received international attention after painting the murals at Kuala Lumpur Buddhist temple and the Penang Buddhist Vihara.
Afterward, he held art exhibitions in many countries such as Thailand, Switzerland, Sweden, Singapore, Oman, Nepal, and Sri Lanka as well. Besides, he received the rare opportunity of permanently exhibiting one of his paintings at the United Nations headquarters. Jayasiri Semage passed away at the age of 84 on 25th August 2021 in Dehiwala.
11. Priyantha Udagedara
Priyantha Udagedara is one of the well-known Sri Lankan artists and historians. He was born in 1975. He is also a well-known scholar with a Bachelor of Fine Arts in painting from the Institute of Aesthetic Studies at the University of Kelaniya, a Master of Arts degree in Contemporary Art and Design Practice, and a Doctorate in Contemporary Fine Art Practice and Design from the Faculty of Arts in Leeds Metropolitan University. Priyantha is currently working as the director of the Centre for International Relations, Head of the Department of the Textile Wearable Arts, and a Senior Lecturer at the University of Visual and Performing Arts. His main research interests are in the field of contemporary fine art practice especially focusing on South Asia.
Priyantha Udagedara's personal style embodies a paradisiacal nature with an artistic appeal using collage and painting. One significant feature of his art is the collaged animal and body parts combined with splattered paint. However, there is more of a disturbing and intense nature in his art when viewed from a closer perspective. However, it is impressive how he handles the subjects of beauty and agony in the same painting. His intricate attention to detail and mind-blowing color combinations makes him one of the best contemporary artists in Sri Lanka. Besides, he is continuing to redefine Sri Lankan modern art while expressing complex issues and subject matters in his art.
12. Gayan Prageeth
Gayan Prageeth is Sri Lanka's one of the most promising modern artists. He completed his Bachelor of Fine Arts from the University of Kelaniya.
He owns a uniquely personal style of art where he combines intricate acrylic paintings with fine ink drawings. One of his most notable works is done on rice paper pasted on a canvas. He is also well-known as an artist who can tell a story through his art.
Gayan Prageeth often explores the controversial politics facing the island over the past years as the subject matter for his art. Even though he uses strong detailing in his paintings, there is also subtlety in the way he approaches the subject matter. His dream-like creations have met with a lot of appreciation in many art exhibitions. His latest exhibition is called 'eyes only'.
This modern artist engages in very conceptual work which explores complex issues.
13. Prageeth Manohansa
Prageeth Manohansa is one of Sri Lanka's finest sculptors. He is a unique artist who entirely works on his own.
Manohansa did a Bachelor of Sculpture at the Institute of Aesthetic Studies at the University of Kelaniya and a painting and sculpture course at the Banaras Hindu University in India. He is also a member of the Foundation of Psychophysical Aesthetics in Assembly Sculpture.
His unique personal style has influenced many budding artists and sculptors of Sri Lanka. However, his ability to capture movement and character makes his sculptures stand out.
Prageeth Monohansa often used bull and Ganesh as the subject matter for his work. Recently, he tried out drawing sketches of the human body. As a person with immense skill, he also practices so much freedom while creating his art. People call him the 'God of metal' considering his ability to scrap metal that can be found in junkyards into artistic media. He creates sculptures of various animals, Buddha statues, and human figures taking the natural environment as his backdrop.
Likewise, his sculptures completely revolutionized the face of contemporary art in Sri Lanka. Monohansa's magical vision continues to inspire Sri Lankan art and budding artists.
14. Muvindu Binoy
Muvindu Binoy is one of Sri Lanka's best-known digital artists. He was born in 1989.
As a young personality belonging to the generation Y, he emerged successfully as a self-taught artist. His main interests are digital collage and film as a multidisciplinary artist. He is also an independent filmmaker. His generational outlook is evident in his artistic works as well.
He often explores themes such as gender, agency, title, and the expectation of traditional values in this modern digital era. It is impressive how he exhibits cracks in our social world through his art. His genre of art visualizes popular culture. In consideration of his personal style, it can be identified that he highlights pastel-colored geometric shapes in the evocation of digital icons.
There are significant features in the details of Binoy's art. For instance, he prefers using the format of the square. Then, he carefully selects the colors and images in a way that symbolizes the global hipster trend. The internet is his primary archive and he often engages with graffiti culture. Recently, he started exploring Sri Lanka's meme culture and its impact on public sentiment.
However, he is indeed a significant character in the field of Sri Lankan arts, and this talented young artist has a long way to go in the Sri Lankan art field.
15. Abdul Halik Azeez
Abdul Halik Azeez is another young and promising artist in Sri Lanka. He was born in 1985.
Azeez started off his career as a strategic consultant and a newspaper and citizen journalist. Then, he has also done several types of research on hate speech and critical discourse analysis. He is working with a range of mediums such as photography, video, digital interventions, writing, installation, and publication. As a photojournalist, he uses social media as a platform to showcase his work and narrative. He often focuses on the nature of lives of the minorities of Sri Lanka and the residents of the Colombo slum areas as the subject matter for his art.
Azeez claims that the contemporary culture, lived experience, and media inspired him for contemporary arts. Especially his work surrounding the areas of Colombo and his portfolio is actually good documentation of the lives of people who are constantly facing issues owing to phases of development.
Furthermore, he is the co-founder of the packet in 2019 which is a collective that acts as an artist-led space based in Colombo. His work creates a dialect between the real and conceptual viewpoints. You can take a sneak peek at his work through his Instagram page.
16. Pakkiyarajah Pushpakanthan
Pakkiyarajah Pushpakanthan is a Sri Lankan Tamil artist. This young and modern artist was born in Batticaloa.
He holds a Bachelor of Fine Arts from the University of Jaffna. His art ranges from drawings, paintings, digital prints, videos, and installations. He often uses his first-hand experience of Sri Lanka's lengthy civil war as the subject matter for his work. He uses art as a medium to bring out the painful realities of the people who first experienced the civil war and how the trauma, deaths, disappearances, and violence shaped their lives. There is always an unsettling mood in his work as they reflect the painful memories of war.
According to him, he expects his audience to have some empathy toward the victims of war. He has held art exhibitions in countries like the US, the UK, India, Nepal, and Sri Lanka as well.
17. Dinusha Upasena
Dinusha Upasena is a popular Sri Lankan artist who comes from a family of Artists and Craftsmen. Both his parents are lecturers at the University of Visual and Performing Arts. So, Dinusha grew up with an artistic background from an early age. The influence of the family pushed both Dinusha and his sister to pursue a career in the arts.
Upasena holds a Bachelor of Fine Arts degree from the University of Visual and Performing Arts and a postgraduate diploma in Archaeology from the University of Kelaniya. He has also completed several courses related to the field from various institutes. He is currently working as an art teacher.
Dinusha's first interest was in painting. Then, his interest moved toward portraiture and sculpture. He often claims his passion for drawing the human figure as he has studied that for years. He even experimented on goat skin to study the skin texture and colors. As an innovative artist, he always did his own experiments on such mediums and ended up with a unique collection of arts that he titled 'momentum'. He held a solo exhibition with this collection in the Lionel Wendt theatre. Dinusha is also working as a graphic designer. The incomparable creativity and innovation are some key features of this young artist.
18. Nuwan Nalaka
Nuwan Nalaka is a young Sri Lankan artist who has a strong interest in the techniques of folk art and traditional painting methods. He was born in 1981 in Delgoda and now he is based in Meegahawaththa.
Nalaka completed a Master of Fine Arts from the Rabindra Bharati University in Kolkata. As a contemporary artist, he often deals with subject matters regarding nature, gender, politics, psychology, and spirituality. He incorporates calligraphic poetry and brush strokes to bring out the symbolism of his art. He pays attention to the minute details of the painting and believes that the physical nature of the subject matter and the medium of paint is very important to monochromatic paintings.
Nalaka has a series of monotone landscapes on canvas marouflage rice paper. There he brought typical images of Sri Lanka's central province onto the canvas and they were mainly based on local fables. Then his collection, 'Inner self' , revolves around subject matters such as gender and politics and those paintings depict a woman or man's torso painted from the back. The attention to detail is one of the significant features of Nalaka's paintings. He combined bold imagery and textured paper to enhance the imagery and the symbolism of his paintings.
19. Nawi Samaraweera
Nawi Samaraweera is a Sri Lankan artist whose genre is mainly abstract art and modern art. He is a sculptor and a painter.
Nawi Samaraweera was born on 26th July 1947 in Mapalana Kamburupitiya in Matara. He grew up in an artistic household situated in a rural area. His father is a well-known person in the area for wood carvings.
Samaraweera holds a Bachelor of Fine Arts in sculpture from the Institute of Aesthetic studies at the University of Kelaniya and a PGDE from the National Institute of Education. His passion for sculpting developed with the influence of the Sri Lankan sculptor, Tissa Ranasinghe.
Nawi Samaraweera is also a specialized Arts lecturer. During his career in the arts, he has been awarded many times for his extraordinary talents. He has also held several solo exhibitions in many areas of Sri Lanka. One of his most notable works is the 'Kanya' sculpture which is now a permanent display at the National Art Gallery of Sri Lanka. After such a long career in art, he is still trying out new forms of art as well with the help of iPads.
20. Hanusha Somasunderam
Hanusha Somasunderam is a young Sri Lankan Tamil artist. She was born in 1988 in the up-country region of Sri Lanka.
The main theme of her work is the plight of the tea estate workers in Sri Lanka. With her first-hand experience of living in the region, she explores the struggle that this poor community had to face in the country for over a century now. The intensified emotions of her art come from the sad experiences of her childhood as her mother was also a poor tea estate worker. In a way, her art became a voice for this voiceless community.
As a medium to bring out the imagery, she uses strainers and strained tea bags and even pay-slips of the tea estate workers for her art. This medium acts as a juxtaposition of the strain and the plight of the people of her community.
21. Sanjaya Geekiyanage
Sanjaya Geekiyanage is a young and innovative Sri Lankan artist. He was born in 1987 in Horana.
He holds a Bachelor of Fine Arts in Sculpture from the University of Visual and Performing Arts. Since iron was the most common medium in sculpture in contemporary arts, Sanjaya wanted to try something different. As a result, he chose copper as the medium of his work which made him a unique and notable artist in the Sri Lankan art field.
In order to have a proper understanding of copper and how to handle the substance, he studies many science books which shows his dedication. With that knowledge, he evoked various colors from copper. According to his perspective, the world is aesthetically perfect and most of his work was based on magical realism. It is impressive how he has handled copper to represent nature in such an intricate manner.
22. D. Raja Segar
D. Raja Segar is a popular Sri Lankan artist and sculptor who is well-known for his figure painting. He is famous as Segar.
He was born on the 4th of December 1951 in Colombo. Segar received his primary education from St. Michael's College in Polwatte. He had to endure a difficult childhood due to the poverty of his family. However, Segar found his interest in art in his association with the British council library which he refers to as his University of Fine Arts.
He started off his career as an accountant. Since he was not interested much in that field, he started designing greeting cards based on the day-to-day lifestyle of Sri Lankans. Segar identifies his personal style of art as refractive. In figure paintings, he often uses subjects such as religious figures like Buddha and Ganesha, and everyday South Asian life. Over time, he started experimenting with light in abstract and figurative cubism.
For paintings, he worked with watercolors, oil, and mixed media and for sculptures, he worked with steel. Segar has held many solo exhibitions and his art has been exhibited in several local and international magazines as well. Segar has represented Sri Lanka in international events like the South Asian Association for Regional Cooperation.
23. Anoma Wijewardene
Anoma Wijewardene is an internationally acclaimed Sri Lankan contemporary artist. She received her early education in Sri Lanka and moved to India at the age of 16 and then to England.
She received her education to be an artist and designer in the UK and then started working there. As a designer, she was able to provide paintings for the cover of Vogue and she has worked with several global fashion brands. Currently, she is putting more focus on her paintings and illustrations. Besides, Anoma Wijewardene has represented Sri Lanka many times as an artist and a designer.
Her art always contains some depth and deals with complex issues such as isolation, transformation, reconciliation, healing, and the freedom of the human spirit. Wijewardene has held many solo exhibitions to showcase her unique art in reputed art galleries in Colombo, London, Kuala Lumpur, Sydney, and Singapore.
24. Justin Deraniyagala
Justin Pieris Deraniyagala is a Sri Lankan painter especially well-known for his oil paintings. He is also a founding member of the well-known Colombo 43' group.
Deraniyagala was born on the 20th of July 1903 to a wealthy family in Colombo. He received his education from St. Thomas College in Mt. Lavinia, Trinity College in Cambridge, and Slade School of Fine Art. He has studied and worked in both London and Paris. During those times, Deraniyagala's personal style got shades of major artists such as Pablo Picasso, Henri Matisse, and Georges Braque. His main subject for his paintings was the female human figure.
Justin Deraniyagala was one of the greatest Sri Lankan painters of the 20th century as he has even received the UNESCO prize for his famous oil painting, 'the fish'. It is one of the most recognized international achievements that a Sri Lankan painter has ever received.
He was lucky enough to exhibit his paintings in several prestigious art galleries in the world. He passed away at the age of 64 on 24th May 1967 in Pasyala.
25. Anoli Perera
Anoli Perera is a popular Sri Lankan contemporary visual artist. She is also a writer who writes about Art and other related fields.
She was born in 1962 in Colombo. Perera completed a degree in political science, economics, and sociology from the University of Colombo and then completed a post-graduate diploma from the Bandaranaike center for international studies. She started to pursue a career in visual arts after she moved to the US at the age of 26. Mostly, her works revolve around themes such as women's issues, history, myth to identity, colonialism, and postcolonial anxieties. So, her works express feminism and craftsmanship.
Anoli Perera identifies her work to be autobiographical. She usually works on large installations, paintings, sculptures, and photo performances and uses clothes, thread, lace, and paper as her raw materials. Furthermore, she has published several writings on contemporary Sri Lankan art.
Her works have been exhibited in reputed art galleries in Sri Lanka and in many other countries as well. She is a co-founder of the progressive art initiative based in Colombo known as the Theertha artists collective. She worked in Sri Lanka for a few years before moving to New Delhi.
The Bottom Line
A country's style of art and the field can say a lot about the literacy and the creativity of the country's citizens and culture. In that case, Sri Lankan artists have contributed immensely in showing Sri Lanka to international platforms in a better light. They were capable of continuing the great Sri Lankan art tradition which prevailed on the island for centuries. In fact, if you are interested in art and related fields, there is a lot for you to learn from Sri Lankan art. You will be able to study a vast field along the lines of the above-mentioned artists. Then, if you are an admirer of art, don't forget to look through the unique artwork of these artists belonging to so many genres. You'll be amazed by the rare and original talents of Sri Lankan artists.