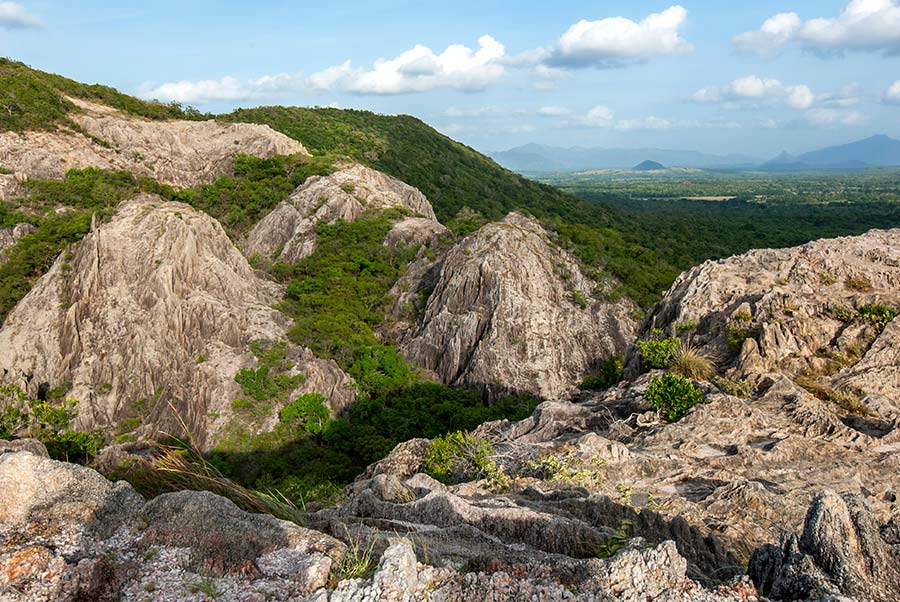 Sri Lanka, the teardrop island in the Indian Ocean, is well-known for its natural beauty. Simply, the greenery that covers this island defeats anything else. As a country, the authorities have taken many steps to conserve this unusual beauty, aiming to preserve it for many more generations. And yes, that is one of the main reasons why one can spot many nature parks, rain forests, and animal sanctuaries here on this island. These are there not only to preserve the beauty but the endemic plants and animals as well. Namal Uyana is also one of such preserved forest areas in Sri Lanka, that many may not have heard about.
It is also known as "Jathika Namal Uyana in Sri Lanka". The interesting fact is that it is the largest ironwood forest and pink quartz mountain in Asia. Owing to the uniqueness of this wonderful place, several travelers choose to visit it. Still, it is not that popular as a tourist destination in Sri Lanka. Hence, we thought of sharing with you all about this wonderful 'Namal Uyana'. Continue reading!
History Related to Namal Uyana
Namal Uyana is a remarkably rare forest subjected to replantation of ironwood trees during the 8th Century AD. King Devanampiyathissa and King Dappula IV ruled the country during this period. During the reign of King Devanampiyathissa, Namal Uyana was a sanctuary for Buddhist monks. As per historical records, this was a place for Buddhist monks to do their meditations peacefully.
Later during the reign of King Dappula IV, this land had been a prison camp. However, the punishment that the prisoners had got was to plant Na trees within the premises. Also, it had been during the same period that it was declared a human sanctuary.
However, during all these years it was a hidden gem. It did not get the due attention or fame since its significance was unknown. Yet, the Buddhist monk, Venerable Wanawasi Thero, took forward the message about the existence of this unique Namal Uyana and its significance. This happened around two decades ago, and from that point onwards many chose to visit this wonderful place.
At the same time, the history of Namal Uyana originally dates back to the 3rd Century BC. It was the time period before the replantation of ironwood in this premises. However, the Buddhist ruins that one can see in this park belong to later periods.
Considering the significance of Namal Uyana, the authorities declared it as an archaeological site in the year 2001. Then, with the great effort of Venerable Wanawasi thero it also became a national forest reserve under the Department of Wildlife, in 2005. Since then, the world started to recognize Namal Uyana as the largest ironwood forest and pink quartz mountain in Asia.
Significance of Namal Uyana
The significance of Namal Uyana can be highlighted under various aspects. However, among them, the Ironwood Forest, Rose Quartz Mountain and the park's biodiversity are the main attraction-seeking factors. Due to these very factors, it has become popular as one of the rarest forest areas in the Asian continent. Besides, the remains of a Buddhist monastery, stupa, moonstone and other structures that stand there along with a small but beautiful waterfall make it more attractive and significant.
Ironwood Forest
Ironwood (Na) tree is an endemic tree of Sri Lanka. And guess what! Namal Uyana houses one of the largest Ironwood forests that one can ever find. History reveals that these Ironwood trees have been planted in an area of over 260 acres in extent during the reign of King Devanampiyathissa of the Anuradhapura Kingdom following a request of Buddhist monks of the time. However, the roots and leaves of the ironwood tree possess a therapeutic value. Hence, many believe that it is the reason for this forest to offer an astonishing tranquil experience. For that very reason, it had been a sanctuary for Buddhist monks and humans as well.
Rose Quartz Mountain
According to the archaeological findings, Rose Quartz Mountain in this unique historical place has a grand history of more than 550 million years. It is a mountain formed with dotted rose quartz and seven ridges. The Rose Quartz Mountain is a major pilgrimage site in this park where a statue of Lord Buddha sits atop it. It takes around one and half hours to ascend the mountain peak and at the highest flight. Yet, once you arrive there, you will get to witness how worth having that hike is. In fact, the peak offers a breath-taking panorama of lush greenery and lakes to the hikers of the mountain.
Biodiversity
Apart from the above-mentioned major attracting factors, Namal Uyana is rich with biodiversity to an extent that one could lose his/her consciousness due to its unbelievable formation. However, the most valuable tree species that are found in the forest premises are Ironwood, Ebony, Teak, Satin and Palmilla.
Among these rare collections of tree species, a large ironwood tree which rises up to 60 feet seeks the central attention of biodiversity. Other than that, one can find a rich variety of uncommon medicinal herbs species among these plant varieties. According to biologists, within the territories of Namal Uyana, there are around 103 species of tropical plants and 82 species of herbal plants.
Not only that, one can find around 18 bird species, butterflies, and mammals including leopards, elephants, monkeys and deer along with serpents and molluscs within the extent of 260 acres of land. Among these animal species, it says that the majority are endemic species.
Location of Namal Uyana
This iconic destination is located in the dry zone of Sri Lanka. Specifically, it is 7kms from the Madatugama junction of the Colombo-Anuradhapura highway and 15kms away from the historical Dambulla city.
How to Reach Namal Uyana?
To reach Namal Uyana however you need to arrive at Dambulla first, since the main city it belongs to is Dambulla . Let us share with you the routes you can use to reach this destination from the main city of Colombo, the commercial capital of Sri Lanka.
First of all keep in mind that this could be a long journey of nearly 4 hours. Yet, you can choose any travelling mode; either by car, by train, or by bus.
By Bus;
If you are travelling by bus, you first need to go to Colombo Bastian Mawatha Bus Terminal to get a bus to Dambulla. Then you can get down at Dambulla after travelling for around 3 and half hours. Then, you can take a taxi to reach the destination, and this ride will take around 20 minutes.
By Train;
Of course, you can have a thrilling experience through a rail journey. As always, you need to reach the Colombo fort railway station and get the North Central train in order to get to Dambulla. First of all, you need to book a train ticket at your convenience beforehand if you need to have a comfortable journey. If not, you can get a 3rd class ticket, which doesn't guarantee you seating facilities or additional comforts. After travelling for about 2 hours and 30 minutes starting from Colombo fort, you can get down at Maho junction. Then you can get a taxi to reach the destination.
After all, having a rail journey is more enthusiastic since it will make your excitement double as you will get to witness the true natural beauty of the country. So, travelling by train will be a wonderful addition to your journey.
By Taxi;
Without using either of the above-mentioned methods, you can travel by taxi or a rented car straight away. This method allows you to get to Namal Uyana easily from any corner of the island. However, the time durations spent for the ride and the cost may differ based on your starting location of the journey.
Best Times to Visit Jathika Namal Uyana
It says that spring is the best time to visit this eye-catching ironwood forest. It is because during that period the Na trees spanning 260 acres are in the form of full bloom along with the fallen white petals on the ground. Walking on the petals with fully bloomed trees over the head will make you feel like stepping into heaven.
Besides, during spring, it is better to visit the forest in the daytime as you can walk through the forest along with its soft fragrance amidst a windblown peaceful atmosphere. Not only that, the mix of the vibrant colours of the leaves, trunks, flowers and petals will take you to a separate world. That is why it was once a meditator's paradise and a nature lover's heaven.
Some say that the evening hours are also good to have a visit to the forest. It is because of the glittering seven pink quartz mountain ranges due to the deeming light of the setting sun. It also provides you with unusually tranquil beauty.
So, either morning hours or evening hours are better if you are a person who identifies the beauty of any time in anything. If you are a person with a certain interest, make sure you choose the right time with your preference.
However, the Namal Uyana is open throughout the day from 7.00 am to 5.00 pm. Since there is pretty much of a hike to do, do not visit during noon as the sun and the heat can be unbearable.
Entrance Fee to Jathika Namal Uyana
This is a forest that is under preservation and conservation. Therefore, the authority is taking a fair price from every visitor for its maintenance. The entrance ticket cost around 500 LKR and you can get the ticket at the entrance. Also, don't worry, you have no other expenses once you are in. Besides, you will see how worth paying this small amount of 500 LKR is, once you are done walking around in the forest.
However, make sure to add value to your payment by visiting it in either morning or evening hours. There may be considerably high crowds at the pilgrim site during midday.
Things to Remember when Planning to Visit Namal Uyana
First of all, you need to check whether the park is open as it can be closed during certain days for various reasons. Next, you can plan ahead your transportation method. We don't recommend using public transportation to reach Namal Uyana since there is a vast scope in the park to walk around. Yet, if you think that you are fit enough to walk in the park after a bit of tiring journey in public transportation, you can still proceed ahead with it.
Further, if you feel like you will be needing a travel guide, make sure to arrange one for yourself. Contacting them beforehand, and confirming their participation would be indeed helpful.
Next, start packing. Remember that you are going to the dry zone, which can be dead hot during the daytime. So keep a solid count of water bottles with you. Yet, the interior of the forest does not essentially become that hot due to the presence of ironwood trees. Indeed, they are making the area the coolest place. At the same time, the waterfall that lies at the entrance of the forest gives a cool vibe as well.
If you are willing to climb up the rose quartz mountain, wear a good pair of comfortable hiking shoes. The ground seems too rough. Moreover, make sure to wear something comfortable considering your ease. Also, do not carry too much weight since your visit is all about exploring this park on foot.
However, don't forget some plain packed food since the site has little to no food stalls. Looking at the worst-case scenario, take a small first-aid kit including a considerable amount of all the essential medications. At the same time, take a pair of slippers with you to wear in case you get injured or hurt.
The Bottom Line
By now, you may have realised how significant this site is and how worth it to visit it. Undoubtedly, Namal Uyana should be among the major attractions of both locals and tourists who value nature and culture. The wonderful history that it holds, its valuable archaeological significance, its wonderful biodiversity, as well as its natural charm are impressive beyond words. Besides, it is a unique place that offers different types of travelling experiences from exploring to hiking. Hence, Namal Uyana is simply a must-visit when you are traveling to this splendid island. Visit it yourself, and thank us later. Happy and safe traveling!