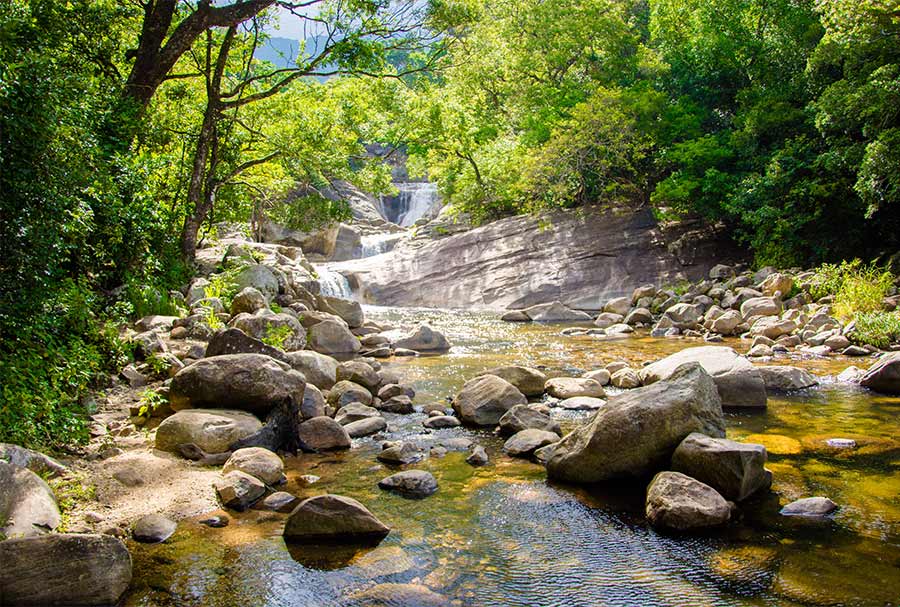 If you are a passionate traveler, chances are high that you have added Sri Lanka to your bucket list. This small island in the Indian ocean is world-famous for its abundance of astounding tourist destinations. Almost all these locations are surprisingly unique and you won't be able to see such places anywhere else in the world. So, it's no wonder that you get a little confused about where you should go on your Sri Lankan tour. Well, here's a little tip for you. If you love exploring remote areas and hidden locations, you should definitely visit Meemure. While it's true that you may have not seen this village often on the list of best locations in Sri Lanka, it doesn't make it any less special. So, here are all the details that you should know about this hidden gem before planning your trip to Meemure!
Significance of Meemure
Probably, your first question about Meemure is, what is Meemure?
Well, Meemure is a small remote village in Sri Lanka that is located close to the border between Kandy and Matale districts. The village remains quite secluded in the midst of the Central province. Therefore, this is among the most remote villages in Sri Lanka.
The major town close to Meemure is Kandy and that too is situated about 50 kilometers away. However, there are a few families who live in peace in this village and the population is roughly around 400 people. Still, this is like a village that exists in the comfort of its own world as there is no cellular service or mail delivery available. Besides, the people of Meemure mainly depend on agriculture, especially vegetation of crops such as pepper, cardamom, paddy, and ginger.
Meemure is not just another village in Sri Lanka. So, you might be wondering what makes it so special?
Well, to start with, the impeccable sceneries that are literally at every corner of the village are to die for! In fact, Meemure is dominated by greenery with forested hills and rich vegetation. Knuckles mountain range, Lakegala mountain, and the Pitawala Pathana grassland border the village, adding such picturesque views everywhere. The cleanest water flows through the village. Even the trail to the village lies through such a scenic route. As a matter of fact, the whole village is a delightful location.
Recently, it became increasingly popular, especially among the local tourists. It is now considered an absolute dream destination in central Sri Lanka. Keep reading to collect even more reasons to visit Meemure.
History of Meemure
Even though Meemure is a small village, it has a great historical story behind it. According to local beliefs, the history of the village runs back to 5000 years.
As such, the village used to be a site that belonged to King Ravana. He landed the 'Dandumonaraya', his flying machine on the top of the Lakegala mountain after kidnapping Rama's wife, Sita. Accordingly, during King Ravana's era, this village was called the 'Mahapabbata Gramaya' and it changed into Meemure later. There's another story of this village in relation to Ramayana which states that King Ravana's corpse is lying in a tunnel that goes through this area. So, there are several stories on Meemure along the lines of Ramayana's story.
According to another folklore, Kuweni and her children moved to the forests of Meemure after they were banished by King Vijaya. It is believed that the Vedda community, the indigenous people in Sri Lanka, originated from Kuweni's children. That makes this village the original settlement of the Vedda community. Now they live in the Mahiyangana area which is situated about 60 kilometers away from this area.
Besides, there's more evidence on this village from the Kandyan Era as well. During the colonial period, this small village produced the gunpowder used by the local army against the colonizers. However, in the present, Meemure has gained much recognition with various TV programs and popular movies.
Attractions in Meemure
The untouched natural beauty of Meemure is a sight for the sore eyes. In fact, the quaint village encircled by mountains, with endless nature views will keep you mesmerized throughout the journey.
There are many beautiful locations in Meemure to be explored by spirited travelers like you. So, here are some such attractions that you shouldn't miss on your trip to Meemure.
Meemure Village
Lakegala Mountain
Rivers and waterfalls in Meemure
Knuckles Mountain Range
Excited to know more about these places? Keep calm and continue reading!
1. Meemure Village
When talking about the attractions in Meemure, it is a good point to start with its charming village area. The rural village is like the epitome of the best of Sri Lankan countryside. The beautiful village is hidden amidst a thick forest. In fact, this is simply a village enriched with natural beauty.
Besides, this village is pretty much based around a huge Mee tree, a small grocery shop, and a Buddhist temple. There is also a school and a medical center in the village now. Paddy fields, chena cultivations, and spice vegetation are a common sight in Meemure. Villagers are used to a minimalistic life and they can fulfill their needs with the resources that they can find from their own village.
This is the type of village that is very uncommon even in Sri Lanka. There is so much to explore in the village and the lifestyle of the villagers is also very interesting. So, this is an ideal location to have an adventurous journey. Trek through the village to see views that can simply take your breath away. Then, Meemure village is a great place to have a camping night too. There are several camping sites scattered throughout the island. While enjoying the views, you can go through the awesome Sri Lankan countryside lifestyle. Altogether, Meemure can offer you a one-of-a-kind village experience in Sri Lanka.
2. Lakegala Mountain
Lakegala mountain is a pyramid-shaped mountain situated in Meemure village. This mountain is a part of the Knuckles mountain range.
Lakegala mountain takes a unique shape and the summit is elevated for about 1310 meters. Its name 'Lakegala' means the 'rock of Sri Lanka'. It is reputed as King Ravana's landmark of Meemure. From the village, there is an amazing view of the triangular shape of the mountain. There are actually three mountain peaks there but only Lakegala is visible to Meemure. Anyhow, Lakegala is one of the most popular mountain summits on this beautiful island.
There are several paths to access Lakegala but many choose to go via Meemure as it is considered the safest path. Still, the peculiar rock formation and the sharp steepness make it one of the most difficult and dangerous hikes in Sri Lanka. Therefore, it is not recommended for beginner-level hikers. Still, if you are an experienced hiker, this will be a perfect location to try out an adventurous hike. Always remember to carry proper equipment and prepare well beforehand. Sometimes, a villager will accompany you on the tour as a guide. Many claim that the difficult hike is so worth it as the views of the surrounding from the mountain top of Lakegala are out of this world.
3. Rivers and Waterfalls in Meemure
The central highlands of Sri Lanka are home to a number of picturesque waterfalls. So, if you are on a waterfall hunt in Sri Lanka, then you should definitely visit Meemure.
This village is located on the eastern slope of Central province amidst the Knuckles forest reservation. Besides, the village is filled with natural water springs and waterfalls. So, if you feel thirsty in Meemure, all you have to do is follow the water sound. Yes! You can drink from these streams and you will be able to taste such pure water. As you take a trek through the jungles in this village, you will be able to spot several lesser-known waterfalls such as Nawarathne falls and Diyakerella falls. A waterfall hunt in this area is so special as they are situated in an impeccable natural setting with rich biodiversity. These waterfalls and streams add so much value to the beauty of Meemure.
4. Knuckles Mountain Range
Meemure village is encompassed by the Knuckles mountain range from its west side. Knuckles mountain range is basically a natural paradise with a rich ecosystem. Also, it is probably one of the most popular hiking locations in Sri Lanka due to its breathtaking views and adventurous trails. So, don't forget to hike through the Knuckles mountains when you visit Meemure.
It is essential to carry the necessary gear if you are to hike Knuckles, and you can also hire a local guide from the village if you need one. There are several trails that you can try in the Knuckles mountain range from Meemure. Most of these areas are yet to be explored even by local travelers. Nitro caves and Duwili Ella trail are some such famous trekking trails that you can access from this village.
Of course, this is a fairly challenging hike, but it is also one of the best mountainous experiences that you can get in Sri Lanka.
Climate in Meemure
Meemure village is located 324 meters above sea level in the central mountains of Sri Lanka. The village faces tropical weather all throughout the year. Its temperature usually ranges between 19°C and 32°C. However, you can expect more soothing weather in the village due to its forest cover. It gets a little too cold there in the early morning and evening. Meemure faces the coldest weather in January and the hottest weather in May. It receives the most rainfall in the months of January, April, October, November, and December. As a whole, this is favorable weather for traveling. But it is better to avoid the rainy months to have a more comfortable tour in Meemure.
How to Reach Meemure?
Meemure is located about 197 kilometers away from Colombo, the commercial capital of Sri Lanka. In order to reach this village from Colombo, the easiest option would be to take the train. You can take a train to Kandy railway station from the Fort station. Then, you can take the remaining distance to Meemure by taxi. The whole journey will take about 4 hours.
Another cheap option is traveling by public bus. For that, you have to catch a bus from the Colombo Bastian Mawatha bus terminal to Kandy Good Shed bus station. Then, you can find a bus to Meemure from there. It will take about 5 hours to reach this area by bus. However, if you don't like public transportation, you can easily arrange a private vehicle to Meemure from the airport itself. The journey will be fast but quite costly as well.
Meemure is a little bit close to Kandy. As mentioned earlier, it is situated 50 kilometers away from Kandy. So, if you are traveling from Kandy, you can take a bus to Meemure from the Kandy Good Shed bus station. Still, the easiest option is hiring a taxi or renting a vehicle from Kandy. If you use private transportation, you can reach Meemure within 1 hour and 30 minutes.
Accommodation Facilities in Meemure
While Meemure is situated in a remote area, you can still find decent accommodation facilities in the area. But if you are looking for more luxury accommodation, it is better to stay in a star-class hotel in Kandy. Then you can travel from Kandy to visit Meemure.
If not, you can choose one from many resorts in the Meemure area. You can have a comfortable stay in such resorts for a reasonable price as well. There's a range of hotels and resorts in the area that you can choose according to your budget and needs.
Are you tired of the usual hotel experience? Or, are you on a budget trip? Then you should definitely give a try to a homestay. After a fascinating journey in Meemure, you can spend the night with a local family. You can also taste some authentic Sri Lankan cuisine with them. It would be an amazing experience to feel and live like a local for a moment in Meemure. Of course, the prices are much lower but the experience will be immeasurable.
On the other hand, you can also camp in Meemure. Choose a campsite and spend the night closely connected to nature. As such, there are many options that you can choose from for accommodation in Meemure.
The Bottom Line
Sri Lanka is just stunning! If you want to really experience Sri Lanka at its best, you should immerse yourself in its culture during your tour. And where else the culture of a country is best preserved other than in villages? So you shouldn't miss exploring the charming village of Meemure during your Sri Lankan tour. While traveling through the countryside lifestyle, you can also enjoy the impressive nature views of this charming village. So what's not to like? Basically, Meemure is like an all-in-one package for a tourist. You will love paying a visit to it for sure. Happy and safe traveling!