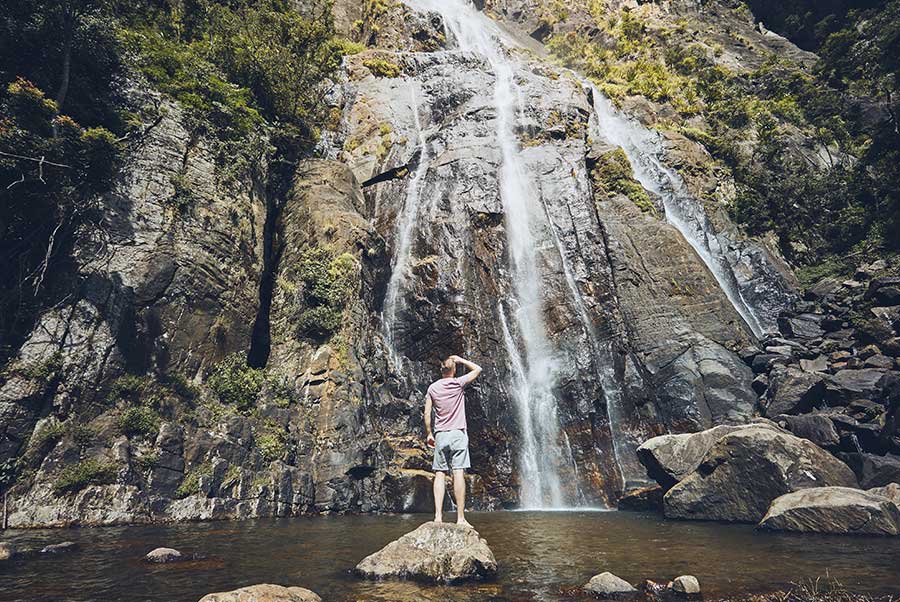 Sri Lanka is a charming island that never fails to attract its visitors. From forests and water bodies to hiking spots, this island is rich with wonderful surroundings. When it comes to hiking in Sri Lanka, the Bambarakanda hike becomes prominent. Therefore, we thought of sharing with you all about this challenging, yet interesting hike.
Bambarakanda Hike is mainly based around the Bambarakanda waterfall, which is one of the most majestic waterfalls in Sri Lanka. It is situated in the Badulla district, in an area called Kalupahana. Bambarakanda is the tallest waterfall in Sri Lanka with a height of 263 metres. In fact, it ranks as the 461st highest waterfall in the world. Kuda Oya, a tributary of the Walawe River, forms this magnificent waterfall. Bambarakanda Ella is located in a forest of pine trees and is close to the Horton Plain National Park. Above all, it is located just 5km away from the A4 highway which makes it easier for tourists to reach the waterfall.
Significance of the Bambarakanda Hike
There are several reasons why this Bambarakanda hike is significant. Among them, the main factor is indeed its natural surrounding. In fact, when you visit the Bambarakanda falls, you are surrounded by many other wonderful waterfalls, mountain views, rugged terrains, villages, abandoned estates, valleys and tea fields. This greenery coupled with the wonderful water bodies never fail to amuse your eyes. Thus, you will never feel tired of your journey, as you can enjoy the cool climate while hiking.
Besides, Bambarakanda is a good spot where you can take beautiful photographs. Unlike most waterfalls, Bambarakanda Ella is a thin line of water dripping from a rocky outcrop. Hence, it stands with grandeur in varying photographic angles, and hiking creates ample opportunities to capture the best.
Also, if you are an adventure lover, you would certainly find the Bambarakanda hike interesting. In fact, the thought of hiking the tallest waterfall in Sri Lanka itself would give you a different feeling, and the experiences you gain during this hike would be simply memorable. Owing to all these reasons, the Bambarakanda hike remains significant, and we believe that you would get this experience yourself!
How to Reach Bambarakanda
There are several ways to reach Bambarakanda such as by bus, train or taxi. Considering the cost, distance, and convenience, you can choose what's best for you!
Colombo – Bambarakanda Waterfall
If you are travelling from Colombo you can take the train that goes to Haputale. After you get off in Haputale, take a bus or hire a tuk-tuk or taxi to get to Bambarakanda. If you prefer buses to trains, you can take a bus from Colombo, which travels through the Colombo – Badulla route to get to Kalupahana junction. Getting off at Kalupahana junction is the easiest way to reach Bambarakanda as the waterfall is just 7km away from this junction. There are many tuk-tuks available here. You can use them to get to the waterfall.
Kandy – Bambarakanda Waterfall
If you are travelling from Kandy, you can take a train to get to Haputale. You should take the Colombo – Badulla train and get off at the Haputale station. To get to the waterfall from Haputale, you can take a bus from Haputale or you can hire a tuk-tuk or taxi. You can get off at the Kalupahana junction and hike to the falls if you prefer that.
Jaffna – Bambarakanda Waterfall
If you wish to travel to Bambarakanda from Jaffna, you can take a train and get off at the Polgahawela station. From the Polgahawela station, you have to take the train that stops at the Haputale station. Then, take a bus or hire a tuk-tuk/taxi to get to Kalupahana or to the falls itself.
You can also take a bus to Colombo from Thirunelvely West, Jaffna. After getting off in Pettah, walk or hire a tuk-tuk/taxi to get to the Colombo Bastian Mawatha Bus Terminal. It is not a long walk. Here, you can also find buses that go to Haputale. From Haputale, take a bus or hire a tuk-tuk/taxi to get to the destination.
Galle – Bambarakanda Waterfall
To get to Bambarakanda from Galle, you can take a bus from the Galle Bus Station to Makumbra Multimodal Transport Center. To reach Kottawa from Makumbra Multimodal Transport Centre you can either walk or hire a tuk-tuk/taxi. It is a short walk. From Kottawa, take the Colombo – Badulla Bus and get off at Haldummulla. You can hire a taxi or tuk-tuk to reach the destination from Haldummulla.
If you like to use your private vehicle to get to Bambarakanda, that is also possible. Hiring a tuk-tuk or taxi is another option. Although these options can be a little expensive, they will help you have a more convenient and stress-free journey.
What to Expect During the Bambarakanda Hike?
Well, being prepared is always better. Hence, we thought of sharing with you what to expect during the Bambarakanda hike.
You will hike along broken roads and unclear trails. The hike will at least take a good 7 hours. Yet, the hike won't be boring because of the following amusements!
Walks through Tea Estates
During the hike, you will pass several tea estates where you can interact with the locals. Interacting with the tea plantation workers will definitely be a different experience as many of these workers originally came from India during colonial times. You can even have the experience of plucking tea as well. These interactions and experiences will also be very informative as you will get to know the process behind making the famous Sri Lankan tea powder. You can get to know about the locals by talking to the villagers such as tea plantation workers, school children and staff. Besides, you can even enjoy gorgeous views, overnight stays and Sri Lankan food in these tea estates.
Trains and Train Tunnels
During the hike, you will come across trains carrying tea harvest to Colombo Fort. These trains pass the railway lines the British built during the time when Sri Lanka was colonised by the British. If you are a person who enjoys railway tunnels, this hike will be a satisfying experience for you because during the hike you will encounter railway tunnels and also a hill country railway station.
Devil's Hike
A famous 14 km trail, which connects Ohiya and Kalupahana, called Devil's Staircase is a spot many tourists enjoy during the hike. This location consists of breath-taking scenery.
Lanka Falls
Lanka Falls is a waterfall you will encounter while hiking to Bambarakanda. This waterfall is located in a very secluded area and is mostly available for the hikers to have a relaxing bath while enjoying the beauty of the forest surrounding the falls.
Scenic Surroundings
Hiking to the top of the Bambarakanda takes around 30 minutes at least. Many hikers climb to the top using trails. The view from the starting point of the waterfall is breathtaking. The views of the Eastern Plains are something that many hikers enjoy. The natural pool situated at the base of the waterfall is used by many tourists to swim, bathe and relax during hikes. There is a sitting area, near the base of the falls, for tourists to enjoy the view of Bambarakanda Ella. You will get to a viewpoint when you travel through the pine forests and there you can enjoy the view of an entire forest range. Also, you can take pictures in this spot.
The water flow of the waterfall is at its best from March to May since, during this time, there is moderate rainfall in this region.
Bambarakanda Hike Packages
There are several hike packages from various service providers, for you to choose from if you are planning to hike to Bambarakanda. Those packages include transportation facilities with air-conditioned vehicles, hotel pick up and drop off, camping facilities and essentials, food, water and beverages, professional and well-experienced trekking/ tour guides, accommodation, etc.
Some service providers offer the services of naturalists during the hike. Some packages include night stays in simple homes so that the tourists will be able to experience the lifestyle of the locals and enjoy Sri Lankan food and tea. The prices of these packages may vary according to the package and the service provider you choose.
How to Get Ready for the Bambarakanda Hike
You need to be ready with all the hiking essentials before you start the hike. The following points will guide you with it.
As the roads can be slippery and rough, make sure you wear a pair of hiking boots.
There will be leeches and other insects. So be sure to bring some salt with you.
As you will be experiencing a cool climate, wear clothes that will keep you warm and comfortable. Make sure you wear a pair of socks to keep your sweat away from the skin. By chance, if you find some part of your hike sunny, it would be important to have sunscreen to avoid sunburns. So, carry sunscreen and also a pair of sunglasses with you.
Do not forget to bring a bottle of water since the trails will be dry. You can take snacks and other beverages as well.
If you are a person who gets sick a lot or takes medication on a regular basis, make sure you bring all your medications.
Above all, keep your phones and maps with you at all times.
Talk to your tour/trekking guide about what camping/hiking essentials you will need. If you are hiking on your own make sure you do enough research about the hiking/camping essentials you will need during the Bambarakanda hike.
Make sure you follow all the safety guidelines the tour guide asks you to follow during the hike. In case of emergency, contact your tour guide.
Be sure not to take part in the hike if you have serious health conditions.
Children must be accompanied by adults as it is not safe for them to participate in the hike alone. Try to avoid bringing children aged under 10.
Places to Visit around Bambarakanda
There are several places to visit around Bambarakanda. These places are gorgeous tourist attractions which offer you wonderful experiences.
Ella
Dunhinda Falls
Ceylon Tea Museum
Adam's Peak
Horton Plains National Park
Galmaduwa Temple
The Great Western Mountain
Continue reading to know more about these attractions!
1. Ella
Ella is a beautiful Sri Lankan village where you can enjoy the charm of greenery. The beauty of the cloud forests and tea plantations, jungle canopies and its cool climate are the specialities of this village. You get to encounter bamboo forests and tropical mist during the journey. However, travelling to Ella by train itself is a beautiful experience. It is even famous as one of the best train rides that you can ever enjoy. Besides, many tourists go to Ella to climb up Little Adam's Peak as the view from the top is absolutely breathtaking.
The Nine Arch Bridge is another tourist attraction that amuses anyone. It is a massive stone bridge that stands in a scenic environment. You will feel like you are closer to the sky when you are here. Encountering the blue train while enjoying your time here is a fun and amazing experience.
Moreover, enjoying a shower at Ravana Falls, visiting Diyaluma Falls, relishing the tea field views at Lipton's seat, and climbing the Ella rock would be some exciting things for you to do in Ella.
2. Dunhinda Falls
Dunhinda Falls, best known for its smoky dew drops spray, is considered one of the most beautiful waterfalls in Sri Lanka. Some call it bridal fall since its waterway takes the shape of a bridal veil.
Dunhinda is formed by Badulu Oya and is about 64km tall. You will instantly fall in love with the beauty of the waterfall. Visiting Dunhinda Ella is a two in one experience because, on your way to the falls, you will encounter another small waterfall known as Punchi Dunhinda. Moreover, there will be local sellers who sell food and drinks on your way to the falls which will make you feel accompanied. After all, the Dunhinda waterfall, located just 5km away from Badulla, will give you an amazing experience.
3. Ceylon Tea Museum
This museum, originally constructed in 1925, is very popular as you can learn about the history of the Sri Lankan tea industry here. You will be able to taste and/or buy tea here as the museum has places for tea tasting and tea shopping. Further, you can buy tea for your friends and family from this museum. And why not? You can even get fresh tea leaves that directly come from the tea plantations in this wonderful place.
Being able to observe the machinery and equipment used in the process of tea making is another speciality here. Besides, if you wish to, you can also request a tour guide to learn more about the Sri Lankan tea industry. Therefore, visiting this museum will not only be a fun tour but also an informative experience.
4. Adam's Peak
Adam's Peak is one of the most popular tourist attractions one can encounter in Sri Lanka. The sunrise at the top is worth all the exhaustion you face while climbing the 5200 odd stone stairs.
This mountain is well-known for its sacred footprint near the summit. Buddhists in Sri Lanka believe that it is the footprint of Lord Buddha. Meanwhile, the Hindus believe that it is the footprint of Lord Shiva. However, on the other hand, according to the Muslims and Christians in the country, the sacred footprint was the first step of Adam after he was thrown out of the Garden of Eden. These religious connotations are the reason behind the placement of pilgrims around the stairs.
The hike to the top becomes a very relaxing experience as you will see vegetated hills on the way. If you are an animal lover, you will have the best experience of this as numerous birds, reptiles and mammals live in this area.
5. Horton Plains National Park
Horton Plains National Park is located in the central highlands of the island. It is just 32 km away from Nuwara Eliya. This tourist attraction becomes important since many species endemic to Sri Lanka live in this national park. Some of the animals are residing only in this park.
World's End, a cliff of about 4000 feet, is a tourist attraction located inside Horton Plains at the Southern boundary. Furthermore, you can see stone tools which belong to the Balangoda culture here.
Another tourist attraction you can find in this area is Baker's Falls. Belihul Oya, which is also a tributary of the Walawe river, forms this waterfall. The name Baker's Falls has historical significance for the waterfall since it got its name after a hunter and explorer called Samuel Becker. He had tried to implement a European agricultural settlement in Nuwara Eliya. Therefore, he is considered an important figure in Sri Lankan history.
6. Galmaduwa Temple
This ancient Buddhist temple located in Galmaduwa, on Hingurana – Ampara road, is said to be built during the rule of King Saddha Tissa. You will see traces and evidence of recent constructions as well as ancient structures in this temple complex. This is because, during the Gal Oya development programme which took place around Ampara, this ruined site was reestablished and turned into a modern Vihara complex.
So, if you are a person who is interested in studying the evolution of Buddhist traditions and culture in Sri Lanka, this spot will be a good place for you to visit. Simply, it offers you a wonderful atmosphere since it is surrounded by a mixture of modern and ancient structures.
7. The Great Western Mountain
The Great Western Mountain which is located in the Nuwara Eliya district is the 8th highest mountain in Sri Lanka. It stands at a height of 2212 metres. On your way to the mountain, you will come across a Hindu Kovil which is approximately 70 years old. People believe that a hiker who was lost and received help from the Goddess called Paththini built this Kovil. Hiking to this nature-friendly mountain while enjoying the natural beauty of this area is a unique experience which you should not miss while visiting Sri Lanka. This will be an enjoyable experience for nature travellers.
The Bottom Line
As mentioned above, hiking to the Bambarakanda Falls will be a whole new experience that you can have in the pearl of the Indian Ocean. From enjoying the cool climate and the gorgeous views to interacting with the locals and taking part in their lives to get a once in a lifetime experience is something you should not miss during your stay in one of the world's most beautiful countries. Therefore, plan a hike to this gorgeous waterfall as soon as possible. Enjoy the Bambarakanda Hike, and make memories. Happy and safe travelling!