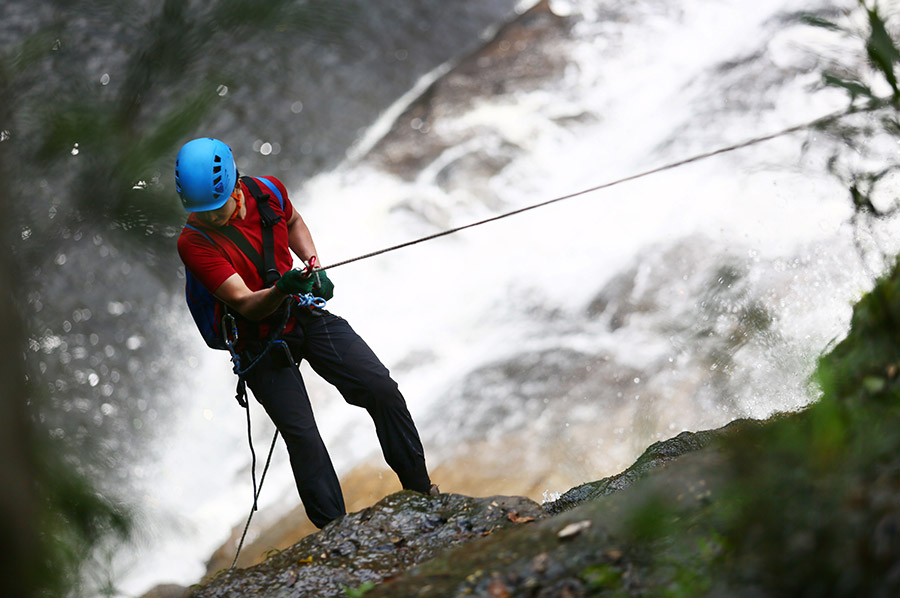 Sri Lanka is famous for its natural wonders. Indeed, the beautiful waterfalls in Sri Lanka contribute a lot to the priceless charm of this splendid island. How about going down on a rope along such a beautiful waterfall? It will surely be the most refreshing, exciting, and thrilling experience you could ever hope for. Besides, Sri Lanka is rich with a number of majestic waterfalls that are perfect for adventure and fun. In fact, there is a belief that Sri Lanka has the highest waterfall density in the world and it is about 382 waterfalls. And yes, some of them provide an opportunity for a thrilling and amazing experience of waterfall abseiling. So, there are ample opportunities for waterfall abseiling on this paradise island.
This is the best activity for you to test your confidence and to have the best adventure in Sri Lankan wilderness. So, without further exaggerations, let's have a look at what waterfall abseiling in Sri Lanka is like!
What is Waterfall Abseiling?
Waterfall Abseiling simply means climbing down the waterfall with the help of full safety gear. Of course, this activity requires the assistance and guidance of an experienced guide.
Waterfall abseiling has always been loved abundantly by adventure lovers. The thrill and the fun mixed with the risk will always bring you an unforgettable memory. Besides, if you enjoy being outdoors and often seek adventure, this is an activity that you shouldn't miss out on. Indeed, it is a challenging and exciting, yet interesting activity.
Other than the adventurous feeling, the waterfall abseiling will also gift you an amazing opportunity to have a view of the beautiful nature surrounding the waterfalls. A little hike to the top of the mountain and starting off from the top will give you a view of the mountains and forests fed by the waterfall. Moreover, the rich forest cover in Sri Lanka will add more to your scenery.
So, if you are looking for a new hobby or a leisure activity full of adventure, waterfall abseiling in Sri Lanka is one of the perfect choices for you!
Best Places for Waterfall Abseiling in Sri Lanka
At present, the best place for waterfall abseiling is Kitulgala which is located in the Sabaragamuwa Province of the island. It is in the South Western part of the country. The Kelani River flowing through this area has given birth to several waterfalls around the place which have eventually become spots for water sports and adventure activities.
Kitulgala offers you several waterfalls fit for waterfall abseiling. The waterfall abseiling and other adventure activities are provided by different water sports activity organizing centers. Some of the famous waterfalls that offer abseiling are Sandun Ella, Ginigedara Ella, and Sky Bridge Fall.
Apart from this, Ella in the Uva province of Sri Lanka also provides you with amazing opportunities for water sports and adventure activities.
Let's now have a look at what these places have got for the adventure lover in you.
1. Sandun Ella
Sandun Ella is a waterfall located in Kitulgala, residing on Belilena road. Belilena is a site with historical importance as well because it has evidence of prehistoric human presence.
In brief, the Sandun Ella waterfall is a beautiful natural wonder hidden in the greenery. In fact, at the peak of the waterfall, you can have mesmerizing views of the rainforest. When you arrive at the place and seek the service of a water sports center, you will be led to the top of the cliff through a small hike along the mountain area covered with the lush greenery of the forest. This will be a walk of around 30 minutes.
Sandun Ella has a height of about 300ft, with a series of 5 drops. The first drop is around 120 feet in height, and if you are a beginner, this is where you can start learning abseiling. Moreover, the first drop ends with a natural infinity pool where you can relax after the abseiling session.
The total time taken for the activity here is around 04 to 05 hours and this may change due to different weather conditions.
2. Ginigedara Ella
Ginigedara Ella is a waterfall cascading around 14m down, with a surrounding area of high biological diversity. The easiest way to reach the waterfall is through the Horana Bulathsinhala road to Kalawella. Free from human activity, this is the ideal place for you to experience the wonders of nature together with a touch of adventure.
The waterfall cascading through the large pillars of rocks has created a thrilling site of adventure in Ginigedara Ella. Besides, the white water rushing through will leave you with an awesome experience.
3. Sky Bridge Fall
If you are a true nature lover and an adventure lover, Sky Bridge Fall is where you should head, for a day filled with adventure. You can reach the cliff after a thrilling trek in the jungle and have this amazing experience of a waterfall abseiling in Sri Lanka.
4. Warakara Waterfall in Ella
Warakara waterfall is a beautiful waterfall in Ella, descending from Kirindi Oya. There's a natural pool at the top of the waterfall which adds more elegance to the waterfall. So, this is a nice place to swim and relax in crystal clear water after an abseiling session.
Moreover, there is a high chance that you'll see exotic birds and animals during, and on your way to the waterfall abseiling in Warakara Waterfall. Hence, abseiling here would surely be a delightful experience for you!
Waterfall Abseiling Packages in Sri Lanka
There are many adventure activity organizers in Sri Lanka. Many of them provide waterfall abseiling packages. You can easily find these service providers based on the location where you would like to try waterfall abseiling.
However, if you aim at a fully adventurous trip, you may focus on Kitulgala, which is the most famous place for adventure water sports. There is a large number of adventure sports centers based in Kitulgala, and they provide waterfall abseiling packages as well.
Everyone who takes service from these places will get well-experienced waterfall abseiling instructors. They will also be provided with all the safety gear required for waterfall abseiling. So, it is better to book one of these activity organizers prior to your visit. They will ensure that your adventure will be a memorable, safe, and unique experience.
There are opportunities for beginners to learn waterfall abseiling as well. Safety guides will take you inside the Jungle. Most adventure activity organizers will provide you with safety equipment, a professional English-speaking guide, and traveling facilities to the destination by a private vehicle.
You can also find some packages offered by nearby resorts and hotels which include a welcome drink, waterfall abseiling, buffet lunch, leisure time river bath, and evening tea. There are some adventure packages that include many other activities like white water rafting, mountain climbing, rock climbing, caving, mountain biking, trekking, kayaking, and waterfall abseiling.
What to Consider during Waterfall Abseiling?
The activity organizer will begin with a demonstration to make you familiar with the techniques you need to use in waterfall abseiling. You will be instructed to wear a helmet and a harness. These safety gear will be provided to you. Your trainer may make you do a dry run down the cliff and train you to use the descender.
If you are a beginner, you will have to start at a slow pace. You have to use your legs to control the direction and maintain your balance, and allow the rope to hold most of your weight. All the instructions you need for the activity and safety advice will be provided to you by the activity organizer.
Here are the things that you should bring and what you should wear when arriving for waterfall abseiling. You can contact your activity organizer for further details.
What to Wear for Waterfall Abseiling?
It is recommended to wear sportswear, preferably, a long sleeve shirt and dry-fit pants. Since you are diving into the forests most of the time, choose your clothes to prevent possible insect bites, leech bites, and scratches.
Wear a pair of comfortable sports shoes. Aqua shoes are recommended because you will have to walk and climb through slippery rocks and water. Do not wear jewelry.
What to Bring for Waterfall Abseiling?
You can bring water, snacks, and medicine needed for the day. Besides, don't forget to bring dry clothes for changing after water sports activities. You are also recommended to bring a backpack with your essentials.
What are the Other Adventure Activities that You Can Take Part in?
Now let us have a look at the other adventurous activities you can engage in while in the sites of waterfall abseiling in Sri Lanka.
White Water Rafting
Flat Water Rafting
Waterfall Trekking
Bird Watching in Rain Forest
Rain Forest Trails
Cycling and Walking Trails
Confidence Jump and Stream Slides
River Expeditions
Adventure Camps
Adventure-based Training Programs
Camping
Rain Forest Camping
The Bottom Line
Waterfall abseiling in these beautiful cascades of Sri Lanka will be the best activity to boost your confidence and give you fun and enjoyment at the same time. It will of course be an experience you will never forget. Simply, you will consider yourself lucky to witness the beauty of crystal clear waters, surrounded by spectacular views over the mountains. Hence, it is the best opportunity for you to spend a day in the breathtaking rainforests of Sri Lanka.
Even though waterfall abseiling is still not one of the most popular activities among the tourists who visit Sri Lanka, it has always been an attraction for adventure enthusiasts. Besides, even the Sri Lanka Tourism Development Authority has paid attention to developing the facilities around the places with waterfall abseiling. So why not choose waterfall abseiling as your next activity to do on your visit to this beautiful island? We can guarantee you an amazing and unforgettable adventure experience. Happy and safe traveling!