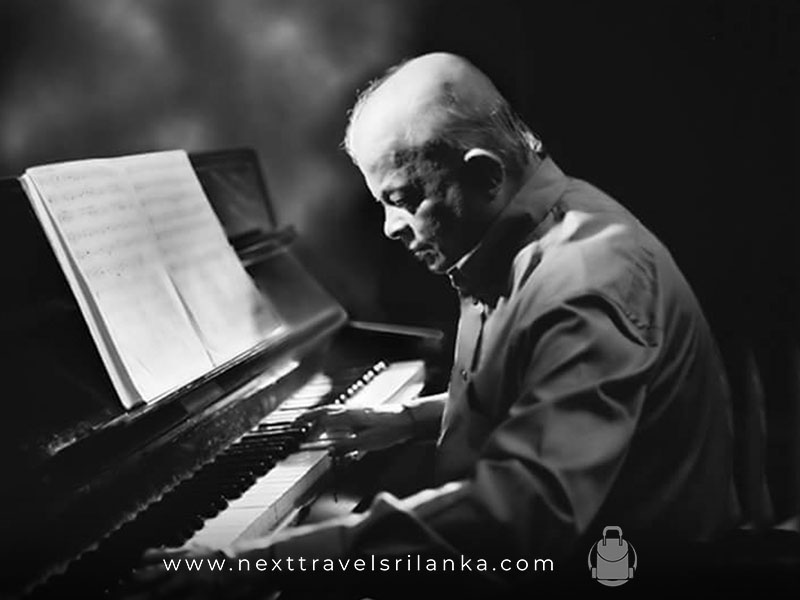 Sri Lanka is simply a resourceful island. This is not just a norm among locals, but also among outsiders. In fact, the whole world is aware of the significance of this tiny South Asian island. One of the aspects that this country always stands tall in the world is the performing arts. In terms of performing arts, music, dancing, and drama bring out a unique Sri Lankan flavor to the world. Especially when it comes to music, for decades hundreds of individuals have taken the name of the country to the world through their raw and unique voices. One such pillar in the music field is Premasiri Kemadasa.
Who is Premasiri Kemadasa?
Premasiri Memadasa was born as the youngest child to a Southern coastal family of 13. His parents were Alan and Simon Perera. He started his journey in music by following the path his instincts showed him. Later, he could revolutionize the music tradition that was established by then in Sri Lanka.
Simply, he is an individual who self-explored and self-built his identity. Premasiri Kemadasa is solely responsible for replacing contemporary classical music with a soundscape that had the influence of South Indian music back in his times. If one says he added a long-lasting different flavor and texture to the Sri Lankan, there is nothing wrong with that statement.
This read will further reveal the journey of this strong pillar emphasizing what massive contribution he has done to the country throughout his life. Continue reading!
Early childhood of Premasiri Kemadasa
Since when he was six, he was very much courageous to build his life according to his desire. In fact, his parents were unable to afford his education. So, he himself enrolled him in a school walking miles away from home. Unfortunately, he lost his father when he was seven. Yet, his mother's dedication and go-to personality inspired him to mold his life the way he wanted.
Besides, he was a child born to a coastal family. Therefore, he was very familiar with the sea and fishery lifestyle. So, some say his music perhaps has been inspired by his childhood neighborhood. Kemadasa however started his music life by playing flutes. No one knows from where he learned it. Even his family had no connection at all with music and his brothers always disturbed his music path by burning his flutes.
However, later when he was in the sixth grade, he reached the turning point of his life. He was then studying at St.John's College, Panadura being a talented and top-performing student. He was well-known for being bold. In fact, he had once approached the principal of the school to question about not receiving a deserving reward. Moreover, due to his extraordinary academic performance, he could have gained a grade skip. Yet, he lost it to a son of a politician owing to the sole influence of the politician.
Dropping out his childhood timidity in sixth grade with the unfair incident, he became a hard-headed and sensual character who is very sure about his life. Even his family's unsupportive behavior affected him to rise high. He started building his life with this towering willpower and won his life the way he wanted.
Inspiration during his Childhood to Build his Music Career
After this incident, he gave up his academic interest and took his interest in playing flute seriously. His family was unsupportive for the second time as well. Hence, he started playing flute on the trains from Panadura-Colombo. His intention was to sweep away the weariness of the fishermen and harbor men who traveled by. These people always encouraged and praised him. So, he started spending more time among the common people rather than with his family.
Since he was born in an area with a diverse religious culture, he was familiar with prayers, hymns, and chantings of churches, Hindu temples, and mosques as well. Besides, his musical inspiration might have also come from the nearby temple in his neighborhood, especially with the chantings and drumming there. Also, he was very much familiar with the 1930s-40s Hindustani film music that he heard from Ceylon radio. Being used to all these types of music, he was determined to introduce a fusion of Sri Lankan folk elements, Indian ragas, and Western classical music along with the concept of harmony.
Once his family decided to make him a monk choosing the only choice that poor families always had. Refusing it he kept being sturdy and stern in his decision without making his life for others.
Career Life of Premasiri Kemadasa
We can identify several stages in the career life of Premasiri Kemadasa. They are as follows.
Early Stage of the Career of Kemadasa
He took a stern decision here in between keeping up with his education or taking up a career in music. Accordingly, he started his career in 1954. As a result, he took up a prized audition at Sri Lanka Broadcasting Corporation (SLBC). That was on the same day as his final examination in high school. He initially chose to take the exam. Yet, his restless soul made him hum in between the exam. So, he got suspended from the exam hall. This opened him up the path to take the audition.
Kemadasa Joining SLBC
Successfully completing his audition at SLBC, he started to work as a part-time musician playing flute and accordion at SLBC. Extracting the best from the opportunity he gained, he started self-learning and self-producing melodies during his free time. Within a year's time, he became very acquainted with all small orchestra instruments either by playing by himself or by listening to people playing them at SLBC. Most of his time out of the job was spent in the radio's library, listening to new music. Through this exposure, he tried to make new inventions and fusions and he became totally successful later.
Starting his Progressive Journey in Music
Premasiri Kemadasa was never taught under leading music masters of the time, as he was quite disappointed with the trend they followed of picking up Hindustani music. So, as a foundation, he set up his own music school in January 1959 called 'Sangeetha Manjariya'. With the tough financial situation, Kemadasa had to run subsidiary businesses to keep up with his school. Yet, after failing in several businesses such as salons and arranging lunches for working people, which ended up in fiascos, he worked hard to keep one step ahead of his music students.
Moving Forward with the 'Sangeetha Manjariya'
His school eventually became a cozy bohemian hangout for young artists and young politicians in no time although it barely makes money. However, without accepting the defeat, he staged his early works as Opera Kal Mal by borrowing money from moneylenders in 1960. Yet, later the money lenders themselves lead him to get suicidal thoughts as he could not return the money he got from lenders. Yet, for some unbelievable fortune, one of his friends had saved him.
Then he did his second, Bari Sil. Afterward, he also staged it amidst numerous barriers, and ultimately became a failure. Yet the very opera in another attempt made him see the heights of success. The first Bari Sil opera was unsuccessful due to the unexpected pouring of rain making both the orchestra and audience uncomfortable. Yet, during the next outdoor performance of Bari Sil changed his luck to good terms.
On that day it was going to rain, but answering his prayers, the rain did not affect the premises of the show. Therefore, it became successful to the extent it led him to have his first contact with the Sri Lankan film industry where he, later on, got successful. It happened all thanks to the screenwriter, Dharmasiri Kaldera, who was there to witness the poor attempt of this courageous man, as he introduced him to one of the great film directors of the time, Sirisena Wimalaweera.
Film, Theatre, and Telefilm Music by Kemadasa
Starting the journey with the film director Sirisena Wimalaweera, Kemadasa took film music out of the hunches of Indian music and music composers. He became the pioneer to introduce a new film music style that is unique to Sri Lanka using folk melodies and his own inventions. With that recognition, he came a long way in the field while opening the doors to other artists in the field.
From the very start, his melodies and songs became super hits on the radio. His yorak rejection of prevailing Indian music at the time amazed and impressed all the critics. He could make a difference by connecting the emotions, plot, and theme of the film to its songs and music. In a way, his experimental new invention added a deeper meaning to the films without making it just another melody of a come-and-go artist. All the films he made music for were very satisfying in terms of both visual and audio. His power of music reigned due to this very reason.
Sanasuma Kothanada, a film by K.A.W. Perera, which had its premiere on February 17, 1966, was his first significant commercial success. The movie, which is regarded as a turning point in Sri Lankan cinematic music, earned him honors and excellent reviews from renowned critics in well-known newspapers. It says that Khemadasa wed Soma Latha on the day the movie launched, so that makes it a special day for him. Later he was gifted with two daughters namely, Anupa and Gayathri, who were born in 1969 and 1976, respectively.
Heights of his Career Success
Kemadasa, who started his journey from zero, later became an essential music composer in the film industry in the late 1960s. He had an immense demand for his talents. In fact, there was a point in that era when film directors were in queues to take a slot from his availability. And yes, both his talent and demand are visible through the success of some of his most creative pieces for the two critically acclaimed movies Golu Hadawatha and Nidhanaya in which he collaborated with the director Lester James Peiris.
The power of Kemadasa music has made the music from these 1970s movies still readily recognizable in Sri Lanka. Over the course of his 50-year career, Khemadasa composed the music for more than 150 movies. He has also worked on haunting melodies for creations such as Alle Langa Walawwa and Dandubasnamanaya in addition to dozens of other telefilms and an award-winning BBC documentary.
Further, Brecht's Mother Courage and Good Woman Of Szechuan, the musical Fiddler on the Roof, Marat/Sade, and Angara Ganga Gala Basee are just a few of the theatre and telefilm creations for which Khemadasa composed music. These works earned him significant national recognition.
Classical Music Career of Premasiri Kemadasa
Although he could conquer the film industry with his mesmerizing melodies, it took some time for him to grab the audience of classical music, specifically, to stand up to the standards of the professors and the pandits of the time. It is like he could build an image in the Sri Lankan film industry, but it was hard to make a spot for his more serious music in the Sri Lankan music establishment.
However, he did his own war to win this battle by fighting with the experts in the field of not following the rules of 'Oriental music'. The famous line he always said was "the industry needs more music, fewer myths". He was more or less in disagreement with the other iconic characters of the field as they were not trying to make some unique piece of music but following the learnings coming from other countries. What he always stated was that it was the people who loved the creations that made him be in the industry, not anything else.
Significant Highlights of Kemadas's Work
He created Sinhala New Year, the first symphony written by a Sri Lankan. It was a minimalist work with intriguing harmonies that combined Sri Lankan instruments. He used instruments like sitar, rabana, and bamboo flute with Indian and Western classical music for this. Further, he has produced some of Sri Lankan culture's most financially rewarding large-scale operas. They include the following:
Manasavila (1990)
Dora Mandala (1995)
Agni (2007)
Besides, Anduru Kalpaya, Salalihini Kavya, and Piriniwan Mangalya, a requiem for the Buddha, are only a few of the numerous choral compositions he also composed.
He was thus famous as a musician of people. Of course, to that extent, people of the time still appreciate his work. He became an immortal character in the music industry, film industry, and even the drama industry.
International Showcases of Premasiri Kemadasa
Kemadasa was well-known for performing operas all around the world. Indeed he was able to impress the world with his creativity.
On May 1, 1966, Khemadasa conducted one of his first operas. It was 'Rathu Mal', and he conducted it in Beijing in front of Mao Zedong. Khemadasa also went to the USSR for an international composers' conference. There, he performed the symphony 'Sinhala New Year' during the early 1970s,
Likewise, he showcased his own inventions and his own creations proudly in front of the world and earned immense recognition.
End of the Premasiri Kemadasa Era
Kemadasa got diabetes in his thirties. This caused gradual renal failure in him. As a result in 2005, he had to undergo a kidney transplant. Yet, his urge to work made him work tirelessly after the transplant going against the advice of medical specialists. He worked on several films during this period. One of the films that he worked on during this time was also the last film of Lester James Peiris and their last collaboration, Ammavaru. Despite his being in critical condition, he composed his last opera, Agni, in 2007. However, it became his final and remarkable piece of work.
He passed away on 24th October 2008 after weeks of serious illness. He refused to be honored at the national art auditorium, the customary venue for the last rites of artists in Sri Lanka. Instead, his cremation took place at Independence Square in Colombo, surrounding his family, friends, and thousands of fans and mourners.
Legacy of Premasiri Kemadasa
Khemadasa was a person who made a significant influence on the soundscape of Sri Lanka. As an honor for his contributions, Lionel Wendt, one of Sri Lanka's most prestigious theatres, got the name Premasiri Khemadasa Crescent.
In 2013, the Sri Lankan Postal Service created a postage stamp in honor of Khemadasa. Besides, upon his death, in 2008, the Sri Lankan government announced a week of national mourning. The government also honored him with a state funeral.
Further, the Khemadasa Foundation continues its work toward the betterment of Sri Lankan music. The Kemadasa family and the board maintain it.
The Bottom Line
Premasiri Kemadasa, being a leading and irreplaceable music composer, has contributed towards the very aspect of elevating Sri Lanka among the world through the means of music. After all, he died as a legend who never stopped making prolific and diverse music. Moreover, he ended his career as the first-ever music composer in Sri Lanka to produce large-scale operas. And yes, they were some of the most successful ventures in Sri Lankan culture. Thus, his legacy continues as one of the renowned composers who transformed his cultural heritage into striking classical music avoiding all Western influences. Thus, the music of Premasiri Kemada will live forever on this wonderful island of Sri Lanka!