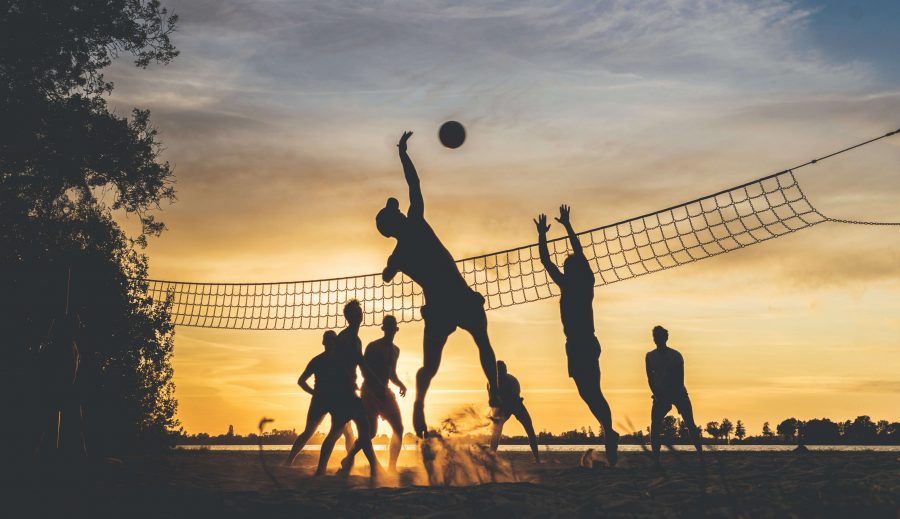 Sports! Of course, it is simply a part of the life of many. Besides, we can see a variety of sports in the world. Yet, it differs from country to country. However, what do you know about sports in Sri Lanka? There is a lot that you need to know about, and indeed, they are worth exploring.
Sports on this splendid island played a vital part not just today but also for several decades. It has, simply, become a part of Sri Lankan culture. Although Sri Lankans, as one country, faced different challenges since the day that it gained independence, nothing could separate the spirit and the love for sports from Sri Lankan hearts. That is what brings sports to this level by now. Thus, our aim is to discuss every possible fact about sports in Sri Lanka through this article: from history to the future of sports. Excited to know about the sports story in Sri Lanka, isn't it? Here we go!
The National Sport in Sri Lanka, Volleyball
Every country has given importance to a selected set of things according to their relevance and considered them as their unique or national symbols.
As such, Sri Lanka, as a country, also has a set of symbols. Among them, our national sport, although Cricket is quite visibly popular among Sri Lanka, is Volleyball.
Volleyball was introduced first in 1916 by Mr. R. W. Camack who was then the Director of Physical Education at the Colombo Y.M.C.A. to Sri Lanka. Before introducing that, Sri Lankans played a similar sport called 'Elle'. It says that, before Volleyball, Elle had been recognized as the National sport. However, in 1991 Volleyball was officially announced as the national sport in Sri Lanka.
Volleyball came as an indoor game and then with the time being it further improved into beach volleyball as well as outdoor courts. It is a worldwide sport, mostly popular in Europe and East Asia.
It is a sport which consists of two teams with 6 players on each side separated by a net. Each team should ground the ball on the opposing side to score points. As same as in every sport, this also has a set of rules and regulations that the players must follow. In Sri Lanka, we can usually witness this as an indoor game. But, on some occasions, we can see the varieties such as beach volleyball, and sitting volleyball as well.
When it comes to the Sri Lankan context, as the national sport, it is a must to mention the Sri Lanka Volleyball Federation (SLVF). Wondering the role SLVF plays in overlooking sports in Sri Lanka? The following section will enlighten you with regard!
Sri Lanka Volleyball Federation (SLVF)
SLVF is the main governing body related to Volleyball in Sri Lanka. It was established in 1951 liaised with 99 organizations and managed with an honorary committee of 25 members.
The current president of this federation is the chairman of Provincial Council Sabaragamuwa, Hon. Kanchana Jayarathna and the secretary-general is Mr. A. S. Nalaka. Since this federation has connected internationally with Fédération Internationale de Volleyball (FIVB) and Asian Volleyball Confederation (AVC), it bears the responsibility of the National Olympic Committee(NOC) of Sri Lanka as well. Also, with its involvement, Sri Lankan volleyball got privileged to participate in International sports leagues starting from 1980.
1980 – The Asian Senior and Junior Men's & Women's Championship
2002 – 12th Asian Junior Women's Championship (Host)
2014 – 10th Asian Youth Boys Volleyball Championship (Host)
2018 – 1st Asian Challenge Cup Volleyball Championship (Host)
Other than that the federation conducts inter-school level, inter-university level, and national level games annually.
Popular Team Sports in Sri Lanka
As mentioned earlier, cricket has gained significant attention among active sports in Sri Lanka. Thus, if someone says cricket is the most popular sport in this country, there is nothing wrong with that. Hence, we can arrange the list of the popular sports in Sri Lanka, starting with Cricket.
Cricket
Rugby
Football
Net Ball
Basketball
We are sure that you are willing to know about the status of these sports in Sri Lanka. Continue reading, and you will get to know everything about them!
Cricket in Sri Lanka
The British were humble enough to introduce cricket to the island. Sri Lankans had their first experience in playing cricket in the 1800s. Cricket in Ceylon started with the formation of a cricket club called the Colombo Cricket Club in September 1832. Following that, the matches began in November 1832. Then the sport started to grow drastically by organizing the events such as,
The Premier Trophy (Since 1938)
Premier Limited Overs Tournament (Since 1989)
Sri Lanka gained its one-day international debut at the 1975 Cricket World Cup. Then, in 1981 the country achieved Test cricket status becoming the eighth Test cricket playing nation. It had a smooth run from the 1880s to the 1990s and became a major cricketing nation from the status of debut. Hence, in the present scenario, Sri Lanka is one of the twelve full member nations in test cricket and one of the seven nations that has won a Cricket World Cup.
International Cricket Achievements
Sri Lankan cricket teams were able to win the following championships in the past decades of history.
1996 – Cricket World Cup
2002 – ICC Championships Trophy
2007 – Cricket World Cup (Runners up)
2009 – ICC World Twenty20 (Runners up)
2011 – Cricket World Cup (Runners up)
2012 – ICC World Twenty20 (Runners up)
2014 – ICC World Twenty20 Championship
Besides, the Board of Cricket Control in Sri Lanka (BCCSL) is the Sri Lankan cricket controlling body at present. Accordingly, it controls;
The national cricket team of Sri Lanka
Sri Lanka A cricket team
Sri Lanka national women's cricket team
First-class cricket
Thus, by now cricket has been popularized and standardized other than any other sport in Sri Lanka. In fact, all levels of matches: professional, semi-professional, and recreational, in the country along with the international matches, have gained this popularity equally.
Other Popular Team Sports
Not only cricket but also many other team sports as well as individual sports gained popularity within Sri Lanka. Although they are mostly at their semi-professional and recreational level, they also provide glamour to the sports story of the island.
Let's see what and how they work within the sports network in Sri Lanka.
Rugby
Rugby is similarly popular as cricket and a team sport with a long history running back to 1879. The governing body of rugby in the country has been the Sri Lankan Rugby Football Union. In 1879 it marked its first step as a club sport with the Colombo Football Club.
Although Sri Lanka is not yet a part of the Rugby World Cup, it could successfully reach up to 42 on the world rankings in 2006. In 2010, it made it into the Asian Five Nations main tournament and currently competes as a Division One nation there.
However, the lack of financial aid, third-world infrastructure, and being at war for several decades stopped rugby from getting developed.
Football
The world's popular team game football has gained a considerable amount of popularity within Sri Lanka as well. It is also at the semi-professional and recreational levels. The governing body of football is the Football Federation of Sri Lanka. Currently, it operates the Sri Lanka national football team and also the Sri Lanka Football Premier League.
Netball
Netball is also another popular team game in Sri Lanka. However, it is a game designed only for girls. It has also reached the semi-professional and recreational levels with a good touch in professional, or international levels as well.
Netball took its first steps in Sri Lanka in 1921. The first team to play was the Ceylon Guide Company at Kandy High School. The first international match was with Australia's national team in Sri Lanka. Later on, following a consistent improvement in the sport, the national team could also win the Asian Netball Championship four times. Further, Sri Lanka once got the privilege to host the championship in the country as well. With that Sri Lankan women's national team got the rank of fifteen in the world in 2011.
Basketball
Basketball marked its position among the sports in Sri Lanka in 1917. The founder was American Walter Cammack. After ten years, in 1927, Ananda College established basketball as a sport to the school crowd. Following that the other schools also established the sport in their schools.
The governing body of basketball in Sri Lanka is the Ceylon Basketball Federation (CBF). It was founded in 1958. After joining the Asian Basketball Confederation (ABC) in 1962, the team was privileged to participate in several ABC competitions as well.
Most Popular Individual Sports in Sri Lanka
Other than these team sports, there are quite a number of individual games that the Sri Lankans are familiar with. They are;
Badminton
Table Tennis
Tennis
Swimming
Let us now get to know about these individual sports in Sri Lanka in detail.
Badminton
Badminton is an individual racquet sport that has gained a frontline position among the sports in Sri Lanka. As you might already know, it is an indoor game played using a racquet, shuttlecock, and a net. This can be played not only individually but also in a pair.
Sri Lankan Badminton players started to represent Sri Lanka at International levels recently and have gained quite popularity by now. In fact, this has become one of the most popular games among school children and many schools have created opportunities for students to practice this sport as well. Besides, Sri Lankans participate in school level, national level, and international level badminton competitions, and they have displayed impressive talents in the recent past. Hence, we can predict that this sport would further improve and get more popular in the future.
Table Tennis
Table tennis is also an individual game that is quite popular within the sports network in Sri Lanka. This is a game played with a racquet, quite harder than a badminton racquet and a small ball instead of a shuttle. As per the name, the playing is going on a table divided by a net.
We can find Table Tennis, not on a large scale, but on a small scale within Sri Lanka. Mostly, this sport is popular in universities and clubs. Thus, table tennis is developing and popularizing among the folks and marking its position within this island.
Tennis
Tennis is an individual game quite popular among Sri Lankans. However, this is a sport quite similar to badminton. Tennis requires a racquet, a tennis ball, and a net. The net is not as high as badminton but closer to the ground.
It was during British rule that tennis marked its introduction to Sri Lanka. Following that the authorities established the Ceylon Lawn Tennis Association in 1915. The governing body of tennis in Sri Lanka is the Sri Lanka Tennis Association (SLTA). Although it is not that popular among the folks in Sri Lanka, we can find the sport in the school network and university network to a considerable extent. Undoubtedly, tennis will be more popular among Sri Lankans in the future!
Swimming
Swimming, as an individual sport, has gained the attraction of both men and women in Sri Lanka. This is a sport associated with the water surfaces but has a recommended set of rules and styles.
It has notable popularity among the folks and has achieved a considerable position among the sports in Sri Lanka as well. Most of the schools create opportunities for students to practice swimming, and even parents nowadays, are interested in getting their kids to practice swimming from their small ages.
Sri Lanka represents the swimming category in the Olympics as well. Apart from that, there are several school-level, club-level, national, and international swimming competitions for Sri Lankan swimmers to take part in. Though currently, it is also at the developing level, as a sport in the country it directs to a commendable level.
Athletics in Sri Lanka
From the ancient days, athletics was one of the major sports activities in the country. Thus, many of the athletes from Sri Lanka could reach greater heights by achieving international-level wins as well.
However, the following disciplines of athletics hold a special place in the field of sports in Sri Lanka.
Track Events
Relay Races
Field Events
Road Running
Race Walking
All these athletic events are popular not only among the youth but also among the school children of Sri Lanka as well. In fact, the above-mentioned events happen to be definite events of any of the school sports meets, and thus, the school children have the necessary guidance and the motivation to practice these sports from their younger ages itself.
However, the following sections would brief you about these popular athletic events in Sri Lanka in detail.
Track Events
According to international standards, men and women practice track and field events separately, abiding by international regulations. A variety of track events that belong to the categories sprints, middle-distance running, and long-distance running are popular within the country, and there are many Sri Lankan athletes who did well in these events. Besides, Susanthika Jayasinghe can never be forgotten when discussing things with regard. She was the Sri Lankan athlete who won the Silver medal at the 2020 Summer Olympics in Sydney.
Relay Races
Relays are also very popular among Sri Lankan athletes. As you might already know, this is a team event, where each team consists of four members, and they would run a certain distance with a baton in hand, and then, pass it to the next team member. It would continue until the team completed the total distance of the event, each team member taking a chance.
Field Events
When considering field events, both throwing events and jumping events are practiced by Sri Lankan athletes. Among them, shot put, discus throw, and the javelin throw happen to be the most popular throwing events, and long jump, high jump, and triple jump happen to be the most popular jumping events.
Road Running
This is one of the highlight events of the Sri Lankan athletic meets, and it is well-known as an event that can be seen in sports festivals during the Sinhala and Tamil New Year season as well. Still, school-level events for road running are not that common in Sri Lanka, since children are not encouraged to take part in road running events at school owing to safety issues. However, the youth enjoy taking part in road running events.
Race Walking
This is not that popular among Sri Lankans when compared with the other athletic events mentioned earlier. Still, some of the athletic meets held in Sri Lanka hold this event separately for men and women.
Traditional Sri Lankan Sports
Other than all the above-mentioned sports, this splendid island owns a set of sports that are unique to Sri Lanka. They in a way represent the culture as well as the origins of Sri Lanka and its sports. These are essentially endowed from our ancestors. Some of these traditional sports in Sri Lanka are as follows.
Chak-gudu
Gillidanda
Olinda Keliya
Elle
Angampora
Apart from that Sri Lanka has exerted popularity for the most unique avurudu games played in a specific period in the year.
Chak-gudu
Chak-gudu is a traditional game played between two teams and originated in the South Indian regions. Each team should consist of seven players. What happens in this game is that one team member runs into the opposing team's half of a court, and tags out as many of their defenders as possible. Further, that player should return to their own half of the court without being tackled by the opponents as well.
Even though we consider this as a traditional game in Sri Lanka, Chak-gudu is more or less similar to the game of Kabaddi. You may surely know about Kabaddi since it is now popular in many countries, and an event in international competitions as well. So, if you know it, you can simply imagine the game of Chak-gudu, since the concepts are almost the same.
However, Chak-gudu is not that popular among the Sri Lankans at the present, even though this can be seen in villages once in a while. However, traditional sports festivals make sure to have this sport as an event in their schedules most of the time.
Gillidanda
Gillidanda is another traditional game, originated from the South Indian sub-continent. This game needs two sticks, one a bit longer, and the other a bit shorter. The basic concept of this game revolves around hitting the long stick with the shorter. However, this is one of the rarely seen sports in Sri Lanka at the moment. Still, visiting a rural village may create opportunities for you to observe how a few young boys enjoy this game of 'Gillidanda'.
Olinda Keliya
Olinda Keliya is one of the most popular traditional indoor games, played using a board, and Olinda seeds. Besides, there is a belief that this game has a significant bond with Goddess Paththini. Owing to this reason, Olinda Keliya has been a popular game between ladies from the past. Even though Olinda Keliya is not much popular among the new generations, elderly people in villages still play Olinda Keliya during their leisure time.
Elle
The origin of Elle runs back to the early 20th century. The sources are unable to find a specific introduction of the game to the country. However, most of the locals believe that it may have come along with cricket as it has some similarities with cricket.
In fact, this is specifically a bat and ball game that is popular in Sri Lanka. This has similarities with the modern-day sport, softball. Among the traditional sports in Sri Lanka, Ella is certainly the most popular. Village boys play these games in the paddy fields, and grounds even in the present, and thus, it remains an integral part of the Sri Lankan culture.
Angampora
Angampora is a wonderful practice that belongs to the martial arts. It is not only a traditional sport, but an act of self-defense, and meditation. It mostly uses hand-to-hand fighting and indigenous weapons. Even though this art was a bit distanced during the colonial era, it is still alive thanks to the generations who practice Angampora.
Avurudu Games
Avurudu games are a set of games associated with one of the major national festivals of Sri Lanka. This festival is the Sinhala and Tamil New Year, which is an annual festival mainly celebrated by Sinhalese and Hindus in April, in Sri Lanka. It is associated with customs and traditions and some unique games. The folks follow all the customs within a few days and grandly celebrate this festival.
However, the games associated with this festival are folk games and not professional games.
Some of them are as follows;
1. Kotta Pora
It is the conventional form of the pillow fight played on a horizontal pole by two people. Some fix this pole on the ground, while some fix this pole in a shallow lake.
2. Kana Mutti Bideema
This is kind of a hit-and-find game. A blindfolded person has to walk towards a pole with a few pots containing different colors of water. Then they have to hit the direction they guess. To win the game, one of the contestants has to smash the correct pot which includes blue-colored water, or water with flowers.
3. Lissana Gase Nageema
Here, the contestants have to climb up a greasy trunk without sliding down. This is a team game and the team can collaboratively do this. The team that is to detach the flag on the top of the trunk becomes the winner.
4. Banis Kama
This is an eating game. Usually, they have to eat buns. It is a game where the contestants have to eat a hanged-bun without touching it.
5. The Spoon Race
In this game, the contestants have to balance a spoon with lime on it in the mouth. The first person to reach the finish line without dropping the lime is the winner.
6. Pol Game Tharangaya
This is a coconut scraping contest. In this game, the one who is to finish scraping the given coconuts first becomes the winner.
Likewise, there are a lot of local games introduced by our ancestors. The specialty of these games is that the pieces of equipment associated with these games are household things. Besides, the core values of these games are more associated with togetherness, and friendly competitiveness.
The Opportunities to Excel in the Sports in Sri Lanka
In Sri Lanka, we can find different levels of sports starting from school to the international level.
School Level
When it comes to the school level, that is the place where the Sri Lankans keep their infant steps to sports. First, the students take part in annual school sport meets. Then, they get the chance to participate in inter-school meets representing the school. The inter-school meets take place in three levels;
Zonal level – Among the schools within the zone.
District level – Among the schools within the district. Best representative participants from each zone participate as contestants.
Provincial-level – Among the schools within the province. Most talented participants from each district participate as contestants.
National level – Among the schools within the whole country. Best representatives from each province get the chance to participate as contestants.
By being a part of such a varying network, the Sri Lankans gain the opportunity to improve their sports skills in a competitive environment. Perhaps, based on the performance at the national level, the authorities select contestants for the national teams to represent the national grounds.
University Level
In the present context all the governmental, as well as non-governmental universities, create their students the space to engage in sports. This is also a great chance for the youth of the nation to identify and improve their sports skills.
Club Level
Apart from the school network, the Sri Lankans get the opportunity to be a part of the clubs as well. In Sri Lanka, one can find sports clubs for every sport popular within the island. Hence, it provides the Sri Lankan youth to grab sports opportunities if they miss them at school.
International Level
At the final level, the Sri Lankans get the chance to represent their country at international contests such as Olympics, SAARC, Asian Championships, etc. Not only that, for several decades the contestants could bring victory and mark the country on the sports world map successfully.
Authorities that Overlook Sports in the Country
The Ministry of Youth and Sports is the main authoritative body of sports in Sri Lanka. It overlooks all the levels starting from school to the international level. It has the authority to conduct all the national sports contests and to form all the national teams within the island. Hence, it is only under its evaluations that the Sri Lankan sportsmen and sportswomen would get the chance to represent the national teams.
However, under the ministry, there are provincial units and several other units to overlook the sports within their regions.
The Future of Sri Lankan Sports
At present, Sri Lanka as a country has improved its sports network widely at different levels. Yet, owing to the lack of facilities that is visibly present on the island slows the success story of sports in Sri Lanka. Following are such shortcomings in the system;
Lack of advanced equipment, facilities, and stadiums.
Improper training systems, and lack of qualified trainers.
Lack of financial allocation
Lack of motivation for achievements
The unwillingness of individuals to choose sports as their career
Lack of responsible authorities
Non-adaptability to the advanced techniques
Lack of importance giving
If the authorities and the field can improve these loopholes and give more attention to the sports category in the country, the future of sports will be more lavish than now. For instance, when it comes to international scopes, indeed now we are participating in a high number of events, yet the achievements are less. If we can keep both sides balanced that will be the biggest achievement we can gain as a country.
The Bottom Line
Of course, the bond that Sri Lankans have with sports is immense. And yes, it was this wonderful bond that made Sri Lankans reach greater heights in several sports in the past. The famous sportsmen and sportswomen, who are loved by the whole world, simply prove this fact right. However, the sports story of Sri Lanka is never to stop here. It would continue further, with many more noteworthy achievements. Thus, this read on sports in Sri Lanka ends here with looking forward to more improvements and more achievements in the sports network within this sparkling island!