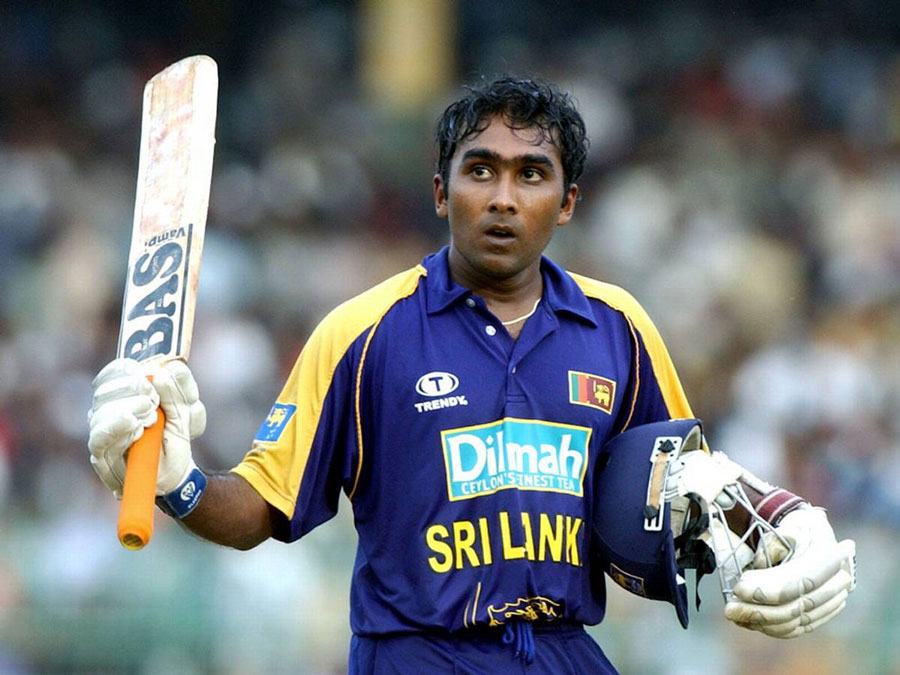 Of course, Sri Lanka is loved by many owing to its golden shores, and rich cultural heritage. Still, the existence of the island Sri Lanka is known in some parts of the world just because they play cricket. So, there is a golden and strong bond between Sri Lanka and Cricket. Besides, the success of Sri Lanka cricket in the 1996 ICC Cricket World Cup is the main factor in the country's status as a generator of world-class players and a consistent contender for major tournament titles. However, this incident produced many golden cricket players in this beautiful country from that moment to now. And yes, Mahela Jayawardene is one of those magnificent heirs of that cricket generation!
In fact, Mahela is widely recognized as one of the greats of modern cricket internationally and locally. That is simply due to his brilliant technique oozing the quality of batting. Besides, he is one of the best batsmen against spin. In Sri Lankan cricket, he is a precious brand that no one can take away. Thus, we thought of sharing the story of this wonderful cricketer through this read. Excited, isn't it? Continue reading!
Who is Mahela Jayawardena?
Denagamage Praboth Mahela de Silva Jayawardene (born May 27, 1977) is a former Sri Lankan cricketer and captain of the Sri Lankan cricket team. He is one of the contemporary era's greatest batsmen, particularly for his mastery of spin bowling. In the history of test cricket, Jayawardene's highest test score of 374 against South Africa is the highest by a right-handed batsman. It is also the highest-scoring innings by a batsman in test cricket history.
In 1997, Jayawardene made his Test debut, and the following season, he made his One Day International (ODI) debut. Further, Mahela is the first player in Sri Lankan cricket history to score more than 10,000 test runs. He is one of only four Sri Lankans to have scored over 10,000 runs in one-day internationals. Despite his low ODI average, Jayawardene is one of the best batsman Sri Lanka has produced.
During the first test match against Pakistan, he, and teammate Sangakkara set a new record. That was for the most partnership runs for the third wicket in tests. On that day they scored 5890 runs, surpassing the 5826-run stand of Rahul Dravid and Sachin Tendulkar. Besides, the specialty is that this happened at Galle International Stadium, which was Mahela's last Test at the venue.
Jayawardene was a crucial player of the 2014 ICC World Twenty20 winning team, as well as a member of teams that reached the finals of the 2007 Cricket World Cup, 2011 Cricket World Cup, 2009 ICC World Twenty20, and 2012 ICC World Twenty20. The International Cricket Council named Jayawardene the best international captain of the year in 2006. Also, he was a nominee for the best Test cricket player of the year in 2007.
Early Life and Education of Mahela
Jayawardene attended Nalanda College in Colombo, one of Sri Lanka's top schools. Senerath Jayawardene, Mahela's father, invited him to the Lionel Coaching Clinic hosted by Nondescripts Cricket Club at Cinnamon Gardens when he was a child. He learned to play cricket when he was there.
In 1994, Jayawardene captained the first XI cricket team of Nalanda College, Colombo. He honed his skills on the school cricket team, eventually becoming captain. During the 1994 cricket season, he was runner-up for the best schoolboy cricketer award.
He has been a member of the Sinhalese Sports Club since 1995. For the first half of the 2008 English cricket season, he was contracted to play for Derbyshire as an overseas player. However, because of his commitments in Sri Lanka and his participation in the Indian Premier League, he was unable to participate in the 2008 county season.
In 1997-98, he scored four centuries and got into Sri Lanka's Test squad.
International Cricket Career of Mahela Jayawardene
In his cricket career, this hero went through a number of key milestones and phases. Some of them are as below.
Entering Sri Lanka Cricket
Mahela Jayawardene as Sri Lanka's 69th Test captain debuted against India in Colombo in 1997. Jayawardene debuted in the record-breaking test against India at Colombo in 1997. Sri Lanka's first innings score of 952/6 was boosted by Jayawardene's 66, the greatest test score ever. When the previous highest test score was surpassed, he was at the crease. He scored 167 against New Zealand and 242 against India early in his career.
In January 1998, Jayawardene made his One Day International debut against Zimbabwe at Premadasa Stadium. The match was won by Sri Lanka, with Jayawardene scoring the game-winning run. Jayawardene scored 74 points in the next game. It took only 11 games for him to get his first century, which came against England in a World Series match between Carlton and United in Adelaide. With Sri Lanka floundering at 134/4 in the run chase, Jayawardene was put under pressure, but he responded with a 120-run effort to win the match. The match was memorable for Ross Emerson's no-balling of Muttiah Muralitharan for throwing, which prompted Sri Lankan captain Arjuna Ranatunga to take his team to the edge of the field and consider walking off, as well as some players' brutal shoulder-barging.
Captaincy
Mahela Jayawardane is popular among people due to his marvelous captaincy skills. He is indeed one of the best cricket captains in the world.
In the absence of Marvan Atapattu, Jayawardene captained the Sri Lankan national team during their 2006 tour of England. In the test series, he led his team to a 1–1 tie, and in the ODI series, he led them to a 5–0 whitewash.
Then, in March–April 2009, Jayawardene led Sri Lanka to Pakistan for a Test series. Following the November 2008 Mumbai attacks, the Indian squad withdrew from playing in Pakistan, and the series was played. Despite scoring a double century in the first test, the match ended in a tie. With Thilan Samaraweera's second consecutive double century of the series and Tillakaratne Dilshan's century, Sri Lanka was in a strong position in the test.
The Sri Lankan players' bus was shot at by 12 masked gunmen on their way to the Gaddafi Stadium for the third day of play. Six other Sri Lankan players, including Jayawardene, were injured. The attack killed six police officers who were guarding the bus as well as two bystanders.
After Muttiah Muralitharan retired from test cricket, Kumar Sangakkara selected Jayawardene as vice-captain of the Sri Lankan squad. However, he quit after the team's World Cup failure.
After Tillakaratne Dilshan resigned from the captaincy in 2012, Mahela got a re-appointment again. In the Indian Premier League, he captained the Kochi Tuskers Kerala and the Delhi Daredevils. Besides, he won the 2013 Spirit of Cricket Award.
Highlights during his Captaincy
Jayawardene was the opener for the 2010 ICC World Twenty20, with Kumar Sangakkara as the captain. He scored 81 from 51 balls in his first encounter against New Zealand. However, after his wicket fell, the Sri Lankan batting line-up collapsed, resulting in a score of only 135 on the board when they batted first.
However, in his following encounter, against Zimbabwe, he scored 100 runs off only 64 balls, assisting them in winning the match while defending a total of 173. As a result, he became the fourth player in Twenty20 International history to score a century, and the first Sri Lankan to do so. Sri Lanka won the game on a D/L basis. He hit 98* off just 56 balls in the next match against the West Indies, nearly missing his second century in a row. This was his third score above 80 in a row.
Sri Lanka defeated the West Indies in the 2012 ICC World Twenty20 final on home soil, and Jayawardene was the captain. Sri Lanka was gradually pursuing the mark, with Jayawardene well set, after restricting the Windies to 137/6. Captain Jayawardene observed the West Indies were marginally ahead on Duckworth/Lewis with a touch of rain in the air halfway through their innings. He then decided to speed up the innings, but this just resulted in a collapse. The rain never arrived, and Sri Lanka fell far short of its goal. After the match, he resigned as Sri Lanka's T20 captain and declared his retirement from T20 cricket in 2014.
With 218 catches in 448 ODI matches, he holds the record for most ODI catches.
In the ICC World Twenty20 tournaments series, he also holds the record for most runs, with 858 runs scored in 25 innings at an average of 40.8 runs per inning.
Mahela Jayawardene at IPL
During the IPL 2010, he did, however, reclaim some form. Jayawardene stated his wish to open the innings to skipper Kumar Sangakkara before they began their chase of 201 runs against Kolkata Knight Riders. Sangakkara complied with his countryman's request, and Jayawardene smashed 110* off just 59 balls to win the match in the final over. Sangakkara was the Kings XI Punjab opener after being impressed by his teammate. He had a couple more exciting innings, including 44 against the Rajasthan Royals and 93* against the Deccan Chargers, but they were all in vain. Further, he had a batting average of 43.90 at the completion. He was the tournament's sixth-best run-scorer and the Kings XI Punjab's top scorer.
Other Highlights in Mahela's Cricket Career
With 374 off 572 deliveries and 43 fours and one six, Jayawardene became the first Sri Lankan skipper to hit a test triple-century, the fourth-highest individual innings score in test match cricket and the highest by a right-hander. He is also the only batsman to score 350 runs in a test match without breaking the world record. He also broke the record for the greatest score by a Sri Lankan in a test match, which was previously held by Sanath Jayasuriya's 340 against India in 1997, which he shared with a world record partnership.
In 2007, he was also named Wisden Cricketer of the Year. Jayawardene scored one century and four half-centuries in the 2007 Cricket World Cup and was the tournament's second-highest run-scorer, trailing only Australia's Matthew Hayden. Besides, he is the only World Cup ODI batter to score hundreds in both the semi-final and final. Further, he accomplished this feat by scoring a century against New Zealand in the 2007 Cricket World Cup semi-final and another century against India in the 2011 Cricket World Cup final.
Also, he has a century against every Test-playing country. On the 21st of February 2009, he accomplished this goal by scoring his first Test century against Pakistan at the National Stadium in Karachi, Pakistan. Jayawardene was named "Captain of the Year" by the International Cricket Council in 2006, Captain of the "World One-Day International Team of the Year" in 2006, and Wisden Cricketer of the Year in 2007. Moreover, he holds the record for the best Test score (374 runs) by a Sri Lankan. In 2007 and 2008, he was the captain of Sri Lanka. During this period the squad received the "Spirit of Cricket Award."
Career Statistics and Records
If you are a cricket lover, you might surely love to get to know about the career statistics and records of Mahela Jayawardene. So, why not? Let us have a look at them!
1. Career Performances
The below graph gives you a summary of Mahela's career performance.
An innings-by-innings breakdown of Jayawardene's Test match batting career, showing runs scored (red bars) and the average of the last ten innings (blue line)
Test
ODI
Matches: 149
Runs scored: 11814
100s/50s: 34/50
Top score: 374
Matches: 448
Runs scored: 12650
100s/50s: 19/77
Top score: 144
Summary of Mahela Jayawardene's Cricket Scores
Centuries
Jayawardene has 34 test centuries, 19 ODI centuries, and one T20I century. He is the first Sri Lankan to score a century in any format of the game, and the third overall.
2. International Records
Mahela owns several International Cricket Records. Some of the highlights with regard are as follows.
Tests
Highest partnership for any wicket – Kumar Sangakkara (287) and Mahela Jayawardene (374) put up 624 for the third wicket against South Africa in 2006.
The most partnership runs for the third wicket – Mahela Jayawardene and Kumar Sangakkara ( scored 5890 runs )
The most partnership runs for the fourth wicket – 437 by Mahela Jayawardene and Thilan Samaraweera against Pakistan in 2009. Second highest for the fourth wicket of all time.
The most partnership runs for the sixth wicket – 351 by Mahela Jayawardene and Prasanna Jayawardene against India in 2009.
The most partnership runs for the eighth wicket – 170 by Mahela Jayawardene and Chaminda Vaas against South Africa in 2004.
In Tests, he holds the record for most runs scored on a single ground with 2921 at the Sinhalese Sports Club Ground in Colombo.
The most common bowler-fielder combination in Test cricket history is "c Jayawardene b Muralitharan" (77).
With 206 catches in 423 Test matches, he holds the record for the second-most catches in Test history.
Highest individual score in Tests by a Sri Lankan – 374 runs against South Africa in 2006.
Highest individual score in Tests by a right-handed batsman – 374 runs against South Africa in 2006.
ODI
With 241 ODI victories, Jayawardene is second in the world behind Ricky Ponting for most wins by a Sri Lankan (262 wins).
Highest partnership for the seventh wicket – 126* by Mahela Jayawardene & Upul Chandana against India in 2005.
Most number of ODI matches for Sri Lanka – 448 matches by Mahela.
Most number of catches – 218 catches by Mahela in 448 matches.
Highest partnership for the third wicket – 226 by Marvan Atapattu & Mahela Jayawardene against India in 2000.
T20 Internationals
Mahela's century against Zimbabwe was the first by a Sri Lankan in a T20 international, and he also became the first Sri Lankan to score hundreds in all formats of the game.
Mahela was the top run-scorer in T20Is for Sri Lanka until his retirement. It is a record now held by Tillakaratne Dilshan – Mahela is second on the list with 1,493 runs.
Mahela Jayawardene has the most 6s – 33.
Others
He is the first Sri Lankan and the third player in history to reach the century mark in all forms of the game.
Most Run Outs Affected (since the 1999 World Cup, the first player to be credited with a run out) – 23 times in ODIs.
Mahela is the only batsman in ODI World Cup history to score hundreds in both the semi-final and final.
3. Honors and Awards
Mahela was able to gain several significant honors during his cricket career. Some of them are as follows.
ICC Captain of the Year 2006
Wisden Cricketer of the Year 2007
ICC Spirit of Cricket Award 2013
Apart from that, he has won many Man of the Series and Man of the Match awards in T20s, ODIs, and Tests
Retirement of Mahela Jayawardene
Jayawardene became only the second cricketer after Sachin Tendulkar to feature in 600 international matches on February 25, 2014, in an Asia Cup encounter against Pakistan. After the 2014 Pakistan series, Jayawardene announced his retirement from Test cricket on July 14, 2014. His final Test was at his home stadium, the Sinhalese Sports Club, where he made 54 runs in his final test innings. Thousands of tributes were left on the ground. Russell Arnold quipped that legend never retires.
On the 13th of December 2014, he played his final One-Day International innings in Sri Lanka, in the final match of the England ODI series. In his final at-bat on home turf, he was caught at 28. Angelo Mathews, Sri Lanka's captain, handed him the ball to capture the final wicket. He took his eighth ODI wicket as he stumped James Tredwell with Sangakkara behind the stumps.
He hit his 18th ODI century against New Zealand on January 11, 2015. In his 17-year ODI career, this was his first century in New Zealand. During a match against Australia at the 2015 ICC Cricket World Cup, Jayawardene passed Jayasuriya's 445 ODI caps to become Sri Lanka's most capped player in ODIs.
Jayawardene's most recent One-Day International game was against South Africa in the 2015 World Cup quarterfinals. For the first time since 1999, Sri Lanka failed to qualify for the semi-finals due to his poor performance.
Coaching Career
The England Cricket Board hired Jayawardene as a batting consultant for the team in August 2015. He accepted the position and traveled to the UAE with the England coaching squad for the series against Pakistan in October, leading up to the World Twenty20 in India.
For the 10th edition of the Indian Premier League in 2017, Mahela Jayawardene became the new coach of the Mumbai Indians, succeeding Ricky Ponting. On May 21, 2017, Mumbai Indians defeated Rising Pune Supergiant at Rajiv Gandhi International Cricket Stadium in Hyderabad to win the 2017 Indian Premier League. In 2019 and 2020, he assisted the Mumbai Indians in becoming only the second team in history to defend the trophy.
On May 26, 2017, he became the head coach of the Khulna Titans of the Bangladesh Premier League on a two-year contract, succeeding Stuart Law, who became head coach of the West Indies cricket team.
Personal Life of Mahela Jayawardene
Jayawardene was born in Colombo in 1977 to Sunila and Senerath Jayawardene. Dhishal, his younger brother, died at the age of 16 from a brain tumor. This had a psychological impact on Jayawardene, and he had to put his cricket career on hold for a while. His parents and teammates eventually persuaded him to continue and begin rebuilding his career.
Christina Mallika Sirisena, a travel specialist, is Jayawardene's wife. They have a daughter together.
Jayawardene's Charity Work
He has received recognition for his personal dedication to the HOPE cancer project off the field. In fact, Mahela became the major crusader for HOPE after remembering his deceased brother. He now plans to construct a new 750-bed cancer unit at Maharagama, the country's sole dedicated cancer hospital, with the help of his teammates.
The inaugural cancer Trail took place in 2011, but he was unable to join owing to cricket trips. With the help of 30,000 people who walked the Trail, the walk began in the south and concluded in the north, raising $2.6 million. The funds are to construct a 120-bed Tellippalai Trail Cancer Hospital in Jaffna.
In 2016, Jayawardene and Sangakkara co-founded Trail as One, a charity walkathon to raise funds for a cancer hospital, which was the second trail after 2011. The walk began on October 6, 2016, in Point Pedro, and ended on November 2, 2016, at Dondra Head, covering 670 kilometers in 28 days. Many more former and current Sri Lankan cricketers joined the walk at various locations, and the walk was a success, raising approximately US$5 million from all over the country. The funds are to expand the oncology unit at the Karapitiya Teaching Hospital in Galle.
The Popularity of Mahela Jayawardene
Mahela Jayawardene is indeed a prolific, stylish, and totally classy batsman with a ferocious thirst for runs, as well as a calm yet forceful skipper. There is no one you would rather have around as a leader and team player than Mahela. Even when he is not captain, he is the team's leader.
He does not have a single selfish bone in his body. Yes, he is the go-to guy for any international coach. Besides, he is a person who considers everyone on the team – seniors, juniors, and support staff. He was someone who always stood behind the team's youthful players. They pick up a lot from him. In fact, the knowledge and experience he imparts help them succeed in Sri Lankan cricket. He is a genuine people guy, and that is one of his greatest assets. He is a world-class player as well as a world-class person.
Mahela was a man who made decisions on the spot rather than a planner. As a result, he was a creative captain who would come up with fresh ideas when things didn't go as planned. His impact on Sri Lankan cricket has been enormous. For almost two decades, Mahela Jayawardene has been a pillar of Sri Lankan cricket, both on and off the field. People consider and honor him as a gem and fabulous legend in the Sri Lankan cricket industry.
The Bottom Line
There is no secret that Mahela Jayawardene is well-liked, and honored as one of the best cricketers of this century. His cricket career inspired succeeding generations, demonstrating what could be accomplished and allowing cricket to become more professional. Beyond a doubt, he was a reason to place Sri Lankan cricket on the map. Moreover, his contributions certainly backed the steady improvement of Sri Lankan cricket as well. Besides, there is a lot for the cricketers to learn from him.
However, his contributions won't end here. So, let us wish him all the good luck in his future endeavors as well!