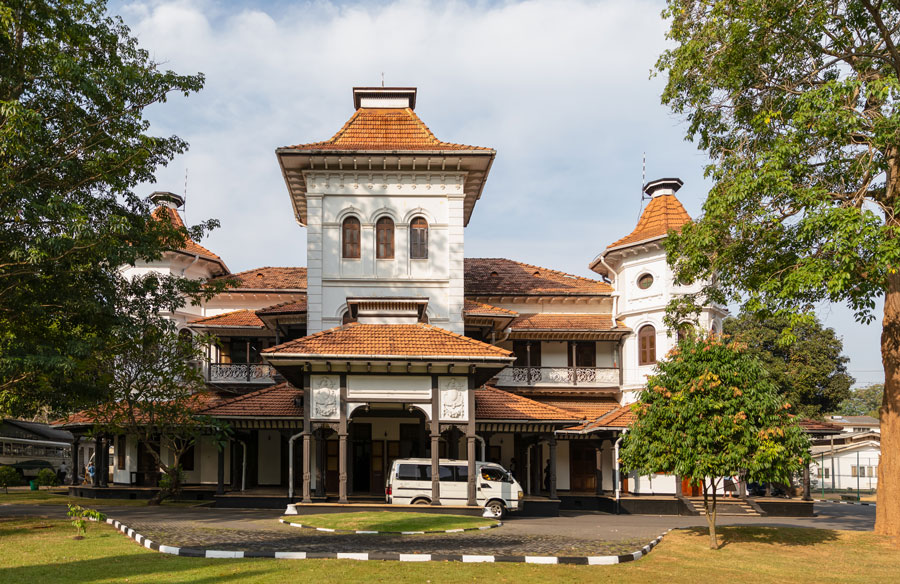 Education is simply a valuable passport to our future and beyond. Thus, it is no secret that any of the countries pay special attention to improving their education system. And yes, it is the same with Sri Lanka as well. Besides, in Sri Lanka, as a South Asian Country, education is a fundamental or a basic right. Still, you might have a doubt whether the education system in Sri Lanka is satisfactory as a developing country. And we can give a clean and clear 'Yes' to this question because the Sri Lankan Education System is one amongst the long history of finite systems. In fact, the country's population encompasses a 93% literacy rate being higher than any other developed country, even with fewer assets and resources than a developed country.
However, there are several factors behind this success. Getting to know all about the education system in Sri Lanka will help you understand them. So, why not? Let us dive deep into this field and identify the key features of the education system in Sri Lanka, that makes it special.
History of Education in Sri Lanka
Education in Sri Lanka features a history of over 2300 years. And centuries ago, it had been based on the language of Sanskrit, which is known to be gifted from Bharath, also known as India. It happened as a result of the institution of Buddhism within the rule of King DevanampiyaTissa from the Buddhist monks sent by Emperor Asoka of India. Ever since the education system progressed based mostly around the Buddhist temples and prevenas.
Later during the period of colonization, Christian missionary societies became active in education. Then onwards British Government built and shaped the Sri Lankan Education System within their ruling period from 1796 to 1948. As an example, all lectures in universities were conducted in English until 1960. Then, for the first time in history, it was a must for the Sri Lankan children to start schooling at the age of 5 and to continue until the age of 16. All the sessions were conducted in all three languages Sinhala, Tamil, and English.
Significant Milestones
However, over the past 74 years, Sri Lankan education has undertaken many transformations. The highlights of these transformations are summarized below.
1943 – Dr.C.W.W. Kannangara, the Minister of Education famous as the father of free education, announced the "Free Education Bill" in the State Council.
1947 – Initiation of free education from Kindergarten to University
1961- Governmental take-over of denominational colleges and schools to ascertain a national system of education
1972 – Step to establish pedagogy content more practical by adding a compulsory pre-vocational course at the junior secondary level. The amendments also requested to separate Sri Lanka from the British education system by renaming Ordinary level (O-level) and Advanced level (A-level) secondary examinations.
1981 – "White Paper on Education" system was introduced which introduced the resource and facility sharing through school "clusters" methodology, with one school mentioned as the main school with responsibilities with teaching and pooling their resources with secondary or lesser schools.
1997- "Four divided scheme" was introduced as a reform of education to transform programs and textbooks, provide management training to school principals, distribute funds to boost school facilities and teaching methodology.
2006 – Education Sector Development Framework and Program (2006-2010).
Among all these milestones, and transformations, the introduction of free education happens to be a major highlight. Thus, let us next get to know about this concept in detail.
Free Education in Sri Lanka
The establishment of the free education strategy in 1944 was a standard shift in the history of the education system in Sri Lanka. This policy provided equal prospects for all to accomplish access to the education system and formed a strong basis for long-term ecological development within the human capital of the country. The Government of Sri Lanka came up with many innovative ideas and experiences with the help of this policy.
Main Innovative Programs under Free Education
Program of providing free school textbooks: Currently, under this program over millions of textbooks covering more than 250 various subjects are delivered. All the textbooks are free of charge, and it is a great opportunity for all the children from very poor families who struggle to overcome the complexities in their lives to enjoy all the benefits of free education. Also, this helps the government to motivate and encourage students. According to some surveys, this program has enhanced the enrolment rate of students. Therefore, this program adds a plus mark for this country's literacy rate as well.
Free uniform program: This program generated a big positive effect on reducing student non-attendance and a great respite for the poor parents. It was introduced in the year of 1993 and the government's main aim was to provide free uniform materials for students from grades 1 to 13. Currently, many children from poor families are benefiting from this valuable program.
"Navodya" school development program: This was first implemented in 1997, with the vision of offering rural schools with mandatory infrastructures and other facilitating apparatus. This program provided a school with a new library, buildings, classrooms, laboratories, etc.
Some of the other beneficial programs that emerged as a result of free education are as follows.
Mahapola scholarship programs
Mahindodaya Laboratory
Grade 5 scholarship program
Free lunch program
Besides, this is just a quick glance over the significant features of the Free Education System in Sri Lanka. Make sure you read our article on 'Free Education in Sri Lanka' for a better overview.
An Overview on the Present Education System in Sri Lanka
The free education program has increasingly supported guaranteeing the quality of Sri Lanka's national education system. As witnesses, we can prove that the free education system has pushed this country into a valuable position in South Asia under conditions of literacy rate, gender equality in education, and school registration rate. Further, the education system in Sri Lanka plays a very outstanding part in people's lives whereas it sustains the culture of the country. Besides, owing to the free education policy, every child from age 5 to 16 years, has the right to free education.
Also, the government of Sri Lanka has devoted a lot of money to education over recent years because they considered it a high priority. They state that every and each person has an equal right to study, learn and access all milestones of education.
There are three separate ministries to administrate and regulate the education system of Sri Lanka. They are as follows.
The Ministry of Education is in charge of schools, Teachers Training Colleges and Colleges of Education, and even the pirivenas, the schools for Buddhist priests.
Ministry of Higher Education conducts Universities and Technical Colleges.
The Ministry of Education Service provides the facilities required for general education.
Besides, getting to know about the structure of the education system in Sri Lanka, will provide you a good overview with regard. So, let us now draw your attention to the different levels, the structure of Sri Lankan education consists.
Levels of Sri Lankan Education
The main objective of Sri Lankan education is to stimulate democracy by physical, ethical, spiritual development, and ultimate learning with the help of valuable and important education. Accordingly, Sri Lanka's education structure is split up into 5 levels as below.
Primary Education (From Grades 1-5)
Junior Secondary Education (From Grades 6-9)
Senior Secondary Education (Grades 10 and 11)
Collegiate Level (Grades 12 and13)
Higher Education
It is the main requirement to attend up to at least Grade 9 and above for a person to be suitable for a skilled job, according to law. Grade 11 and 13 is considered as a turning point or hurdles in student life to get through.
So, now having a good idea about the different levels of Sri Lankan education, let us now get to about each of these levels in detail.
Primary Education in Sri Lanka
Sri Lanka's Primary Education System starts with Grade 1 and ends with Grade 5. Entrance to primary education in Sri Lanka is mostly based on the residence or the address. There are both mixed school and gender-based schools available for primary education. Primary school students around the country follow six subjects under a national and core curriculum.
First Language (Sinhala/Tamil)
Second Language (Sinhala/Tamil)
English Language
Religion
Mathematics
Environmental Studies
Normally the deskwork is gradually expanded and increased from grade 1-5. At the end of grade 5, students may elect to sit for a national exam called the Scholarship Exam. This exam permits students with extraordinary skills to move to a better secondary national school. The pass mark of the examination and school marks ratings are depending on the paper every year. But the main aim of this primary education is to give experience about life and to let the children enjoy their childhood while learning new things.
Besides, this is just a glimpse of Primary Education in Sri Lanka. Read our article on 'Best Things to Know About Primary Education in Sri Lanka' for a better overview.
Secondary Education in Sri Lanka
In Sri Lanka, secondary education consists of three main levels. They are as follows.
Junior Secondary Level
Senior Secondary Level
Collegiate Level
Continue reading to know what these levels exactly are!
1. Junior Secondary Level
Students from grades 6 to 9 can be considered Junior Secondary Level Students. Children who have scored the best results at scholarship exams in grade 5 get selected for national schools with high facilities to continue their Junior Secondary Education. Meanwhile, the other children continue their education at the same school or a private sector school. At this level, students undertake to learn contents under the following subjects.
First Language (Sinhala/Tamil)
Second Language (Sinhala/Tamil)
English Language
Religion
Mathematics
Science
History
Civics
Geography
Health
Practical Technology
Aesthetic Subjects (including western music, eastern music, dancing, drama, etc.)
Life Proficiencies
A year that belongs to a grade in Junior Secondary level consists of 3 terms. Besides, the term-end, year-end exams, assignments, assessments, and practical work help teachers to measure the progress of each child's coursework.
2. Senior Secondary Level
This level runs under the grades from 10 to 11. Further, this level is highly competitive, as the students face the Ordinary Level Examination (General Certificate of Education (GCE) O/L) at the end of grade 11.
The Ministry of Education mentions that the secondary level curriculum includes 6 main subjects and 3 or 4 optional, or basket subjects. Main core subjects include the following.
First Language (Sinhala/Tamil)
Second Language (Sinhala/Tamil)
Mathematics
English
Religion
Science and Technology
History.
Other basket subjects can consist of art, music, commerce, health, information technology, civics, geography, French, Japanese languages, entrepreneurship, etc.
As mentioned earlier, Grade 11 concludes with the award of the GCE O-Level examination. The students who pass their first language, mathematics, and other three subjects with results higher than a credit (C), are considered as the applicable students to enter the collegiate level.
3. Collegiate Level
This level consists of two grades, which are grades 12, and 13, and it concludes with the Advanced Level Examination (General Certificate of Education (GCE) A/L). Further, it is the requirement for admission into higher education, thus popular as the direct ticket to the university level. Based on their GCE O-Level results, students can choose to continue their studies at the collegiate level in the following subject streams.
Combined Mathematics
Biology
Commerce
Technology
Students have to follow 3 main subjects under each combination, and in addition to those three subjects, they will also have to face a General English Paper and a Common General Paper at their GCE Advanced Level Examination. Students who get good results in this exam, get the chance of entering state universities. If not, they can choose to continue their higher education at a private university or any other higher education institute.
However, this is just a quick glance over the special features of the Secondary Education System in Sri Lanka. Read our article on 'Best Things to Know About Secondary Education in Sri Lanka' for a better overview.
Higher Education in Sri Lanka
The University Grant Commission (UGC) manages 15 universities and 18 institutes in Sri Lanka that offer higher education opportunities. It also establishes minimum admission conditions for students, in order to maintain the quality of higher education in Sri Lanka.
However, the admission process for these universities is very competitive. According to the University Grant Commission (UGC) in Sri Lanka, in 2012, around 60% of students passed the hurdle of the GCE A/L Examination. Still, only 17% of them could enter university-level institutions. The minimum requirement for university entrance is passing all these subjects in GCE A-Level Examination, with above 30 % marks in the Common General Paper. Students get ranks according to the score that they get (Z-score), and the government offers many scholarship opportunities for the students who make it to government state university-level institutions.
However, the government is facing many hardships since they are unable to cater to the demand for higher education for the younger generations of the country at present. Still, if you read our article on 'Higher Education in Sri Lanka, the Best Path for a Professional Career', you might understand that the youth have many higher education opportunities in Sri Lanka.
Besides, the private higher education sources in Sri Lanka are flourishing due to shortages of capacities in government. Therefore, it is important that we get to know about the private education sector in Sri Lanka as well.
Private Education in Sri Lanka
Private Education covers a wide area of education opportunities in Sri Lanka. In simple terms, it can range from private and semi-government schools to international schools, tuition classes for competitive exams, to private universities. There is no "free education" theory in private education in Sri Lanka.
However, let us now have a look at the main private institution categories in the country that contribute to Sri Lankan education.
1. Private Schools
There are many private schools and institutions in Sri Lanka, giving all primary, secondary, and tertiary education to students. Some of these establishments have beautiful and rich histories. To feel the disparities and gaps, there are many new establishments in the country. However, most of these schools and institutes are around main cities and suburbs. A huge rise was visible in private schools due to the development of the upper-middle class during the colonial era.
However, at the present, many parents are impatient to send their children to these schools because there is a belief that the quality, manners, wellbeing, and standards of these private schools are of excellent condition. But that really depends on each and everyone's mindset and according to what they believe. These private schools are also following the same curriculum given by the government of Sri Lanka.
2. International Schools
Anyone with the capability and commitment to pay a lot of money for their education can join these schools without any hesitation. However, international schools are not regulated by the expatriate society. The Ministry of Education has no controlling or administrative power over these schools. In fact, since the late 1980s, these schools have been under the Board of Investment (BOI). However, these schools provide standard facilities to students due to their high payments.
3. Semi-Government Schools
Semi-Government schools were established as another opportunity to reduce the financial load of the parents who desire to give their children the benefits and advantages of private education without spending a lot of money. The government provides textbooks, uniforms, and other opportunities like to sit for government and national exams, in these schools, but no funds are provided by the government for the development of the school.
However, if you are interested in learning more about the private education opportunities in Sri Lanka, make sure that you read our article on 'All About Private Education in Sri Lanka!' as well.
Professional Education in Sri Lanka
Every student's dream is to find a good profession with career growth, after completing the higher education level. The professional education system in Sri Lanka also aims to deliver essential up-to-date knowledge and practical skills that are essential to building one's career. Thus, various professional education bodies govern different professions in Sri Lanka. Some of them are as follows.
Institute of Engineers Sri Lanka (IESL): The governing professional body for engineers in the country. It delivers continuing professional development courses (CPD) and ensures relevant standards in both education in engineering and engineering practice.
Institute of Chartered Accountants of Sri Lanka: The only professional body in the accounting and finance sector in the country.
Sri Lankan Medical Council: The professional body for the health sector.
National Institute of Education (NIE): The Sri Lankan Institute that oversees the education of teachers.
Further, Sri Lankan professional bodies generally present the chartered qualification to relevant professionals. These offerings take place examining each members' level of knowledge and competency about the subject area, their professional behavior, integrity level, experience in the field, and many other factors. Another main duty of the Sri Lankan professional education system is to tailor the educational programs to mold a competent workforce to newer techniques and technologies.
Besides, the professional education system in Sri Lanka also aims to build competent world-class professionals, who can assist the development of Sri Lanka in every sector. Therefore, Sri Lanka has made major investments in the professional education system by developing new policies and introducing new governing bodies for different schemes.
Besides, these are a few important facts about the professional education facilities in Sri Lanka. Read out our article on 'Professional Education in Sri Lanka' to learn more.
Education Centers in Sri Lanka
There are several types of education centers or institutes in Sri Lanka. Admission for each of them may depend on many measurements. If we consider different types of schools, the entrance may be based on the good grades of students from the 5th-grade scholarship examination, GCE O/L examinations, society status, preferences, residence, facilities provided by schools, etc. And when considering the higher education and professional education institutes, professional experiences, and various prerequisites may be considered.
However, for a better understanding, we have listed below some of the main education centers of varying categories.
Universities in Sri Lanka
For higher education, currently, there are 16 national or government universities, private universities, and open universities which provide open and distance learning for students.
First of all, let us have a look at the state universities in Sri Lanka.
UOC: University of Colombo
UOM: University of Moratuwa
UOK: University of Kelaniya
USJP: University of Sri Jayewardenepura
UOP: University of Peradeniya
UOR: University of Ruhuna
SEUSL: Southeastern University of Sri Lanka
UOJ: University of Jaffna
EUSL: Eastern University of Sri Lanka
RUSL: Rajarata University of Sri Lanka
WUSL: Wayamba University of Sri Lanka
SUSL: Sabaragamuwa University of Sri Lanka
UVU: Uva Wellassa University
University of the Visual and Performing Arts
Buddhist and Pali University
Bhiksu University of Sri Lanka
Further, you can find below some of the main private higher education centers in the country.
British Institute of Engineering and Technology
National Institute of Business Management (NIBM)
Asia Pacific Institute of Information Technology Sri Lanka (APIIT)
Informatics Institute of Technology Sri Lanka (IIT)
Postgraduate Institute of Agriculture University of Peradeniya
Colombo International Nautical and Engineering College
Sri Lanka Institute of Advanced Technological Education (SLIATE)
Sri Lanka Institute of Development Administration Colombo
Arthur C Clarke Institute of Modern Technologies
Sri Lanka Institute of Architects
University of Vocational Technology Ratmalana
Horizon Campus
Besides, some of the main professional education centers in Sri Lanka are as follows.
The Institute of Chartered Accountants of Sri Lanka (Only institution authorized to certify Chartered Accountants)
Sri Lanka Institute of Architects
Sri Lanka Law College
The Postgraduate Institute of Agriculture
Postgraduate Institute of Medicine
Postgraduate Institute of Pali & Buddhist Studies
The Postgraduate Institute of Management
Postgraduate Institute of Archeology
The Postgraduate Institute of Science
Postgraduate Institute of English
Is the Sri Lankan Education System Good?
Of course, yes! It is because of the quality of the education system in Sri Lanka that the literacy rate of Sri Lanka remains above 93%, which is comparatively a very high standard compared to some of the developed countries such as India, Malaysia, etc. Similarly, Sri Lanka has surprised the world with its powerful education system and its growth. However, there are few main reasons for us to highlight the Sri Lankan education system as a good one. Some of them are as follows.
1. Free Education Facilities in Sri Lanka
Sri Lanka is one of the very few nations to provide free education until higher education. This has been the main reason for the high literacy rate of the country. Annually, the government has invested around 15%-18% of its annual budget in education. It is mainly utilized to develop infrastructure, provide school textbooks and uniforms, and improve the quality of education systems. Similarly, there are various policies continuously amended and implemented to improve the education system of Sri Lanka. Hence, the Sri Lankans should certainly be grateful to their government for considering education as one of their main priorities.
2. Gender Equality in Education
The Sri Lankan education system promotes gender equality. For instance, out of the higher education graduates about 65% are female. That is a great success of the education system of Sri Lanka.
3. Quality Maintained in the Field of Education
The quality and the knowledge of the teachers of Sri Lanka happens to be one of the main highlights. In fact, officials always provide training and mentoring for all the primary and secondary teachers. Similarly, there are National Colleges of Education, for teachers to study for professional qualifications as well. Further, another factor that determines the quality of education is its content. It is essential to have the subjects and syllabuses updated accordingly. The way Sri Lanka does updates on the syllabuses and subjects is satisfactory. Thereby, students can always upgrade their knowledge and compete with students all over the world.
4. Sri Lankan Institutes for Children with Special Needs
One of the main admirable facts about the Sri Lankan education system is that they have introduced different government schools and different institutes for differently-abled students. Specially trained teachers are there to teach and guide those students, and their right to education is thus never deprived. Resultantly, the lives of these kids have become more productive.
5. Bilingual Teaching Methods in Education
Most of the schools in Sri Lanka have started initiating bilingual teaching methods. Accordingly, they start teaching English in schools from Grade 3 onwards. Therefore, students can get exposed to many international opportunities, as they are familiarized themselves with the English language since primary education.
Likewise, owing to all these reasons, we can highlight that the Sri Lankan education system is in a better state.
Is the Education System in Sri Lanka Practical Today?
Quite Not! For an education system to be successful and practical, there are various competencies to be included besides knowledge, such as creativity and skill development, ethics, discipline, leadership, communication, play, and leisure. However, Sri Lankan education lacks many such competencies that ought to be included to become more practical.
Students should have more freedom and leisure, for kids to discover creative stuff. Unfortunately, the education system has created the kid's life miserable by piling up with textbooks and examinations. Therefore, they are caught up in the rat race from an early age. Besides, the best way to learn is by making mistakes. But kids are being punished for making mistakes due to the heavy competition. Thus, the opportunity to self-learn, creativity, and leisure time of kids have been restricted from the primary education system in Sri Lanka.
Besides, skill and attitude development are not considered a priority in the current Sri Lankan education system. Skill development is the foundation of success, as teaching the right skill could make all the difference. Currently, the crime rate of the country is high, and most people are hot-tempered. Further, the suicide rates are increased as well. If discipline, tolerance, and respect for others, and personal development were taught in the education system, this society would have been better.
Moreover, the existing examination systems do not encourage students to learn and perceive. Consequently, it does not assist students to build their commonsense. Instead, it makes student bookworms, data machines, and crammers. This will not generate any inventors or creators. Hence, it is essential to create a practical examination system.
So, owing to all these reasons, we can mention that the practicality of the Sri Lankan education system is not satisfactory. Yes, it needs further improvements with regard!
Future of Education in Sri Lanka
As a result of the propagation of the Digital Era; English, communication, and Information Technology have become essential competencies that students require when stepping into the corporate world. There are tons of opportunities locally and internationally for people who have mastered those competencies. In the future world, most of the activities will be automated and done using AI. Hence, Sri Lanka should focus on shifting its education system towards such valuable proficiencies, so that students can create more value.
Also, society is full of corruption, aggressiveness, and theft. Therefore, it is essential that everyone learn and practice good manners, ethics, and discipline at the early stages of the education system. Thus, we believe that Sri Lankan education would adapt accordingly.
Besides, the technologies, systems, business models, and way of life are rapidly changing. Thus, the students should have opportunities to learn the latest technologies, systems, and business models to compete with international markets. So, we hope that the practical subjects and student skill development strategies will be a major aspect of the Sri Lankan education system in the future.
Further, the number of research carried out by universities is comparatively low in Sri Lanka. Being creative, performing innovations are essential for the growth of a country as well as its community. Therefore, required resources and opportunities to publish research should be granted by the education system in the future. Resultantly, it will motivate students to do more innovations and creations.
Likewise, in the future, authorities would introduce student-centered learning strategies to the Sri Lankan education system. Thereby, students will be able to gain knowledge through experience, collaboration, and teamwork. And with all these things, the Sri Lankan education system in the future would be more impressive and beneficial beyond a doubt.
The Bottom Line
The Sri Lankan education system, improved from the free education concept, is now in a better state using official development support. Millions of valuable professionals benefitted from this education system for the last 74 years, and they indeed reveal to the world the quality of Sri Lankan education. However, the whole world is changing, and Sri Lanka should always try to move parallelly with everything including facilities, systems, and technologies. Hence, the capability, superiority, and quality of the current education system would further improve and increase. Thus, we can surely hope for a better education system in Sri Lanka in the years to dawn!