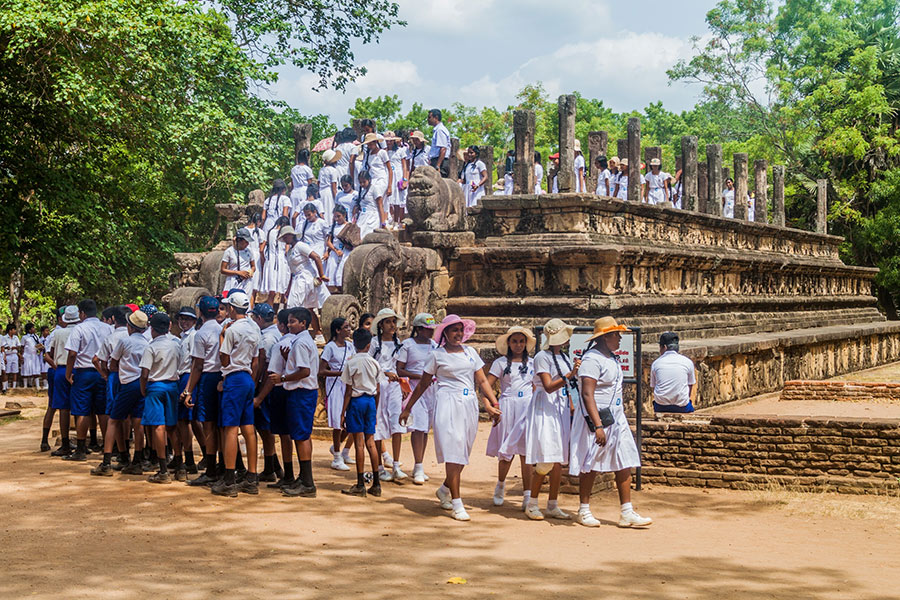 It is no secret that education plays a significant role in one's life. Still, it is never to forget that primary education is the foremost step of moulding an individual's character. Yes, it happens so, despite the fact of how long he gains education. Therefore, primary education has become a basic right of any human across the world. Thus, any of the countries make it one of the main focuses, when creating a beneficial national education system. And yes, it is the same with Sri Lanka as well. The attention that the authorities pay to primary education in Sri Lanka is indeed impressive. Thus, this field of education keeps flourishing day by day, benefitting the younger generations on a wider scale.
However, if you are interested in the education system of Sri Lanka, getting to know about the primary education status of the country is indeed a must. So, we thought of sharing with you anything and everything that you need to know with regard. So, why not? Let us know the best things about Primary Education in Sri Lanka. Still, for a better overview, let us begin our exploration with a quick glance over the education system of the country.
How is the Education System of Sri Lanka?
According to the history of Sri Lanka's education system, it obtained the foundation of its modern education structure through the Christian missionary system during the colonial era. For the most part, education in Sri Lanka is free. Further, it falls under the responsibility and funding of the central government or provincial councils. However, the free education system does not mean education is entirely free of charge. In fact, the term free education rather implies that any child can enrol and engage in education without a charge. So, in addition to free education, Sri Lanka contains a well-established private education system as well.
While national schools, provincial schools, and pirivenas fall under public schools, there are international schools and private schools to which only well-off students have the ability to attend. These public and private schools provide primary and secondary education to the Sri Lankan community. After completing primary and secondary education, Sri Lankan students have the ability to join higher education. A number of state and private universities in Sri Lanka are ready to offer students a number of degrees and diplomas in many different fields. So, all these together make up the education system of Sri Lanka, and this was just a quick glance over it.
What is Meant by Primary Education?
Primary education is the first stage of formal education that comes after kindergarten and before junior secondary school. This stage plays a crucial role in the development of a child in terms of social, mental, and cognitive skills. Primary education was not compulsory in Sri Lanka until 1999. However, with the arrival of new regulations, primary education in Sri Lanka became compulsory. Back then about 14% of the children between the ages 5 to 10 years were not attending schools. However, it is a satisfying fact that most recent studies show that over 90% of Sri Lankan children are participating in primary education at the moment.
In Sri Lanka, children obtain their pre-primary education from ages 3 to 5 years, and primary education from age 5 to 10 years (Grade 1 to 5). Further, primary education consists of 3 key stages as follows.
First Key Stage
Second Key Stage
Third Key Stage
Let us go through each of them briefly.
First Key Stage
Grade one and two belong to the first key stage. During this stage children will learn mostly through physical and mental activities and play.
Second Key Stage
Children studying in grades 3 and 4 belong to this stage. Key stage two is a bit more intensive.
Third Key Stage
Children reach key stage three when they pass to grade 5 in the school. There will be more desk-based activities and the major focus will be on academics. This is done to ensure that they adapt well to the background in the first year of junior secondary school, which is grade 6.
Language, religion, environmental-related activities and studies, and mathematics are the main subjects children learn during these five years. Language learning is done in a few phases. In grades 1 and 2 they learn the native language (Sinhala or Tamil). In addition, they are introduced to English in order to make them familiar with the language. From grade 3, English and the second native language (Tamil or Sinhala) are taught as official subjects. And finally, at the end of grade 5, students face a national examination. It is named the Grade 5 Scholarship Examination.
One aim of this examination is to select bright students from poor families and to offer them scholarships. The other aim is to select excellent students for leading secondary schools in the country. Owing to these reasons, this exam has become highly competitive. Most of the less-privileged families try to make this an opportunity to enrol their students into popular secondary schools with high facilities. Thus, the primary level students have arrived at a state where they are missing their childhood, owing to this highly competitive nature. As a result, the whole country is debating whether this examination is necessary to be a part of the primary education system.
What are the Functions of Primary Education?
According to the International Standard Classification of Education (ICSED) computed by UNESCO, primary education provides a set of learning and educational activities to children. These activities provide students with fundamental skills in reading, writing, and mathematics. In addition, establishing a solid foundation for learning and understanding core areas of knowledge, personal development, and preparing children for lower secondary education are other associated aims. Moreover, primary students have the ability to learn to love one's country, respecting the differences, embracing the diversity of ethnicities through drama, dialogues, songs, and plays, etc. This aspect is crucial for a country like Sri Lanka where multiple ethnic groups live in harmony. Learning to care for one another, eliminating injustice, planting creativity in children, and thereby overcoming the challenges of a modern world are some of the other priorities in primary education in Sri Lanka.
In addition, primary students are taught good health practices and ways to maintain personal hygiene. However, the government prepares the curriculum of the primary level based on the following priorities.
Literacy (speaking, reading, writing)
Numeracy
Graphics
Aspects of the social, biological, and physical environment
Aesthetics
Creative activities
Constructional activities
Indoor and outdoor games
Values and attitudes
Resolution of conflicts
Resourcefulness
Moreover, the government promotes primary students, the appreciation of other cultures as a main competency in order to broaden the social development of students.
Does the Primary Education System in Sri Lanka Suit the Modern World?
Of course, the primary education system in Sri Lanka suits the modern world up to a certain extent. In fact, the free education system in Sri Lanka has put forward in many aspects when compared to neighbouring countries. The literacy rate, school enrollment rate, and human quality index are some such aspects that rank the Sri Lankan education system high. Thus, without a doubt, we can mention that the primary education system in Sri Lanka is at a good level that suits the world.
However, the education system is hardly subject to any changes, which makes it less adaptable when adhering to continuous change and accelerated development in the world. It is true that Sri Lankan students possess vast and intensive knowledge when looking at the grade 5 scholarship marks. But, inadequacy in critical thinking and logical thinking, and lack of empathy serve as major defects. Students are not to blame for such, because it was how they were brought up. One of the main reasons for such negligence is the highly competitive nature the primary education system owns due to the national scholarship examination.
Besides, most of the children in rural areas lack the competencies in the English language and technology. This happens due to the lack of exposure, and the fewer resources they possess. Thus, primary education in Sri Lanka indeed needs some improvement in that aspect, in order to suit the modern world. Nevertheless, the service primary education does in moulding the younger generations to face the modern world, amidst the limited resources the country possesses is indeed at a satisfactory level.
Challenges that Sri Lanka is Facing Today in Primary Education
Education is the backbone of any country because it allows the nation to evolve. However, a developing country like Sri Lanka has come up with a key issue in primary education. And yes, it is the unequal distribution of human, physical, and infrastructure resources. The rural schools receive fewer facilities while the urban schools sometimes have an excess of provisions. In addition, the introduction of educational reforms from time to time when the ruling political party changes have become another issue. This poses a major threat to national education because they are not always taking the students' best interests into account.
Another major issue in Sri Lankan primary education is the heavy workload students have to suffer. This is because of the presence of the Grade 5 Scholarship Examination. As this examination chooses students for secondary schools with more facilities, parents make the students start studying for this examination from the very lower grades itself. If the government could develop the less-developed schools while giving them adequate means, this aggressive battle of students and parents against the grade five scholarship examination could be put to an end. However, the government is setting plans to overcome this challenge. Still, it is a long term plan that requires a good time. So, we can set hope for the future, that the competitiveness of the primary education level would decrease, along with a better resource allocation.
Future of Primary Education in Sri Lanka
Education contributes immensely towards a civilized society and in achieving sustainable development. Primary education in Sri Lanka is in urgent need of reforms to cope with the development of the world. The reforms should consist of unanimous and long-term educational goals to strengthen the future of education in Sri Lanka.
In fact, primary education should be more stress-free and play and activity-based. The government should take necessary steps to restrict or prohibit the prevailing tuition culture at least for the primary students. Moreover, they should uplift the quality of primary education. The reason is that it ensures and lays the foundation for a person's lifetime of learning.
It is undeniable that Sri Lankan children are good at learning. Besides, most of them are capable of surpassing most competency levels. Still, raising a balanced child is a challenge. Therefore, we believe that primary education in Sri Lanka should pay more attention to building a balanced child rather than academics. Sri Lanka needs to spend more on education and increase the flow of resources, especially for schools in under-facilitated regions.
In addition, the education system should not stress the individuals at any time. Today, Sri Lankan children are in a constant battle to pass every examination. If they are lucky to achieve their goals and ultimately enter the workforce of the country as a professional, their next goal is to give the gift of education to their children. However, they will rest only after their child achieves quality education. This vicious cycle should come to an end because there is no meaning to that education if people in the country are stressed with it. Moreover, children should allow continuing their learning activities in freedom, amidst listening to songs, reading books, and enjoying and appreciating nature.
The Bottom Line
Of course, it is true that primary education in Sri Lanka needs certain improvements in order to cater for the younger generations with a more relaxed, and stimulating educational environment. Still, it is a must note that the primary education in Sri Lanka is any way at a good level, in offering broad-based learning while managing the limited set of resources it possesses. Nevertheless, we can predict that it would further improve, creating better opportunities for the students in Sri Lanka. So, we believe that primary education in Sri Lanka will surely play a major role in creating a better future in the field of education in the country. Let's hope for the best!