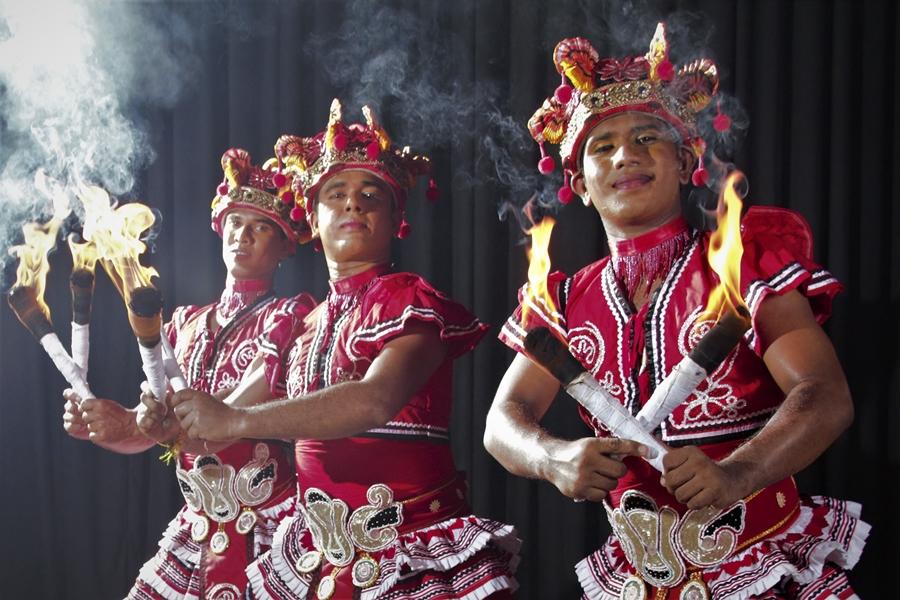 Sri Lanka, the tiny island located amidst the blue waves of the Indian Ocean, is rich in culture and traditions. Among its significances, the dances of Sri Lanka are one of the extravagant aspects of its culture.
As you might already know, dancing by definition is the rhythmic movement of the human body and iconic expression of the soul, and the Sri Lankan dances bring this fact out at its best. In fact, the way the Sri Lankan dances work as an artistic expression of one's feelings is truly impressive. Many generations compare dancing to a method of meditation. Yes indeed! Dancing heals every generation. Thus, many Sri Lankans worship, dance, and embrace its unique identity.
Owing to these reasons, the dances of Sri Lanka, remain a significant part of Sri Lankan lives, and they indeed reveal the cultural richness and diversity of the country to the external world. Hence, we thought of dedicating this read to explore the grandeur of the dances of Sri Lanka. Continue reading, and enlighten yourself!
History of Dances in Sri Lanka
The birth of dancing in Sri Lanka has a great significance in history. As per records, it was first started in the 4th century BC. The concept of dancing was first a model of healing. It was an act first to diminish the negative scenarios such as sicknesses and natural disasters. According to the earliest folklore, it is evident that the historical people valued the act of dance as divinity. However, let's now see the evolution of dance in Sri Lanka, from time to time.
The Great Chronicle of Sri Lanka depicts that the dance of Sri Lanka emerged with the arrival of King Vijaya from South India. Thus, people consider that it was the introduction to Sri Lanka folk dancing. Then, the dancing traditions followed in the kingdom eras as well.
Dances of Sri Lanka during the Kingdom Eras
We have stated below some of the highlights of the dancing traditions of each of these kingdom eras.
Dances of Sri Lanka Following the Kingdom Era
Yes, the dancing traditions evolved and continued even after the kingdom eras. Men engaged in dancing along with women in the Colombo era, and it was a significant factor that determined the last stage of the evolution of dancing.
Now, dance has become an art among the general public. Lots of girls and boys embraced dancing with the arrival of Rabindranath Tagore to Sri Lanka in 1934. The art of dance began to modernize with new aspects with the involvement of popular dancing artists.
Traditional Dances of Sri Lanka
Sri Lanka is very eminent in traditional dances. With the country's rich cultural and traditional heritage, most people value this traditional dancing style.
However, there are three major forms of traditional dances, along with two other traditional dance forms in Sri Lanka. They are as follows.
Kandyan Dance
Low-Country (Pahatharata) Dance
Sabaragamuwa Dance
Folk Dance
Dance Drama
All these traditional dancing styles have their unique set of items such as outfits, types of instruments, and the characteristics of dancing, that is worth getting to know about. So, why not? Let us get to know in detail, about each of these traditional dance forms in Sri Lanka!
1. Kandyan Dance
Upcountry or the Kandyan dance is the classical dance tradition of Sri Lanka. Besides, it is the most extravagant style of traditional dancing. It is a result of the influence of south Indian dancing and is mainly famous in the hill country. Further, Kandyan Dance is the oldest style of dancing in Sri Lanka. Its origin goes back to the kingdom era. Also, Kandyan dance is the most powerful style of the traditional dance type, and Sri Lanka and South India are the only countries that do Kandyan Dance. It is also a famous style of traditional dancing in both local and international contexts.
There are 4 types of Kandyan dances.
Ves Dance
Ves Dance is the main style of Kandyan dance which is popular in the upcountry. This dance aims to honor the God – Kohomba of the Kohomba tree. Ves dance is usually performed in religious possessions. Ves dance is only for males to perform. With a shiny costume, Ves dance always shows the power and glory of Kandyan dance.
Naiyandi Dance
Naiyandi dance is a sparkling traditional dance in Sri Lanka. This is a beginning item of the Kohomba Kankariya Festival. There is a unique costume for Naiyandi dancers. This form of dancing usually happens at ceremonial and religious places, especially in Kataragama Devalaya Temple and Maha Vishnu Dewala Temple.
Pantheru Dance
Pantheru dance is a dance for goddess Paththini to celebrate the battlefield victory. The dancers wear a jacket without beads where it shows the simplicity of this form of dance.
Udekki Dance
Udekki Dance is devoted to the God Ishwara. Further, the dancers who take part in these dances use Udekkiya as an instrument for the dance. It is an impressive hand drum. People believe that this dance can connect humans with the gods. This is a very difficult dance because dancers have to sing and play the hand drum while dancing.
History and Costumes of Kandyan Dancing
Kandyan dance holds a lot of importance where it has now become the national dance of Sri Lanka. Simply, it is the dance of glory. The ancient ritual, "Kohoma Kankariya" is the origin of the Kandyan dance. It is a very dynamic and repertoire style of dance. Ves dance is the main mode of Kandyan dance.
Males can be Ves dancers and they have a unique and proud costume. It is assumed to be sacred and kept in sacred places such as temples. The upper body has an eminent chest ornament and for the lower body, it has a pair of trousers covered with a large white loincloth. Females also wear colorful costumes with a headdress. 'Silambu' is one of the most important ornaments in the Kandyan dance. Dancers wear it on their feet to create a nice sound when they are dancing, to fabricate the rhythm of the dance.
Technique and Instrument of Kandyan Dance
To become a perfect Kandyan dancer, one has to follow the twelve-foot bar exercises and exercises without the bar. That technique is the basis of every beginner. It takes a lot of time to become perfect in the basic technique. Besides, 'Mandiya' is the most important technique to practice when doing the Kandyan dance. However, to become a top Kandyan performer, one has to learn all the eighteen 'vannams'. These 'vannams' are dedicated to the virtues of the animals such as elephants, snakes, lions, horses, monkeys, rabbits, gods, and gems. Each 'vannama' itself has a unique lyrical style and dancing style deriving from history.
Most importantly, the Kandyan dance has its main instrument, " Gataberaya ". It is a product of Kohomba, Ehela, and Kos trees. Builders use both the skin of monkeys and cattle to create this drum. Also, the deerskin is used to create the strings in the drum. One has to learn to play this drum with a huge practice in twelve elementary exercises. To highlight the rhythm, some professional dancers use "thalampota" along with the drum beating.
2. Low Country Dance
Low Country Dance or 'Pahatharata' dance is very different from Kandyan dance. This type of dance belongs to coastal areas in the southern part of Sri Lanka such as Matara, Galle, and Hambantota. Low Country Dance is also famous as "Devil Dance" or "Deity Dance" intending to appease the evil spirits from illness or sickness. Because of that aim, this type of dance is very ritualistic and highly ceremonial.
Costume and Instrument of Low Country Dance
The most significant aspect of the costume of Low country dance is the usage of a mask when dancing. It is a very unique and significant aspect. Wearing masks depicts the various forms of reptiles, birds, and demons. In Particular, males do cover their faces completely with the mask. Females sometimes use the mask, but not every time. The upper body and the lower body are covered with long sleeve costumes. The costume is very colorful and usually red-mixed. The usage of ornaments is very little.
The main instrument of the Low country dance is 'Yakberaya'. It is a cylinder-shaped drum that has a deep sound. It is built with the stomach lining of Cattle. Coconut, kitul, Ehela, and Mila trees are used for the wooden parts.
Techniques of Low Country Dance
There are some types of techniques in low country dancing. To be a perfect dancer, one has to practice the low country dance known as 'Daha Ata Sanniya'. It is the dance to exercise 18 types of diseases from the human body. They dance with the aim of curing the illness through the help of gods and goddesses. Low country dance also has the technique of 'Mandiya' which is very famous in Kandyan dance too. It is a pose where the dancer is half bent and spreads his/her legs outward with the balance.
Rituals Related to Low Country Dance
There are three types of rituals in the low country dance. These rituals are popular as 'Shanthikarma' in the Sinhala Language which is a popular word in the village areas. Villagers use these rituals mainly to expel evilness with the help of gods and goddesses.
Bali Shanthikarma – This is a ritual to expel the negativity of planetary movements in people's life.
Madu Shanthikarma – This is one of the most famous rituals in low country dancing. It is performed to venerate the gods and especially the goddess Parvati. 'Gammaduwa' is the famous location for this ritual.
Thovil Shanthikarma – The focus of this ritual is to expel the evil souls from a person or place and give freedom to them. These rituals are mostly common in village areas in Sri Lanka.
3. Sabaragamuwa Dance
Sabaragamuwa Dance is derived from Sabaragamuwa province in Sri Lanka. According to Yohan Punchinilame, a popular lecturer from the University of Visual and Performing Arts in Sri Lanka, there are four main geographical areas where Sabaragamuwa Dance is popular. They are Rathnapura, Badulla, Kalawana, and Balangoda. Ratnapura is famous as the heart and the core of Sabaragamuwa dance. Unfortunately, Sabaragamuwa dance is not as popular as the Kandyan dance and the Low country dance. Only males practiced the Sabaragamuwa dance first. Later, women also got the opportunity to dance some years back.
Costume and Instrument of Sabaragamuwa Dance
The costume of the Sabaragamuwa dance is very unique in color. Mostly, the costume is in white and red colors. White symbolizes inner and outer purity and red symbolizes devotedness to the Gods. Unlike in other traditional dances, the costume of the Sabaragamuwa dance is embedded with beads. 'Karathella' and 'Nethmalaya' are the two main features of the costume. Karathella means a large neck filler that is similar to a necklace. Nethmalaya is similar to a headdress which is iconic in the Kandyan and Low country dances too.
The main drum of Sabaragamuwa dance is the 'Devol Beraya'. Kohomba, Kitul, Ehela, and Milla trees are popular to make this drum. This drum gives a deep sound similar to 'Yak beraya'. This is large in shape.
The Techniques of Sabaragamuwa Dance
The technique of Sabaragamuwa dancing is very significant. The dancers never take their hands above their heads. This is Kullaunique in the Sabaragamuwa style of traditional dancing. Moreover, they also use 'Mandiya' when they dance. Traditionally, the Sabaragamuwa style contains unique rhythms, chants, and songs.
Rituals of Sabaragamuwa Dance
Just like in the low country dance, Sabaragamuwa dance also has some rituals. These rituals make traditional dancing more ritualistic. In fact, in this dance style, there are 4 types of major rituals practiced for various reasons. They are also popular as 'Shanthikarma'.
Yak Thovil
This is famous as 18 sanniya as well. Further, this can be seen in the low country dance. The main aim of the Yak thovil is to expel diseases. Moreover, there are some examples for Yak thovil such as Gopalu Samayama, Mahason Samayama, Daraha Thovil, Kumara Samayama and Suniyam Yagaya. Yak thovil is conducted mainly to expel the five terrifying demons called riri yaka, kalu yaka, abimana yaka, thoteyaka, and maha sona.
Deva Thovil
This is mainly used to get the blessings of gods and goddesses, namely from goddess Paththini, Vishnu, Ishwara, Natha, and Mangara. It is also evident that our ancestors- Yaksha, Naaga, and Raksha tribes have done Deva thovil to receive the blessings. As an example, Pahan Maduwa is one of the famous Deva Thovil. It aims to worship the goddess Paththini. Moreover, Kiri Maduwa is another Deva Thovil that represents prosperity, curing diseases, and preserving crops.
Graha Bali Yaga
This is a ritual that aims to alleviate misfortune during times where the weather is not in their favor. It was mainly useful to get a good harvest for the villagers in ancient times. There are main rituals under Graha Bali Yaga such as the Mal Bali, Thira Bali, Prathima Bali, and the Balagraha Bali.
Dig Ge Natuma
It is a ritualistic dance. Usually, women do this ritual in the name of the god – Saman. This ritual happens in a long hall with songs and dances. According to the chronicles, only the wives of the kings had done this ritual in early times. Later, this ritual has shifted from a ritual to a dance that worships God Saman. However, at present, this ritual is not very much famous.
4. Folk Dance
Folk dance is another type of traditional dance in Sri Lanka. Besides, this is very unique to this splendid island. However, folk Dances are derived from the day-to-day lives of the villagers. You can find below some examples of Folk Dance.
Pot Dance: A type of dance that uses pots.
Stick Dance: Dancers use two sticks, and create rhythms along with the dancing steps.
Hand Drum Dance: A type of dance that uses hand drums.
Kulu Dance: A kulla (winnover) is used in this dancing style.
Goyam Dance: A dance style that signifies the activities done in a paddy field.
Normally, folk dance is popular among females. It is because Folk dance deals mainly with elegance and romance. The main costume of Folk Dance is the colorful jacket for the upper body and a long cloth for the lower body. The main feature of folk dancing is the use of an instrument for every dance. And each dance has an aim related to prosperity and healthiness.
5. Dance Drama
Dance Drama or 'Kolam' is a ritualistic but theoretical type of traditional dance. However, this is different from rituals or 'shanthikarma'. Dance Drama is usually famous for mitigating the issues arising related to pregnancy. Besides, this is a traditional dance item unique to Sri Lanka and most importantly it uses a mask. Among the kolam masks, the mythical king of cobras and the mythical king of birds are the most prominent types. This shows how masks have been an eminent prop in traditional dance.
Famous Dancing Professionals in Sri Lanka
Sri Lanka has a very professional and traditional group of famous dancers. They are the most important individuals who pave the way for the development of dance as a strong field of study. They considered dancing as something lively and energetic. The figures below have contributed a lot to the art of dancing.
Chithrarathne Werapitiya
Deshamanya Vajira Chitrasena
Deshamanya Chitrasena
S.Panibharatha
Channa Wijewardhane
The below sections will provide you with more information about these wonderful personalities!
Chithrarathna Werapitiya
Chithrarathne Werapitiya is also known as Chithrarathne Kurunnase. He is the grandmaster of traditional Kandyan dance in Sri Lanka who is highly respected among the Sri Lankan people. In fact, he is an astounding figure of both modern and traditional dancing. Besides, Chithrarathna Weapitiya is a very talented dancer and teacher who won the President's Award 40 times for his elegance in dancing. He is the owner of Chithrarathna Kandyan Dancing Academy and accordingly, he passes his knowledge and talent to the coming generations.
Vajira Chitrasena
Deshamanya Vajira Chitrasena was the first-ever woman to practice the traditional Kandyan Dance which was only famous among men in the past. She was a very elegant Kandyan dancer, teacher, and talented choreographer. Owing to her talent and dominant but straightforward personality, she became the lovely wife of the dancing professor Chitrasena who was also a predominant and legendary figure in dancing. Moreover, she is the first person to rename the first Prima Ballerina in Sri Lanka.
Chitrasena
As awarded in 1998, Deshamanya Chitrasena is a legend in the traditional dancing of Sri Lanka. In fact, he is internationally recognized as a person who built the foundation of traditional dance in this country.
He is talented not only for the traditional dance but also for low country dance and Sabaragamuwa dance. The significance of his contribution to dancing is very unique. He was the one who built up the traditional dance after the decolonization era. It was a very hard task back then but he successfully influenced the minds of generations through his energy and talent.
Many local and international people still admire his contribution as a dancing legend. Moreover, He won numerous presidential awards as Kala Keerthi, Kala Bhushana 1994, Vishva Prasadinee in 1996, and Kala Suri First Class in 1986. His Chitrasena Dance Academy is a very famous institute even today.
S.Panibharatha
S.Panibharatha was a great dancer and choreographer in Sri Lanka. He is very famous for traditional dancing. Owing to his huge contribution, his birth date is named the National Dance Day of Sri Lanka. Besides, he is a very good teacher to his students.
In 2021, President Mahinda Rajapaksha launched a book called 'Guru Deva Panibharatha' to admire his greater contribution. Moreover, he won awards such as Kala Suri, Kala Keerthi, and Dharshanasuri in recognition of his immense talent to many young generations in Sri Lanka. Upuli Panibharatha, the daughter of S.Panibharatha, is also now a famous dance professional in modern dance.
Channa Wijewardene
He is one of the most famous modern dancers, choreographers, and a teacher in the modern dancing industry in Sri Lanka. His wife is Upuli Panibaratha and the daughter, Aseka Wijewardene is also a popular dancer in Sri Lanka. Channa – Upuli Dance Academy is one of the most iconic dancing institutes in the country at the moment. Plenty of students are practicing dancing under them. It is a very recognized dance academy in the local and international arena.
Present Dancing Culture of Sri Lanka
From history, traditional dance is highly significant in Sri Lanka. The Colombo era is the origin of the present-day dancing culture. With a long history, traditional dance took the attention of the professionals of dancing. And also, young boys and girls started to visit India to learn dancing and art.
First, traditional dancers embraced the art of dancing but gradually ordinary people in the society also tend to embrace the dance art of Sri Lanka. With the development of dance institutes and universities, traditional dance took a vast development.
The appointment of dancing teachers in government schools is another milestone of the present-day traditional dance in Sri Lanka. In the 20th century, for the first time in history, learning dancing started for 6-11 grades in all government and private schools. Moreover, dancing is one of the main subjects in both G.C.E. Advanced Level and Ordinary Level examinations in Sri Lanka. Students learn both in theory and practice to enhance their dancing skills. The development of universities relating to art, dance, and drama such as the University of Visual and Performing Arts in Colombo, and the Teaching Institute in Giragama has made the use of dancing very famous.
The Influence of Western Dances in Sri Lanka
Another significant factor is the western influence in the dance of Sri Lanka. After colonization, Sri Lanka embraced some new techniques, and dancing styles to the Sri Lankan dance. They are very modern and are very new to the Sri Lankan people.
'Ballet' was the first western dance to the island. Social dancing was another western dance that depicted the comfortableness of people in different places. Gradually, India's main dance- Bharatanatyam began to develop among the Sri Lankan dances along with other Indian classical dances such as Kathak, Kathakali, Manipuri, and Kuchipudi. Moreover, the birth of Salsa dance, Hip-Hop, Freestyle, Break Dancing, Belly Dance, and Tap dancing can also be identified as significant highlights. Besides, students have western dancing competitions in the present day. Thus, it is evident that at present, there is a huge change in dancing.
Also, it is a must note that the present-day traditional dance is a very new and updated one. Present-day dancers can grab every style of dance in just 4-5 practicing days to be a perfect dancer in each area. However, the gratitude goes to the traditional dancers who protected and taught the value of the traditional dance of Sri Lanka even amidst all these revolutions!
Best Places to Experience the Dances of Sri Lanka
The beauty of the traditional dances in Sri Lanka is very famous worldwide. As a result, both local and foreign people who visit Sri Lanka, never miss the chance to witness the beauty of the dances of this country. Below are the most famous places to see these performances.
Perahera
New Year Celebrations
Artistic Communities
Independence Day Parades
Cultural Dance Shows
Weddings and Other Occasions
The below sections reveal to what extent dances in Sri Lanka are truly important with its already embedded culture and traditions.
1. Perahera
Perahara is similar to a parade with plenty of dancers, drummers, singers, musicians along with several elephants. However, among many, Kandy Esala Perahara is one of the most elegant parades in Sri Lanka.
It is the famous ceremonial occasion held annually in Kandy, in July and August. Further, it is also very popular as the Festival of the Tooth Relic in Sri Lanka. This is a 15-days festival, with a series of processions taking place on different days.
The intention of this ceremony is to pay homage to the Tooth Relic of the Lord Buddha. This tradition comes from hundreds of years, and during the parade season, the streets are very bright with lots of street bulbs. All the dancers, performers wear bright clothes and go dancing through the streets in Kandy. In fact, this ceremonial festival features almost every traditional dance style of this country, thus creating perfect opportunities for anyone to witness the best of Sri Lankan dances.
Millions of people come to visit the parade from every corner of Sri Lanka, and it is indeed a festival with lots of amusements.
Moreover, the Kataragama parade and Saman Devalaya Perahara are also such perahera functions that feature dancing items, yet not on a grand scale like this.
2. New Year Celebrations
Sinhala and Tamil New Year is an annual festival in Sri Lanka. It is celebrated by Sinhalese and Tamils, and it is a very ritualistic but enjoyable festival in Sri Lanka. The festival celebrations feature a number of events that include Awurudu games, as well as singing and dancing items. Hence, people can see plenty of folk dance items during this festival season.
3. Artistic Communities
There are artistic communities in several places in Sri Lanka. For example, King George Hall of the University of Colombo, Nawa Rangahala Hall of Royal College, Colombo, the very famous Lionel Wendt Art Centre, and the popular Nelung Art Centre in Sri Lanka are a few of them. Dancing Events are normally held at these places, and thus, they create a good chance for the enthusiasts to enjoy this art.
4. Independence Day Parades
The 4th of February is the independence day of Sri Lanka. As you might already know, this island was a long-term colony of the western world. In 1948, Sri Lanka received independence and sovereign authority as a state. From 1948 onwards, the people celebrated this iconic freedom with an amusing parade every year. Combining the Sri Lankan army, navy, and air force, there are plenty of dancing teams joining this parade. They go to the parade while dancing, playing, and singing, signifying the cultural heritage of this country. The President and major political parties are the audiences of this particular parade, and the ceremony is broadcast live on Sri Lankan TV channels.
5. Cultural Dance Shows
Sri Lankan Hotels and restaurants play a significant role in showcasing traditional dances of Sri Lanka to the local and foreign community. Five-star hotels in Colombo and major restaurants in Sri Lanka showcase the beauty of the dance to their customers. They use it as an entertainment activity. Usually, dancing groups do these performances with their consent and to entertain the people. Hotels conduct these performances usually in the morning, evening, and night with beautiful music.
6. Weddings and Other Ceremonial Occasions
Dances are a famous item of weddings and other ceremonies. Normally there are items in traditional dancing, and folk dancing that take place as rituals during these ceremonies, and later in the events, western-type dance movements can be seen.
The Bottom Line
After all, it is clear that dancing has been one of the basic features which contributes to the cultural richness of Sri Lanka. The people in this country value this feature very much and just like the past generations preserve the form of dancing, modern and future generations will also preserve it wholeheartedly. Most importantly, to preserve Sri Lankan Dance, it is very important to adjust to the changing dynamics of the dancing world. However, we are sure that while modernizing dancing to the utmost level, Sri Lanka will be able to mark its significance in the international system with a great uniqueness and rich culture.