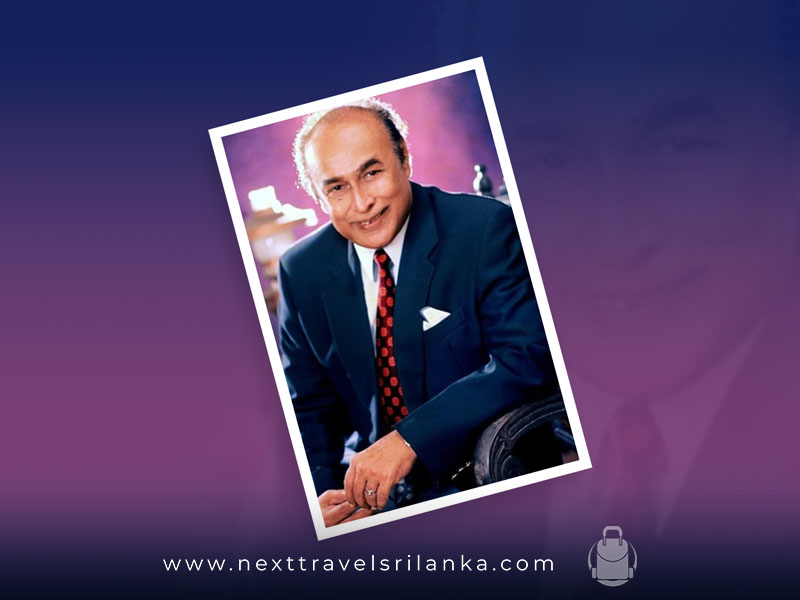 The tiny splendid island of Sri Lanka is famous owing to many reasons. And yes, its film industry is also one such thing, that makes it stand out from the rest. The Sri Lankan film industry which began with the movie 'Kadawunu Poronduwa' in 1947, has come a long way by now, with hundreds of Sinhalese and Tamil movies. Among them, several Sinhala movies have been able to gain recognition, highlighting the significance of the Sri Lankan film industry. However, within the industry, there are a few iconic figures. Gamini Fonseka is one such legend who contributed to the Sri Lankan film industry immensely.
Unarguably, Gamini Fonseka is renowned as the first ever superstar and the greatest actor in the Sinhala cinema. Apart from his acting career, he was also famous as a director, producer, politician, and a great human being. His life story is very interesting and also very influential. Thus, we thought of sharing with you about this wonderful personality. Here is all you need to know about Sri Lanka's legendary actor, Gamini Fonseka!
Personal Life of Gamini Fonseka
Sembuge Gamini Shelton Fonseka was born on the 21st of March 1936 in Dehiwala, Sri Lanka. He was the third child of William and Daisy Fonseka.
First, let us get to know about how his childhood was spent.
Childhood of Gamini
Gamini Fonseka started schooling at the Presbyterian institution. Later, he joined St. Thomas College, Mt.Lavinia.
During his childhood, he became famous as a tough figure at school. Those days, his future ambition was to be a police officer. Apart from that, he had been a bright student of Sinhala language and literature under the guidance of D.S. Jayasekara. He even won a prize for Sinhala language and literature from then prime minister, D.S. Senanayake. He was also an accomplished cricket player at school.
Upon his mother's request to not join the police force, Fonseka showed his interest in Cinema. In the beginning, he had to struggle a bit in the field but later found his way with the help of several people.
Family Life
Gamini Fonseka's wife is Dorothy Margaret Valencia, and people also call her Tina. She is her teenage girlfriend. They got married in 1962. Later, the couple had four children named Camilla, Thanuja, Dammith, and Ishara.
His son Dammith also pursued a successful acting career for a while in the 1990s. He starred in popular movies such as Chandi Rajina, Ira Hada Illa, Chandiyage Putha, Cheriyo Darling, and Raththaran Malli. Many years later, he became a father again to the two girls, Kaushalya and Poornima. He has 10 grandchildren named Yasara, Vivek, Indula, Daniel, Tarik, Janik, Hrithik, Ruveka, and Tiesha.
Film Career of Gamini Fonseka
As Fonseka entered the movie industry, his intention was to be a cameraman. However, he got the chance to be the assistant director for some huge productions such as David Lean's Bridge on the River Kwai and Lester James Peiris's Rekava. Along the way, he rose up to be one of the greatest Sinhala actors of all time.
Here's all you need to know about Gamini Fonseka's film career!
Entree to the Film Industry
Gamini Fonseka's thirst for cinema drove him to perform various roles in the industry before being established as an actor. His days as a cameraman and assistant director really helped him to flourish his acting career later.
The renowned Sri Lankan director Lester James Peiris paved the way for Fonseka to join the acting industry. Accordingly, Gamini Fonseka got his first chance to be a part of the silver screen as an actor in the movie 'Rekava'. Then, Lester James Peiris again made Fonseka the assistant director for his film 'Sandeshaya'. This is also the first movie where Fonseka could secure a leading role. He played the second lead character with Ananda Jayaratne.
Lester James Peiris then proceeded to give Fonseka that opportunity in three of his movies, Gamperaliya, Nidhanaya, and Yuganthaya. This trilogy is based on Martin Wickramasinghe's novels. Gamini Fonseka's acting in these movies is considered one of his most memorable portrayals. Then, through highly successful commercial movies like 'Adata Wada Heta Hoday', 'Getawarayo' and 'Deewarayo' he rose up to fame as a superstar at the box office.
In the early days of his career, he proved his capabilities as a versatile actor by playing unique roles in movies of different genres which gave him the road to go on a long journey in the Sri Lankan film industry.
His Career as an Actor
Fonseka was lucky enough to secure some groundbreaking roles at the very beginning of his career. Especially, his role as 'Jinadasa' in the movie Gamperaliya, gained a lot of appreciation. Even though he gained immense popularity through his role as the hero in thriving commercial films, he was not willing to limit himself within the frame of the hero of a movie.
In fact, his acting capacity shown in the classical movies, particularly under the direction of Lester James Peiris proves his talents far away from just being a melodramatic actor. In his first leading role in the movie 'Sandeshaya' along with Ananda Jayartane, Fonseka's talent could even surpass Jayaratne at certain points. Likewise, from the very beginning, he could prove that acting is something that comes naturally to him. Besides, his extraordinary talents and immense popularity proved him suitable for both classical and commercial movies alike.
Besides, Fonseka received a lot of recognition from the 1959 movie, 'Daiwa yogaya' In this movie also he played a secondary role with then superstars such as Senadheera Kuruppu and Rukmani Devi. Even though he played the second leading role, he stole the show.
In the late sixties and early seventies, Fonseka established himself in the industry as one of the most sought-after romantic action heroes. His role as Willie Abeynayake in 'Nidhanaya' and ASP Wickrema Randeniya in 'Welikathara' are indeed the biggest achievements of his career as he won presidential awards for both these movies. However, his role as the Jaffna Tamil clerk Nadaraja in Sunil Ariyaratne's movie, Sarungale is Fonseka's other memorable role.
During his career, he acted in 108 films and 1 teledrama. "Sudu saha Kalu' by D.B. Nihalsinghe is Fonseka's only teledrama. Besides, he played the leading role in 89 movies.
Gamini Fonseka as a Director
Gamini's directorial debut was the movie 'Parasathumal' in 1966. He directed his first movie with the guidance and supervision of Sir Lester James Peiris. Even though it was Fonseka's first direction, the audience accepted it well. Following his success, he went on to direct 10 more movies and produced 2 movies.
Here are some of the movie directions of Gamini Fonseka.
Parasathumal
Uthumaneni
Mayurige Kathawa
Sagarayak Mada
Ra Manamali
Sakvithi Suwaya
Koti Waligaya
Nomiyena Minisun
Anthima Reya
And these are the movie productions of this renowned actor.
Sorungeth Soru by Mike Wilson
Sahanaya by J. Selvarathnam
These movies showcased Fonseka's amazing abilities as a director as these movies belonged to different genres. Many actors try direction when they get successful in their acting careers. However, Gamini Fonseka is among the few who got successful as both an actor and director parallelly during the same era.
Awards
Gamini Fonseka dominated the silver screen of the Sinhala movie industry for decades. So he was adored by the audience and well acclaimed by the authorities.
He received the award for the best actor for the first time in 1964 for the movie, Gamperaliya. Then, he received an award for the most popular actor for the first time in 1966. Later, during his lifetime, he proceeded to win many best actor and popular actor awards.
Apart from that, he even received an award for the best lyricist from Sarasaviya for the song, 'Bambarindu'. He wrote it for the movie Sarungale.
Likewise, Gamini Fonseka was fortunate enough to receive awards for most of the roles that he played, and many of his contributions. He even received presidential awards for his great acting twice. These hundreds of awards are the best proof of how much of a versatile actor Gamini Fonseka is.
Gamini Fonseka's Political Career
Gamini Fonseka gave up cinema in 1988 to join politics. He entered politics in 1989 from the United National Party. His popularity as the superstar of the Sinhala cinema was an advantage to him in his political career.
However, through the election, he became the representative of the Sri Lankan parliament from the Matara district in 1989. And yes, he entered the parliament with the highest number of preferential votes from the Matara district. Indeed, he received the love and the reputation of the voters as a loving actor and also as a great human being.
Later, he became the deputy speaker of the Sri Lankan parliament from 1989 to 1994. Afterward, then president Chandrika Kumaratunga appointed Fonseka as the governor of the North Eastern province from 1995 to 1998.
Owing to all these reasons, he is famous as a reputed politician of his time.
Death and Legacy
Gamini Fonseka lived the life of a superstar. Simply, he is the famous uncrowned king of the Sinhala cinema, who became a great colleague to his fellow actors. Apart from his association with the film industry, he could also become a respectable politician. After all, he was a loving husband and a father to his family too.
After such a fruitful life, Fonseka passed away on the 24th of March 2004 at the age of 68. The cause of his death was myocardial infarction. The death of this legend created a gigantic void in the Sri Lankan film industry that couldn't be filled even today. Thus, we can consider Gamini Fonseka as one of the few legends that the Sri Lankans would always remember for centuries to come!