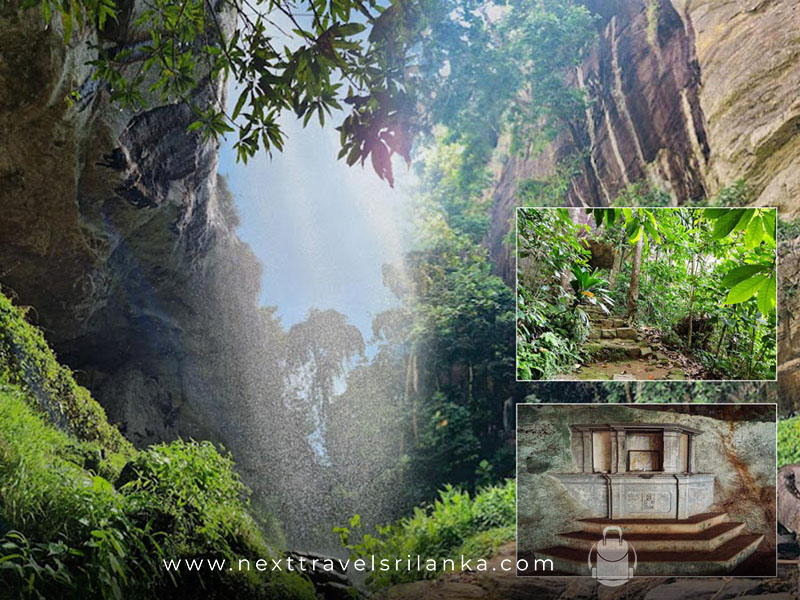 The tiny charming island of Sri Lanka holds an amazing past. The archeological sites that reveal the prehistoric human presence happens to be a significant aspect with regard. Of course, they have even become major tourist attractions that draw visitors at large. Among these attractions are the Belilena caves, located in the scenic surroundings of Kitulgala.
Of course, many of our readers may have heard about these wonderful caves. Still, there may be several interesting facts that many are not aware of. Thus, we thought of sharing all about Belilena caves with you. Continue reading, and enlighten yourself.
Historical Significance of the Belilena Caves
These caves are simply historically significant owing to the valuable remains that they have held. As per the historical records, the evidence from these caves of human presence dates back to a time period as early as 32,000 years ago. Among the discovered remains are the skeletal remains of ten individuals and game animals, bone tools, stone tools, and evidence of fire. Paul E. P. Deraniyagala, the Sri Lankan paleontologist, specifies that those remains of the individuals should belong to the ''Balangoda Man", an early prehistoric ancestor of Sri Lanka's indigenous people.
The scientific research that the Archaeological Department of Sri Lanka performed at this place, during 1978 – 1983 was important in proving its historical significance. Considering its importance, the authorities declared it as an Archeological Reserve afterward. Still, there is a part of Belilena caves that is yet unexplored. It is necessary to have a rope if one needs to reach that part. However, some parts of the Belilena caves now contain a high amount of stalactites and stalagmites, making it a bit hard to explore. Yet, they certainly never harm the wonderful experience that one can have at these caves.
The Delight of the Exploration
Simply, the Belilena caves have so much to offer to their visitors. Starting with their ancient looks, the verdant vistas they hold magnify the delight of the exploration of the visitors. Indeed, the vibe that you get as you explore these caves is second to none. The thrill and excitement you feel, the adventurous or the haunting atmosphere in the surroundings, are sure to make your visit a one like no other.
And yes, that simply brings out another interesting fact! Indeed, you can have some unique captures at this wonderful archeological site. So, don't forget the camera to witness the best out of this delightful exploration. The photographs you get will not only add some beautiful memories to your travel diary but also reveal to the world Sri Lanka's historical heritage, as you share them on social media.
Besides, the delight of the Belilena visit would never be complete without an exploration of the surroundings. In fact, there are many fun-filled activities that would make your trip more worthwhile in Kitulgala. As you might already know, white water rafting is one of the most-loved activities of many who visit Kitulgala. Apart from that, there are plenty of opportunities for adventure seekers to indulge in waterfall abseiling.
If you are planning to book a tour package, they would certainly feature many of these delights, along with the Belilena caves exploration. Their prices may vary depending on the different services they offer. However, whatever tour package you choose, would offer you a wonderful experience, here in Sri Lanka.
Location of Belilena Caves
The Belilena Caves are located in West Sri Lanka, a few miles away from the Kitulgala town, facing a yard of rubber plantations to be specific. You can find it upon a steep path on the hillside, and that area is approximately 2000 feet above sea level. Besides, it is more like a part of the wet zone rainforest in Kitulgala. Also, the location of the Belilena Caves holds a unique charm with its greenery and the wildlife it houses.
How to Reach Belilena Caves?
If you are traveling to Kitulgala from Colombo, the commercial capital of Sri Lanka, the travel distance would approximately count to 85 km. However, reaching Kitulgala is not that hard. Still, if you are using public transportation, you will have to get down at the main road, and then use a taxi service, a tuk-tuk, or a cab to reach the Belilena caves.
What is the Best Time for Belilena Caves Exploration?
As you might already know, this area belongs to some of the wettest areas on the island. However, considering the monsoon seasons, and the climate out there, we suggest that the months between December to February, March to May, and July to September are the best to explore the Belilena caves. Still, it is always better to check out the weather there prior to your visit, just to make sure that the weather is not going to trouble you with your trip.
Tips to Remember for a Better Trip
You certainly need not have serious preparation prior to your Belilena Caves exploration. Still, the following tips would make your trip more interesting and hassle-free.
Take a water bottle with you.
You can buy snacks from the small stalls in the surrounding area of the caves. However, you can find large-scale shops only on the main road and the town. So, be prepared with what you need.
Wear something comfortable, as you will have to walk a lot.
Have first-aid with you, in case of emergency.
Better to have a torch or a rechargeable lamp.
Don't forget your camera.
The Bottom Line
Of course, it is not a secret that many tourists plan to visit a coastal area or the hill country as they visit Sri Lanka. Still, for travelers who long for a different experience, we can assure you that exploring the caves in Belilena is simply a perfect choice. The thrill and the excitement it offers are sure to make their trip more interesting and memorable.
So, if you are also planning to arrive in Sri Lanka, and to explore Sri Lanka's past, do not miss the Belilena caves exploration. This visit to Kitulgala will surely magnify the delight of your stay here in Sri Lanka. Happy and safe traveling!