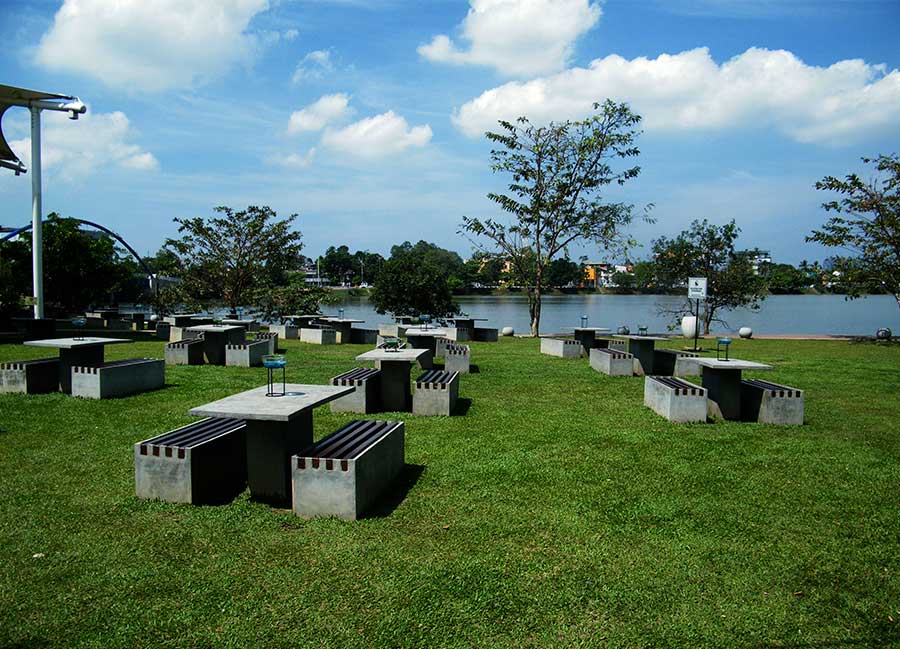 Most of the time, parks are the choice of a lot of people, to spend some quality time in solitude or with family or friends. Parks can give you a variety of senses including joy, romance, freedom, and relaxation. Therefore, visiting parks has been a famous leisure time activity for a long time. A leisure park can be a natural or semi-natural space created for the enjoyment and recreation of people. Sri Lanka, holding many picturesque landscapes and holiday destinations, is a best-loved place for anyone seeking an attractive place to spend their leisure time in. There are many urban parks as well as provincial parks in Sri Lanka. So, this article covers the best 5 parks in Sri Lanka, for you to spend quality time!
What are the Best Parks in Sri Lanka?
While there are many parks in Sri Lanka, we believe that the following are the best.
Galle Face Green
Diyatha Uyana
Vihara Maha Devi Park
Beddagana Wetland Park
Guruge Nature Park
Let us have a look at their locations, specialties, and things these places have got to offer you.
1. Galle Face Green
Scenic beauty, historical importance, and unique attractions together with convenient traveling! What else would you need to consider Galle Face Green the best urban park to spend your evening at?
Galle Face Green is an ocean-side urban park located in Colombo, the business capital of Sri Lanka. It is a beautiful place surrounded by the beauty of the crystal blue ocean on one side, and by sandy shores and greenery on the other side. While the sea breeze adds to the relaxation of its visitors, Galle Face Green is an ideal place for children. That is simply because it has got plenty of areas for them to play in.
Further, Galle Face Green has historical importance because it has a history that dates back to 1859. As per history, Sir Henry Ward, Governor of British Ceylon made this. His intention in building this was to use it for horse racing and golf. So, earlier it was famous as the Colpetty Race Course. Also, it has got some places with historical and cultural importance such as the old parliament and Colombo lighthouse.
Besides, Galle Face Green is one of the best places to witness the mesmerizing view of the sunset in Colombo. It attracts a lot of people including locals and foreigners during the evening. Many people come here to enjoy the sea breeze, to sit and relax, and to spend their leisure time.
Also, there are many street food stalls along the park where you can enjoy delicious street food unique to Sri Lanka. Moreover, many star-class hotels and shopping malls surround Galle Face Green. So, owing to all these reasons, it is the best urban park for you to relax, take a walk, and play with children or fly a kite.
2. Diyatha Uyana
Planning to spend some leisure time away from all the hustle and bustle of Colombo? If so, Diyatha Uyana located at Polduwa junction, Battaramulla is the ideal place for you.
Built on the banks of Diyawanna Oya, Diyatha Uyana is an urban park located amidst the serenity and beauty of nature. Besides, you can easily reach it from Colombo.
This is a special park in Sri Lanka. To be specific, it attracts a lot of people because it is built on marshland, conserving most of the physical characteristics of the ecosystem, and the natural environment. The picturesque lake adds a lot of beauty to the park. So, you can sit and relax while watching a goose, pelican, or duck swimming in the beautiful lake.
Besides, the park attracts a lot of locals during morning and evening hours because it has got a chain of jogging paths. A lot of people come there to exercise, relax and have a nice time. It has also got children's play areas and many restaurants offering food and beverages. Moreover, there are a number of stalls that sell flowers, plants, fruits, batik clothes, and souvenirs as well. So, all these reasons make Diyatha Uyana, one of the best parks in Sri Lanka, for you to relax and have some quality time!
3. Vihara Maha Devi Park
Vihara Maha Devi Park is the largest and oldest park in Colombo. It is located in Cinnamon Gardens, Colombo, in front of the town hall. Being a park built by the British colonial administration, the historical and cultural importance of the park gives added value to it.
Vihara Maha Devi Park is a very cheerful place where you can sit and relax at any time of the day. Although the park is a little busy throughout the day, the greenery of the grass lawns and the trees around will add serenity and calmness. Vihara Maha Devi Park is used for many events since it has plenty of space and is very convenient to reach.
Besides, there is a mini aquarium and a children's park there. So, this is the best place for you to take your kids for some fun and entertainment. Also, this park has free entrance, and it is well-maintained. So, this attracts a lot of crowds to the park.
4. Beddagana Wetland Park
Beddagana Wetland Park is a peaceful natural area with walking paths through the wetlands with abundant bird life, located on Rampart Road, Sri Jayawardenepura Kotte. It is one of the best places around busy Colombo city to spend time leisurely.
If you are a nature lover or looking for a hang-out place with friends, then Beddagana Wetland Park will be your best choice. The beautiful land area with artistic landscaping is good for photo shoots, clicks, and for relaxing. Yes, this peaceful natural area around the park is ideal for bird watchers as well.
There are observation decks built for bird watching and viewing the wetland biosystem. There are sitting areas in the front as well. It also consists of long walking paths shaded by trees which create an amazing walking experience in nature. Further, this park consists of a wader scrape, a birdwatch tower, a camouflage bird-watching hut, and floating decks. Moreover, this park is well maintained and has a large car park. Most of the time, the jogging paths are occupied in the morning and evening.
The next most interesting thing you will find in Beddagana Wetland Park, other than bird watching, is the path called 'butterflies walk'. As the name suggests, the 'butterfly walk' offers you a walk with butterflies. In the park, you can find many types of trees and you can find the names of the trees displayed on them.
Wildlife in Beddagana Wetland Park
The Beddagana wetland park borders Diyawannawa Lake. It provides habitat to around 100 species of plants, 80 species of birds, 50 species of butterflies, 35 species of dragonflies, 20 species of fishes, 10 species of mammals, and 5 species of amphibians. Seasonal visiting birds can be spotted during the months of August to February.
So, Beddagana Wetland Park is where you should head, to do a gentle walk amidst the trees and a bird paradise through swamps on a raised platform.
5. Guruge Nature Park
Guruge Nature Park is Sri Lanka's first theme park located on Ganemulla Road, Ja-Ela, just a few minutes away from Colombo. It remains open from 9.00 a.m. to 6.00 p.m. daily throughout the year. However, it is crowded with visitors during weekends and public holidays.
Guruge Nature Park is where you can have an unforgettable experience with your family and kids. It gives you the opportunity to have a nice experience with nature, engage in fun-filled activities, and learn and get to know about the cultural, traditional, and historical heritage of Sri Lanka. The park has a purpose-built gem museum that chronicles the history of gem mining and information about the gem industry on the island. It carries the rich experience of a theme park with its unique butterfly and insect habitat, animal park, children's parks, boat riding, and food places.
Pools at the Park
The water park has 5 different pools. The cave pool and wave pool are the best of them. The toilets and changing rooms in the pool area are clean. There are shops to buy swimwear if you need it.
Historical Replicas at the Park
This park exposes Sri Lanka's rich history with replicas of key battles and prominent monarchs. It includes replicas of Adam's Peak, King's Tower, Mihintale Rock, and the Dutugamunu Battle. Guruge Park also includes a replica of a typical Sri Lankan village. It is a nice experience for many locals living in urban areas and foreigners who would like to get an idea about local village life. The history museum, gem museum, and the heroes and leaders gallery on-site are special attractions.
Wildlife at the Park
The areas devoted to nature and wildlife in the park give a unique experience to the visitors. The animal park has many exotic bird species including white peacocks. The landscape of the place is nice to take pictures and to spend time leisurely.
Other Attractions at the Park
There is a Jurassic Park where you can have an adventurous experience with dinosaurs and other reptiles. The Vedda village exhibits the lifestyle of indigenous communities. Besides, the saradial's train will take you to Uthuwankanda through the Kadugannawa railway.
Other entertainment activities in the park include horse riding tours, pony rides, boat rides, fun activities including the Ferris wheel and merry-go-rounds, and the paintball arena. Yes, the park has many activities and entertainment for kids and young groups.
There is also a place where kids can pose with animal inhabitants of the nature park and take photographs. There are retail shops and a restaurant to fulfil your needs while enjoying your time at the park. On the premises, you can find the Guruge Royal Hall which is on hand for private functions and occasions.
With all these fun-filled activities, Guruge Nature park is a must-visit attraction while in Sri Lanka.
The Bottom Line
All the above parks in Sri Lanka gift you a unique experience different from one another. Whether you want some time with nature, a good time with kids or some time away from all the stress, these beautiful and peaceful parks cover all your needs. You can come, visit these parks and experience the awesome things they have got to offer you. Happy and safe traveling!