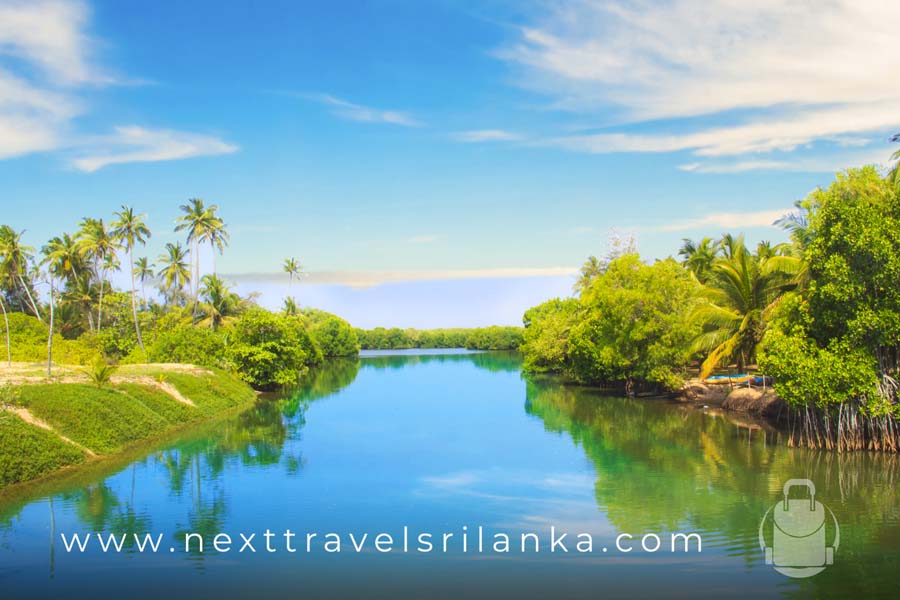 Sri Lanka, the pearl of the Indian ocean attracts tourists from all over the world. Many tourists visiting the country, love to spend a good time on their vacation at a beach. So, if you are also looking for a beach town to spend your vacation in Sri Lanka, you should really consider paying a visit to Koggala. Wonder why we say so? Scroll down to know all about it!
Koggala is a small coastal town on the southern coast of Sri Lanka. This beautiful town is located at the edge of a lagoon. The boundaries of Koggala consist of a reef on one side and a large Koggala lake on another side. Hence, if you are a beach lover, the idyllic nature of Koggala will impress you for sure. This is an ideal location to have fun and relaxation leaving all your worries behind. So, here's all you need to know prior to your visit to Koggala.
Attractions in Koggala
There are so many popular beach towns on the southern coast of Sri Lanka. In fact, the southern coast has become a must-visit if you are on a vacation in Sri Lanka. Among them, Koggala is a somewhat lesser-known location. Yet, it doesn't make it any better. Koggala is getting increasingly popular as a tourist destination. Well, apart from the gorgeous beachline, there are several other tourist attractions in and around Koggala. Here are some such places that you can visit when you are in Koggala.
Koggala Beach
Koggala Lake
Galle Dutch Fort
Weligama Beach
Martin Wickremesinghe Folk Museum
Koggala Turtle Hatchery
Continue reading to know more about these places!
1. Koggala Beach
Unarguably, this is one of the best beaches in close proximity to Galle. The tropical beach of Koggala is famous for its untouched reefs and scenic bay views. In addition, the peaceful and pristine atmosphere of the beach will impress you. Besides, the popular beaches of the southern coast can be quite crowded all throughout the year. So, if you are looking for a place to relax and take in the stunning views, then Koggala beach is the place to go as it is relatively uncrowded for the most part of the year!
The calm and clean beach comes with crystal clear waters and soft sand dunes. Apart from that, Koggala beach is much loved by local and foreign travelers as it is still untouched by commercialization. There are only a few restaurants and stalls close to this beach.
It will be a wonderful experience to watch the sunset views amidst the sea breeze of the Koggala beach. Altogether, this is an ideal location to have a relaxing beach vacation with your family or for a couple's trip. This is literally a serene paradise for beach lovers, tucked away at a corner of the southern coast.
2. Koggala Lake
Koggala lake is a serene destination in the corner of the country. This beautiful lake is also one of the biggest natural lakes in Sri Lanka.
This freshwater body is abundant with rich plant and marine life. The lush mangrove swamps of the lake are great nurseries for schools of fish. And also, they provide a safe haven for other species such as barnacles and oysters. Moreover, this lake is basically rich with tropical foliage and colorful birdlife. Furthermore, there are eight small scattered islands throughout the land area of Koggala lake. Among them, there is this one island that is quite large in size and about five families live on this island.
There are many ways for you to experience the beauty of this stunning location on the southern coast. One of the best ways is to go on a guided boat tour across the lake. This would cost around 4000 SLR. You will also be able to visit the islands and see how they produce the world's best cinnamon.
After all, if you are fond of a hidden hideaway, you will find Koggala lake to be a verdant escape from the usual hustle and bustle of city life. So, don't forget to sit back and absorb the serenity of the lake.
3. Galle Dutch Fort
This historical site is an absolute must-visit in the southern province of Sri Lanka. You can reach Galle Fort within 40 minutes from Koggala. It is also one of the most sought-after tourist destinations in the southern province.
The Portuguese built this ancient fort, initially in 1588. Later, the Dutch fortified it during the 17th century. The ocean surrounds this beautiful historic structure.
There is also a lighthouse close to the Fort. The visitors can enjoy the lounge as this can be taken as a scenic picnic spot. In addition, you can also enjoy the waves of the Indian Ocean as they crash against the walls of the Galle Fort.
If you are a fan of historical sites like this, you will be impressed with the nice old colonial architecture. So, spare some time to have a walking tour around the fort as it will be so worth the experience. It will usually take around 2 hours to have a complete tour of the fort.
This is also identified as a UNESCO site. Hence, you can learn a lot of interesting information about this place if you visit it. Apart from that, there are many cool restaurants and stalls inside the fort. So, this is one of the best locations for you to spend a day out around the wonderful coastal town of Koggala.
4. Weligama Beach
There are several eye-catching beaches within close proximity to Koggala and Weligama beach is definitely one of them. The sandy stretch of Weligama beach with its low-riding waves is perfect for a beach day.
Weligama beach is top-rated for surfing and diving. If you are a novice surfer, this is the perfect spot to try it! You can catch your first waves at Weligama beach and learn how to surf like a professional out there. On the other hand, the shallow reef and the unique rock formation of the beach provide a home for a variety of fish and other marine life. So, Weligama is perfect for an exciting diving or snorkeling session.
Apart from that, this is a touristy beach where you can experience the beach culture to the fullest. This serene and tranquil beach is situated just 15 kilometers away from Koggala. So, don't forget to pay a visit to Weligama beach if you are a fan of surfing or just want to relax on the beach. Furthermore, you will be able to soak up the local atmosphere a bit as there is a fishing village nearby.
5. Martin Wickramasinghe Folk Museum
Martin Wickramainghe is a reputed Sri Lankan author and he is considered a pioneer of modern Sinhala literature. His simple home situated in Koggala is now managed as a folk museum by the Martin Wickramasinghe trust.
This museum is located at the Koggala free trade zone main gate. The house and its surroundings are filled with a wide variety of indigenous trees, shrubs, and birdlife considered to be the inspiration behind most of Wickramaisnghe's writings. A part of this house is over 200 years old and it has been influenced by Dutch architectural features. During the second world war, this house was also used as the residence of a female pilot of the Royal Air Force. Accordingly, this is a site with an interesting backstory.
The bodies of the renowned author and his wife are buried at this property. You can learn a lot about life and the legacy of the author from this museum. In addition, the fascinating collection of artifacts at the museum portrays the rural technology in fields like agriculture, agro-industry, fishing, and pottery. Apart from that, this museum houses many artifacts related to Buddhism as well. Altogether, this museum is one of the best locations to get an overview of Sri Lankan folk culture.
6. Koggala Turtle Hatchery
This turtle hatchery came up in the Koggala area in 1996. This is a crucial breeding spot for endangered sea turtles. On the other hand, this also provides care for crippled, blinded, and wounded sea turtles. Hence, it will be a fascinating experience to learn about the different species of turtles living in the Indian ocean.
You will also be shocked to see the impact that human behavior has on the lives of these marine species. The team of hatchery is doing an impressive job to conserve the lives of these innocent animals. It is amazing how they take the best care of the turtles using their limited resources. You can also contribute as a volunteer for the hatchery, to get this experience at its best.
A visit to the Koggala turtle hatchery will be an overwhelming experience for you. There is an entrance fee to visit the hatchery and the money that they get happens to be donations for the treatment of turtles. You have to enter the hatchery and the rehabilitation center through a giant turtle-shaped entrance. The visitors can touch the giant turtles that are swimming freely in the tanks. So, don't forget to pay a visit to the turtle hatchery when you are in Koggala. If you are an animal lover and interested in the conservation of these species and also the ocean, this is definitely a must-visit for you.
Things to Do in Koggala
The small coastal town of Koggala, which is amidst the popular beach towns of Unawatuna and Weligama has so much to offer for a tourist. In fact, there is so many fun and also relaxing things to do in the area. You won't have any dull moments in Koggala.
First of all, as mentioned above, there are several major tourist attractions that you can explore in Koggala. Then, Koggala beach and the other popular beaches are great places to learn surfing. The best surf beaches around the area give you the opportunity to have fun in the warm tropical waters. These waters are best to try out sports like snorkeling and diving as well.
Apart from that, if you love to have a look around the village, the best way is to go on a cycling tour. You can ride through the suburbs exploring the beauty of the town and the greenery. Besides, many of the locals in Koggala depend on the fishing industry as their livelihood. So, you'll be able to get a glimpse into the lives of these fishermen if you take a walk around the village.
And also, your trip to a southern coastal town won't be complete without tasting a delicious Sri Lankan meal. The taste of fresh seafood combined with the best spices in the world will be a heavenly experience. As such, you can try different types of activities to enjoy your time at Koggala.
Best Time to Visit Koggala
Many consider these coastal towns of the southern coast of Sri Lanka to be year-round destinations. Yet, you can also check the weather conditions and other factors to visit Koggala at its best time. Here is some information that you can take into consideration prior to your visit.
While the weather conditions of Koggala don't vary drastically throughout the year, it receives a considerable amount of rainfall from June to October. It receives the most rainfall in June.
The time period from June to October is the off-season for Koggala. Hence, many consider that the time between December to March with the least rainfall is the best time to visit Koggala.
Furthermore, there's a hot climate in Koggala and it cools off in the month of January. Koggala receives the most tourists in the month of December. Keep these facts in your mind prior to your visit to have the best time at Koggala.
How to Reach Koggala
Koggala rests about 136 kilometers away from the main city of Colombo. The most recommended option to travel from Colombo to Koggala is to travel by train as it is cheaper and takes a lesser amount of time.
You can catch a train to Koggala station from the Fort station in Colombo. If not you can also take a bus to the Matara bus station from the Fort station and it will be easier for you to travel the rest of the distance to Koggala by taxi. Both these tours will take around 2 hours and 30 minutes. Yet, if you don't like to travel by public transport, you can also arrange a taxi or a private vehicle from the airport itself as well.
The distance from Kandy to Koggala is about 253 kilometers. If you want to travel to Koggala from Kandy, you can take a train from the Kandy station to Fort station and again take a train to Koggala from there. If you are traveling by bus, you have to take a bus from Kandy to Kadawatha and then to Galle bus station. You can travel the rest of the distance by taxi. Then, you can also hire a taxi or a private vehicle to travel to Koggala from Kandy as well.
The Bottom Line
If you are a fan of traveling, Sri Lanka will leave you in awe. There are so many beautiful destinations to visit on the teardrop-shaped island. Among them, Koggala is an ideal location for a family trip, a vacation with your loved ones, a couple's trip or even to travel solo. As you already know by now, there are so many amazing things to experience in the great city of Koggala. It is also suitable to spend some time if you need a break from the hustle and bustle of city life. One can indulge in many water sports and relax enjoying the picturesque views of Koggala. So, get your sunscreen, sunglasses, and swimming costumes ready and book a vacation in Koggala right away to have a memorable beach vacation. Happy and safe traveling!