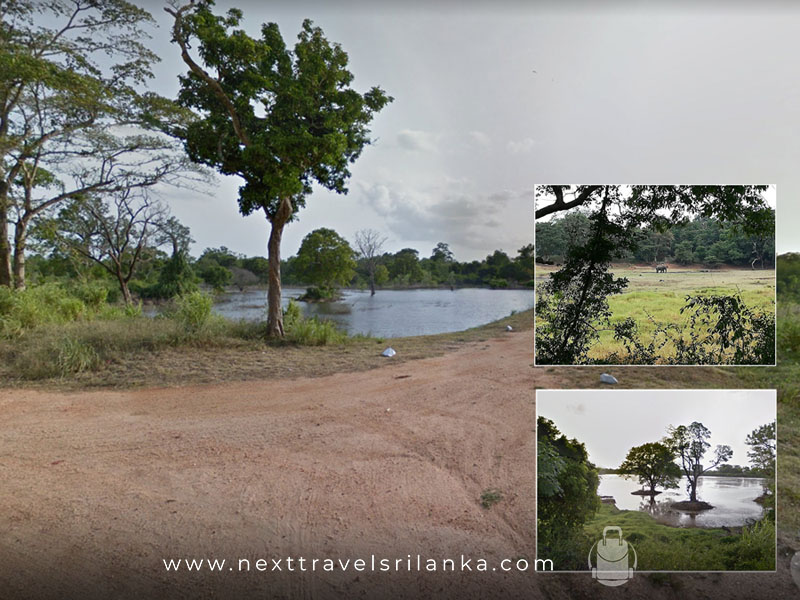 The most charming places are always hidden. And yes, the delight of traveling is exploring them! Horowpathana National Park is such a hidden but fascinating place surrounding the ancient city of seven sluices. It is also an ideal place for those who love to observe the best of Sri Lankan wildlife.
The Horowpathana national park is located in the north-central province. The proposal to make this forest a National Park came out in the year 2005, and however, it was in 2011, that it was declared as one. Accordingly, it became the 23rd National Park in Sri Lanka. Also, the authorities declared this park as an elephant holding ground in 2015, and it was the first of its kind, on this splendid island.
Environment and Climatic Condition of the Horowpathana National Park
Although the Horowpathana National Park is located in the dry zone, it receives the highest rainfall in the Anuradhapura district. Dry evergreen forests cover this area with an annual rainfall of 1500-2000mm. This national park receives most of its rainfall during the northeast monsoon which spans from December to March. The climate here is dry throughout the rest of the year. The average monthly temperature is about 18 degrees.
Other dry forests do not have deciduous trees, thus this forest, which has a population of deciduous trees during the dry season, is unique among the numerous types of forests on the planet. Besides, the diverse ecosystems such as sub-mountain savannah grasslands and villus found in floodplains further enhance the biodiversity in this wonderful national park. Moreover, it is a tropical and subtropical broadleaf forest covering an area of ​​5.7 square kilometers.
Flora and Fauna
Although it does not contain as many species as tropical rainforests, it provides habitat for a good number of species. The most common species you see here are wild elephants. By now, you know that this site is an elephant-holding ground. In fact, this park shelters approximately 6,000 Sri Lankan elephants (Elephas maximus Maximus). The elephant population is unique in that it is a subspecies of Asian elephants (Elephas maximus) that is endemic to Sri Lanka. In addition, the arid zone has 74 mammal species, the majority of which may be seen in Horowpathana National Park. Of these, the Sri Lankan leopard (Panthera pardus – kotiya) is undoubtedly the most attractive species.
Besides, this park shelters endangered species such as spot-billed pelicans and endemic species such as the Sri Lanka gray hornbill (Ocyceros gingalensis). Water monitor lizards (Varanus varius) and mugger crocodiles (Crocodylus palustris) have become a common sight in the aquatic environment of the park which is located in the vicinity of ancient cities with rich irrigation systems. Peacocks(Pavo cristatus), as well as endemic and migratory birds, add to the beauty you do not see every day.
Further, Horowpathana National Park holds the common features of dry evergreen forests, and thus, it has no well-separated layers. Among the majority of deciduous trees, only a few plants such as Palu (Manilkara hexandra), Weera (Drypetes sepiaria), Satin (Chrysophyllum oliviforme), and Madam (Syzygium caryophyllatum) contribute to maintaining this evergreen forest among the majority of deciduous trees. A wide variety of plant species are present in this park, ranging from 40 to 60 species. The area is very scenic during the Ehela(Cassia sp) flowering season. The national park is home to high-quality woody plants such as Kaluwara and Halmilla, as well as ensuring their safety.
How to Visit Horowpathana National Park?
Horowpathana National Park is located in the Horowpathana area in the North Central Province. To be specific, it is in the vicinity of the ancient city of Anuradhapura as well.
If you are arriving at this park from Colombo, you have to take the A28 road to Anuradhapura, then take the A12 road, pass Mihintale, and take the Trincomalee Expressway to Horowpathana National Park. This journey is around 267 kilometers long and takes approximately five hours to complete.
Besides, if you are traveling by public transport, you can use the following routes. Take the 57 route from Colombo to Anuradhapura via Galgamuwa and take a bus on the Anuradhapura Horowpathana road. If you are traveling on Route 15 from Colombo via Dambulla you should take a bus from Mihintale to Horowpathana.
However, arriving at the city of Anuradhapura from any corner of the world will give you easy access to Horowpathana National Park. So, you can certainly make it a part of your journey, of exploring the grandeur of the ancient city of Anuradhapura as well.
What is the Best Time to Visit the Park?
During the rainy season, the lake fills with water, and the trees sprout. The region is lovely, with bright green foliage and well-fed deer grazing freely. At this time, the animals in this area do not need to be afraid of water or food. The forest is full of herds of elephants bathing in the reservoirs as well as various birds.
Horowpathana National Park, a dry evergreen forest, experiences this time of year with northeast monsoon winds. Northeast monsoon winds blow across Horowpathana National Park, during the months of October and November of year. This is the most appropriate time for you to watch this. If you visit around this period, you will be able to observe the fauna here without any hassle and experience a magnificent setting in a beautiful environment.
Photography Opportunities at Horowpathana National Park
Although this is a lesser-known national park in comparison to other parks in Sri Lanka, its beauty is unparalleled. Indeed, its beauty remains a mystery to the rest of the world. Yet, if you visit this place, you have ample opportunities to take its charm to the world. Yes, that is because it offers a fantastic opportunity for photographers to capture breathtaking views through their camera lenses.
Undoubtedly, this park is an ideal place for wildlife photography. This place is rich in an environment where you can photograph animals like elephants, leopards, and birds without any hindrance. Not only that, you have the opportunity to photograph stunning environmental views. Reservoirs filled with water during the rainy season, yellow-flowered Ehela trees, and animals playing in the water will give you fascinating views to be captured!
Conservation of the Park
It is important to conserve endemic and endangered species of flora and fauna in this park. Economically valuable woody plants such as Kaluwara and satin are at risk of being illegally cut down and all possible measures have been taken to prevent such activities and to ensure the safety of the ecosystem. Besides, the fact that it is a biodiversity hotspot is the primary rationale for its designation as a national park. This can be considered as a measure taken to conserve biodiversity and ecosystems on the spot. Owing to this fact, it is an area where wildlife and forest protection laws are already in action and are governed by the Central Environmental Authority.
The Bottom Line
So, if you are seeking an experience that you have never had before, you should never miss visiting Horowpathana National Park. Its greenery, the wildlife it shelters, and the pleasant surroundings out there are sure to delight you. Besides, visiting it will certainly offer you the excitement of exploring a hidden treasure on this splendid island. So, why think twice? Plan your trip to Horowpathana National Park, and enjoy its delight yourself. Happy and Safe Travelling!